Best of Both Worlds — 360° Application & Cloud Monitoring in One Platform
While other monitoring companies rely only on external cloud-based monitoring or ONLY have on-premise monitoring, Exoprise delivers the same rich capability from both behind the firewall AND out in the cloud.
No other solution makes it as easy and seamless to deploy cloud and active monitoring for all YOUR locations and from the cloud via the same console with the same rich capabilities.
Wizard driven installations and setup, deploys in minutes, try it.
CloudReady Private Sites
Monitoring SaaS services like Office 365 and Salesforce.com from behind the firewall is our bread-n-butter. We are the market leader because of the full capability of our platform combined with ease of use, manageability and reliability.
Deploy instantly and securely behind the firewall to monitor mission-critical apps
Supported on any Windows OS — even on Rasberry PIs, Windows XP, servers. Whatever you have.
Run alongside any workload. Private Sites can be deployed alongside existing users desktops, laptops – anywhere.
Deploy CloudReady to your Branch offices with ease. Read more about our easy setup.
Self-updating and self-healing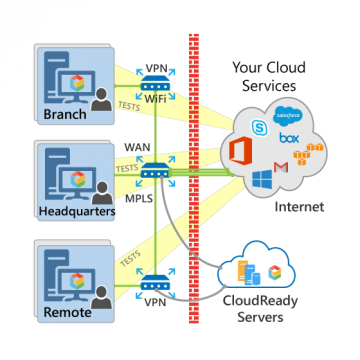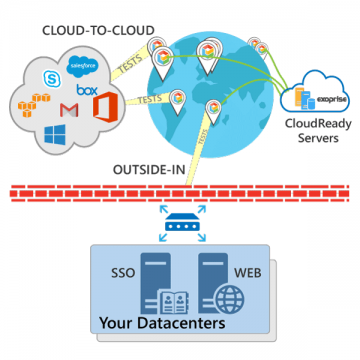 CloudReady Public Sites
CloudReady Public Sites are managed by Exoprise at various locations throughout the world. They use the same rock-solid infrastructure as a Private Site so they run the same comprehensive monitoring sensors. Public Sites and the sensors they run:
Are great for comparing against internal LAN/WAN conditions
Can be used to proactively monitor externally facing employee applications
Can be used to monitor critical Single Sign-On solutions like Active Directory Federation Services (ADFS) and other federated SSO
Give you an outside-in or cloud-to-cloud perspective of the performance and availability of your cloud services. This is important for users that work outside the corporate LAN/MPLS/WAN.
Build Your Own Monitoring Network — Or Use Ours