Crowd-Powered Monitoring
Harnessing the Crowd to Monitor the Internet in Real-TIme
Optimize Your Applications and Network with the Power Of the Crowd
CloudReady combines application monitoring and end-to-end network diagnostics with the power of crowdsourced data analytics to leverage the collective insights of our global customer base. This provides complete visibility into your mission-critical cloud services, as well as insights into the health of the Internet.

Crowdsourced Monitoring of Shared
Services for Collective Network Intelligence
Exoprise securely collects statistics from synthetic sensors installed behind firewalls and public cloud locations through the world. These sensors emulate users to continuously test and monitor cloud applications, for end-to-end end-user visibility into the health of mission-critical applications like Microsoft 365, Salesforce, and Entra ID.
Once received at Exoprise servers, the data is anonymously aggregated, sliced up by region, ISP, and ASN to help detect and diagnose global Internet performance problems.
Shared Internet Insights and Collective Intelligence
Want Internet insights in real time? Want to know how your performance compares to other Office 365 customers? Start a free trial and you can find out within 5-10 minutes:
Crowdsourced Performance Insights
Faster MTTR
Crowdsourced analytics immediately tell you whether the problems is yours… or everyone's.
Long Term Trending
SaaS & ISPs are always changing. Crowd-sourced performance data reveals tenant or network specific problems
Instant Benchmarks
Instantly know how your infrastructure and end-user experience stacks up against the crowd.
How Does This Help?
With a simple Windows agent install (we call them Private Sites), you can build your own global sensor network for monitoring cloud services. No servers to install, no databases to wrestle. Each Private Site communicates securely with the Exoprise servers for correlation and visualization — and to leverage the power of the crowd.
You build your own global sensor network where-ever you have users that you want to monitor cloud services for. Any branch, any location, even a mobile user's laptop.
The cloud monitoring data (0's and 1's) that represent performance, from your perspective, is collected at the CloudReady servers
All the Exoprise CloudReady customers' data is anonymously aggregated and presented to you for comparison.
You can compare your performance with multi-tenant services like Office 365 against other customers – in the same region, same types of networks or other filters.
Want to know if a 10-second inbound mail queue time is good? Compare it to the CloudReady crowd. Want to know if other customers are getting 500ms SharePoint request times? Compare it to the Exoprise Crowd.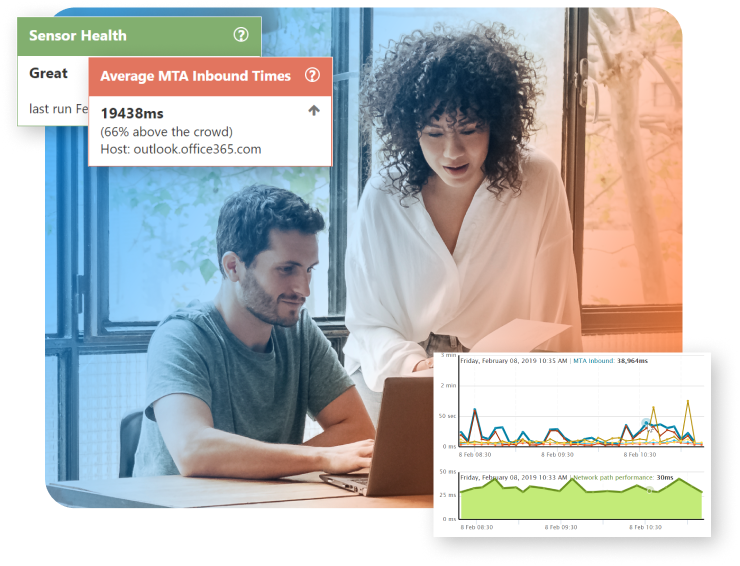 SharePoint Health
Compare SharePoint Health Scores to the crowd. When SP Health Scores are consistently above the crowd, it's time to contact Microsoft and be moved to a different SharePoint Online cluster.
Network Latency
When TCP/IP connect times are above the crowd to any cloud service, it's time to consider adding network capacity. Network latency is often the cause for slow cloud access.
Slow Mail Delivery
If inbound, outbound or transport Exchange mail queues are slower than the crowd, it's time to investigate switching SPAM protection providers or adding capacity.
See How Your Network Measures UP