Complete Microsoft Office 365 Monitoring
Monitoring Microsoft 365 is a challenge. Legacy monitoring tools can't see past your firewall, and the Microsoft Service Health Dashboard has no visibility outside Microsoft's network.
If these are the only tools you have, you'll find yourself in the dark the next time you're trying to figure out if there's an outage or where the problem is. You need an Application Performance Monitoring (APM) solution with end-to-end visibility into the digital experience from your network to Microsoft's cloud.
Exoprise is the leading vendor for Office 365 Digital Experience Monitoring (DEM), including Exchange, SharePoint, and Microsoft Teams to quickly detect, diagnose, and fix network performance issues.
Due to Covid, our IT model has shifted from primarily supporting call center operations, to supporting a significantly larger virtual environment. Synthetic sensors in our central data centers collect performance data on Microsoft 365 but, we wanted an even more complete picture. Together with a real-user monitoring solution from Exoprise, we can better understand the issues of our users working from anywhere.
Kevin Santos, Senior Director of IT, NOC, BCD Travel
Read Case Study
Enterprise Use Cases for Microsoft 365 Monitoring
Monitor Every Application and Service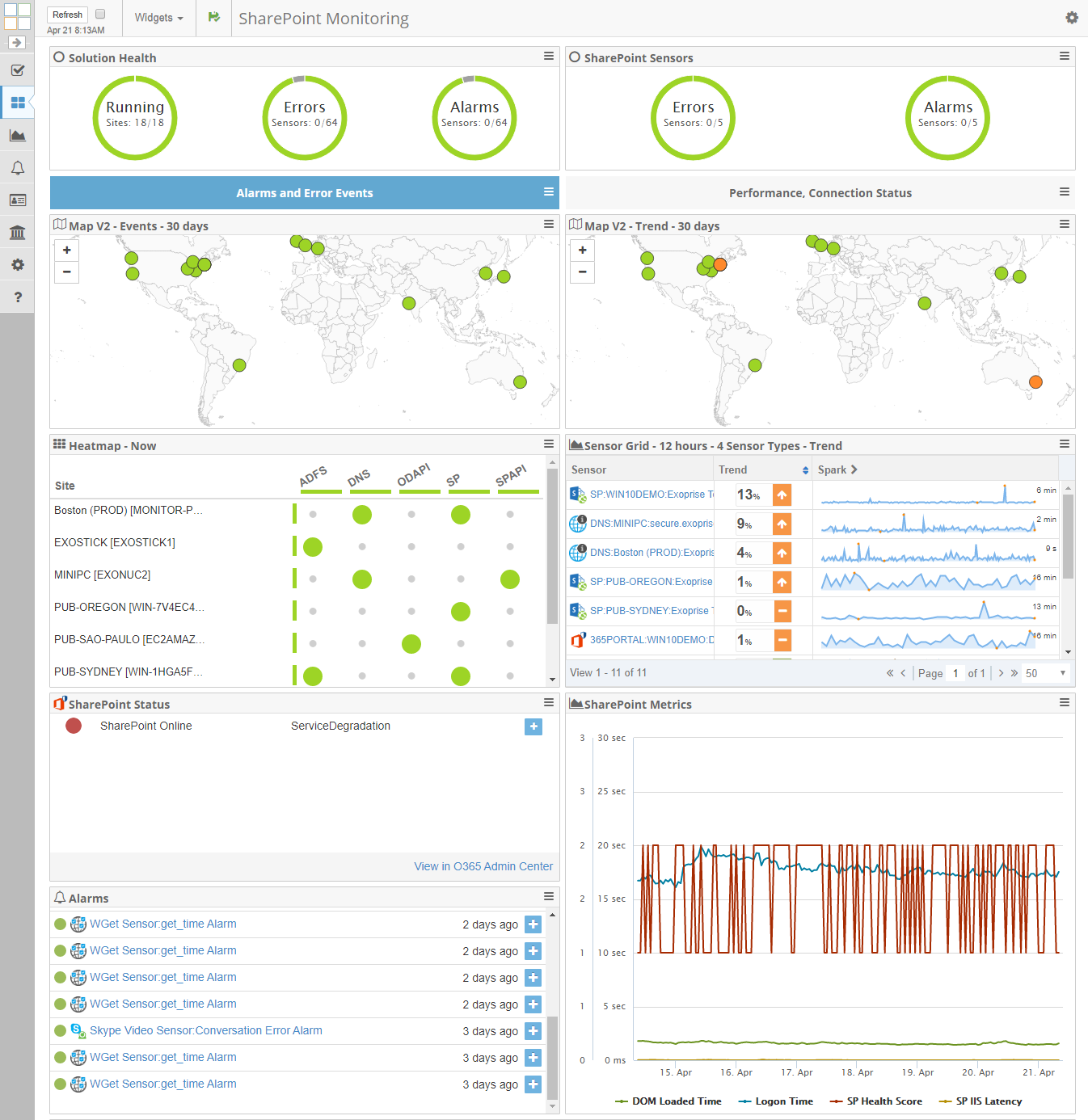 Ensure SharePoint Online is fast and available from every location
Business relies on SharePoint for collaboration and knowledge sharing. Increase employee productivity by ensuring SharePoint deployments are fast and accessible from every location. Collect critical metrics for SharePoint Online and monitor the end-to-end network path performance:
Diagnose slow SharePoint page loads, latency, uploads, and downloads
Compare and benchmark SharePoint vs. the crowd
Real-user monitoring (RUM) and synthetic SharePoint testing in one platform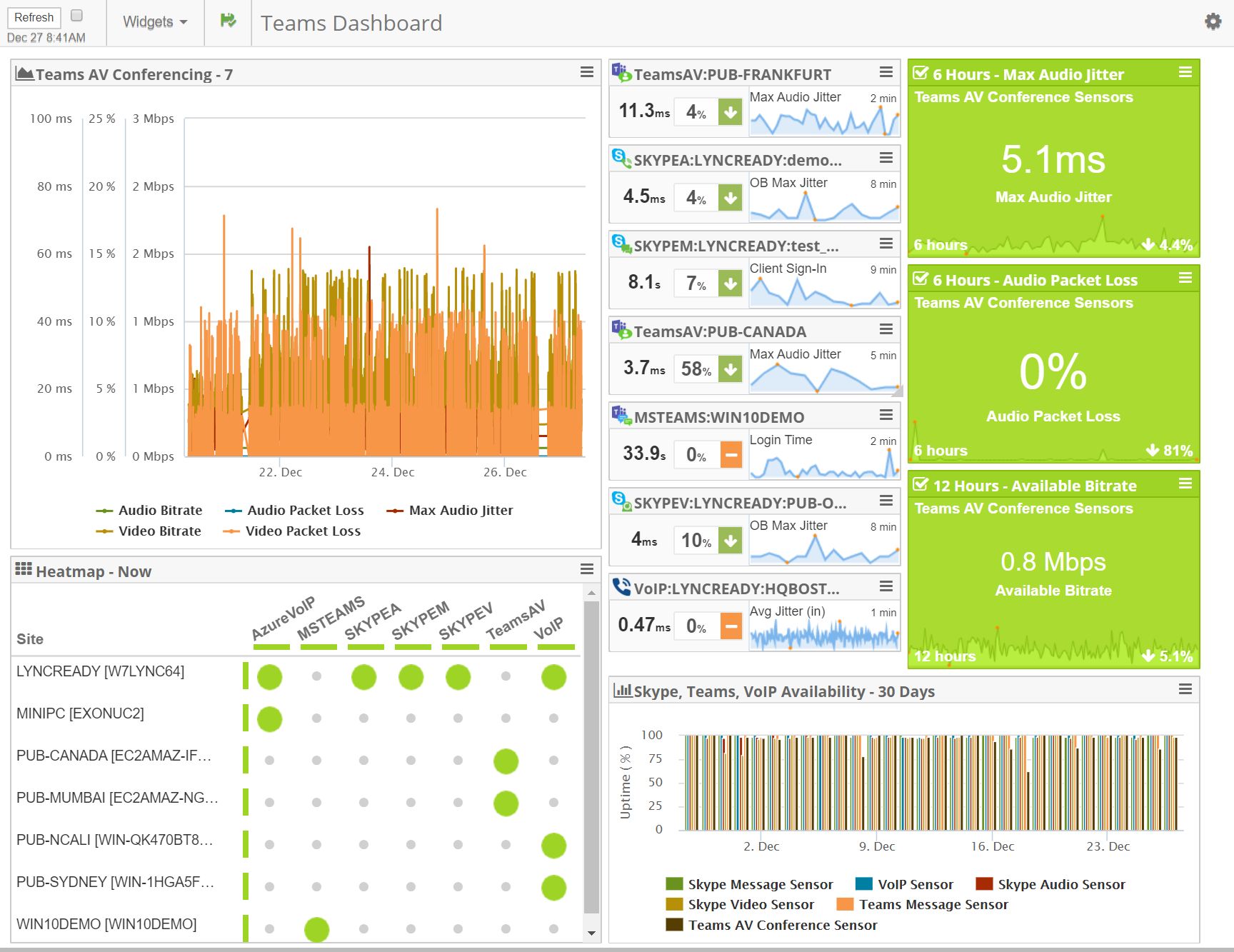 Teams is the platform for enterprise communications. Monitor Microsoft Teams audio and video from every angle
Unified Communications-as-a-Service (UCaaS) platforms like Microsoft Teams are only as good as they are fast and reliable. Unfortunately, dropped calls and poor audio/video quality make for a frustrating employee experience and reduced productivity. Predict and minimize user complaints with Microsoft Teams monitoring:
Don't wait for the Call Quality Dashboard (CQD), diagnose Teams network issues in real-time
Pinpoint root causes for poor audio, video, and screen sharing performance, network issues, and outages
Accurately assess network capacity and configuration for every network type; LAN, WAN, SDWAN, MPLS, and Wi-Fi
Real-user monitoring for every employee endpoint, working from home or remotely using Service Watch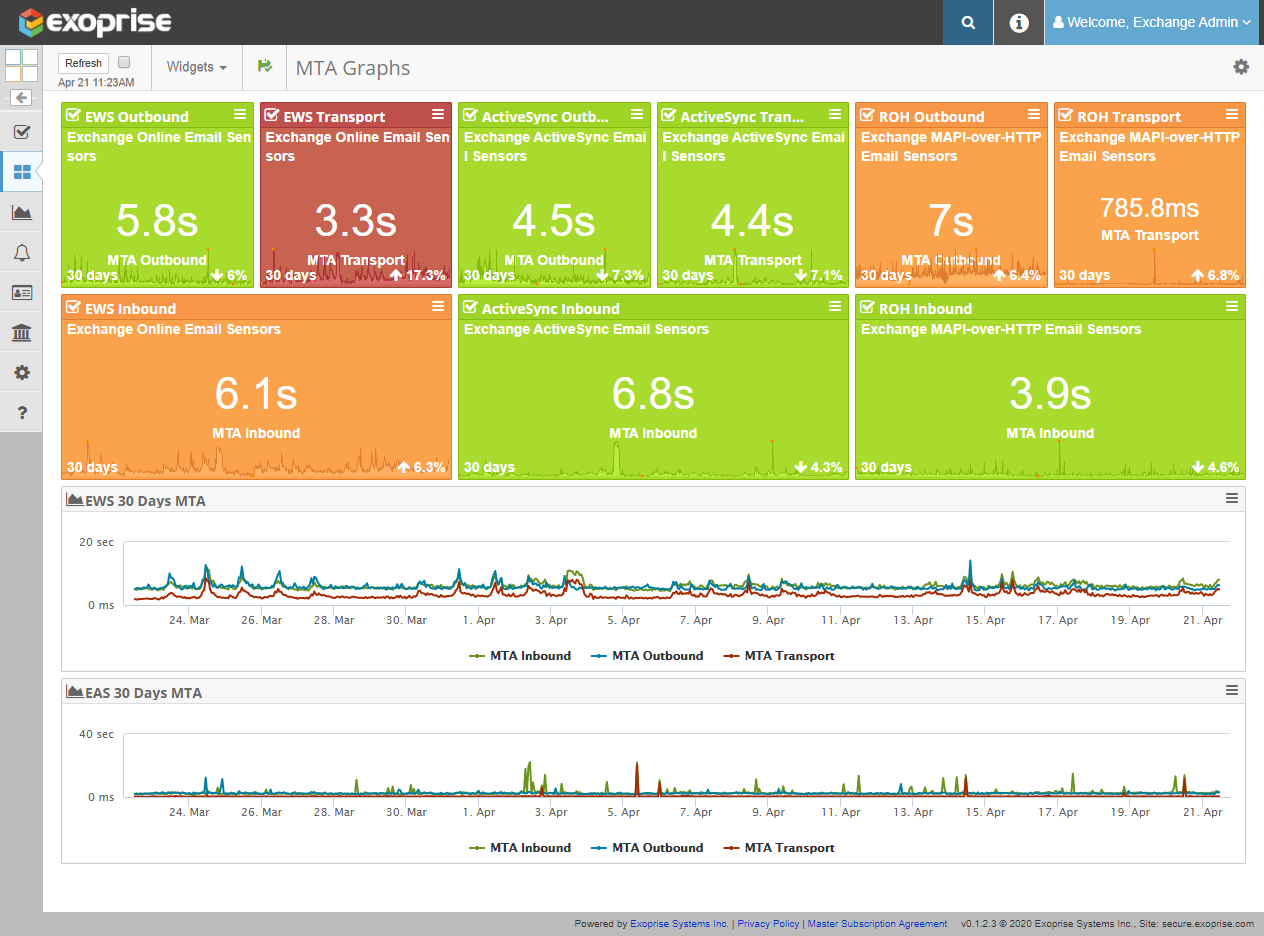 Monitor Exchange, Outlook, message queues, mailbox, and end-to-end performance
Email is how business gets work done. Slow or stuck email, poorly performing SPAM services, and bad end-to-end Outlook/Exchange networking can lead to lost business, poor customer experience, and dissatisfaction with IT teams. Regain visibility into Outlook and Exchange Online with synthetic and real-user monitoring.
Monitor, load, and stress test Exchange Online and Outlook
Monitor and test email queues, email delivery, and SPAM providers
Detect slow Microsoft 365 mailbox performance with Exchange Online monitoring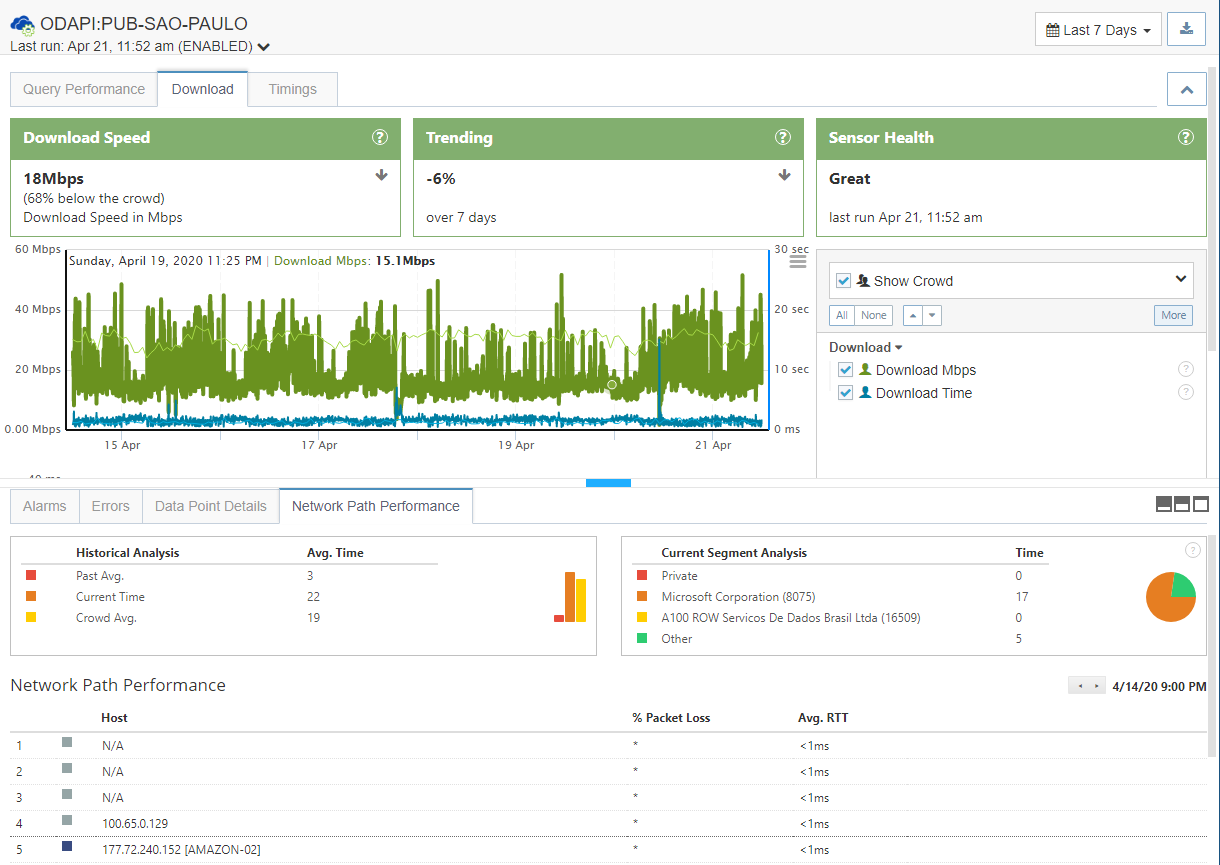 Monitor OneDrive, speed, latency, bandwidth and synchronization
Microsoft OneDrive has become the most popular file sharing for business. OneDrive is the primary way employees share and collaborate on documents. Ensure synchronization status, uptime, and availability with end-to-end OneDrive monitoring.
Monitor OneDrive synchronization, latency, usage and growth over time by the user, resource, and location
Test OneDrive bandwidth, Time-to-First-Byte (TTFB), and page response times
Diagnose OneDrive issues, synchronization problems for employees wherever they work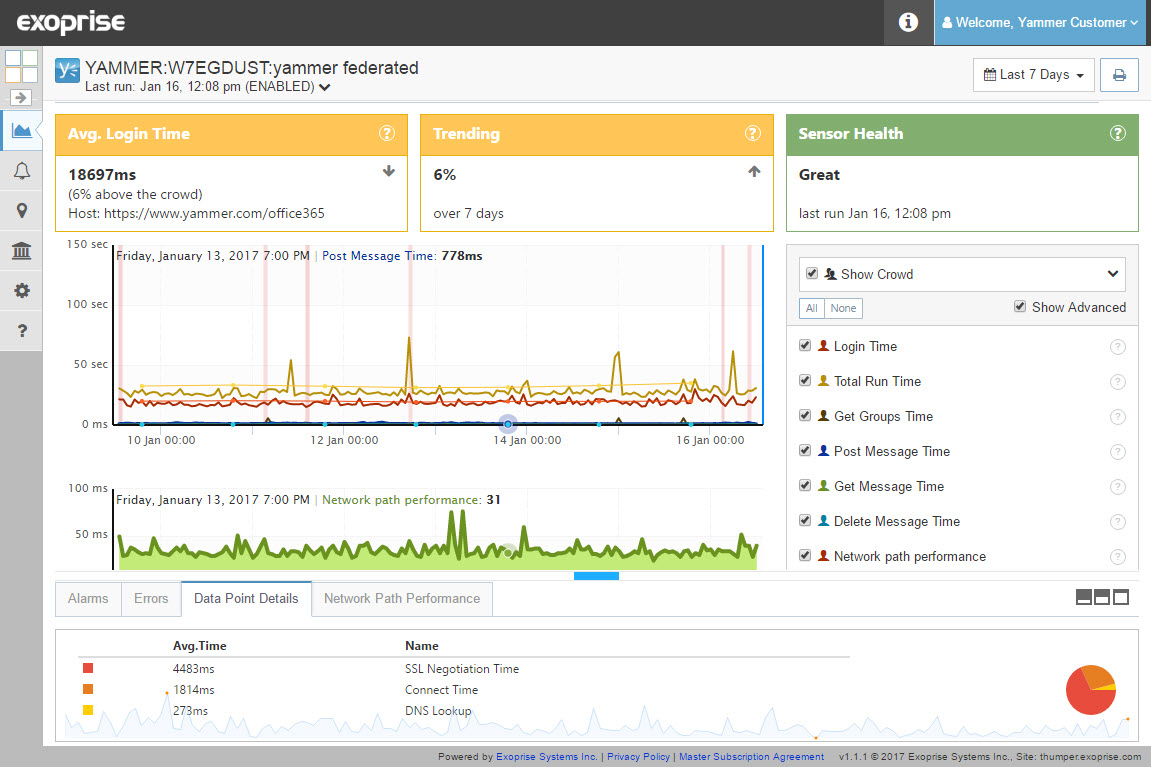 Viva Engage (Yammer) is integral to global enterprises — Monitor Yammer from every location
Monitoring Viva Engage (formerly Microsoft Yammer) to detect outages and performance problems is essential when you have a large team sharing information and collaborating. Often, the teams are spread worldwide and in different timezones.
Viva's latency, page loading, and response times will differ by region and network.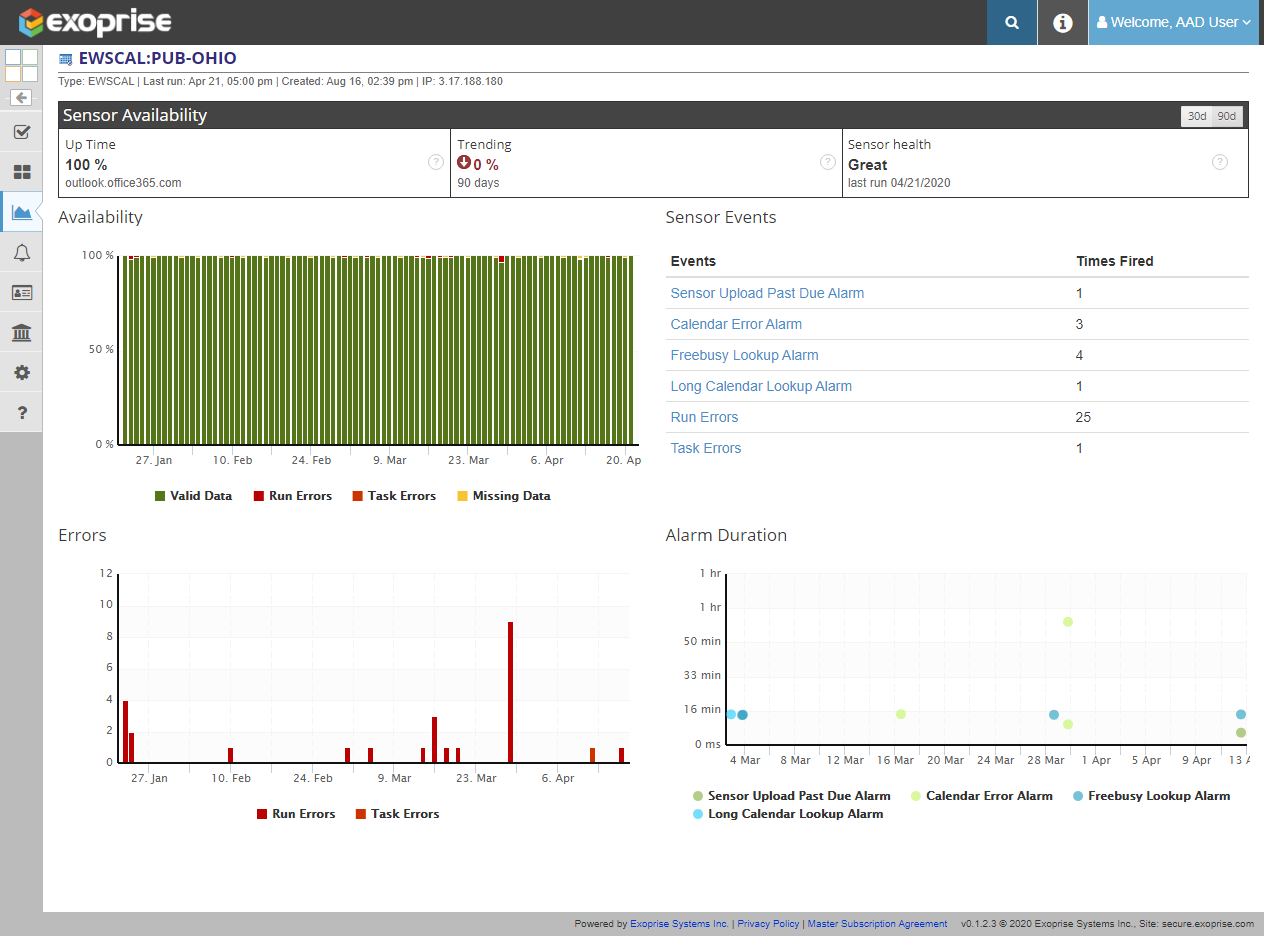 Microsoft Entray ID (Azure AD) is the central identity system of Microsoft 365
Identity Management is the foundation of every cloud-based ecosystem, and Microsoft 365 depends heavily on Microsoft Entra ID (formerly Azure AD) for permissions and access control within Office 365. Exoprise solutions can monitor every connection and dependency to any identity provider, including:
Azure AD, now Microsoft Entra ID
Okta
Ping Identity
Active Directory or Active Directory Federation Services (ADFS)
Identity management platforms are mission-critical:
Monitor Entra ID, Azure AD, and SSO providers from every location to ensure availability
Pinpoint network problems in the client, server, or network to reduce Mean-Time-To-Resolution (MTTR)
Recover SLA violation credits to safe money and lower costs

Multi-Factor Authentication (MFA) testing ensures access and availability of your MFA infrastructure
Multi-Factor Authentication (MFA) via Microsoft Entra ID safeguards your enterprise Microsoft 365 apps by adding multiple layers of security. Exoprise CloudReady synthetics test the entire Office 365 environment using MFA, Azure AD, Microsoft Entra ID and most other Single Sign On solutions.
Test and monitor ALL of Microsoft 365 services (Teams, Outlook, Exchange, SharePoint, OneDrive) and user accounts
Monitor any application that utilizes MFA with Microsoft Entra ID (Active Azure Directory)
Simulate and test sign in for federated apps
Detect early outages with multi-factor authentication and security workflow testing
Comply with enterprise-wide MFA monitoring mandates and best practices for securing Office 365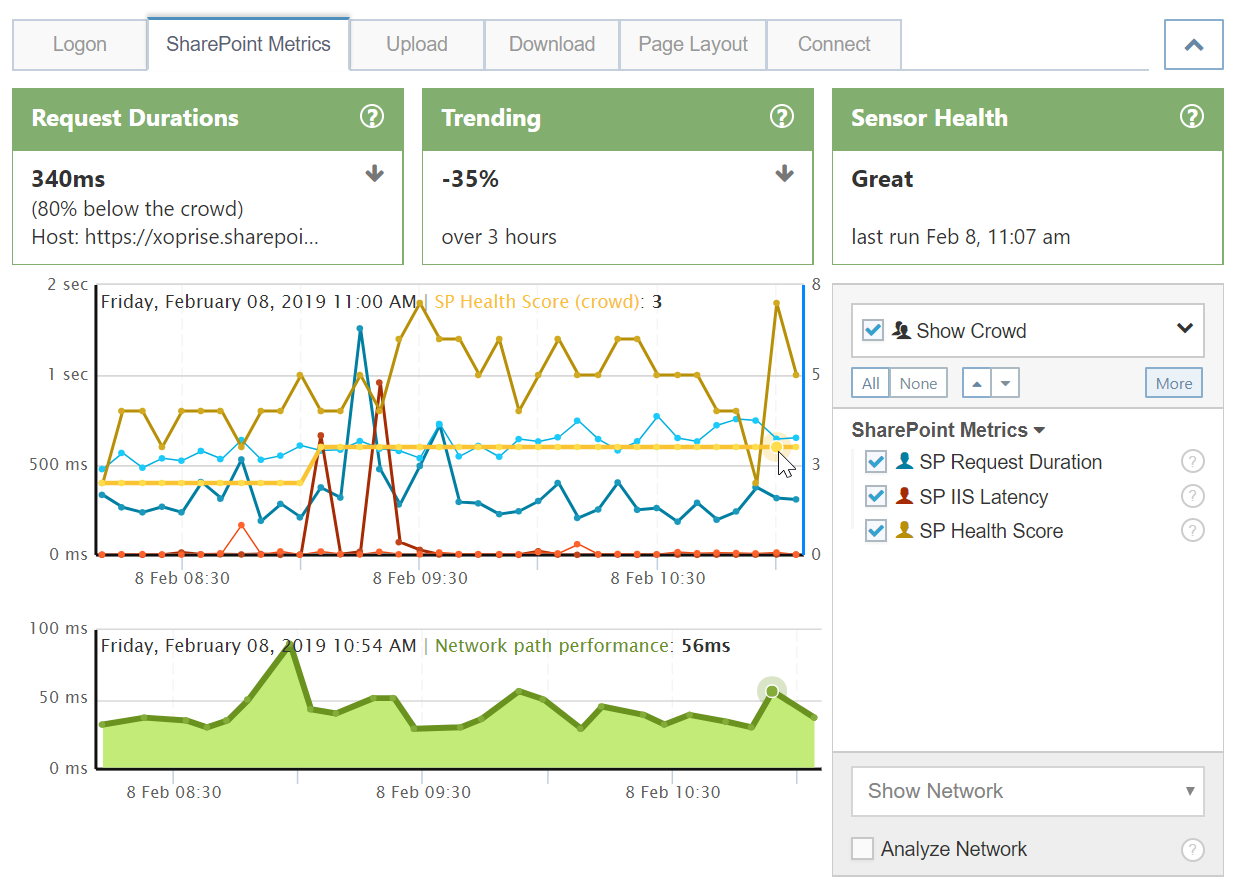 Optimize Microsoft 365 networking. Test Office 365 health, availability, and latency – all within five minutes
Optimal networking for Microsoft Office 365 ensures access to business-critical applications such as Teams, Outlook, SharePoint, OneDrive, and more.
Test Office 365 connectivity from multiple user locations
Monitor DNS routing and performance for faster lookups and accessibility
Track network latency for Office 365 applications and compare it with crowd benchmarks
Diagnose slow cloud proxy infrastructure from Exoprise public or private infrastructure
Detect Internet slowdowns or Microsoft downtime with hop-by-hop analysis for ISPs, LAN, WAN and SDWAN
Free Microsoft Office 365 Performance Tests
Compare Latency
Discover if Office 365 latency are slowing you down. Compare SLAs and monitor end-to-end service delivery.
Compare Tenant Health
Compare Office 365 health scores and page response times between your tenant and other Exoprise customers (in aggregate).
Compare ISP, Cloud & More
Compare end-to-end Internet performance for your locations and remote users vs branch/HQ. Solve difficult network problems.
Deploys Instantly — Your Place or Ours

Download & Deploy
Starting is simple, fast, and wizard-driven. So sign in, deploy Private Sites wherever you care about Office 365 performance problems.
For Real User Monitoring, invite users to deploy a browser extension.

Choose an App to Monitor
Choose which Office 365 application and service to monitor; SharePoint, Teams, Exchange Online, or the Office 365 portal. Then, validate the configuration and deploy.

Automatic Screens & Alarms
Beautiful Office 365 dashboard reporting solution, automatically added and configured for role-based customization. Alarms and thresholds are configured and calibrated as deployment grows.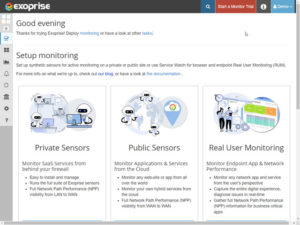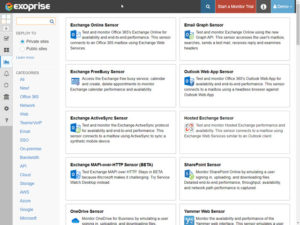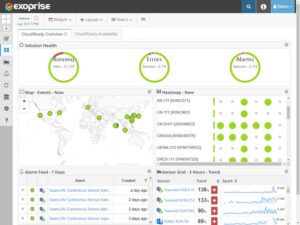 Monitor From Your Locations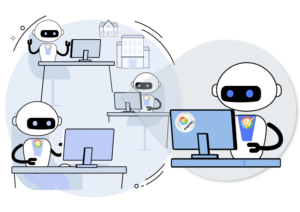 Synthetically test from office, home, and remote locations

Monitor From Exoprise Servers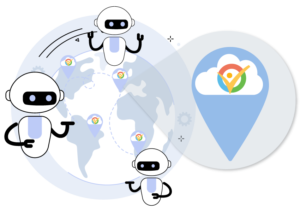 Monitor apps from around the world

Answers to Questions about Microsoft 365 Monitoring
Getting Started, Trial and Pricing Questions
Doesn't Microsoft monitor Office 365 performance and availability?
Yes, they do, and they publish a terrific Service Communications feed that we integrate into our dashboards (we call it a 360° view). But Microsoft only monitors their side of your tenancy and cloud services. They don't monitor all the way to your enterprise, your ISPs, your network, or the Internet. They don't monitor proxies (they recommend against proxies altogether). That's what we do—we monitor the end-user experience end-to-end and provide real-time alerts about Office 365 service status.
Furthermore, Microsoft Office 365 is constantly changing and improving, and those changes can cause performance problems or outages.
What are the requirements for running CloudReady?
The requirements are minimal, and we have complete documentation. Our solutions run on any Windows® or macOS physical or virtual machine.
We have customers who run CloudReady on:
Less than 2 GB of memory for OS and our solutions
Shared admin workstations in branch offices
Old laptops or desktops converted for Wi-Fi monitoring and synthetics
Minimal Virtual Machines in datacenters or network closets
SCCM distribution nodes
How does the free trial work?
Sign up at https://secure.exoprise.com/signup to get started. You get 3 sensors with unlimited site setups. For real-user monitoring, Exoprise Service Watch, you can try it for up to 25 users. The trial lasts 15 days but doesn't start until you successfully deploy a sensor, so go check it out right now.

What happens after the trial is over?
Depending on the capacity of our system, we may leave the trial running for a few days, but most of the time everything will uninstall itself, and you won't get access to the data. It's best to export your comparison data before the trial has expired or convert to a paid subscription.
How much does it cost?
This depends on how many applications you want to monitor from how many locations and how deeply. Most sensors, which monitor an app, the service, and the network, cost $100 / month. You get in-depth monitoring with hop-by-hop analysis, crowd-sourced bench-marking, integrated alarms, unlimited users and more.
Some network sensors are less expensive, and we have many sensors that let you monitor 5 different servers, URLs, hosts, DNS addresses, etc. Service Watch is priced per user, per device and starts at $4 / per month.
Are discounts available? Can I be invoiced?
Yes, we offer volume discounts and invoiced purchase plans. Contact us with more questions and we can help.
Networking, Firewalls, & Proxy Questions
Are firewall changes required, ports opened?
No firewall changes are required for using Exoprise products. Installations communicate with cloud-based servers via HTTPs / 443 and don't require any ports to be opened or firewall changes.
Are proxies and proxy authentication supported?
Absolutely, what good is a digital experience solution that doesn't support proxies? Proxies and firewalls are often the cause of bottlenecks and slow-downs.
Exoprise solutions fully supports proxies, including cloud-based proxy solutions from security vendors like Symantec, Palo Alto and Zscaler.
Integration Questions
Can I integrate with Entra ID, Okta, or similar? For Single Sign-On?
Our solutions fully support SAML-based logins, and we provide guided instructions on set up:
Can this be integrated with Splunk, Microsoft SCOM, or other systems management tools?
Yes, there are many features and how to articles for integrating into existing systems' management products. Here are some examples:
Dashboards can be integrated into any web page or operations site that supports IFrames. You can anonymously embed dashboards into any page.
I don't see my application listed. Can you make changes for us?
We do customize our solutions for different cloud applications vendors. First, we have a Web Login sensor that can support any third-party web application. If that monitor doesn't work, we can usually turn around a custom solution in days. Just start a trial and contact support@exoprise.com.
Real User Monitoring (RUM) for Office 365 and Other SaaS products
Do you support RUM for Microsoft 365 experience?
Exoprise Service Watch can monitor all the critical Office 365 services from any users' browser. You can enter URLs for Office 365 like https://login.microsoft.com, https://<domain>.sharepoint.com, https://teams.microsoft.com and you will collect real-time performance information from end-users browsers.
Can Service Watch and CloudReady be used for other SaaS / Cloud services?
Yes, we have many customers who use our products to monitor G-Suite for Business, Zoho, Salesforce and more. For Service Watch, you can monitor any website.
Can I monitor Salesforce and Zoom alongside Office 365?
We have both synthetic and real-user monitoring support for Salesforce and Zoom. We support many other solutions: