Your Business Needs Uptime Not Downtime
Microsoft Office 365 outages are increasing. Office 365 subscription services for Outlook, Teams, Exchange Online, OneDrive, Azure, Yammer, and SharePoint are used by millions of users worldwide. Whether for personal or business use, outages on this scale are frustrating and expensive. Office 365 outage can be costly. According to Gartner, the average cost of IT outages is $5,600 per minute and up to $300,000 per hour. Traditional tools do not look beyond their network and lengthen the process of troubleshooting.
Your business needs a proactive Office 365 monitoring solution improves uptime and lowers Office 365 downtime by automating fault detection and improving the end-user experience.
Make Your IT Environment Resilient to Office 365 Outage
Service outages, whether in the corporate LAN, at the provider's data center, or somewhere in between (like the network) often happen as a result of upgrades or network changes. These changes usually stem from software upgrades, capacity, or the desire for performance improvements.
Often well intended, upgrades are frequently the source of Microsoft outages and performance incidents. By utilizing Exoprise solutions, organizations can mitigate Office 365 issues such as failures, outages, and transient errors. Comprehensive insight into the Service Delivery Chain provides accurate pinpointing of changes whether internal or external. Whether it is Teams, Outlook, SharePoint, Exchange, Azure, or any other Microsoft 365 service outage, ensure every service is monitored proactively.
Service Delivery Chain with Possible Cloud Outages Detected by Exoprise Solutions
Monitor Every Application in the Microsoft Office 365 Suite
Companies often face the challenge of monitoring the performance and reliability of multiple Office 365 applications (Teams, Outlook, OneDrive, Sharepoint) that end users can access simultaneously via the cloud or on-premises. With the rise of work from home culture, IT needs to be better prepared to support employees and ensure that work continues with minimal disruption. Existing monitoring tools cannot be instrumented to monitor the deep stack (network, server, physical, virtual, on-premises, and the hybrid cloud) infrastructure on which these applications run.
Only Exoprise provides the ability to monitor the entire Office 365 suite from every vantage point giving IT the visibility it needs to manage outages and minimize risk.
Automatically test the health of Office 365 service from sensors that monitor and collect real-time data.
Roll out new application changes with confidence. Monitor Office 365 Outlook, Exchange outage alerts during any service issues.
Transform expensive war room scenarios into all hands deck in one single monitoring platform.
Early Detection of Microsoft Teams Outage and Office 365 Outage Map
Exoprise is a leader in monitoring Microsoft 365. Employees and customers who regularly use Office 365 services such as Teams, Outlook, SharePoint, OneDrive, etc., should be notified of an impending outage early on, giving IT teams ample time to inform customers and manage employee expectations. With proactive monitoring and deeper synthetics for any SaaS application, Exoprise detects Microsoft outages at least 2-3 hours in advance, even before the service provider acknowledges them on its Twitter feed.
For example, after suffering a Teams outage in early 2020 due to an expired SSL certificate, the Exoprise Teams AV sensor collects all the performance metrics (jitter, packet loss). Interestingly, as an administrator, you can also visualize which locations the outage affects end-users through our dashboard. This customizable dashboard consists of several data widgets that are interwoven to provide a high-level operational view of your preferred Microsoft 365 services. The Twitter widget shows real-time service health status and communication from Microsoft. In the center, the sensor heatmap shows Teams AV down in one of our public-hosted sites. The Office 365 outage map clearly displays that the Teams outage affected the north-eastern parts of the US and India.
After deploying the fix in production, Exoprise will show if it works. This real evidence is critical for network administrators, help desk operators, and ITSM support staff to reach out to their business leaders in time and send clear messages for the resumption of operations.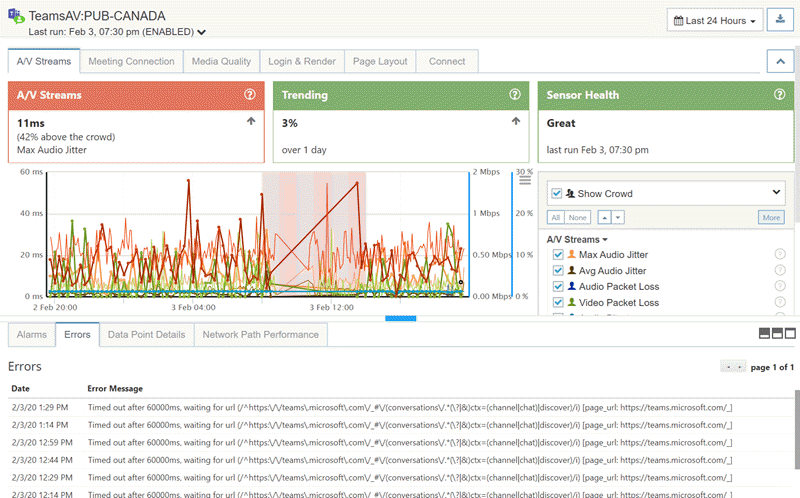 Early MS Teams Outage Dection Due to Expired Certificate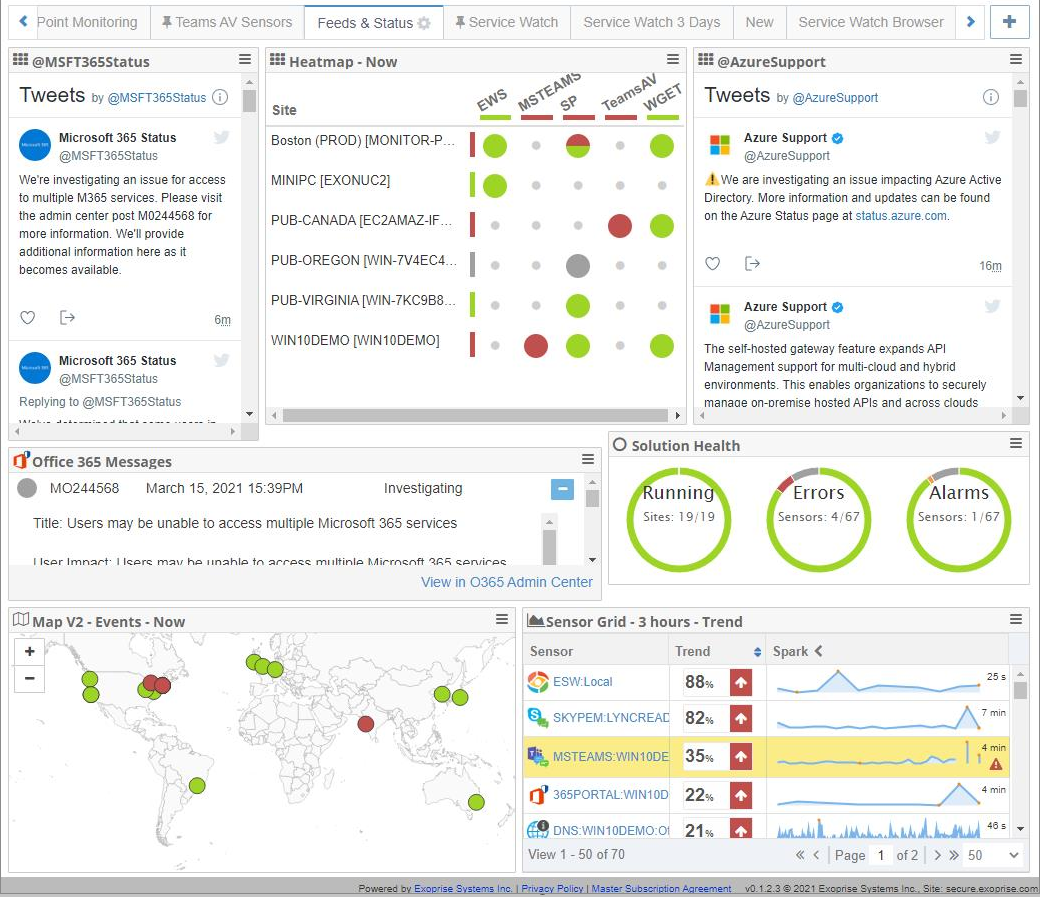 Exoprise Custom Dashboard to View Microsoft Teams Outage
Integrate with ITSM and Existing Systems Management Tools
Mission-critical 3rd-party SaaS applications and services require 24×7 monitoring and network operations management. IT teams don't want to manually create incident tickets and often need to communicate o365 outages to a broader audience within a company or initiate workflows.
During service outages or network interruptions, ops teams shouldn't be manually creating tickets or reinventing the wheel. There is no time to waste if critical Office 365 services like SharePoint, Teams, Outlook, Exchange Online, OneDrive are experiencing an outage service disruption. Tickets should automatically be created in ITSM or other third-party tools.
Streamline incident management with Exoprise CloudReady by automating ticket creation and resolution in tools such as ServiceNow, Splunk, PagerDuty, MoogSoft, and more to ensure excellent end-user digital experiences, enhanced cross-functional communication, and optimal business productivity.
Analyze Root Cause During Microsoft Outage to Eliminate Finger Pointing
The amount of data and metrics collected in an IT organization especially during a Microsoft o365 outage has exploded over years. So much so that teams struggle to gain insights quickly enough and take advantage of it. As a result, several departments use a combination of modern and traditional tools. Data stitched together by these tools to correlate or track down the root cause is largely insufficient and outdated due to the time lag. Costly warm room scenarios escalate trying to figure out what happened and how to fix the impending outage.
Leverage an all-in-one monitoring pane from Exoprise that aggregates and correlates data points from a variety of sources including Office 365 Twitter account @msft365status. When Office 365 is down, empower IT teams to use crowd-based analytics and immediately find out where the real problem lies.
Recent History of Office 365 Outage and Status
Yesterday's Microsoft 365 Suite-wide outages, led to continual faults for Outlook on the web on Tuesday, June 6th. When the outages pile up, it becomes difficult to tell when one starts and the other ends. …
On Monday morning, June 5th there was a wide scale outage for Microsoft 365. Interestingly, for this one, they first reported it with a barrage of duplicate Exchange Online health status emails (why, we have no…
Unable to send, receive, or search email through Exchange Online? Microsoft Outlook suffered an outage for several hours last night, disrupting North America and worldwide email services. Proactive and Early Outage Detection Exoprise sensors first…