Monitor Microsoft Teams
Detect outages and optimize the Teams user experience everywhere

Microsoft Teams Changes How Enterprises Communicate



The rise of Unified Communications as a Service (UCaaS) platforms like Microsoft Teams provide a huge boost to enterprise productivity. Teams is the fastest growing application in Microsoft's history and during the global Covid-19 pandemic of 2020, Microsoft saw daily active users increase to 75 million.
The dramatic rise and growth of Microsoft Teams usage shows how its become mission-critical to every organization. Once adopted, Microsoft Teams requires assessment, monitoring and optimization to ensure businesses reap the productivity benefits Teams offers. Optimizing the network and digital experience of Teams is critical to continued usage and deployment success.
Even in the Cloud You're Still on the Hook for Optimal End-User Experience
IT needs to guarantee reliability and performance of UCaaS solutions like Microsoft Teams despite the loss of control that comes with the move to the cloud. Monitoring Microsoft Teams, Office 365 and Azure ensures the health availability of these business-critical solutions.
Synthetic monitoring from multiple vantage points reduces Mean Time to Resolution (MTTR) when outages or network performance problems occur.
Proactive Microsoft Teams Monitoring Required
Cloud-based collaboration platforms like Microsoft Teams are only as good as they are fast and reliable. Dropped calls and poor audio/video quality make for frustrating employee experience and reduced productivity. Predict and reduce user complaints with comprehensive Microsoft Teams monitoring from every location.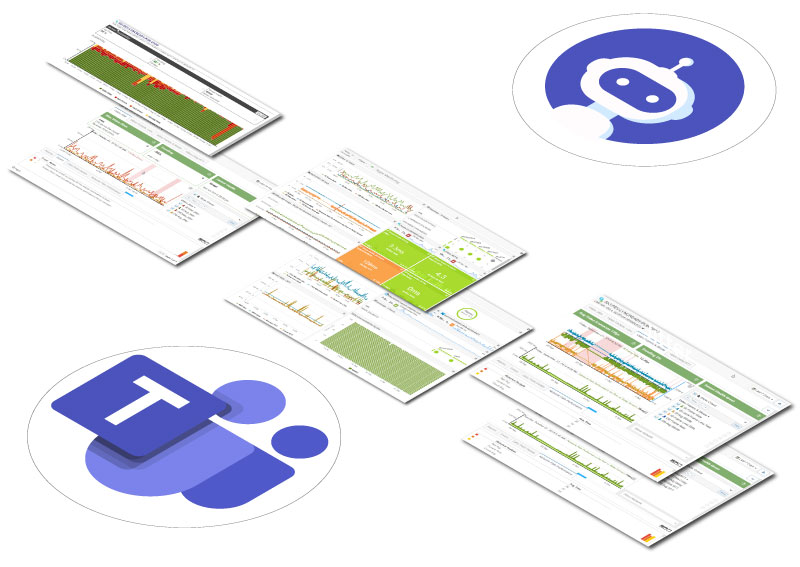 Watch this video to see the telemetry and statistics collected in real-time from the Exoprise Teams Audio Video Sensors.
Enterprise Use Cases for Microsoft Teams Monitoring
Optimize End-User Experience Everywhere
Test and evaluate performance from any location in advance of deployment or usage. Don't wait for that business-critical Teams conference before analyzing and fixing network capacity issues or escalating to a responsible ISP. Teams and VoIP monitoring is critical to branch-office and WAN deployments.
Real-Time Tenant Alert Notifications
Microsoft's Call Quality Dashboard is valuable but late to collect data when trying to fix a problem. With Exoprise Microsoft Teams monitoring, you get instant notifications, rich contextual information and deep WAN performance diagnostics – anywhere along the network path.
What-If Scenarios for Microsoft Teams Network Testing
Synthetic testing of Teams and VoIP networks provides for rapid isolation of network QoS changes, hardware upgrades, ISPs and more. Instantly detect and improve network issues with synthetic sensors for Teams, Skype for Business, VoIP networking, UCaaS Solutions and more.
Bridge The Gap Between Teams
Troubleshooting UCaaS/VoIP solutions frequently results in IT blame games between network and application owners – especially when the apps live in the cloud. Synthetic monitoring for Microsoft Teams provides continuous, end-to-end visibility into network and tenant problems when something goes wrong.
Ensure Performance and Reduce Downtime with Comprehensive Microsoft Teams and Network Monitoring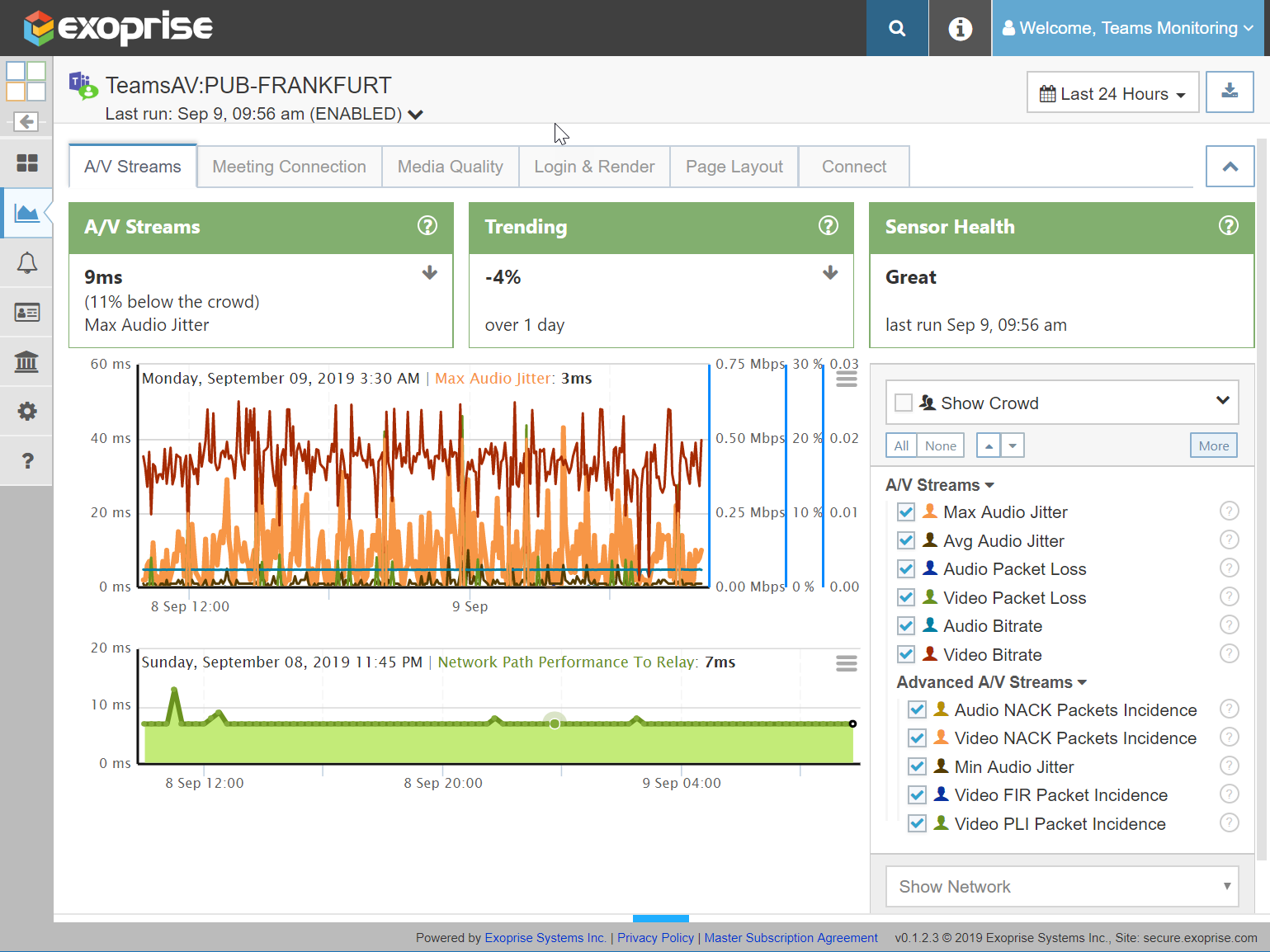 Real-Time Jitter, Packet Loss and AV Correction Stats for Microsoft Teams for Every Remote Location
Test and capture low-level metrics like Jitter/Latency and VoIP call quality from Microsoft Teams Conference. Deploys instantly to any network location or topology – LAN, WAN or WiFi. Capture live, low-level metrics from the WebRTC infrastructure and analyze VoIP statistics such as:
Jitter
Packet Loss
Bitrate
MOS – Mean Opinion Score
AV Bitrate & Frame Correction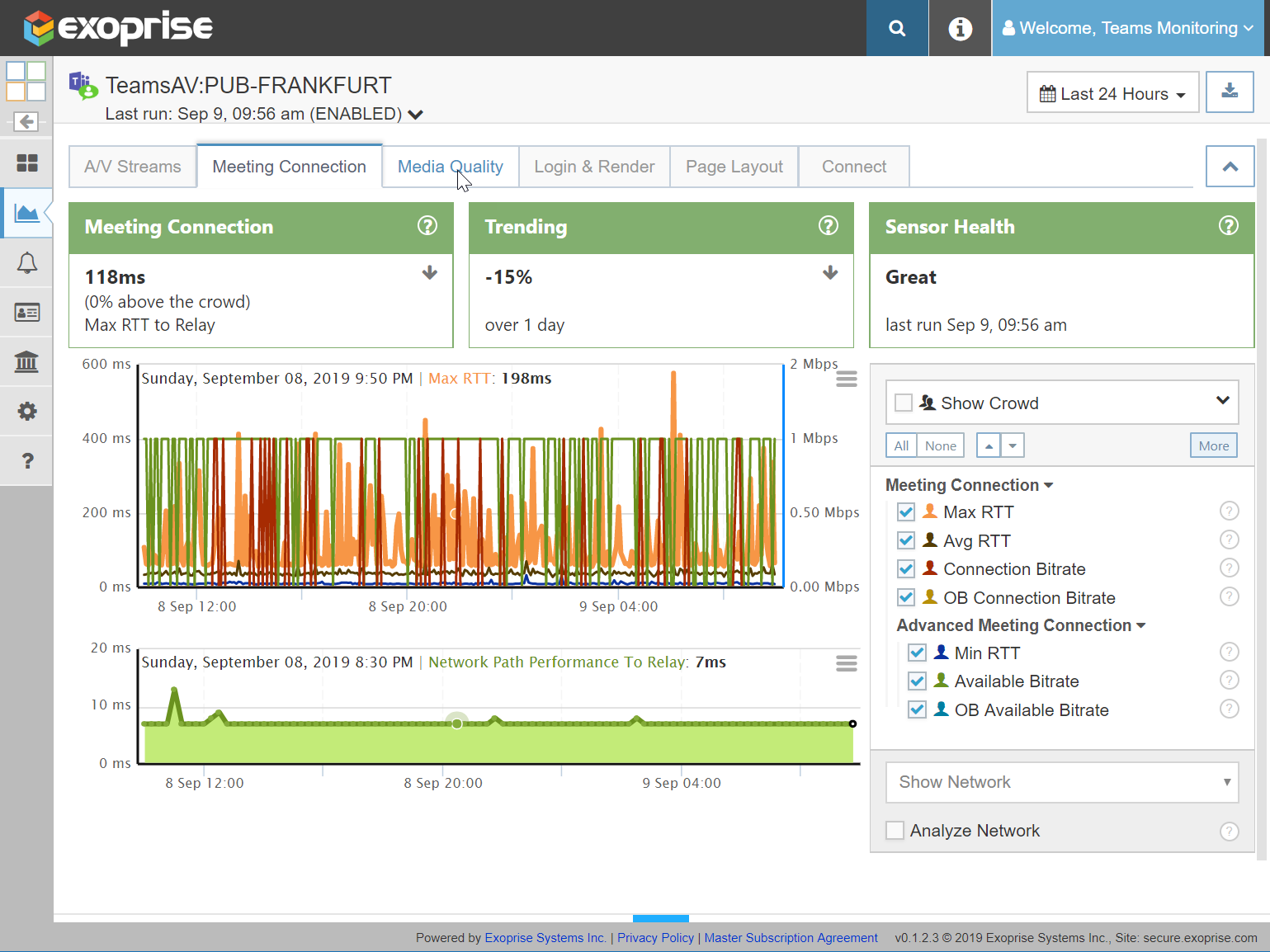 Detailed Hop-by-Hop Network Path Performance and Round Trip Times as Seen By Teams WebRTC
Microsoft Teams response times and network Round Trip Times (RTT) reveals underlying network problems and LAN/WAN VoIP performance.
Exoprise CloudReady pairs Max RTT and Avg RTT measurements from the WebRTC stack, alongside hop-by-hop network diagnostics for bandwidth, latency and VoIP call quality diagnostics.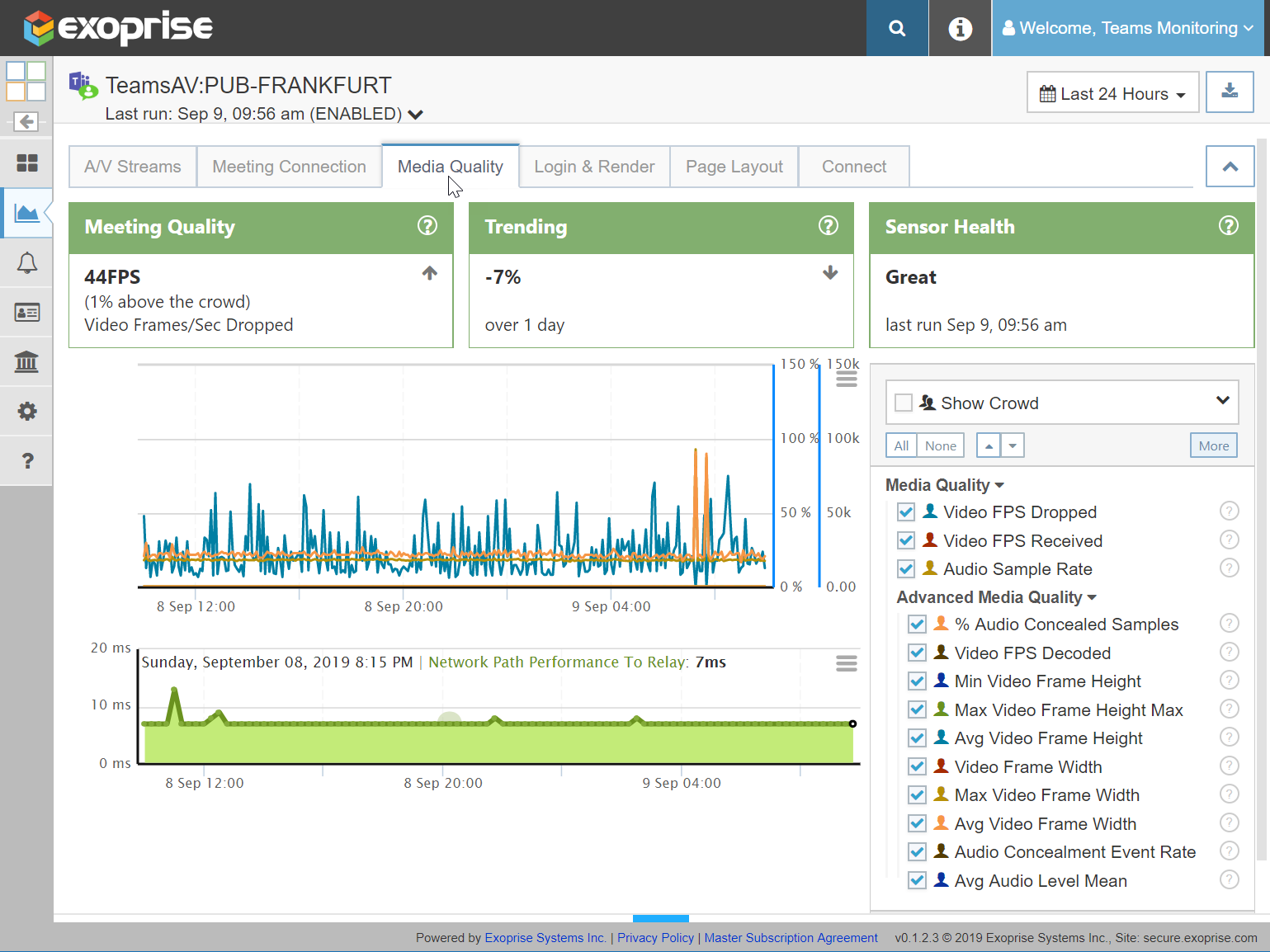 Actual Quality of Service (QoS) as Measured by Microsoft Teams WebRTC Applications
Capturing QoS metrics as perceived by the Audio Video WebRTC stack during synthetic tests enables network architects to experiment and test changes without having to wait for users to experience poor application quality.
Call quality records take a long time to be show up in the Call Quality Dashboard (CQD). Utilizing Exoprise CloudReady, network infrastructure changes can be confidently changed, evaluated and deployed without fear of delivering poor digital experiences.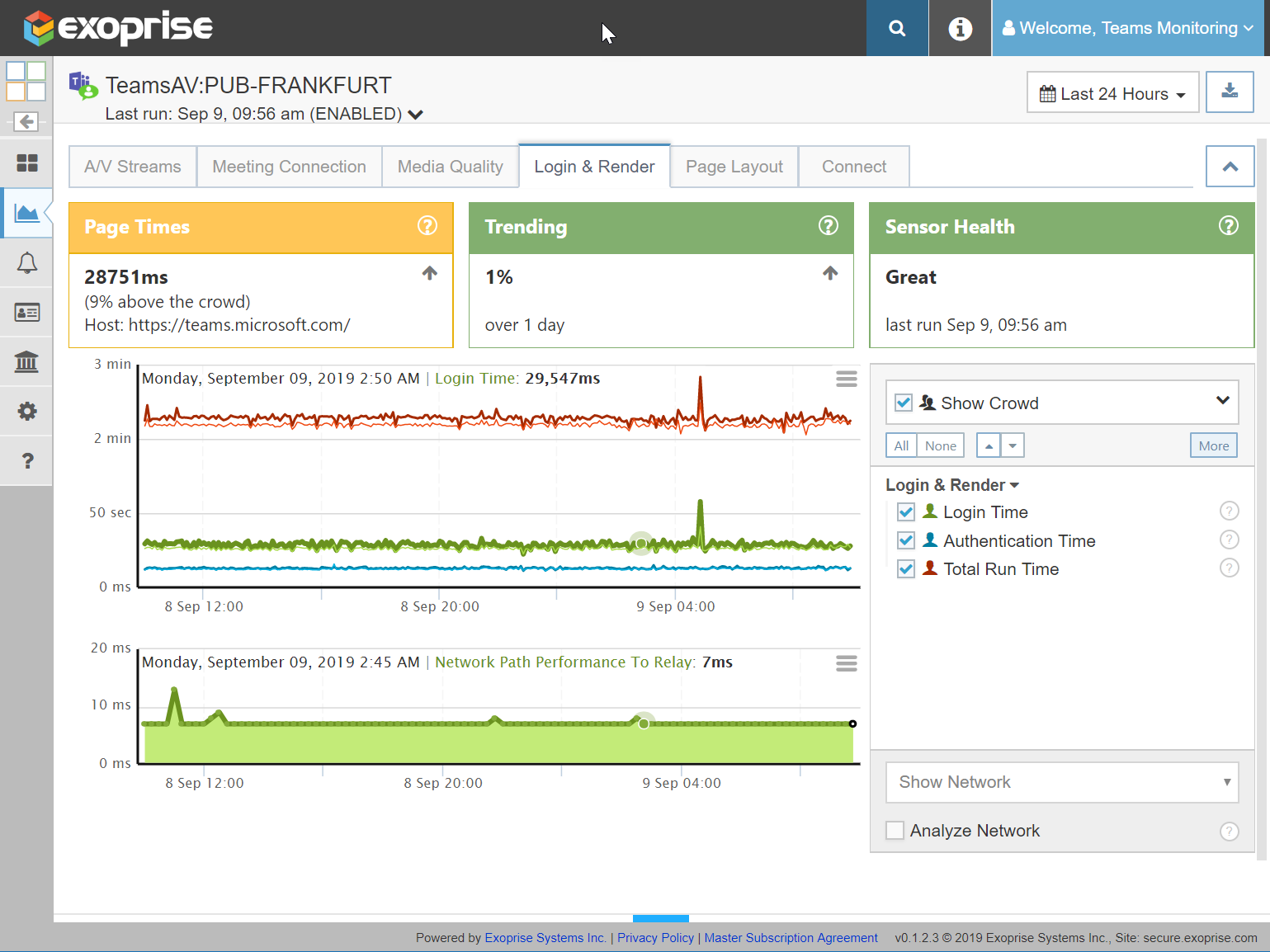 High-level Actions: Login, Authentication, and Total Runtime Continuously Recorded for SSO Integration
Ensure uptime for ALL of the dependent Office 365 services like Azure AD and Active Directory or for third-party systems like Okta, Ping, ADFS and more. Problems with any of theses services and their interaction with Microsoft Teams are instantly detected.
Monitor the Microsoft Teams SSL certificate infrastructure and security infrastructure of dependent services.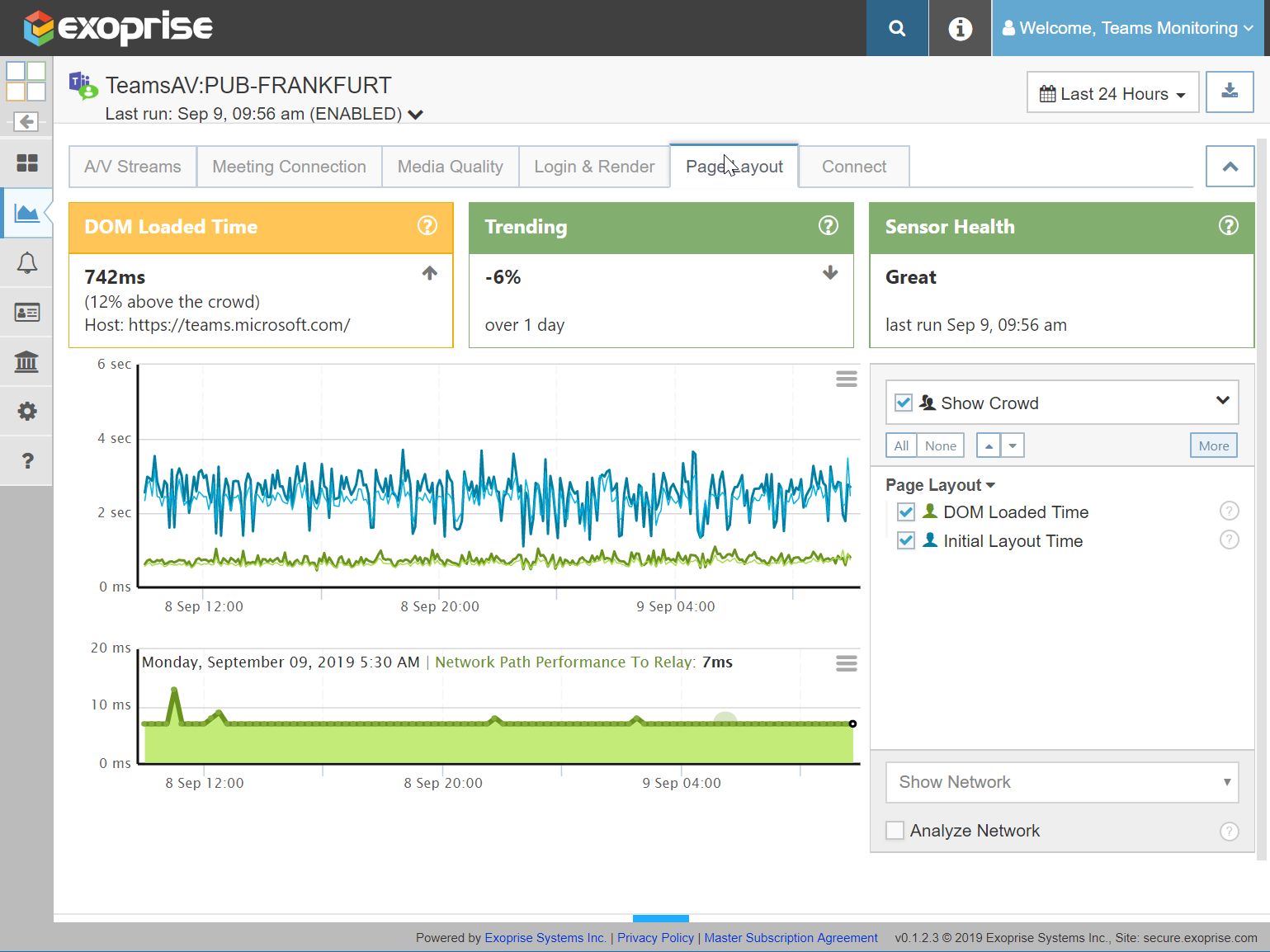 Detect Slow Microsoft Teams Page Load and Delivery Performance
Client side Teams performance is affected by content, servers, and networks along the along the service delivery chain. Exoprise Teams sensors utilizes the most recent Teams client browsers to evaluate Document Object Model (DOM) load times, page and layout performance.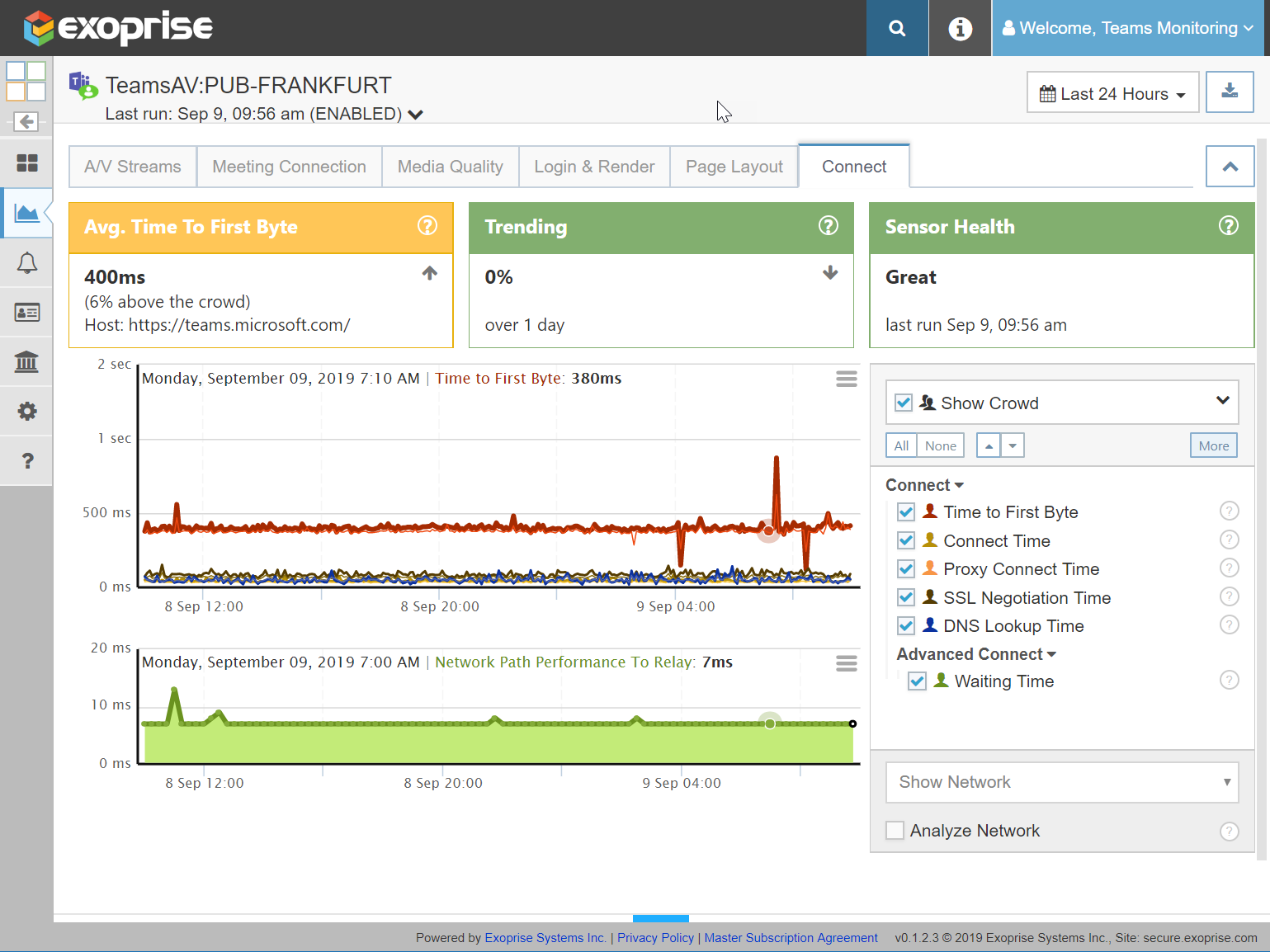 Suspect Slow Microsoft Teams Servers? Operating Teams Behind a Proxy? Diagnose Poor Microsoft Teams Performance
Finally, low-level TCPIP networking statistics are captured and available for crowd comparison. Low-level network stats can assist with root cause detection and remediation. Exoprise even handles measuring proxy overhead and performance.
Time to First Byte (TTFB)
TCPIP Connect Time
Proxy Connect Time
SSL Negotiation Time
DNS Lookup Time
Real-Time Call Quality Dashboard for End-to-end Microsoft Teams Performance
The built-in Call Quality Dashboard from Microsoft has come along a way but it takes a long time to gather and collate the data, is late to update, isn't real-time, and only provides telemetry after the call has finished.
What Good is Week Old Call Quality Data?
You need proactive monitoring for Microsoft Teams across channels and collaboration. Ensuring excellent end-user experience for your employees with business-critical collaboration platforms like Microsoft Teams, Skype, Zoom, Slack and more is critical in good times or bad.
With Exoprise CloudReady Teams monitoring, a custom dashboard that updates in real-time is easily accomplished.
Monitor and detect outages across your network and Microsoft's infrastructure
Detect Single Sign-On (SSO) outages with Azure AD, Okta, ADFS, and other components
Detect Internet Service Provider (ISP) changes end-to-end for any branch office
Detect and pinpoint Jitter, Frame and Packet Loss in your WAN and LAN infrastructure
Detects low-level WebRTC networking issues from wherever you deploy, branch office or HQ
Teams Usage and Licensing and Microsoft Teams Monitoring In One Location
See Microsoft Teams usage data alongside monitoring data to spot adoption trends and see correlation with performance, alarms and Office 365 Service status issue.
Exoprise CloudReady makes it incredibly easy to build and subscribe to dashboards for application owners, network administrators, help desk operators and Chief Information Officers.
Frequently Asked Questions About Teams Monitoring
Can I get a free trial?
Yes, you can, and you'll get valuable network and application benchmarks with our crowd-powered monitoring. A Teams Audio Video Conferencing sensor deploys in minutes and you'll be able to compare your performance and network to other customers.
Does this test actual Teams infrastructure?
Yes it does. And Exoprise CloudReady is the only solution that can. Don't believe us? Try it.
Other solutions utilize Test ports and/or fake UDP packets. The Exoprise Teams sensors utilize real chromium-based headless browsers and execute WebRTC-based sessions against an Azure hosted Audio Video BOT. Solutions that test anything else are useless.
Does this require changes to the network?
No, definitely not. You can deploy an Exoprise Teams AV Conferencing sensor through any network topology in about 5 minutes. There are no firewall or port changes required at all and Exoprise solutions support any cloud and premises-based proxy configurations.
Can this be integrated with Splunk or Microsoft SCOM?
Exoprise CloudReady has many integration features and how to articles for how to integrate our network and UCaaS monitoring into your existing management products. Here are some examples:
Can I monitor WiFi performance with Microsoft Teams?
We do recommend deploying CloudReady AV sensors in a mix of conditions similar to the way users are utilizing Microsoft Teams. Exoprise solutions can be deployed in minimal configurations and even fully supports mini-pcs.
Can Teams Monitoring be collocated alongside user laptops or Work From Home scenarios?
Yes, CloudReady Private Sites utilize minimal CPU and memory and can be installed alongside any workload. A site with a few sensors will have very little impact on most machines.