Monitoring the Digital Experience of Salesforce
Ensure the world's leading CRM platform delivers on its potential to empower your team
Salesforce Monitoring — Because Sometimes Even the Best Falter
Salesforce drives customer interactions today. Employees rely on an optimal Salesforce experience to build sales, fulfill business, and manage the customer journey. Salesforce's availability and performance are critical to smooth business operations and gaining a competitive advantage.
However, internal department users extensively customize and configure the app to suit different business requirements. This customization and Salesforce Lightning implementation make for a rich application environment, but can lead to end-user performance problems.
The Salesforce App Exchange Store allows administrators to integrate with over 3,000 third-party apps, plugins, and APIs to enhance the Salesforce platform. But each integration point introduces latency and affects the page loading time for the end-user.
Remote Work Requires Salesforce Proactive Monitoring
Today, end-users work in varied environments and are outside the controlled office environment. They connect to Salesforce via home networks, Wi-Fi, routers, gateways, ISPs, and endpoint devices. As a result, remote employees have mixed experiences with the same cloud service from multiple locations. And if the app is slow or a particular page is not loading, IT and Salesforce admins have limited ability to diagnose Salesforce slowness. It can sometimes take hours for the support team to pinpoint the problem and identify the root cause of Salesforce problems.
Turbocharge Your CRM with Salesforce Monitoring
Upon returning from a weekend, our employees could not access Salesforce in the morning. As a result, IT and several other teams spent at least half a day trying to find the root cause, which cost the company about $500K. With Exoprise synthetics, we would have immediately narrowed the problem to a change made by the network team and saved a huge loss to the company.
Global CRM Head, Financial Services Company
Synthetics and Real User Monitoring for Proactive Salesforce Outage Detection
The Exoprise Digital Experience Monitoring platform takes Salesforce performance monitoring to the next level. Combine proactive Synthetic Transaction Monitoring (STM) and endpoint Real User Monitoring (RUM) – Better Together – in a single pane of glass to provide a rich end-user digital experience for Salesforce app users.
Monitor Salesforce Performance and Availability From All Endpoints
Configure specific Salesforce URLs and domains to monitor. Then deploy the browser plugin extension for remote users or office users to monitor Salesforce network paths in minutes. Service Watch Browser-based RUM securely collects performance data, allowing network teams to track and analyze Salesforce app performance anytime using the following metrics.
| | |
| --- | --- |
| Overall Web Experience Score | Page Response Times |
| Time-to-First-Byte (TTFB) | Proxy/SASE Access Times |
| DNS Lookup Time | SSL Negotiate Time |
| MFA Login Time | Core Web Vitals |
| Client, Network, Server Load Metrics | VPN Access Time |
| Federated, Managed Login Timing | Navigation & Resource timings |
Read more about Salesforce Real-User Monitoring.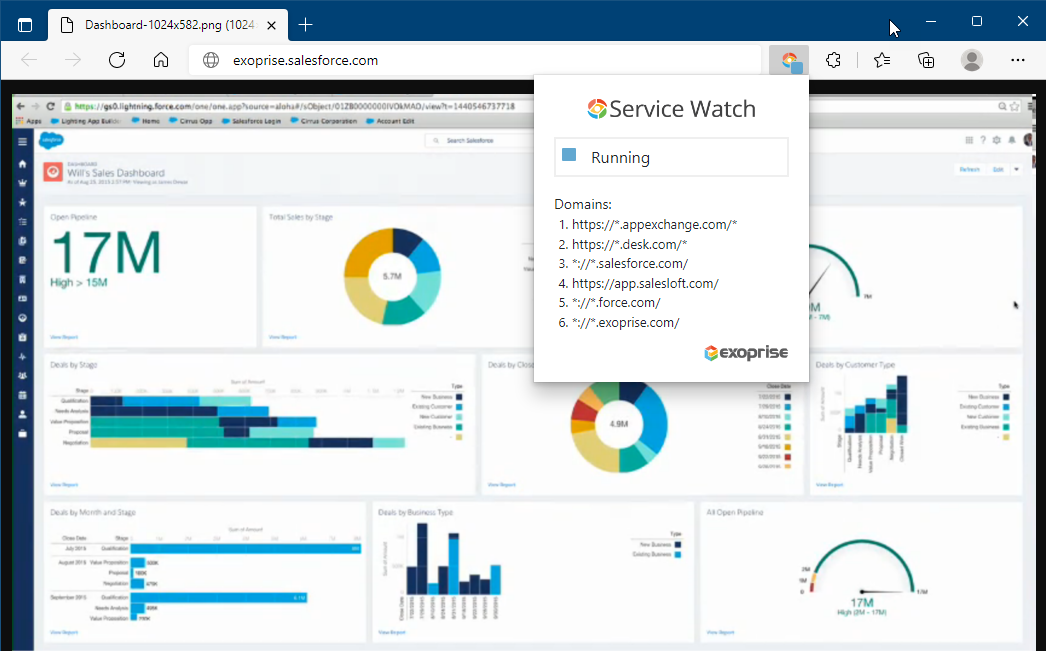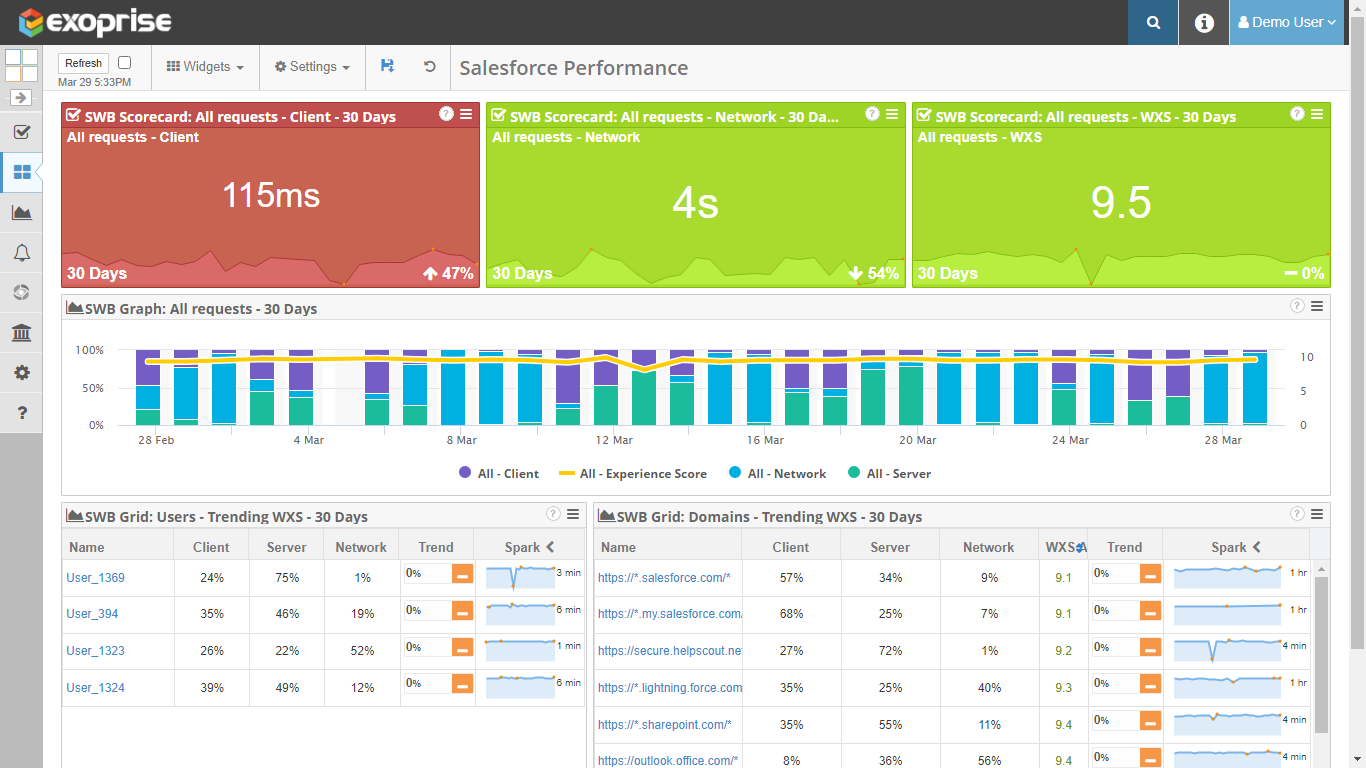 Visualize Salesforce Experience for Employees
Quick overviews of the employee Salesforce digital experience enable the helpdesk and network administrators to stay informed of Salesforce outages and performance. Identify and prioritize problems with specific configured Salesforce domains — based on the web experience digital score. No more guesswork, quickly troubleshoot Salesforce access and Lightning performance problems.
Analyze Page Render Performance for Salesforce Apps
Salesforce Lightning renders more content at the client than the classic version. App Exchange and third-party Salesforce Apps leverage client and server-side navigable pages. Service Watch Browser captures configured page and resource timings for accurate telemetry into the overall experience.
Input Delay
The time it takes for a page to allow user input. Also referred to as First Input Delay. For page and Salesforce app navigation, this measurement can influence employee productivity.
Page Jump
The percentage amount that the page shifts or "jumps" while it's loading. This can lead to a user clicking on something unintentionally. For Core Web Vitals, it's sometimes referred to as Layout Shift
Page Paint
Page Paint is the time it takes for the page to finish rendering its largest element. Also referred to as Largest Contentful Paint (LCP). LCP is about how fast the web pages are perceived to load.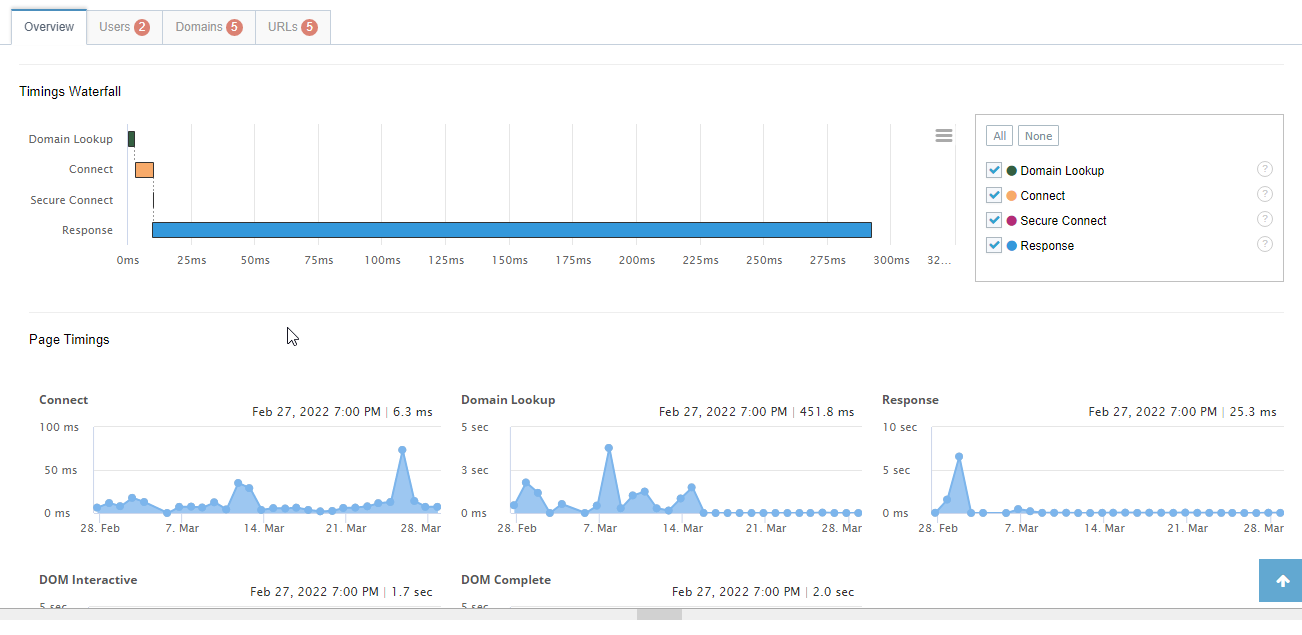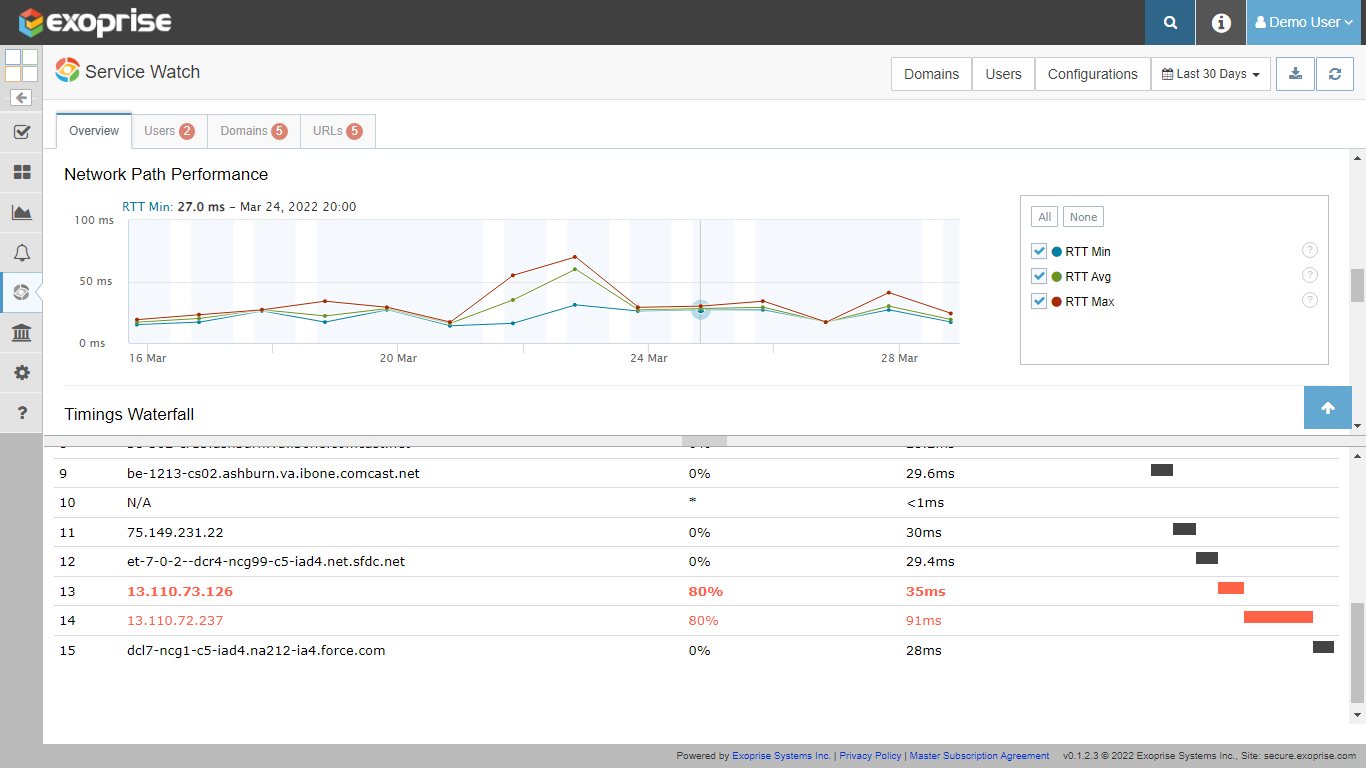 Salesforce Network Visibility
Service Watch monitors the connectivity from endpoint devices to the Salesforce service and tracks the underlying network path. Pinpoint the slowest nodes and Internet Service Providers (ISPs) for root cause and recovery. When employees complain about page problems, quickly identify slowdowns, packet loss, and latencies occurring in the network path. Leveraging network synthetics, real-user monitoring, and crowdsourced ISP metrics, network engineers are never in the dark when it comes to Internet outages.
Benchmark Your Salesforce Network Connectivity
CloudReady synthetics for Salesforce apps provide instant benchmarks and proper baselines for Salesforce connectivity. Why? Salesforce server response time is vital to delivering a high-quality experience to end-users. The longer it takes to load a page, the more frustrated your sales team becomes. CloudReady synthetic monitoring benchmarks and compares the performance of your hosted Salesforce server with a global customer base as an opportunity to optimize your network.
Read more about crowdsourcing analytics.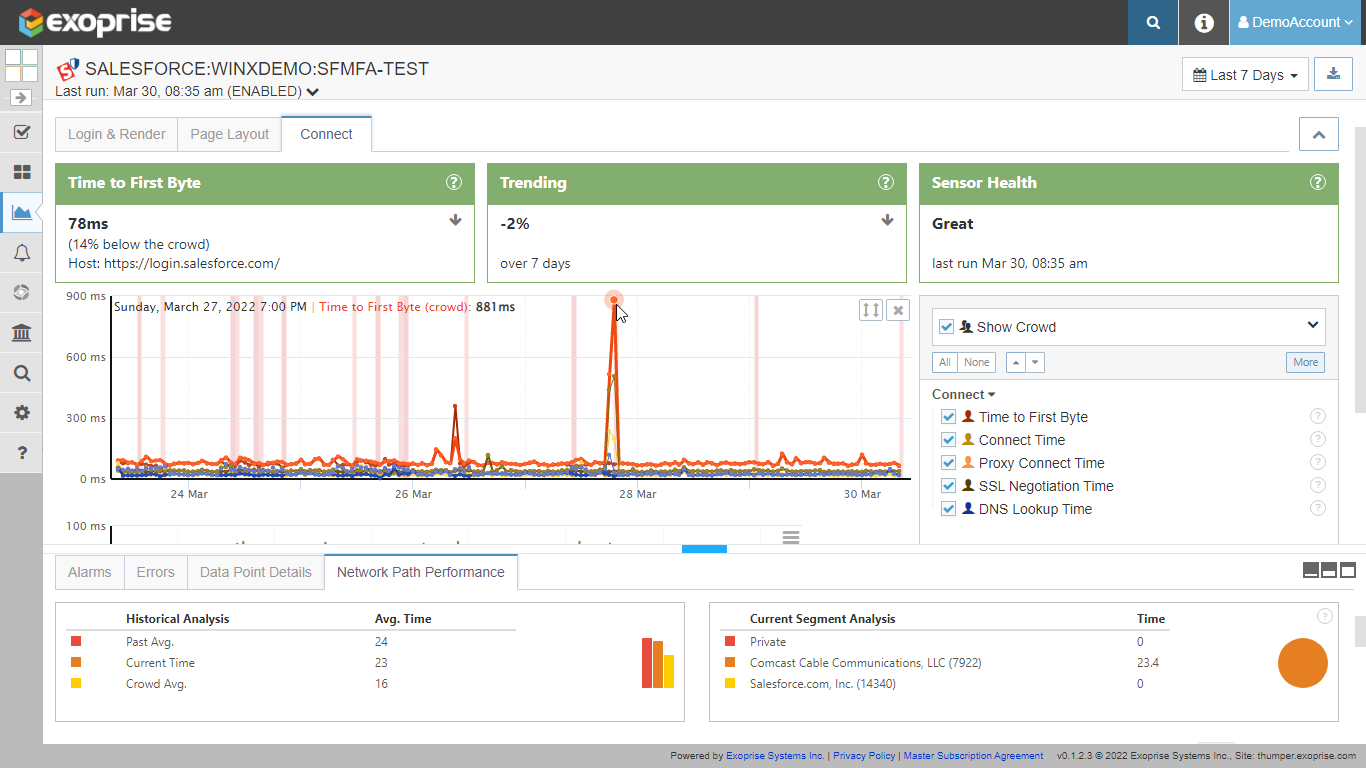 Is Salesforce Down? Proactive Alerts to Know About Outages Early
Alarms are automatically configured for proactive notification of Salesforce outages. Take the necessary steps, such as communicating with employees early, rolling back changes, and isolating root causes.
Planning initial rollout or monitoring of the existing Salesforce platform deployment
Monitoring Salesforce experience and performance from multiple locations
Reporting Salesforce availability and uptime stats with trend analysis (30- or 90-day period)
Gaining first-hand Salesforce performance and user experience knowledge after deploying a production fix
Frequently Asked Questions About Salesforce Monitoring
Does an Exoprise trial cover both synthetic and real-user monitoring of Salesforce?
A 15-day trial includes up to 3 synthetic transaction sensors (CloudReady) from any location, Service Watch Desktop for up to 25 users, and Service Watch Browser for up to 50 users. Both tools can be used for complete Salesforce application monitoring and optimizing critical business processes.
How many sensors or agents do I need to use to monitor Salesforce performance in real time?
You want to run synthetic transaction monitoring sensors for proactive monitoring from anywhere you have employees utilizing Salesforce or Salesforce applications. Customers can move synthetics to end-user devices for diagnosing difficult to isolate issues.

How complicated is the scripting and maintenance for Salesforce sensors? Does it support Multi-factor Authentication?
CloudReady sensors don't require scripting and can be configured to navigate the App Exchange or Salesforce reporting. Exoprise Salesforce monitoring tool supports testing accounts with MFA enabled to ensure the security and integrity of your environment.
Are single sign-on and other Salesforce security solutions tested as well?
Yes, Exoprise can test Single Sign-On (SSO), Secure Access Service Edge (SASE), and Cloud Access Security Brokers (CASB) solutions.