Datasheets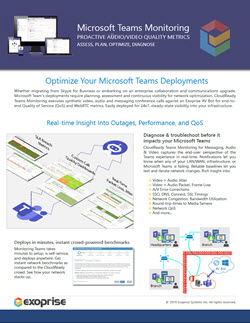 Monitor Microsoft Teams with Exoprise CloudReady. End-to-end visibility into Teams with synthetic transactions.
Cloud Health Report and Exoprise News Letter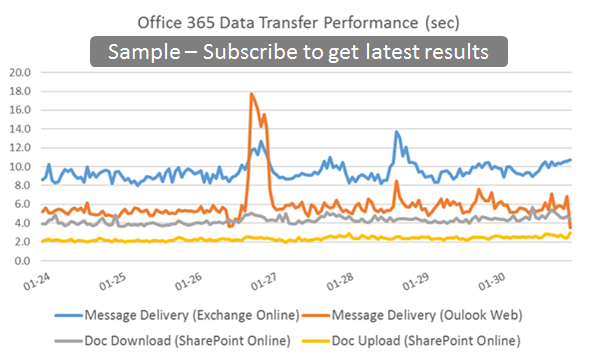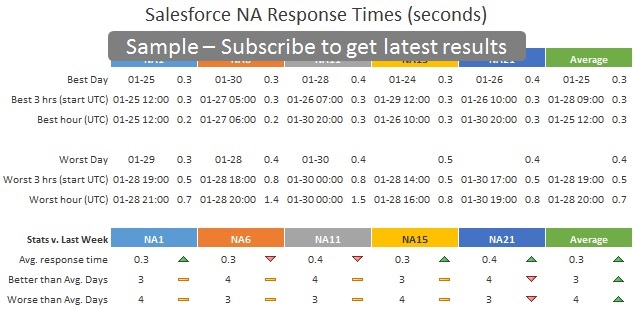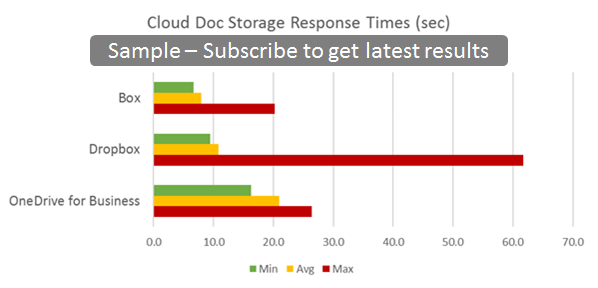 Whitepapers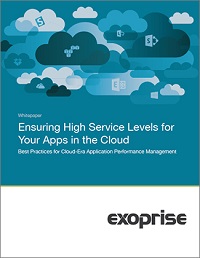 Best Practices for Monitoring and Managing Cloud and SaaS Applications
While on-premise deployments still exist for some applications, most everyone agrees that SaaS and Cloud are the new default.
These best practices collected by the experts at Exoprise will help you take control of your apps in the cloud while avoiding common pitfalls that can lead to extended outages and unhappy users.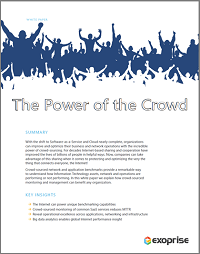 Optimize End User Experience and Reduce Time to Resolution with Crowd-sourced Monitoring
For decades, Internet-based sharing has improved the lives of billions. Now, companies can take advantage of sharing when it comes to optimizing the very the thing that connects us, the Internet!
Read this whitepaper to understand how crowd-sourced monitoring and management can benefit any organization.
Monitor Business Critical Zoom Audio Video Conferencing with Exoprise
Exoprise CloudReady makes it easy to monitor the availability, performance, and quality of the end to end infrastructure that delivers Audio / Video Conferencing (meetings) through systems like Zoom US. Many organizations utilize cloud-based conferencing to service Work From Home mandates, telecommuting or emergency communications.
Read this solutions brief to see how easy it is to monitor Zoom Audio Video Conferencing from your vantage points.
Case Studies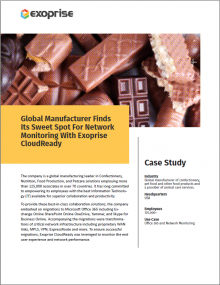 Global Manufacturer Finds Its Sweet Spot For Network Monitoring With Exoprise CloudReady
To ensure a successful migration to Office 365 and the required network transformations, Exoprise CloudReady was selected and utilized by this global manufacturer to ensure excellent employee digital experiences, high availability, and superior performance.
Read this case study to learn about the benefits this company received.
Videos
See how Exoprise helps you optimize your Software-as-a-Service Apps and their networks today
Exoprise CloudReady Overview
Overview video for Microsoft Ignite
CloudReady Getting Started Video
Your cloud apps are easy to deploy and use. Shouldn't your management tools be too? You can be up and monitoring the performance of your "enterprise cloud" in just 5 minutes.
Connecting your CloudReady account directly with Office 365 via Microsoft's Service Communications API is easy and enables you to get a three dimensional view of the health and performance of your Office 365 service in one convenient place.
Detailed Transaction Timings
Dig into the Detailed Transaction Timings feature and give an example of how to use it to identify the "smoking gun" causing poor SharePoint login performance.
Dashboard Display Configuration
As you add more sites and sensors to your CloudReady environment you may want to adjust your dashboard display settings to make it easier for you to focus on specific sites or sensors. This video demonstrates a few tweaks you can make to the dashboard…
Alarm Configuration Part 1
To get the most out of CloudReady, it's important that your alarms are correctly configured. This video discusses the basics of alarm creation and configuration.
Alarm Configuration Part 2
Part 2 of this video series details how to edit and attach alarms to multiple sensors.