Endpoint Visibility
for Apps, Networks, and SaaS

Employee Digital Experience Monitoring, Everywhere They Work
Hybrid work is the new normal with reliance on Unified Communications-as-a-Service (UCaaS), secure access, and networking to ensure productivity with cloud and SaaS apps.
When employees experience network or device problems, business suffers. This is why you need Network Digital Experience Monitoring, we call it Network DEM.
The future of work is all digital, all connected, and all kinds of complicated.
Service Watch Desktop monitors every critical aspect of the employee digital experience to ensure success and satisfaction with networked business apps. Service Watch is a born-in-the-cloud DEM/DEX solution with quick ROI, unparalleled features, and infinite scaling.
Service Watch Desktop Features for Endpoint Monitoring

Core features and data analytics to accelerate understanding for the entire IT team

Important System Resources, Real-Time Insight for Every Endpoint
Service Watch Desktop captures 1000s of metrics every second for long-term trending, real-time alarms, and root cause analysis. Easily group, and refine device and application scoring by asset, CMDB values, Organizational Unit, user, and more with Device Groups.
Composite Resource Scores for Benchmarking & Discovery
Important system and experience metrics are rolled up, aggregated, and crowdsourced to help analysts make sense of the data and get to the root cause quickly.
Quickly detect issues across thousands of devices and users
Customize thresholds for Good, Fair, & Poor experiences
Roll up data from Wi-Fi signal strength, to process queues and OS paging. See how low-level metrics impact end-user productivity.
In-depth detail for long term trending and just in time diagnosis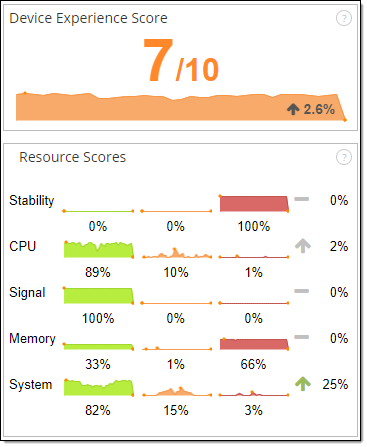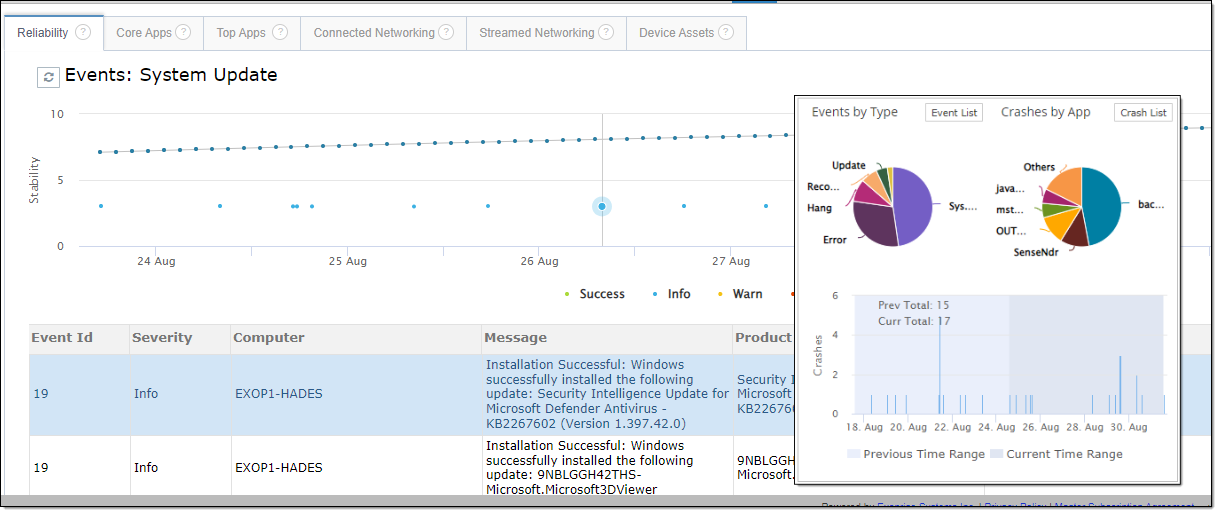 OS Machine Reliability & Stability
Service Watch Desktop records reliability data across endpoint devices for trending and prioritization.
Know which applications cause grief and prioritize fixes
Correlate system updates and problems across your environment
Crowdsourced app and OS reliability scores
Faults, Crashes, Hangs, Updates and Blue-screens collected for slicing and dicing
Full support for Windows, macOS, and Linux endpoints
Network Visibility from App to ISP, the Internet and Provider
Network response time, latency, jitter, packet loss, and connectivity issues are common of complaints of employees and IT help desks.
Only Service Watch captures response time and packet loss metrics from thick client apps like Outlook, Teams, OneDrive, Zoom, WebEx, and Slack for network application monitoring. Improve the desktop experience (DX) for every employee.
Don't believe us? Give it a try across 25 desktops for free.
Diagnose SaaS App Performance from Browsers and Client Apps
Browsers have become the most important (& complicated) app for knowledge workers in every enterprise. We reserve a special place for Web Experience Scores and how they weigh into the overall experience metrics for a user within the Exoprise platform.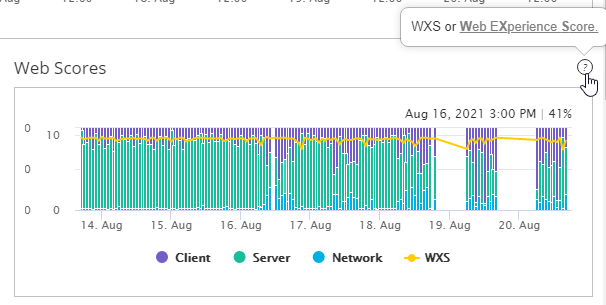 Monitor Endpoint Application Impact, Every App
Service Watch Desktop doesn't just record simple perfmon stats. Metrics are captured when the user is active, so critical signals rise to the top for evaluation.
Records 1000s of app, service, and network metrics every second
Detect leaks, runaway apps, hangs, faults, crashes and more across core and every day applications
Captures to just before the user is active — and just after to identify the culprit
Sifts, sorts, and filters the most important applications to track and highlight the real problems
RUM+Robots: Light Synthetics From Any User Device
Service Watch supports running lightweight synthetics from every user device. Detect problems before they impact the user and business. If you're just passively capturing DEX metrics, then you're waiting for a user to be impacted before you know about an issue.
On-demand diagnosis of the user or network infrastructure issues
Proactive VPN performance from user devices; at home or on the road
Triangulating and troubleshooting ISP and Internet performance from at-home user machines
Seamlessly Combined In One Platform
Group Stats Together Based on Any Attribute with Service Watch Device Groups
Device Groups enable infinite grouping of app, system, and network metrics for trending and diagnosis. Group by manufacture, app usage, ISP location (Comcast, Verizon) and more to reveal and solve any big data problem.
Analyze data to diagnose system, app, and network issues
Easy-to-use benchmarking to optimize refreshes and track change effects
Compare groups of devices by cost center, branch, network, ISP, and more
Visualize Latency, Jitter, Packet Loss With The App Network Dashboard
An application network dashboard details TCPIP and UDP latency for every network device to compare ISP's, applications, and devices.
Compare internal network performance
Real-time insight into network and ISP performance affecting enterprise employees
Visualize network performance for Teams, Zoom, WebEx and more
Privacy Personified for Endpoint Users
Service Watch includes capabilities to restrict access to any personal data that might be captured. Configure who can access data on a role-by-role basis to satisfy compliance and regulatory requirements.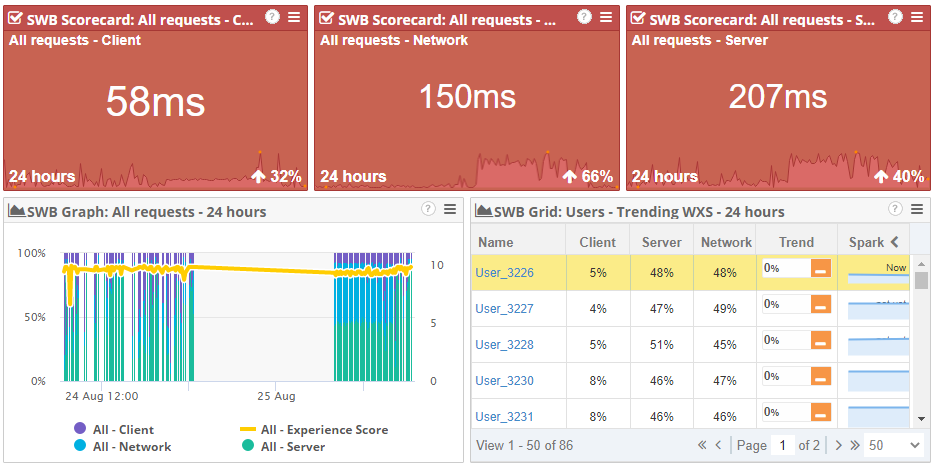 Service Watch Desktop for Endpoint Monitoring Deploys In A Snap

Easily integrates with corporate deployment solutions or simple invite and download to get started.
Simple Steps to Create an Endpoint Configuration - Get Started Quickly
Correlate RUM Data With Synthetic Transaction Monitoring
Real User Monitoring is great for diagnosing specific user or network issues, but doesn't notify you before a user is affected. RUM doesn't help with outage prediction or help you in advance of a problem.

Deploy CloudReady synthetics along with Service Watch Desktop to capture the complete picture. Know in advance of a problem — know before a business unit is impacted.
Endpoint Monitoring Plus Synthetics In One Platform
Monitor SharePoint, Teams, Salesforce, any SaaS, web, or desktop app. Know, in advance, with complete coverage for every user. Fix desktop issues and troubleshoot network problems with complete visibility.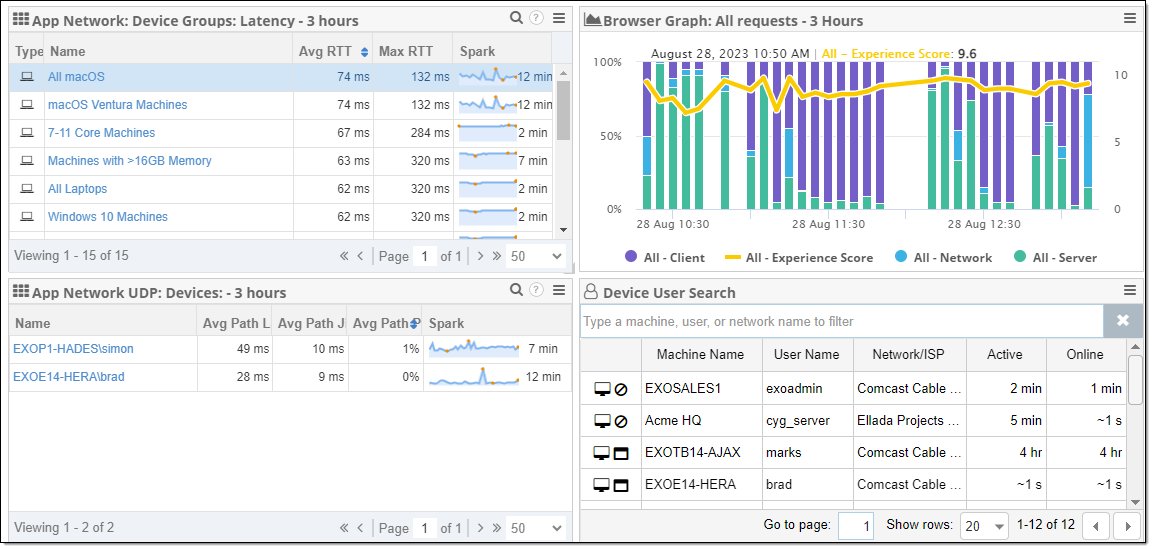 Pinpoint Root Causes
Desktop monitoring pinpoints the issue 24/7, for each network condition, each user environment with Exoprise endpoint monitoring software. Improve digital experience score after fixing and troubleshooting desktop issues.