Microsoft Teams Digital Experience Monitoring
Choppy video? Dropped calls? Quickly diagnose
issues for Teams

When Remote Workforce Productivity Isn't Just About Connecting Online

Millions of users worldwide are using Teams to facilitate vital communication. Whether working from home or returning to the office, Teams has become the go-to collaboration tool. According to a recent ZDNet report, Microsoft Teams has more than 270 million monthly active users. But as Teams popularity grows, this will make the task of any technology team harder. Why? Because IT needs to ensure superior Teams digital experiences and healthy network connections for all users, no matter where they operate.
Teams Collaboration Gets Better
Employee collaboration impacts business outcomes. The higher the productivity and engagement levels, the better the results. But what happens when remote workers struggle with poor Teams experience and connectivity issues? Diagnosing problems becomes laborious or impossible with various home network settings and a lack of service quality visibility. Day by day, identifying and troubleshooting Microsoft Teams performance and network issues have become an increasing challenge for IT.
Make Microsoft Teams Digital Experience Monitoring an Enterprise Priority
Exoprise provides a complete and better together solution to ensure optimal delivery of the Microsoft Teams service. CloudReady provides a unique script-free, synthetic transaction monitoring for Microsoft Teams and proactive 24×7 monitoring. Service Watch, on the other hand, is a holistic Digital Experience Monitoring platform for Teams offering real-user monitoring and end-to-end visibility from everywhere.
Teams Real-User Monitoring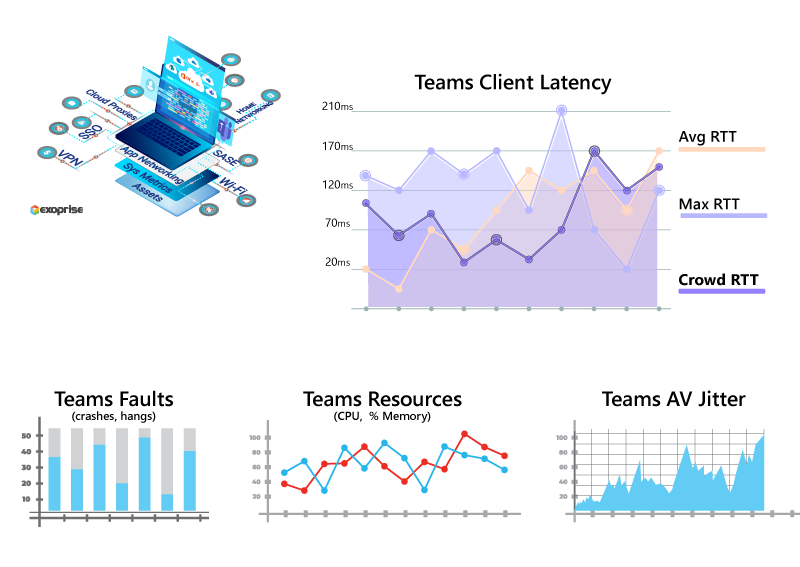 Captures the real, end-user perspective of Microsoft Teams networking 24/7 from wherever the user works
Teams Synthetic Monitoring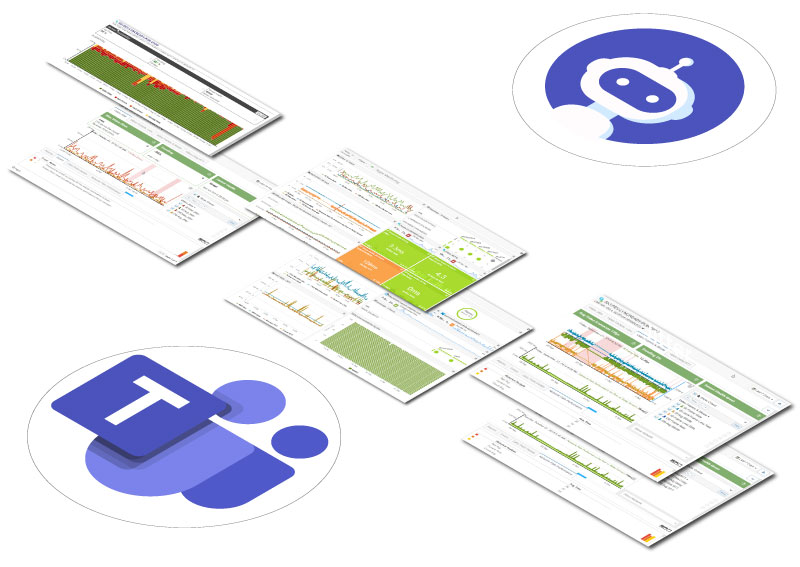 Proactively test, tune, and monitor Microsoft Teams using synthetic emulation. We're the only ones that can.
Watch This Webinar on Diagnosing Any Teams Problem in 3-Clicks or Less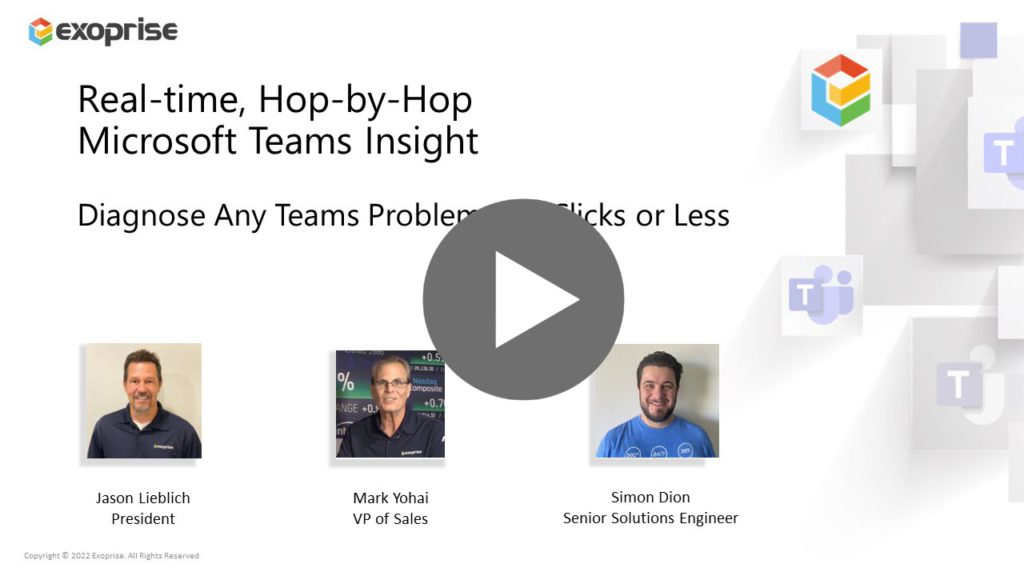 Whether your end-users are remote, hybrid, on the road, or anywhere in between, a seamless Teams call-quality experience is a business-critical requirement. How can ITOps ensure excellent call quality and Quality of Service (QoS)? By combining proactive synthetics with real user monitoring (RUM), technology teams obtain end-to-end network visibility into Microsoft Teams performance and use these insights for optimization.
Real User Monitoring for Microsoft Teams
You are only strong as your weakest link. Therefore, a successful employee productivity strategy requires optimal Teams experience for everyone, regardless of location. Microsoft Teams end-user experience monitoring for a hybrid workplace and dynamic remote environment gets you there faster.
We had frequent complaints from users about poor Teams meetings/calls. Initially, we would upgrade the hardware to the latest to fix the problem and spend thousands doing that, but the problems persisted. So, when we started using Service Watch, we could see exactly where the problem was for each user – and avoid upgrading when the problems were due to corporate network or weak Wi-Fi access points.
Microsoft Teams Administrator, Manufacturing Services Company
Troubleshoot Microsoft Teams Performance Issues from Every Vantage Point
Monitor Teams Sessions in Real-Time From Every Desktop
For hybrid employees, Exoprise Service Watch Desktop monitors Microsoft Teams latency, jitter, and packet loss from every perspective – whether employees work from home, on the road, or the corporate LAN/WAN.
Connected network monitoring continuously captures the OS perspective of latency and response times for the Microsoft Teams control channels. Detect problems with messaging, chat, and general operations. Discover slow WiFi conditions, dropped connections, and network problems in real-time.
Streamed network monitoring uniquely captures end-to-end network metrics during real-time collaboration sessions, including audio, video, screen, and application sharing. Capture rich metrics for the path latency, packet loss, and network jitter every 30 seconds. In addition, a complete picture of the hop-by-hop network nodes, including ASN and ISP data, is recorded for troubleshooting and analysis.
Client, Server, or Network — Leave No Stone Unturned
Superior digital experiences for Unified Communications like Microsoft Teams require a 360-degree perspective of the desktop, server, network, and application performance. Exoprise Service Watch Desktop monitors the Microsoft Team to a depth never before achieved for hybrid and HQ employees.
Crowdsources and compares Microsoft Teams performance:
| | |
| --- | --- |
| Application CPU, Kernel, User | Handles, Page Faults, Working set |
| Private Memory, Non-paged Bytes | Threads, IO Data/Sec, IO Control |
| Errors, Installs, Updates | Connected Round Trip Times, Hosts, Paths |
| Real-time Packet Loss, Jitter, and Latency | Hop-by-Hop Network Path |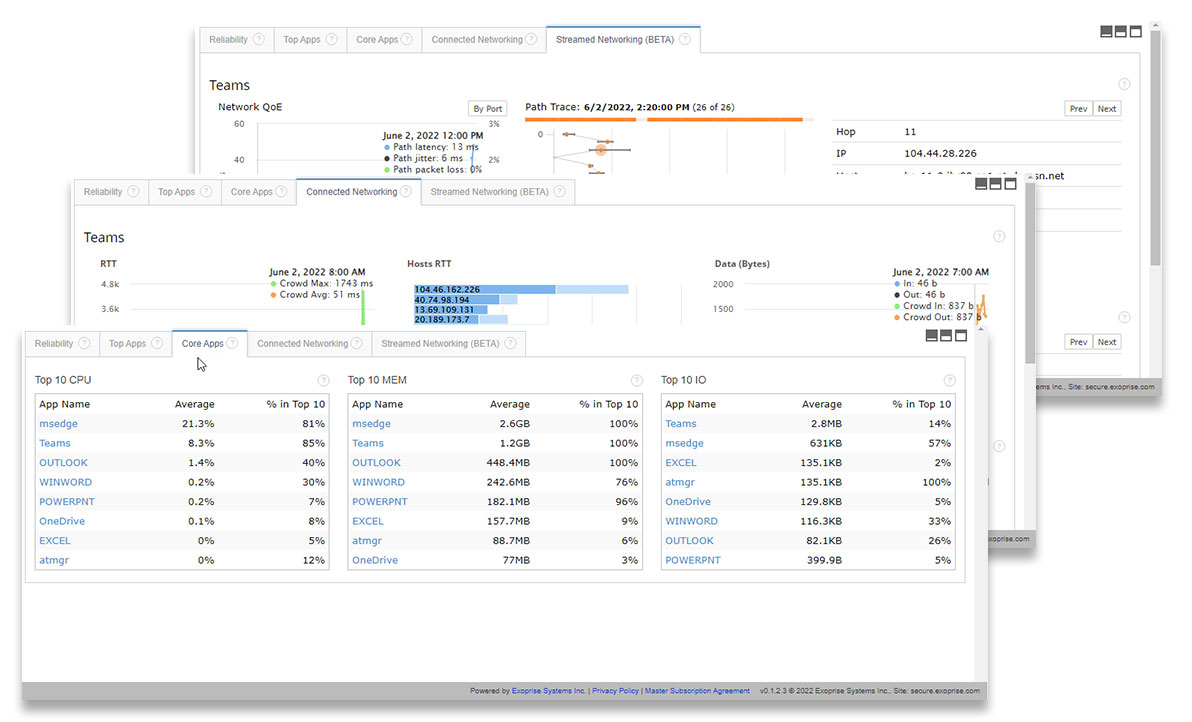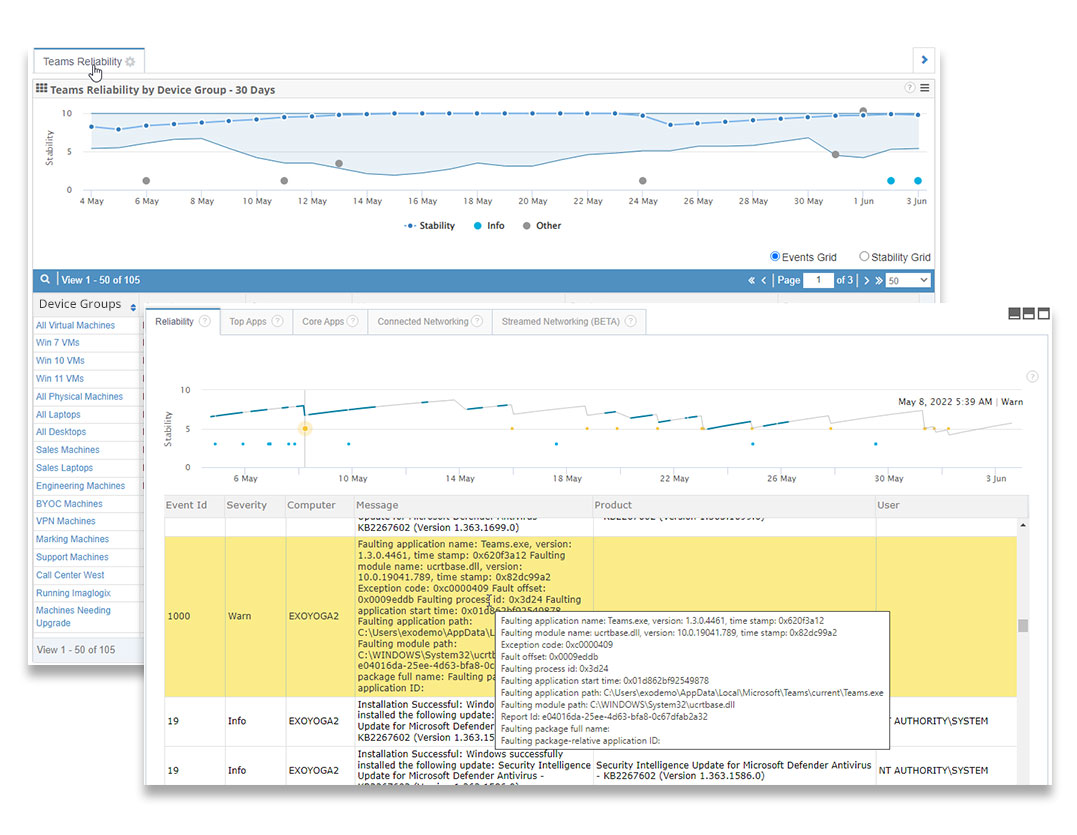 Microsoft Teams Crash and Update Analysis
Service Watch Desktop collects and aggregates the endpoint reliability data for the Microsoft Teams application from any device. Under the Reliability tab, this data displays as a Windows Reliability Index or Stability Score.
The score analyzes any faults, crashes, hangs, blue-screen freeze, and update issues with Teams. In addition, the tab provides immediate visibility into updates or installation steps responsible for Teams faults and prioritizes fixes by IT.
Map Critical Network Paths For Every User
Real-time visibility into the end-to-end network path when users join conference calls, screen sharing sessions, and Audio / Video conferences via the Teams client application. Pinpoint the culprit regarding packet loss and dropped audio video or Teams UX issues.

Network Benchmarks, Baselines, and Proactive Monitoring with Teams Synthetics
Only Exoprise has true synthetic emulation for Microsoft Teams Audio Video conferences. With CloudReady, deploy Microsoft Teams AV Conference sensors anywhere you want to test, tune, and optimize QoS and DSCP values.
Why wait for an end-user to be impacted before you know you're successful? Why wait for a slow or imprecise Call Quality Dashboard?
Script-free CloudReady Teams sensors let you know ahead of time when the network, the ISP, Microsoft, or the Internet is having problems.
Real-time Dashboards for Every IT Personna
Build the most comprehensive dashboard for Microsoft Teams and serve everyone from network administrators to Unified Communications administrators and IT helpdesk managers. Integrate Call Quality Dashboard data and real-time analytics into the client, server, and network response times.
Frequently Asked Questions about Teams Digital Experience Monitoring
Does the synthetic transaction monitoring execute Audio Video conferences in Teams?
Yes, it does. The Teams AV Conference sensors sign into Microsoft Teams, start an audio-video conference and then invite an Exoprise AV Bot into the meeting, which then begins to stream audio and video. WebRTC statistics are captured, analyzed, and aggregated for the ultimate in Microsoft Teams proactive network telemetry.
Do I deploy Teams synthetic transaction monitoring to every user's desktop?
No, that's not necessary. Exoprise Service Watch is for end-user experience management of Teams sessions and captures the end-user perspective. We recommend you deploy Teams synthetics wherever you have varying network conditions, i.e. headquarters, branch, or different core ISPs that your user base depends on.
Does Service Watch Desktop just monitor Microsoft Teams?
We know users today are collaborating via many different technologies like Zoom, WebEx, RingCentral, or Teams. That's why we've designed our real-user monitoring solution to provide real-time diagnostics into all of these collaboration apps and others.
Does Exoprise integrate with Microsoft's Call Quality Data?
Yes, we do.
How frequently does Service Watch capture metrics for Microsoft Teams?
Every 30 seconds the network path is tested, diagnosed, and captured during a conference call. TCP/IP control channels are examined every 15 seconds.