Plan, Deliver & Operate Microsoft Teams with Confidence
Microsoft released the Skype Operations Framework (SOF) in the summer of 2016 with much fanfare. The SOF then morphed into the Practical Guidance for Cloud Voice which included other assets and instruction for Microsoft Teams. Overall, the resources have become a guide for implementing and managing a reliable and cost effective Unified Communications (UC) system based on the Microsoft Teams platform.
Useful for deploying Microsoft Teams and migrating to Teams, the practical guides and operations overview are a set of guiding principles to ensure the successful adoption of Microsoft Teams enterprise-wide. Adopting and migrating to an enterprise-wide Unified Communications (UC) system such as Microsoft Teams is mission-critical and strategic for an organization.
Plan > Deliver > Operate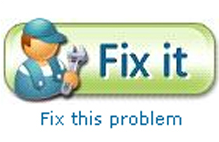 While many IT engineers & network administrators probably hoped for a big 'Fix-It' button, the SOF is a remarkable guide and set of best-practices for implementing enterprise UC. Created based on demand from customers and partners interested in a formal methodology for migrating to Skype for Business, the responsible teams at Microsoft should be applauded for their efforts.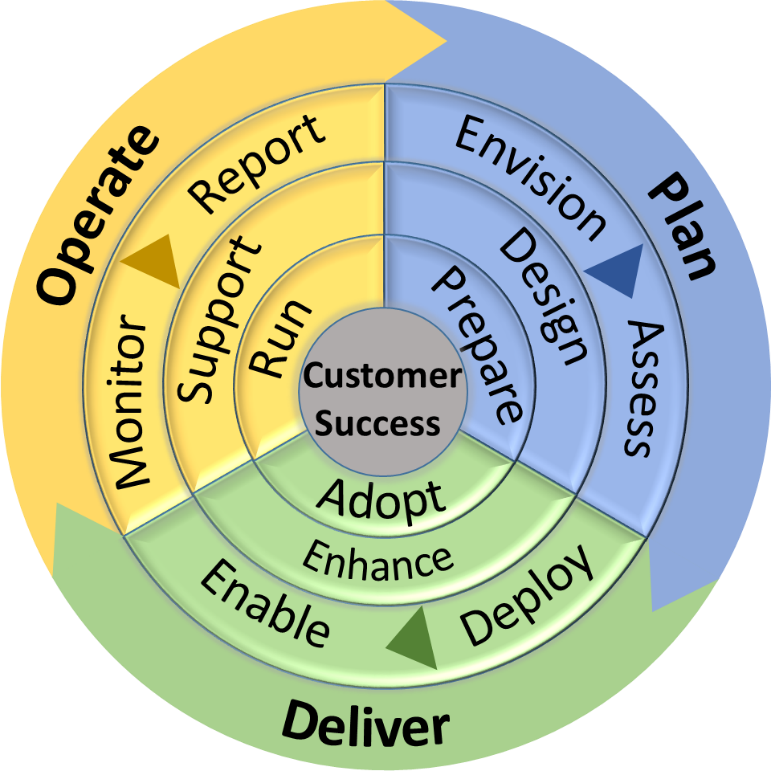 Manage Risk, Assess Network Readiness, & Remediate Poor Network Conditions
The Skype Operations Framework helps manage and reduce the risk of adopting Skype for Business across an organization including branch office, satellite and remote workers. While the potential savings from an enterprise-wide Unified Communications system such as Skype for Business are massive, the savings can't be achieved unless the adoption and deployment risk is minimized. Managing risk, discovering and remediating poor network conditions are the chief goals of Skype Operations Framework.
Whether you're testing your existing Skype for Business installation or planning a move to Skype for Business Online, CloudReady can be used to fully test the capacity, latency, packet loss and other network requirements BEFORE network changes are made, or before implementing a move to Azure ExpressRoute. CloudReady enables IT administrators and network engineers to fully model a deployment against the actual Skype clients.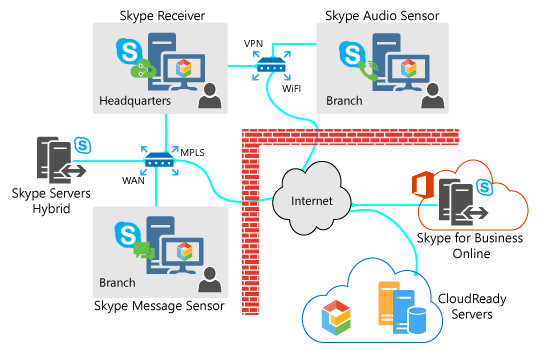 Network Readiness for the Skype Operations Framework
A core component of the Skype Operations Framework is performing assessments to determine network readiness. Factors such as network latency, packet loss, bandwidth and peak traffic loads are critical for ensuring success. The SOF mandates Skype traffic simulation using the Network Assessment Tool or other tools as part of their Plan, Deliver, and Operate guidelines:
Two stages of network readiness; essentials and advanced, with the advanced being required if problems are uncovered or there are known Quality of Service (QoS) issues
For essentials and preliminary discovery, the SOF recommends traffic simulation for each Customer Edge segment and each Client Segment in any sites where end-users will be running Skype for Business
Different network topologies should be tested; if you have end-users accessing your UC solutions from Wi-Fi, MPLS or VPNs, those access points should be tested
Comparing the Network Assessment Tool and CloudReady
While improvements are likely planned for the Network Assessment Tool, CloudReady Skype Sensors are easier and more accurate for network assessment, testing and load simulation. The SOF recommends the tests be re-run anytime network changes are performed.
Key differences between the Network Assessment Tool and CloudReady
Getting Started With CloudReady
Ease of use is a core feature of the entire CloudReady platform. Everything is wizard-driven and capable of automation; agent deployment can be delegated to different teams in different time-zones for modeling and assessing enterprise-wide network conditions across branch offices and access points.
CloudReady Private Sites

Determine your machines. As per the Skype Operations Framework, multiple machines in different network and client edge scenarios should be chosen. For advanced network readiness and further testing, customers should choose networks in different branch offices, against Wi-Fi access points, and even ExpressRoute tests.
For the Skype sensors you will need real Skype accounts, VoIP and Bandwidth sensors don't require accounts and operate in peer-to-peer mode for testing edge and Azure scenarios.
Deploy your Exoprise CloudReady sites via the various deployment methodologies.
Deploy and configure your Skype Sensors using our PowerShell Management API
Detecting Network Impairment With CloudReady Skype Sensors
The Skype Operations Framework details the recommended optimal network characteristics for a Skype for Business deployment. Here are some of the definitions for metrics that are critical and captured by the Network Assessment Tool as well as the CloudReady Skype Sensors.
Latency
Latency is the time it takes to get an IP packet from point A to Point B on the network. As opposed to other network test tools which might just ping a network interface with ICMP, the CloudReady sensors gather the latency statistics as seen by the real Skype for Business Clients. This is the same metric that is captured and measured in the historical Call Quality Reports. The difference with the CloudReady Skype sensors is that this metric captured proactively before an end-user experiences poor latency between network segments.
Recommended Network Latency
Microsoft as part of the SOF recommends that latency be kept under 50ms one-way between the customer Skype clients and Microsoft's network edge (their datacenters). From the customers' edge (gateway) they recommend latency be kept under 30ms. All of these metrics are available as part of the CloudReady Skype Sensors as well as the Azure VoIP and Network Path Performance metrics for each sensor run.
Packet Loss
Packet Loss is the percentage of packets that are lost in a given window of time. Packet loss directly affects the Skype for Business Audio, Video and screen sharing modalities. Small or individual packet loss won't have much of an impact, but back-to-back losses will cause audio and video cut-out. Packet loss can easily be tested in various ways with CloudReady; packet loss is captured from the actual Skype Clients as well as from the simulated VoIP and bandwidth sensors which can be pointed to Azure, AWS or deployed in a peer-to-peer setup.
Recommended Minimum Packet Loss
Microsoft recommends packet loss be kept to less than 1% during any 15 second interval, and consecutive packet loss (burst) be kept to less than 10% during any 200 millisecond interval. These metrics are captured by the CloudReady Sensors as well as assisting in pin-pointing the network device that is responsible for the packet loss when possible through the Network Path Performance measurement that is captured with each run.
Inter-packet Arrival Jitter
Jitter is the average change in delay between successive packets. When there is excessive jitter in a network that exceeds the buffering capability of the client, then end-users will notice cut-out of audio, video or screen-sharing modalities. CloudReady Sensors capture actual jitter metrics as reported by the Skype client. CloudReady VoIP sensors also measure jitter between multiple network segments or various cloud deployments.
Recommended Network Jitter Targets
Microsoft recommends network jitter be kept below 30ms for the entire path between the Skype client and Microsoft's edge network. Jitter should be kept to below 15ms from the customers' gateway to Microsoft's edge.
Mean Opinion Score (MOS)
The MOS metric is a well-known standard for representing overall call quality for the duration of the call. MOS scores are measured on a scale of 1 to 5 with 5 being near perfect audio quality and 1 being terrible. CloudReady captures the inbound and outbound MOS scores and values that contribute to MOS degrade as part of each sensor run. The MOS metric is critical in determining overall network suitability for Skype for Business and helpful in comparing MOS metrics for network operators since it's an easily quantified, known metric.
Recommended MOS Score
MOS scores should consistently be kept at or around 4 for a successful Skype for Business implementation.
Exoprise CloudReady Enterprise Use Cases
Using CloudReady for pre-migration network readiness and assessments like the Skype Operations Framework are just one of the uses for the CloudReady Skype Monitoring. The SOF goes into great detail about when and why customers should re-evaluate their network during Skype for Business delivery and operations.
Microsoft recommends that every time there is a network or capacity change, network readiness should be re-examined and tested. Lofty goals, definitely, but it does make sense that for significant network changes after deployment, measuring network conditions against the network baseline is critical. Beyond this, CloudReady for Skype Monitoring is used by customers for:
Proactive monitoring of Skype for Business – know before the big conference call, not after. Even with enhanced Skype call quality data, it still takes forever to aggregate and its historical. What good is a Skype Call Quality Dashboard for last week's calls?
Baselines. The importance of Skype network baselines cannot be overstated. Exoprise CloudReady Skype senors run and execute synthetic Skype sessions over and over again. They are repeatable and will generate accurate baselines of your network quality, as opposed to being subject to the vagaries of production users and their schedules.
Utilizing CloudReady Skype sensors before and after network changes means potentially not impacting your production users. You don't have to wait for changes to be reflected in weeks old dashboards that may have affected important calls.
Model your network and simulate Skype calls across branch office, SD-WAN and MPLS scenarios. How can you do it without using the real Skype for Business client?