Monitoring the Digital Experience of Zoom
Reward your global workforce with a faster and reliable video conferencing experience

Zoom Meetings are Soaring, and So are Expectations
Zoom, a unified video communication platform, has become the darling of modern enterprises. Whether video meetings, interviews, web conferences, online chats, webinar hosting, audio calls, or events — employees make the most out of the all-in-one Zoom collaboration features. In addition, the tool's diversity with multiple operating systems and the ability to quickly scale, especially during the pandemic, make the VoIP application an attractive choice for various organizations. To date, Zoom has over 300 million daily participants.
But this is where IT and network administrators find it difficult. For example, 54% of companies use more than one VoIP and UC collaboration service provider app, such as Microsoft Teams, Slack, Cisco WebEx, and RingCentral in their environment to support remote employees. In addition, Zoom provides intuitive integration with over 1000 apps through its marketplace. As a result, the end-user digital experience begins to suffer and leaves employees frustrated. In addition, support teams now need to ensure that Zoom works seamlessly on different devices – desktop, laptop, and mobile and that the tool generates reliable performance under different network conditions — at home or in the office.
Your Network Must Support a Flawless Zoom Connection
Internet and network connectivity quality can enhance or disrupt the Zoom experience for all employees. Whether they connect from their client to Zoom servers hosted on your corporate network, data center, or public cloud, an unstable, bad, and choppy audio video session affects the end-user experience and critical business meetings. Furthermore, Zoom consumes enormous bandwidth and is highly sensitive to network latency. Therefore, you need to monitor end-to-end network performance, baseline Zoom QoS metrics continuously, and address issues in real-time to deliver optimal service.
Maximize Zoom Performance with Synthetics and RUM
Monitoring Zoom's health, availability, and uptime are critical to the success of virtual and remote teams that are now geographically distributed. Unfortunately, standard admin tools cannot drill deep enough to identify bottlenecks in the service chain during an outage or a slow connection. In addition, a variety of home networks have different ISP, Wi-Fi signal, gateway or router configuration, topology, etc., which results in one person's Zoom experience being different from a user elsewhere. Therefore, application and network troubleshooting teams need a combined synthetics and real user monitoring strategy – Better Together – for complete visibility of their UC environment. Zoom digital experience monitoring is the way to go!
6 Ways Zoom Monitoring Impacts Your Business
Exoprise Zoom Monitoring Solution Offers the Best Digital Experience
A proactive and state-of-the-art solution like Exoprise monitors the cloud-based Zoom application experience holistically from the end-user perspective. What follows is detailed and contextual information to support hybrid work from anywhere. From a network point of view, ITOps can pinpoint exact problems and jump directly to resolving performance issues with the Zoom video service. Unified communications administrators also have access to comprehensive composite and low threshold metrics for faster prioritization and remediation when troubleshooting Zoom problems such as slowness, freeze, or crash.
Track Zoom Call Quality and Latency of the Desktop App
End users often face network problems with the Zoom thick-client app, such as unstable connection, frozen screens, poor audio and video quality, buffering, and disconnection. Service Watch Desktop detects these issues immediately by capturing desktop session metrics such as packet loss, jitter, latency, host round trip time, connection time, etc. Then, the RUM tool correlates this information with synthetic network path performance data for actionable insights and to see which part of the network is responsible for the problem. Service Watch sensors emulate audio video conversations using UDP streaming protocol and test the network performance end-to-end in real-time.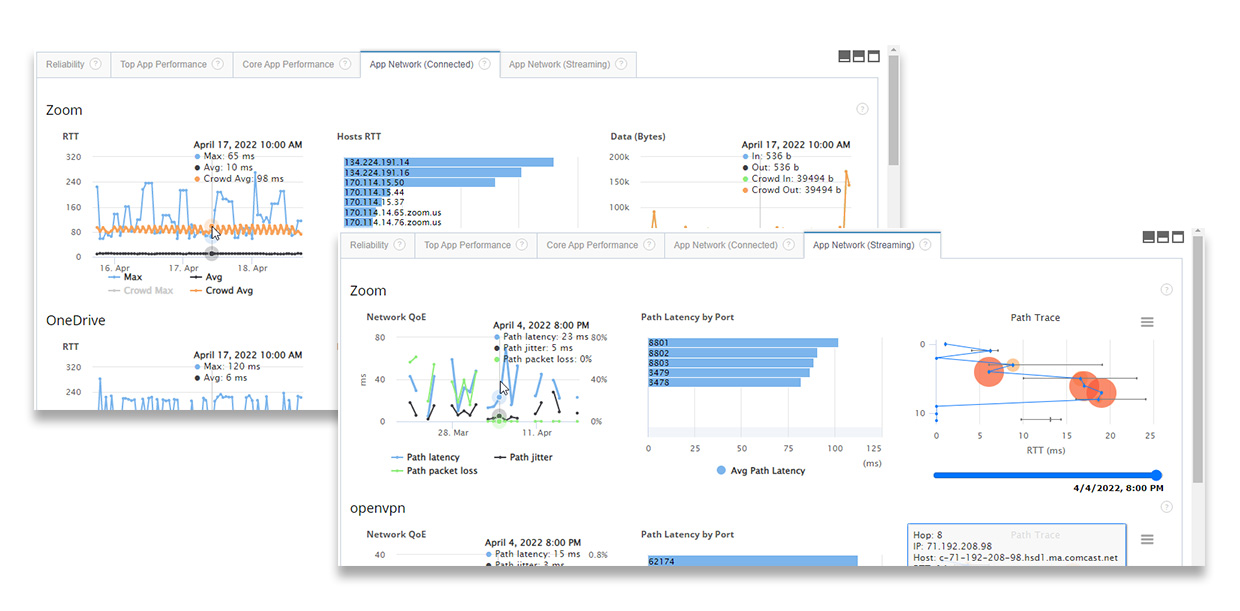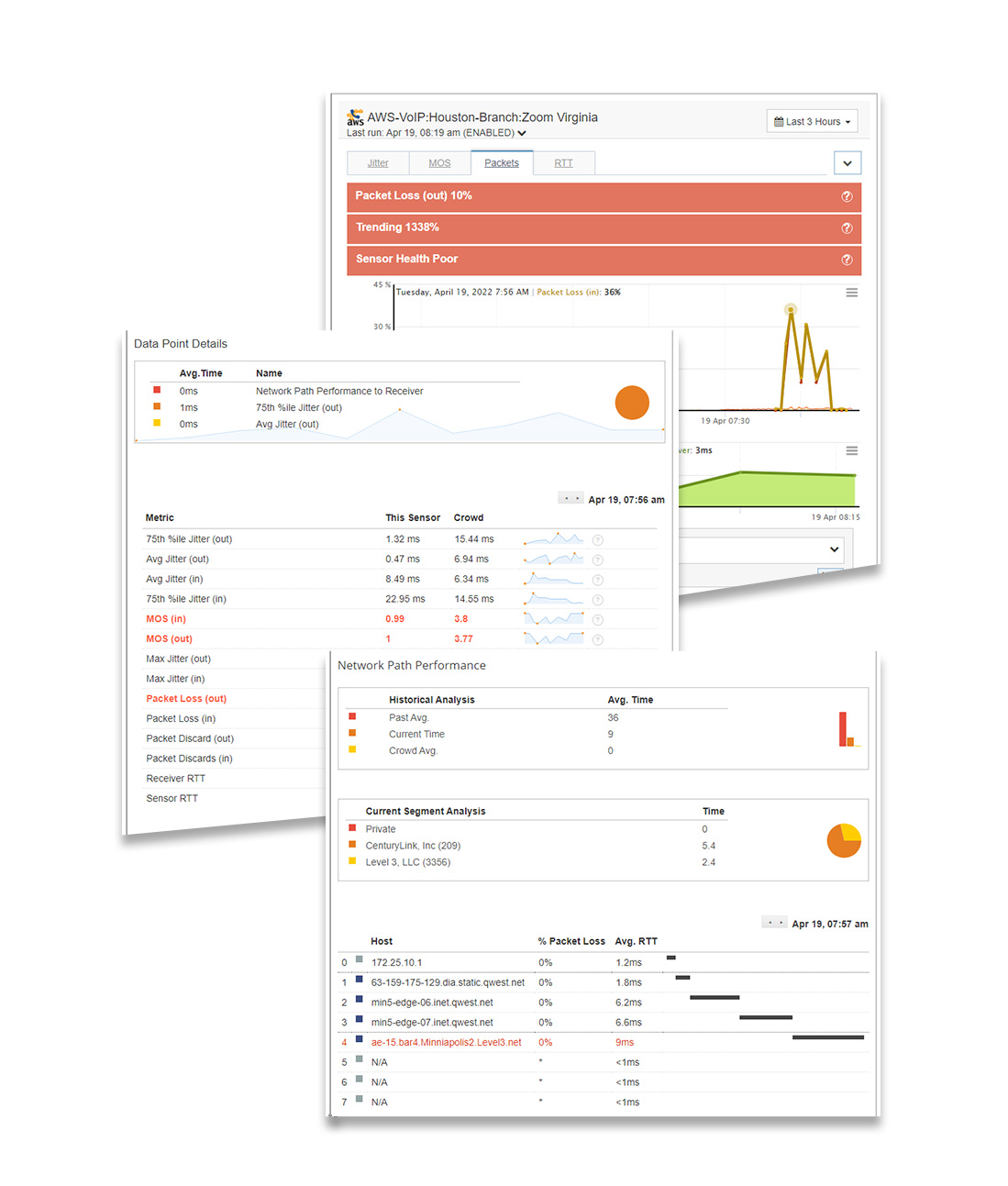 Real-time Monitoring of Zoom AWS Infrastructure for Availability
Deploy Exoprise monitoring agents to run from the Zoom servers' public cloud infrastructure. Gain proactive insights into the health and network status of the highly scalable Amazon cloud provider service. Test bandwidth and throughput between your on-prem network to Zoom on the AWS cloud. If AWS fails for any reason, the Zoom experience suffers too. Reach out to the provider and customers in time before problems escalate further. Zoom issues or outages can occur on the server-side, AWS, gateway, ISP, or anywhere in the service delivery chain. Furthermore, the synthetics allow you to proactively measure latency, jitter, and packet loss from any location and against any AWS location.
Endpoint Network Monitoring for Zoom App Crash, Freezing, and Reliability
Does your Zoom platform keep freezing? Discover if a potential malware or program upgrade on any device causes the VoIP app to crash or freeze, especially during screen sharing. That way, you can ensure that your employees are ready for their next business meeting. Service Watch, a Zoom monitoring tool, uses an endpoint agent to record all system events leading to the unexpected behavior of the collaboration app. As a result, your team can quickly check for remote device stability and reliability patterns and roll back changes that affect the Zoom application performance.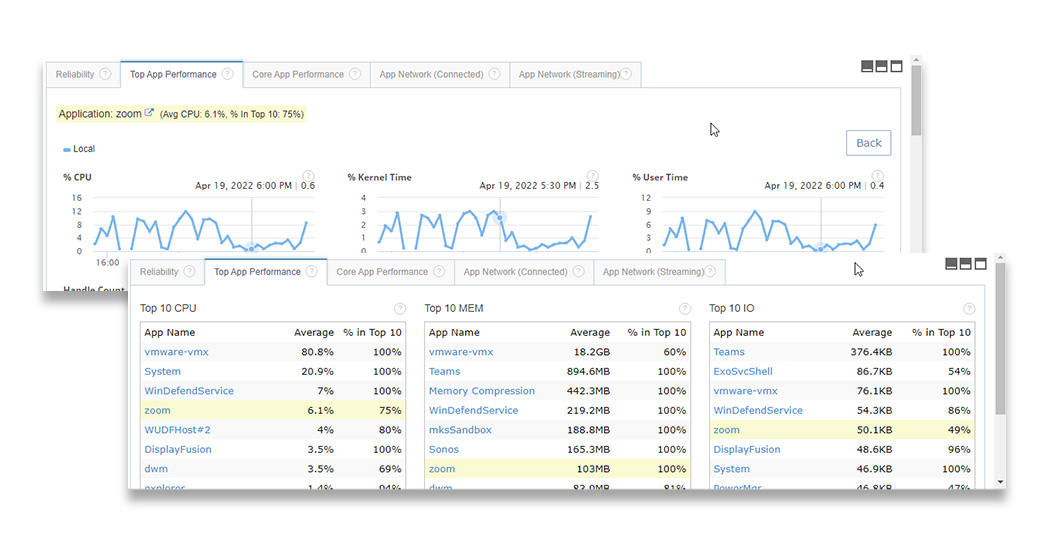 Capture CPU Usage and System Resources for Zoom Video Monitoring
Did you know that higher CPU usage on endpoint devices can affect the performance of the Zoom app during operation? If the app feels slow or fails to open, check whether Zoom video isn't consuming much CPU power. Memory expansions can offset some of the processor workloads and improve the endpoint experience with the unified communication app. Service Watch Desktop monitoring solution provides those insights in real time.
Measure Login and Connectivity Details for the Zoom Web Client
Exoprise enables IT departments to monitor Zoom availability and connection status from multiple vantage points. Once installed, agents automatically log on to the Zoom site and capture important page load metrics (Login time, connect time, Time-to-First-Byte), including network path hop-by-hop performance details with deep streaming and connected network tracing. Network admins can also track Zoom performance over a select period and benchmark audio-video quality using crowd-sourced analytics. If your business uses enterprise identity management platforms such as Active Directory Federation Services (ADFS), Azure AD, OneLogin, or Okta, Exoprise can use a single set of credentials to access Zoom through Single Sign-On (SSO).
Read more about Service Watch Browser.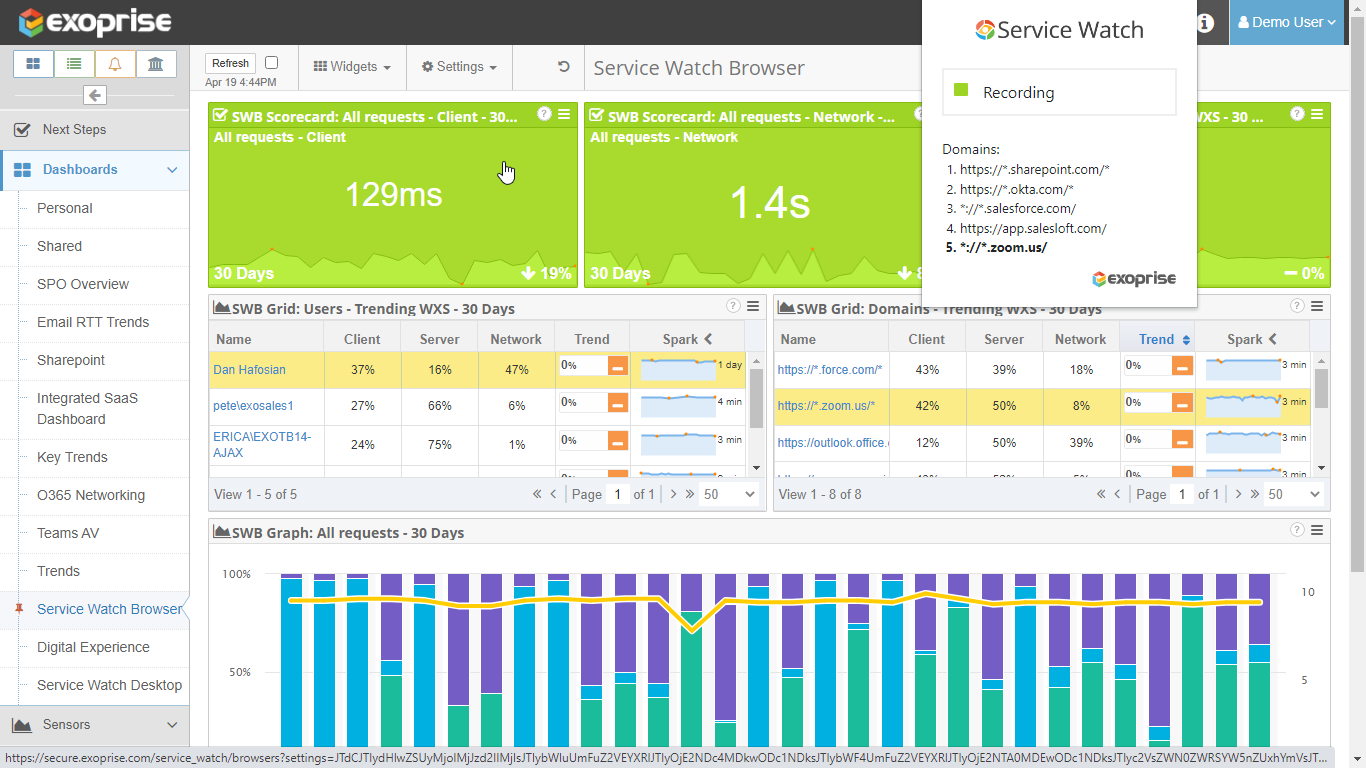 Frequently Asked Questions about Zoom Monitoring
How many sensors do I need to monitor Zoom?
You deploy Exoprise CloudReady synthetic sensors for proactive monitoring of Zoom and your network from as many locations where you have users. Typically, a few CloudReady sensor credits for each branch office conference room or distributed to the different ISPs where you have home users allows complete Zoom audio monitoring coverage for call quality issues.
Do I have to deploy Service Watch RUM to every desktop to monitor Zoom?
Exoprise Service Watch, our real-user monitoring product, can be deployed to as many or as few devices as you want. You'll only see Network Path data for the devices that Service Watch is running on and obtain real-time Zoom monitoring activity.
How long does it take to collect performance statistics for Zoom?
Synthetics starts collecting data immediately and takes about 5 minutes to upload. Service Watch Desktop also starts collecting immediately and data starts to show up within 5 minutes. You get instantaneous benchmarks comparing your digital experience to other Exoprise customers within minutes. Optimize the employee digital experience with Zoom monitoring software today.