Start Your Free Trial Today
Monitor Your Apps, Compare Your Performance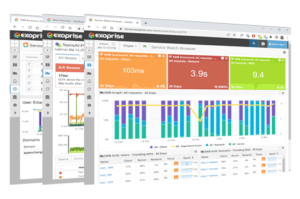 Get started in just 5 minutes
No appliances or servers to deploy
Code-free synthetic monitoring
Digital Experience Monitoring for Mission-Critical Apps
Optimize for the best Office 365 Experience Across Your Network


Service Delivery Chain for SaaS Apps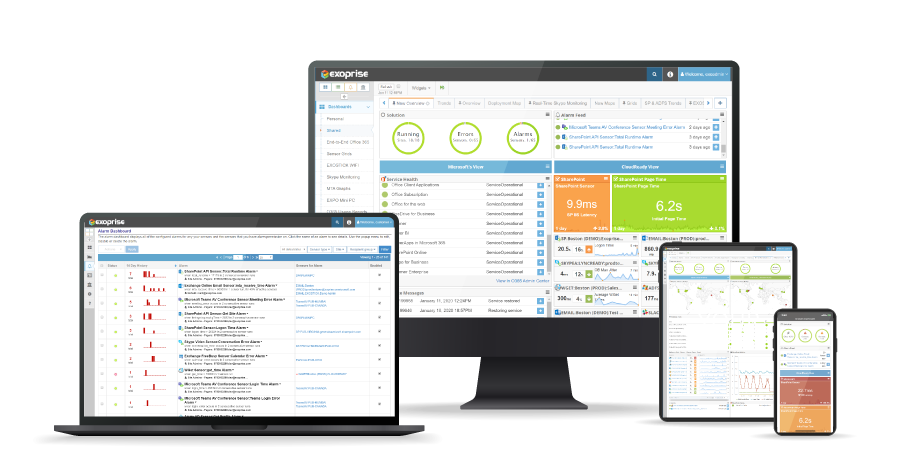 Continuous synthetic monitoring and real-time alerts – ensure that you know about problems before your users do.
Crowd-sourced data analytics – compare performance against other users to pinpoint problems and speed resolution.
Detailed network path and service performance diagnostics – address problems anywhere along the service delivery chain.
Monitor cloud apps and services from inside your network as well as from Exoprise public cloud locations.
Simple Monthly and Annual Plans
$100 / credit / month
Most applications need a single credit
Service Watch Browser is 50 users / credit
Service Watch Desktop is 25 devices / credit
Volume and bundle discounts available
How does the free trial work?
The trial clock starts only AFTER you deploy your first Service Watch configuration or synthetic sensor. Sign up and take a peek around, no credit card required. It only takes a few minutes to compare your network performance to an anonymized aggregate and get free benchmarks.
Can I pay for the service online?
If you don't wish to speak to anyone, you can subscribe directly from within the service. Just choose how you want to pay (annually or monthly) and the quantity of Credits. Pricing starts at $100/credit on cancel-any-time plans.
Are volume and term discounts available?
If you need more than 25 credits or are interested in a subscription longer than one year, request a custom quote for special pricing and ongoing promotions.
How many Service Watch configurations and synthetic Sensors can I use with the free trial?
You can deploy up to 3 synthetic sensors (probes) or up to 50 Service Watch Browser (extension) users or up to 25 Service Watch Desktop (agent) deployments. You'll get full access to all the digital experience monitoring and end-to-end network diagnostics available in the paid version – even the full power of the crowdsourced data analytics. That will give you an idea of what complete visibility into the digital experience of mission-critical cloud services looks like.
What is a Synthetic Sensor?
A sensor (a probe) monitors 1 or more applications from one site. CloudReady offers more than 50 different sensor types and more under development all the time. Don't see what you're looking for? Ask us about it. CloudReady synthetics are what proactive, early detection is all about.
What is an Exoprise Credit?
The number of credits you consume determines the cost. Exoprise credits have a list price of $100/month, with discounts for pre-paid annual plans and volume purchases. Most synthetic sensors are 1 credit, while some network sensors are only a 1/2 credit. Advanced multi-party A/V conferencing sensors for Microsoft Teams cost more than a single credit. Service Watch consumes just 1 credit for 25-50 users, depending on whether you deploy it only to browsers or also to desktops.
What is a Site?
Exoprise securely collects statistics from synthetic sensors installed behind your firewall on what are called private sites. Private sites are supported on any Windows OS. Read more about our easy setup.
Public sites are managed by Exoprise at various locations throughout the world and are great for comparing against internal LAN/WAN conditions. Public sites are also important for emulating users outside the corporate LAN/MPLS/WAN. Read more about public and private sites.
Is Exoprise Secure?
From the beginning, Exoprise designed our platform to be easy to use AND extremely secure. All communications are HMAC encoded over SSL/TLS using a private key(s) that is locked to the installation. All configurations are encrypted with site specific public-private key pairs. All components are dual-signed Authenticode and PKI. Exoprise operations are maintained at the highest standard to ensure the integrity and security of our customers data.
What support options are available?
All plans include unlimited online support. Enterprise Features and Support are available too that include Technical workshops, training, and more. If you need 100 or credits, you can request a custom quote for Enterprise Features and Support by contacting sales.