Digital Experience Monitoring With Exoprise
Digital Experience Monitoring (DEM) is a practice within Application Performance Monitoring (APM) that focuses on optimizing the business-critical performance of end-user facing applications and services. Key capabilities within Digital Experience Monitoring include measuring the end-user experience across all of the different application channels and monitoring them for problems and slowness.
Information Technology teams, today, must prioritize the performance and reliability of distributed systems across on-premise, first-party and third-party cloud environments. Exoprise is a leader in enabling DEM practitioners to find and fix problems fast, provide recommendations how to fix poor digital experiences and monitor long-term trends.
Comprehensive Digital Insights Delivered Instantly
Key Drivers for Digital Experience Monitoring
Slow is the new down when it comes to delivering SaaS and cloud applications in a mission-critical business environment. Proactively optimizing the digital experience of end-user applications is a necessity but not easy to achieve. Key drivers for IT teams establishing Digital Experience Monitoring practices include:
Synthetic Transaction Monitoring + Real-User Monitoring
Digital Experience Monitoring requires Synthetic Transaction Monitoring (STM) and Real-User Monitoring (RUM) for full coverage of end-user applications and services. Exoprise CloudReady supports the full suite of Office 365 applications and protocols and most SaaS applications out of the box.
End User Experience Monitoring
Digital Experience Monitoring is synonymous with End-user Experience Monitoring (EUEM). Quantifying the end-user experience of applications and networks is often difficult and sometimes involves multiple products from different vendors. Not so with Exoprise.

Exoprise Provides Both Real-User Monitoring and SaaS Synthetics
Real-user monitoring for any SaaS, Cloud or 3rd party web app
Script free monitoring for any SaaS / web application, deploys anywhere
Office 365 Is The Foundation of Most Digital Experiences Today
The growth in adoption of Microsoft Office 365 means most IT teams need to evaluate the digital experience of Office 365 including how the services interact with other services that IT delivers. These digital services typically include:
Single Sign-On (SSO)
Client Access Security Broker (CASB)
Proxies and Access Gateways

SD-WAN, MPLS, and Legacy VPNs
File Stores and Storage Area Networks
Cloud and LAN-based Backup
No other other APM vendor provides complete coverage for monitoring ALL of Microsoft Office 365. Whether its collaboration, email, Unified Communications or other application suites, Exoprise has full coverage for Office 365 synthetics and Real-User Monitoring.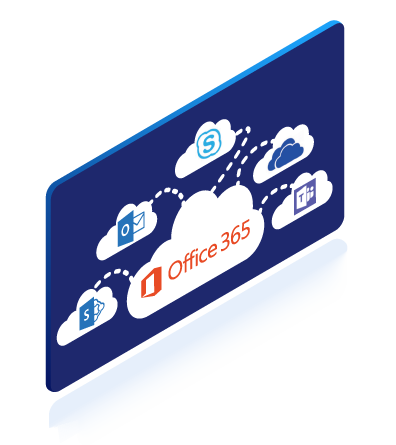 Office 365 Adoption
Tracking the growth and utilization of Office 365 is critical to managing the digital experience for most organizations. Optimizing performance, network capacity planning, or license utilization requires a comprehensive APM solution.
Troubleshoot Office 365 Outages in Real-Time
CloudReady provides unique, crowd-sourced response time measurements for all of the Office 365 apps. Synthetic transaction measurements enable proactive notifications of slow-downs or Office 365 outages before end-user experience is impacted. Real-user Monitoring provides one-click installation for 24/7 coverage for remote and mobile users no matter where they work.
Track Service Level Agreements and Violations Across All of Your Cloud Vendors
Hold cloud vendors accountable by capturing and recording ISP, network and provider outages wherever the apps exist. Elevate problems with the operations and helpdesk teams through built-in integrations.
Crowd-Powered Performance Benchmarks
What's experience management without a way to make sense of the metrics? Exoprise provides instant benchmarks even during the free trial.

Benefits of Digital Experience Monitoring
Speed Time to Resolution
Reducing MTTR is essential for mission-critical businesses. Digital Experience Monitoring with CloudReady leverages crowd-sourcing to reduce MTTR through crowd-sourced comparisons enabling IT/Network administrators to quickly identify root causes.
Improve End-User Device and Application Performance
Its not complicated, monitoring the end-user's experience with Service Watch (RUM) can improve application and device performance when optimizing knowledge workspaces. CloudReady Synthetics reduce false positives by process of elimination with respect to the network and service providers.
Reduce help desk calls, support tickets and desktop visits
End user experience monitoring and analysis directly reduces support calls and trouble ticket volumes across your help desk, ops and network teams. The CloudReady platform can be integrated into any existing management and ops solution as well as incident management systems like Service Now.
Improve Workforce Productivity
The quality of the user experience matters greatly when it comes to workforce productivity and engagement. If your tools and apps are slow and unresponsive, then your users aren't productive and your business will suffer. A recent study suggests that employees with better overall digital experiences are 22% more engaged at work and 4X more likely to stay at their jobs.
Ensure Providers Are SLA Accountable
Automatically capture SLA outage and performance data for an objective measure of performance, outages and overall availability across networks, ISPs, and providers. Recover service credits when SLAs are breached.
Capacity Planning and IT Change Validation
Network benchmarks and baselines provide before and after snapshots for identifying the successful deployment of network and software changes. Waiting for incidents to be reported is no way to manage change within an IT organization. Use CloudReady for validating changes before, during, and after change management.