Reporting & Analytics for Microsoft Office 365
While Office 365 does offer built-in reporting, there is no way to get a comprehensive delegated view of Office 365 usage and activity alongside end-to-end monitoring and SLA measurements. With Exoprise's integrated Office 365 reporting you can easily:
Correlation of Office 365 usage & activity with performance, uptime and availability
Build operational dashboards for SharePoint, Exchange, Microsoft Teams, Skype for Business and all of the Office 365 workloads
One-click authorization to collect and disseminate Office 365 usage & activity data
Leverage the Exoprise Role-based Administration and Control (RBAC) for controlling access to views
Easy customization of 100's of reports
Office 365 Usage Analytics
Complete coverage for the different Office 365 applications and workloads provides insight into how the applications are used, consumed and adopted within your Organization.
Non-administrative Delegation
Once you enable reporting for Office 365, leverage the Role-based Administration and Control (RBAC) within Exoprise CloudReady for your entire operations staff. They get a complete 360-degree, read-only view into your Office 365 operations and it doesn't require giving out administrative access.
Easy, Fast Setup
CloudReady leverages discrete OAuth authorizations for different data-sets within Office 365. You have complete control over what type of data to retrieve and who to present it to. Office 365 reporting, usage, activity and audit is a few clicks away.
No Maintenance
CloudReady leverages open APIs to pull Office 365 data in real-time and historically — the same APIs that are available to customers. With CloudReady, there are no databases to maintain or queries to upgrade as Microsoft adds additional features. And the data is always available for export.
One Tool For Monitoring & Reporting
Exoprise offers the most comprehensive active monitoring for ALL of Office 365 as well support for the rest of your mission-critical SaaS and custom web applications. Now, with built-in reporting, you have one tool and one place to go for comprehensive visibility and insight.
Real-time Office 365 Status
CloudReady integrates the per-tenant Office 365 status and incident messages into its dashboards and consoles. Build operational dashboards around SharePoint, Skype for Business, Microsoft Teams, Exchange Online, OneDrive and more.
Drag & Drop Reporting
CloudReady supplies 100's of reports out of the box and the dashboards are customizable via roles. Build dashboards for the teams within your organization.
Optimize Your Office 365 Utilization
Save money by ensuring that your are optimizing your usage of purchased Office 365 licenses with activity and usage monitoring. Recover expenses when SLA thresholds are violated.
Integrated End-to-End Monitoring, Usage, Reporting
With the power of Exoprise CloudReady for end-to-end network and cloud monitoring, you have one place to go for a complete real-time service and support view into how your Office 365 deployment is performing and being utilized.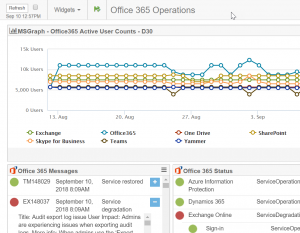 One Place for a 360-degree View
Whether you have application specific Office 365 administrators, like for SharePoint, Exchange, or Microsoft Teams, you can build a custom dashboard in one place for a complete view of:
Activity
Service Health
End-to-end Network Performance
Availability and uptime
Add the authorization to enable CloudReady to read your Office 365 Service Health and Incident Messages. Filter and customize the views by application and build a complete operational view of any app, any workload.
Microsoft Office 365 Reports
Here's a list of reports that are available within CloudReady or that we are working on to fully realize. You'll get notifications of new reports as they become available and the default Reporting layout will be updated dynamically.