Proactive Insight — No More Reactive Scrambling to Fix Problems
Exoprise CloudReady® supports code-free synthetic monitoring of any Software-as-a-Service (SaaS) or web application from your locations or Exoprise computers located in various public clouds. No scripting required to quickly simulate users and track availability.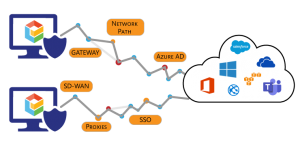 Synthetically Monitor Everything, Know In Advance
Don't wait for users to tell you about a problem, know ahead of time with real-time synthetic monitoring and network path diagnostics into the entire service delivery chain.
Quickly establish end-user experience baselines between your networks and your cloud providers. Monitor page load and network performance from any branch office or remote locations.
Easily deployed synthetic tests combined with crowd powered analytics provide network benchmarks to quickly identify and resolve cloud, network, and ISP outages.
Synthetic Monitoring for Office Platforms
For many organizations today, email, VoIP, and online collaboration are essential IT "utility" services. If they're down, there is an immediate negative impact on individual and organizational productivity. When problems occur, every minute counts, which is why CloudReady provides robust Web and API monitoring for Microsoft 365 and G-Suite services. No more "chasing ghosts" or guessing what's affecting application performance.











Application Services Monitoring
Communication & collaboration apps aren't the only cloud services your business depends on. Cloud and SaaS based CRM, marketing automation, development, and finance tools are quickly becoming the gold standard used by the world's largest organizations.
When your end-user productivity tools are slow or unavailable, your sales & marketing, dev, and finance teams will be hovering over your desk demanding answers.
CloudReady has code-free synthetic sensors for most popular SaaS apps. The Web Login sensor supports capturing real browser load times for most Single-Sign On and common off-the-shelf SaaS apps. Combine active monitoring deployed anywhere with 24/7 real user monitoring of Exoprise Service Watch in one seamless platform.








Cloud Document Storage
Is your IT team struggling to decipher synchronization and cloud storage latency issues? With CloudReady you'll be able to make sure your users aren't cut off from their docs in the cloud.






Microsoft Entra ID & Single Sign-On Monitoring
Single sign-on (SSO) solutions like Microsoft Entra ID (formerly Azure Active Directory) enable you to tie multiple vendor solutions together so users and IT only needs to manage a single set of credentials, which is especially important for SaaS apps.
Because these solutions are the users' "keys" to their apps, ensuring SSO is online and responsive is the key to success in the cloud. Whether you use Microsoft Entra ID or another SSO solution, CloudReady gives you the insight and real-time alerting you need to keep this critical component online.




Synthetic Monitoring for Unified Communications, VoIP, Microsoft Teams, and Zoom
Unified Communications (UC) and UCaaS have taken over the Internet. Some estimate that Voice and UC traffic makes up 40% of the enterprise network today. The UC market is predicated to grow at a CAGR of almost 17% until 2024 when the market will be $24.8 billion in size.
Often, VoIP, UC, Teams, and platforms like Zoom demand a complete network transformation before they can deliver a satisfactory user experience (UX).
Exoprise offers CloudReady synthetics for network assessment as well as real-user monitoring solutions in Service Watch. CloudReady comes with a full suite of synthetic sensors for monitoring and testing VoIP, Microsoft Teams, Slack, Zoom, and Cisco Webex.
Model, measure, and reliably improve your network communications without disrupting your users.







IaaS Availability & Bandwidth Monitoring
If you are hosting apps or using platform services on Amazon Web Services or Microsoft Azure you need to do more than simply log into their status dashboards to monitor the experience your users have been using these apps and services. The VMs may be healthy, but what about the connection between your users and your IaaS provider? CloudReady bandwidth sensors provide insight into the health of your connection to the cloud.



Cloud & Network Infrastructure Monitoring
Our cloud and network health sensors enable you to monitor the availability and performance of virtually any web-based application or service, getting end-to-end network path performance insight along with crowd performance baseline data, so you can quickly pinpoint problems to your network, your ISP, or the app provider.

Microsoft Entra ID (Formerly Azure Active Directory)
Microsoft Entra ID is the cornerstone to Microsoft-centric enterprise networks, including Microsoft 365 and Azure. If you are using a single sign-on solution to manage identity and access for your cloud apps, AD plays a critical role in the availability and performance of your cloud as well. With our web and OAuth-based sensors, you can view and correlate Microsoft Entra ID performance metrics with your cloud app metrics within a single pane of glass.

Web Apps
Our Web Login sensors test the availability and responsiveness of virtually any browser-based web application or service. Easy to deploy with no training required, but with a rich view into end-to-end network and application server health and performance.

Websites
Have internal or external websites that are mission critical to your business? Our Web Monitor makes it easy to get the same end-to-end service health visibility as our other sensors for virtually any website.

Domain Name System (DNS)
Your users can't use apps and services they can't navigate to. Monitoring and troubleshooting DNS entries across your organization can be challenging, but our DNS Sensors make continuous monitoring of multiple DNS entries across multiple locations easy to set up and manage.

Server Availability
Our Ping Sensors allow you to continuously test and compare response times from up to 5 servers (per sensor). Whether you are testing multiple servers in a web server farm or comparing responses between your sites and major public websites, these sensors give you real-time metrics with historical trend data.

Website Availability
Like our Ping and DNS sensors, our WGET Sensors allow you to continuously test and compare response times from up to 5 websites (per sensor). The difference between WGET and Ping sensors is the protocol that is used. The Ping Sensor uses an ICMP message to contact the target servers, while the WGET sensor uses FTP/HTTP/HTTPS to contact and download a web page.
Don't See What You Need?
We're constantly building new sensors to cover the most popular cloud apps and services. Check back soon to see the expanded list, or contact us to find-out how to monitor your cloud apps with CloudReady!