Azure Virtual Desktop Testing and Monitoring
Test and monitor AVD and Windows 365
deployments from every vantage point
Azure Virtual Desktop (AVD) is a cloud-based Virtual Desktop Infrastructure service from Microsoft
Built atop Microsoft Azure, AVD allows the creation, hosting, and management of remote desktops, applications, and virtual machines. Mission-critical business productivity happens on Azure Virtual Desktop.
Test and Monitor Azure Virtual Desktop, Windows 365
Test and monitor Azure Virtual Desktop and Windows 365 before, during, and after adoption to ensure the service is performing optimally. Virtual desktop users must have a successful experience getting to and within the virtual machine. Network and performance issues must be identified promptly, before they impact overall satisfaction.
Key Azure Virtual Desktop Features
Monitoring and Testing Azure Virtual Desktop
Along with the benefits of VDI solutions come concerns and worries about performance, capacity, latency, and ultimately end-user satisfaction. In particular, cloud-based VDI environments, like Azure Virtual Desktop, can be blamed for slow response, hangs, and poor productivity.
No one wants a remote desktop if It's going to be slow with latency and response problems. Use synthetics and real-user monitoring of remote desktops for Windows 365 and Azure Virtual Desktop to ensure performance, access, and uptime.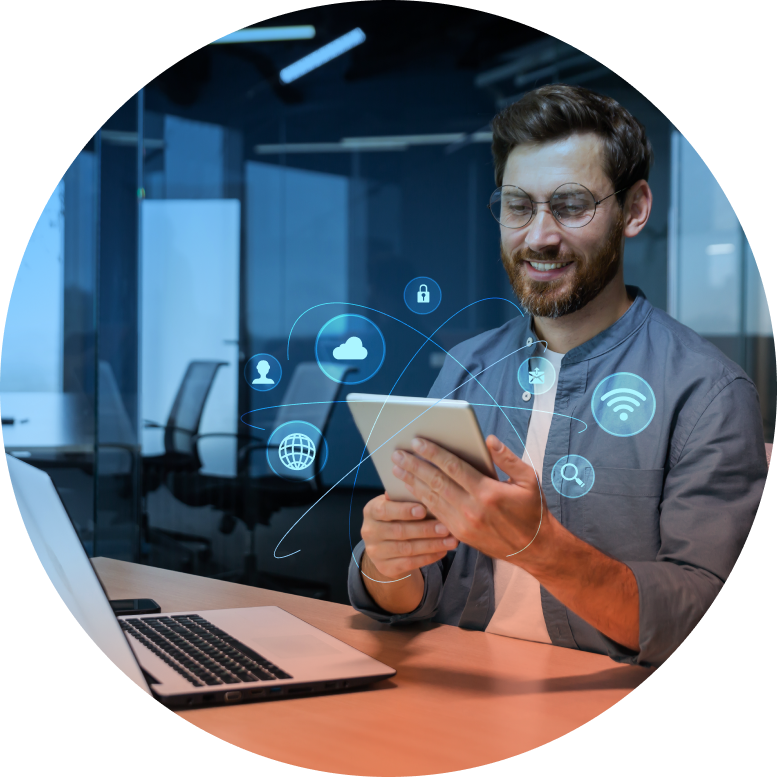 Important Things To Monitor for Azure Virtual Desktop, Windows 365
Overall User Experience
Ensure smooth login and launch times for the overall responsiveness of the virtual desktop
Resource Utilization
Capture 1000s of metrics for system and process CPU, Memory, Network, and IOPs
Network Performance
Monitor network latency, bandwidth, and end-to-end connectivity inside and outside for a 360° view
Gateway Performance
Dissect connections, response times, and for ISP and remote desktop gateways
Session Diagnostics
Record session and connectivity problems, high resource utilization of RDP clients (msrdcw) or browsers
Application Performance
Track application performance inside the VDI environment — poorly performing apps impact the AVD digital experience
Synthetic Testing for Azure Virtual Desktop
Proactively monitor the employee digital experience with Exoprise CloudReady synthetics for AVD. Synthetic transaction monitoring and testing for Azure Virtual Desktop informs you about performance problems before they impact end-users and productivity.
Exoprise AVD Sensors deploy in minutes and test every application delivery component of Azure Virtual Desktop during a single run.
Host Interactive Time
Time taken for the desktop host to be ready for interactivity
Gateway Orchestration Time
Time for initial gateway request and negotiation
Websocket Connect Time
Time to establish websocket connection to the gateway
RDP Establishment Time
Time it takes for the RDP link to establish over the websocket
Host Authentication Time
Time it takes to authenticate to the host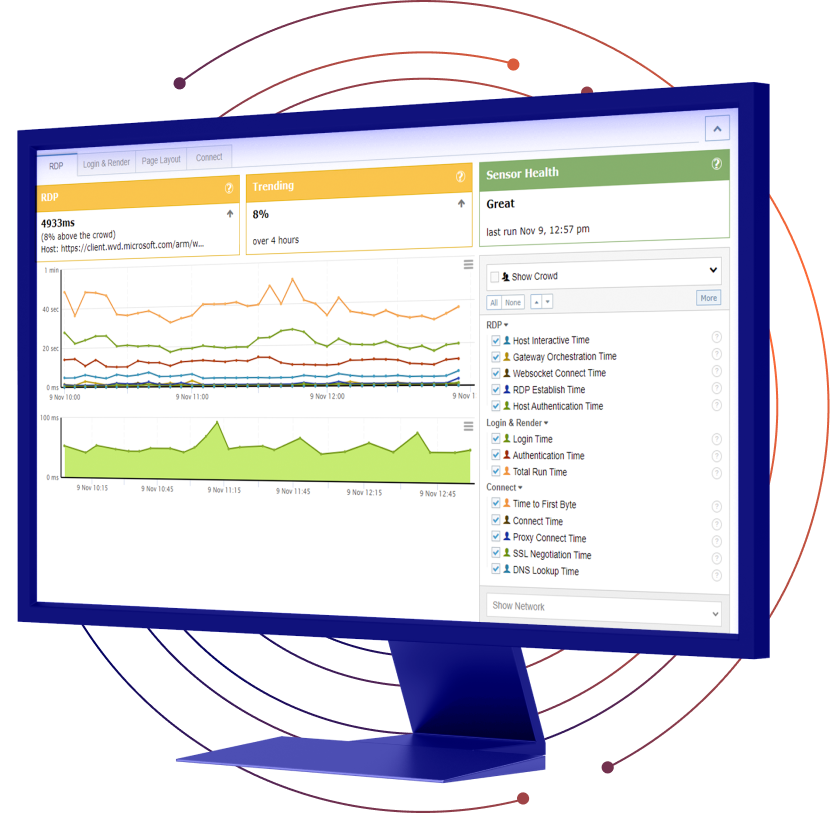 Monitor End-to-end Network Path Performance
Along with AVD connectivity metrics, synthetic testing of remote desktops collects network performance metrics such as SSL negotiation times, DNS lookup times, login times, and proxy connection times for visibility into impactful SASE, CASB, and proxy configurations.
Network path performance metrics are early indicators of latency, packet loss, or network congestion along the path to Azure.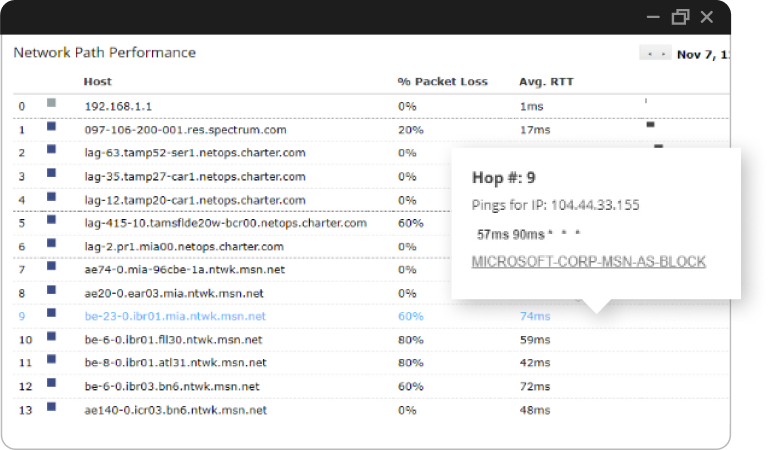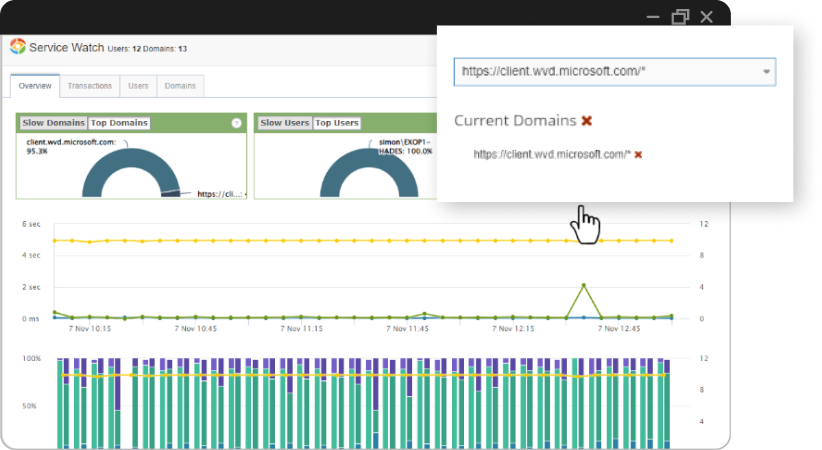 Test, Measure, Monitor MFA and SSO Performance to AVD
Azure Virtual Desktop synthetic testing emulates end-users accessing all the supporting systems for VDI deployments, including Multi-factor Authentication (MFA) as well as third-party Single Sign On solutions in addition to dependent Microsoft Entra ID.
Test and evaluate the entire AVD service delivery chain for early outage detection and proactive notifications.
Benchmarking Azure Virtual Desktop Metrics
AVD metrics are crowdsourced against anonymized aggregates for benchmarking and reducing Mean-Time-to-Repair (MTTR). Compare your AVD access performance to global benchmarks and detect whether degradation is specific to your AVD tenant, ISP, or network.
Exoprise Service Watch— Real-User Monitoring in Every Direction
RDP Latency, Packet Loss, Jitter
What to do when employees complain of slow Azure Virtual Desktop performance?
Deploy Service Watch Desktop to employees' remote access device captures telemetry into RDP protocol performance from the users' perspective. Whether employees are working from home or on the road, detailed diagnostics into network path performance to Azure infrastructure and into Azure Virtual Desktop help reduce MTTR. Service Watch proactively monitors MSRDC, MSRDCW and browser access to AVD. Window, macOS, and Linux are supported.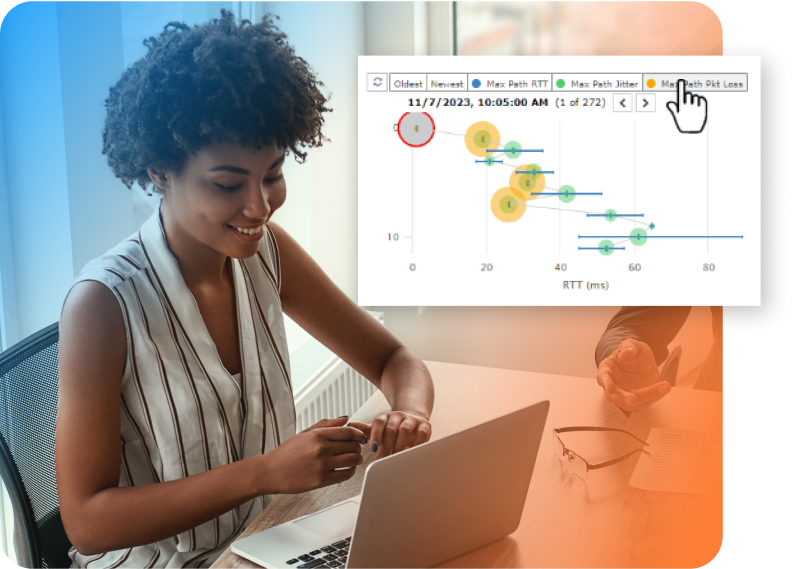 Continuous Network Path Analysis, TCP/IP or UDP
Streamed network analysis inside and outside the virtual desktop environment provides real-time diagnostics of network issues
Pinpoint connection and latency issues for delivering remote desktops to employees from the remote access machines or inside the AVD environment. IT support teams can diagnose any issues, no matter where it's located.
Service Watch Active Test
Service Watch Active Test (SWAT) offers lightweight proactive network tests against Azure and AVD infrastructure from end-user devices. These tests are performed continuously, for diagnosing VPN or AVD access issues.
Along with real-time telemetry of remote desktop, RDP, and AVD network sessions, Active Test provides a baseline of network performance. Proactively detect remote desktop outages from any device.
Real-user and Synthetic Monitoring for Azure Virtual Desktop
Exoprise offers a combination of CloudReady synthetics for Azure Virtual Desktop and Service Watch real-user monitoring for remote access and in-VM monitoring. Together, the solutions provide complete visibility into key aspects of the end-user digital experience and proactive notification to detect and prevent virtual infrastructure outages.