Monitor Exchange Online Like You Own the Servers
Whether you're using Microsoft Exchange Online, Hosted Exchange, or any of the versions of Exchange Server On-Premises (Exchange 2010, Exchange 2013, or the latest Exchange 2016), you need to monitor the systems performance, uptime, and availability. And the network that Exchange depends on. That's where Exchange monitoring comes in.
CloudReady sensors continuously test critical aspects of the end-to-end performance of Exchange Server with full coverage for the various access methods and protocols including: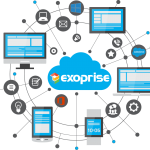 MAPI
MAPI over HTTP
Exchange Web Services (EWS)
Outlook Web Access (OWA)
ActiveSync
Hosted Exchange
Autodiscover
Mailflow – inbound and outbound
IMAP
SMTP email outbound filters
Inbound SPAM protection services
No other tools are as easy to deploy with as much coverage no matter what version of Exchange you're using. Track all Microsoft Exchange issues within a single dashboard and test your exchange mail queue with confidence.
Know About Problems Before Users Complain
Proactive Monitoring for Email

Exchange perfmon counters are fine for diagnosing a server, but you need to know about the health of the entire system end-to-end. Before problems impact your business.
Real-Time Alerts & Workflow

Get notified of errors, slow downs and emergencies in real-time with automatically configured and calibrated alarms as you deploy. Integrate notifications out of the box.

Monitor Exchange from inside your firewall or outside on one of our Public Sites. Get a 360° view of your Exchange Servers, Exchange mail flow, and Exchange connectivity.
Monitor, Load & Stress Test Your Exchange Deployment
Deploys in minutes, watches your back for problems that may crop up. CloudReady is a cloud-driven service that deploys behind the firewall with no servers to setup, no databases to maintain.
Setup Private Sites anywhere in your network, alongside any workload.
Deploy sensors for monitoring any version of Exchange and test Exchange connectivity.
Test and monitor your WAN, LAN, MPLS or WiFI networks for end-to-end coverage.
CloudReady Private Sites have been developed with 100's of man-years worth of security expertise. The agent is self-healing & self-updating with wizard driven setup to help you manage the secure public/private key-pairs.
Works through any proxy, on-premise or in the cloud. Full support for testing Single Sign-On providers like ADFS, Okta, Azure AD and more.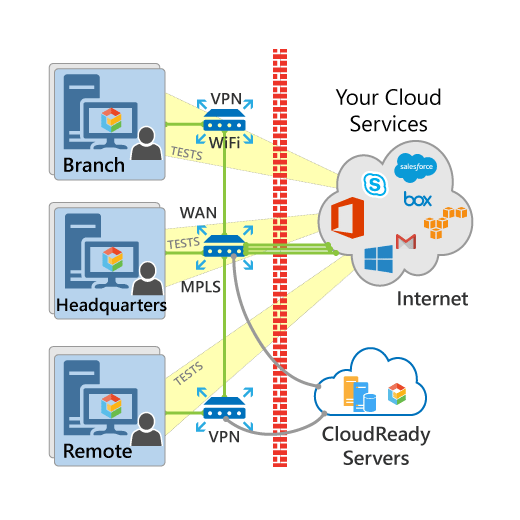 Correlate Metrics, Pinpoint Network Problems
Establish Baselines
End-to-end synthetic tests of protocols like MAPI and ActiveSync to establish baselines before, during, and after upgrades or moves. Exchange health check matters to any business.
Monitor Mobile Device Management
Using an Exchange ActiveSync MDM vendor? Monitor their performance & uptime for troubleshooting and long-term Service Level/SLA violations.
Enhances Existing Management
Passive counter collection is great for digging into the details but synthetic tests let you know about a problem before it impacts your business.
Message Queue Tests for Microsoft 365, Hosted Exchange, Outlook 2016, or Exchange 2016, 2013
Exoprise Exchange monitoring software gives you insight into the mission-critical mail flow, the dependent SPAM, SMTP, and other mail processing systems that your Exchange installation relies on.
Whatever your inbound and outbound mail processors are;  Ironport, Barracuda, Proofpoint, Mimecast or others – you need to continuously monitor their uptime and test for queue performance. Troubleshoot Microsoft exchange server issues in your tenant. Here's how it works:
For each run, a small email is sent to our super fast auto-responder cloud
The auto-responder synchronizes time with our CloudReady servers for accurate timestamps
The auto-responder replies with outbound timing information
Each sensor waits for its unique reply, capturing timing information and header information
The sensor cleans up after itself to avoid filling up test or real mailboxes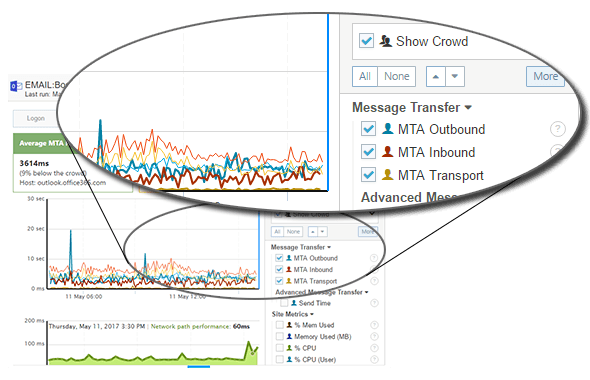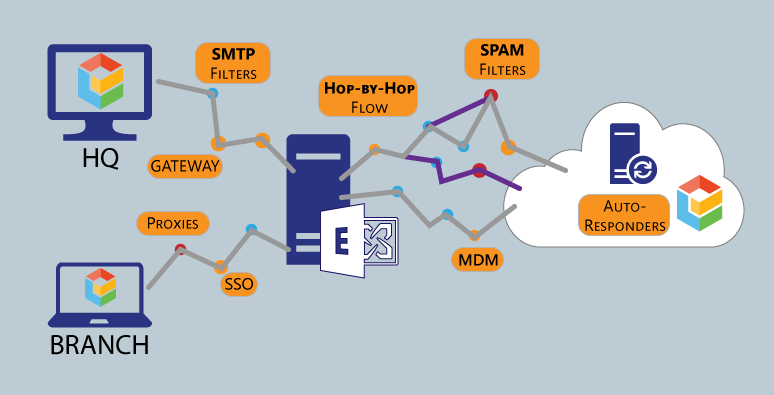 High-Level Metrics and Low-Level Diagnostics for Exchange Connectivity