Monitor Slack Uptime and Performance
From All Your Spots
New collaboration tools demand monitoring connectivity, uptime and response. Try CloudReady to ensure messages, integrations, user interface and APIs are healthy.
New Tools: If You Depend on Them, You Need to Monitor Them
The recent rise of online collaboration tools like Slack and Zoom have been a huge boost to productivity for teams large and small. Group chat is a growing platform in the arsenal for improving enterprise productivity. With integrated chat, channels, bots, and plugins – every organization can have a real-time digital hub for all of their collaboration and systems needs.
But the utility and value of these online tools is only as good as they are reliable and perform well. If a post or chat lands on a page is everyone seeing it? If a message or notification falls in the woods, does anyone hear it? How long does it take to deliver a real-time or urgent notification into Slack?  What's the uptime and availability of Slack vs other collaboration tools?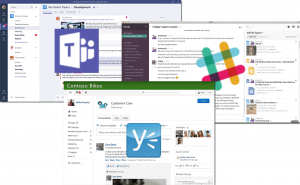 Widely Adopted by End-Users – You're Still on the Hook
How does IT guarantee delivery and reliability of these collaboration tools? Users may have adopted these tools in the shadows (see Shadow IT) but often it becomes the responsibility of the Information Technology division to support and ensure availability of tools like Slack.
Now, with the Exoprise CloudReady sensors for Slack, organizations can ensure that their integrated bots & plugins and interactive user & group messages are making it to their destinations! Ensure productivity and a superior digital experience for Slack by monitoring it for application and availability.
Digital Experience and Availability Monitoring for Slack
CloudReady supports monitoring Slack with specific sensors, actions and crowd-data for these applications. Configuration is wizard driven, takes only a few seconds, fully tests each application and is easily deployed behind the firewall or out on Exoprise maintained public cloud sites from Azure, AWS and others.
Collaboration Sensor Actions
CloudReady for Slack performs the following:
Signs into the application utilizing guest or federated membership
Single Sign-On solutions, if in place, are fully tested and executed
Any network proxies and SD-WAN solutions, if in the data path, are tested
Once signed in to the application, an Exoprise specific channel or team is tested for existence and optionally created
The sensors posts a unique message to the Exoprise specific channel or team. Depending on the application, the User Interface is leveraged or an underlying API. In some cases both are utilized.
The CloudReady sensor further interacts with the application and makes sure the receipt of the message takes place and is available within the application.
The sensor then deletes and expunges the message
Lastly, the sensor signs out of the application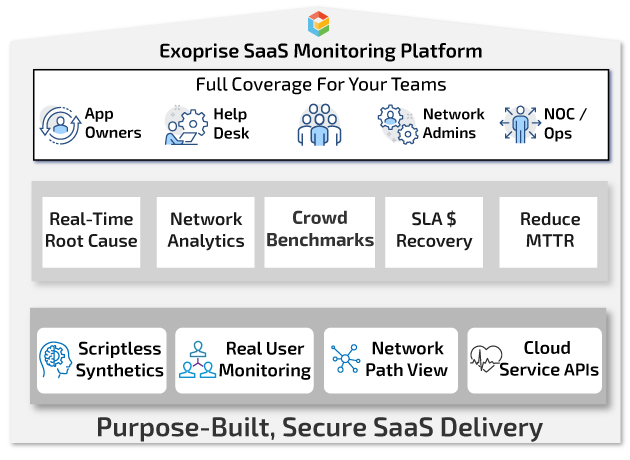 High-Level Actions, Low-level Metrics
Along with these high-level actions that synthetically automate the Slack application, the sensor records low-level details about each of the steps. Aggregate response and error data for each one of the actions across the different servers, Content Data Network (CDN) providers, and hosts:
Continuous availability and response data
API and or interaction errors are captured and stored for 90 days
CDN and server response times
Always-on testing for ADFS, Azure AD and SSO provider interactions
Always-on testing for SSL certificates and ciphers
The different teams at Exoprise have utilized many of these new communication and collaboration tools. Internally, they are used for our own development efforts as well as design and development of our CloudReady Sensors for Yammer, Slack, and Microsoft Teams.
Slack

Slack excels at synchronous communications from many different environments. Team members can have group chat open all day and sit inside their most comfortable work environment like iOS, Windows, Linux, macOS. Besides being very group-centric, Slack has many different plugins or bots available for integrating other systems and forms of communications. We have many build processes, ticketing and exception handling integrated with our Slack channels.
Why Monitoring is Required for Slack
With the rise of Slack as one of the key digital hubs for smaller teams within an organization, a dependency on Slack develops – especially when different teams like Support, Engineering and DevOps start to integrate their processes and collaboration. In some cases, Slack becomes the system of record for their development and engineering processes.
When these critical processes and procedures have a dependency on Slack, its imperative to know that Slack is not suffering an outage, that Slack is not slow and performing well. If you connect a process to a Slack channel and disseminate critical information you must ensure that it is highly available and that the messages are being delivered in a timely manner. In our experience with Slack, we find it to be reliable but not perfect. There are brief outages which we believe to be during turnovers and code changes.
CloudReady Sensors for Slack can assist with measuring SLAs, uptime and potentially troubleshooting issues when they may crop up. The Slack sensors continuously exercise and simulate a user accessing Slack, posting channel messages and making sure those messages are received and available.
Monitor Your Group Chat Solutions — Make Sure Everyone Is on the Same Page
With CloudReady Sensors for collaboration platforms like Microsoft Teams, Slack or Yammer you can take advantage of this new age of collaboration and ensure that everyone is productive and receiving their feeds. As with email, these new tools are essential IT "utility" services and when they're down, there is an immediate negative impact on productivity.