The Power of the Crowd — Explained!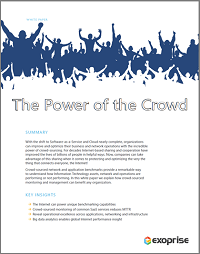 Optimize Digital Experience and Reduce Time to Resolution with Crowdsourced Monitoring
Do you often think, "Is Microsoft Teams slow for everyone?" or "How does my network performance compare to others"?
With crowdsourced monitoring, your organization can gain in-depth Internet insight, remove troubleshooting obstacles, and transform end-user digital experience. Obtain real-time access to aggregated SaaS health telemetry from multiple vantage points and resolve application issues faster.
Read the White Paper to learn
How to find the root cause and reduce MTTR with Microsoft 365 performance issues
Why does crowd-powered network intelligence matter?
What metrics to compare with the crowd for optimal network performance