Watch this Microsoft Ignite 2015 session to learn how to better manage
service incidents that impact your access to Microsoft cloud-based apps
Microsoft's hosted its biggest show of the year, Ignite, at Chicago's McCormick Place, May 4-9, 2015. The massive show was completely sold-out, but if you didn't get a ticket you can still catch a lot of sessions on Microsoft's impressive coverage on Channel 9.
In the session titled "What Really Happens When There Is a Service Incident with Office 365, and What's My Role?" is definitely worth watching if your team is responsible for managing Office 365 service for your organization.

The session provides insight into:
Microsoft's service management framework and how they handle service incidents
Your role in service incident management
Tools and techniques for dealing with service issues when they occur
One of the tools being highlighted in this session is Microsoft's Office 365 Service Communications API. This API allows IT teams and ISV's the ability to tap into Office 365 Service Status and Incident data, including current status, status history, and incident message feed. This API lies behind some of Microsoft's own tools like the Service Health Dashboard and their Admin Apps for iPhone and Windows Phone.
Integrating the Service Communications API with CloudReady
Having access to this API is great, but if you're not a software developer, you may not be able to take advantage. That is why at this session we demonstrated some new functionality we're adding to CloudReady using this new API. We think incorporating this data with our crowd powered synthetic monitoring data makes CloudReady an even more powerful tool for Office 365 administrators. Having both perspectives, yours and Microsoft's, displayed together on single pane of glass means you'll be able to easily identify specific service incident impacts on your users, and correlate observation from your CloudReady sensors with incident data from Microsoft.
We'll also be adding the ability to configure alarms based in Microsoft Service Incident messages, feeding incident data into our crowd data analytics engine so you can see the size of impact (both geographically and in terms of customer percentage), and providing some ability to make service configuration changes directly from within CloudReady (via the companion Management Activity API).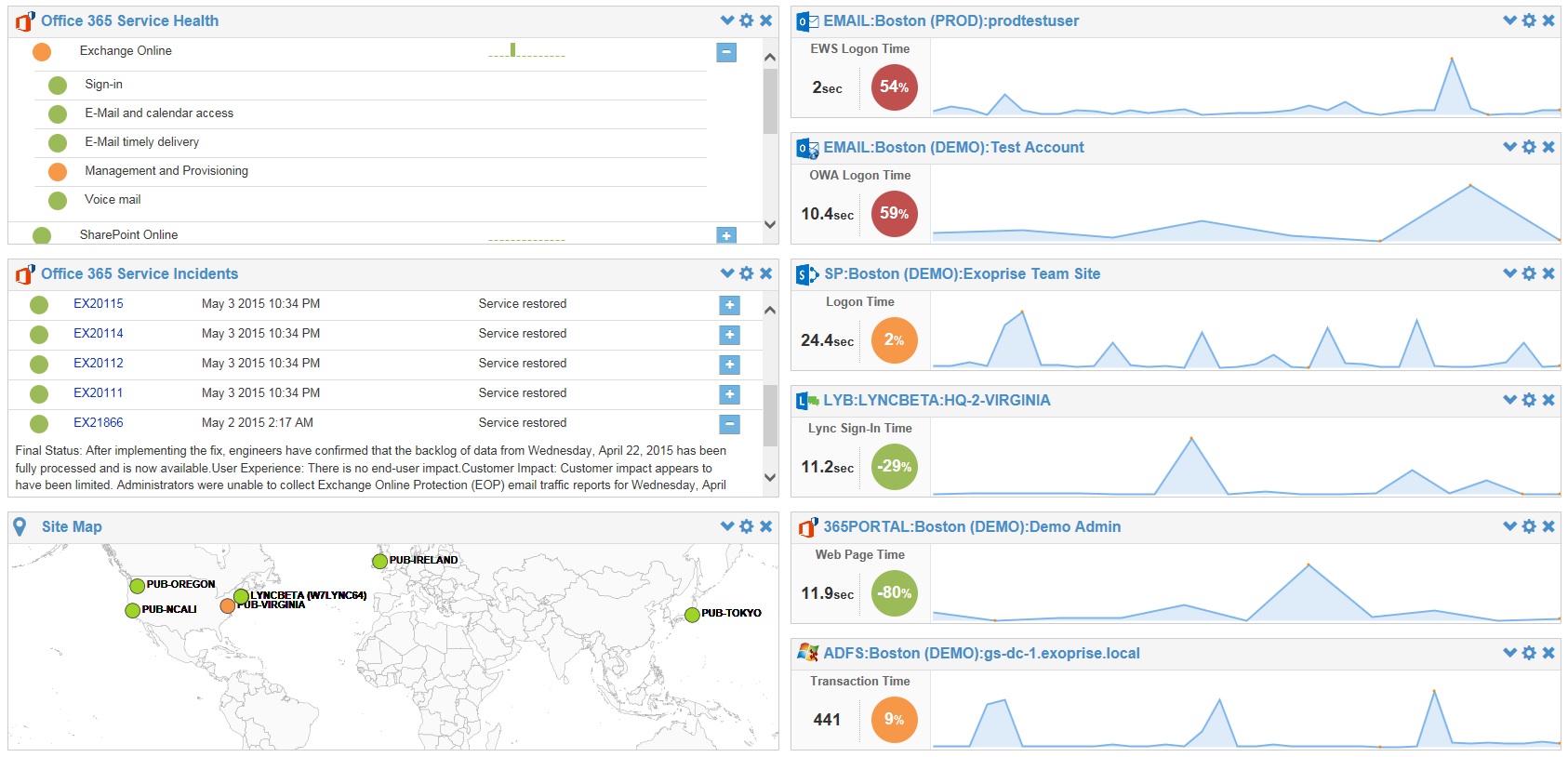 This Service Communications API is a big step up from the status pages and RSS feeds offer by most cloud app providers, and we're really excited about the new capabilities we'll be able to bring to customers with it.