Every day customers start CloudReady trials in under 5 minutes for immediate value with our cloud-based network benchmarking. When they decide to purchase for monitoring critical SaaS apps continuously, the need to determine where, how and to what kind of machine to permanently deploy to. We generally recommend to deploy in access/network conditions similar to a real user – any Windows® physical or virtual machine. Sometimes this can be challenging for people to find but it doesn't have to be not when you use a Windows Mini PCs for hosting CloudReady!
Windows-based Mini PC's preconfigured with Windows 10 Professional edition can be had for as little as $200 and dropped into any network condition, WiFi or LAN, for instant deployment and delivery. Its easy to synthetically emulate a real end-user accessing Office 365, like Microsoft Teams or Skype for Business, that's simple to setup and deploy. Read on for more details and specifications for what we recommend.
Azulle Byte3 – Perfect CloudReady Hosting Computers
We make CloudReady easy to try, use, and buy – with Mini PCs, now its easy to deploy. Anywhere! Whether a branch/satellite Office, different LAN / WAN segment, these locations can be perfect for adding a permanent Mini PC site with low maintenance overhead. We've talked to customers who want to diagnose Skype / Microsoft Teams issues and often those issues for users are on WiFi networks – not Ethernet connected – so you have to get your conditions right.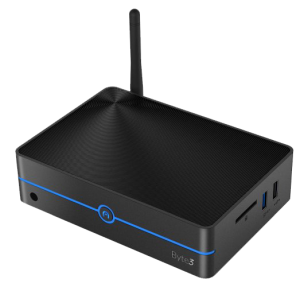 For as little as $200, you can deploy a fully functioning Byte 3 Mini PCs from Azulle. We've also had success with the Azulle Access 3 Stick PC (for even less than $200). Either one is capable of hosting a CloudReady agent running the full suite of Office 365 sensors, including Teams, Skype for Business, Exchange, SharePoint, OneDrive and more. You'll even have spare room to test your custom delivered applications from any location.
Both devices can be had with a Windows 10 Pro license which can give you domain-joined security and remoting right out of the box for easy management! And Windows 10 has nice enhancements for unattended management even when there's limited storage available. The Byte3 device, for $200, comes with 4GB of Ram and 32 GB of storage, Windows 10 Pro and a Quad-Core processor. Finally, they have a full complement of USB ports, SD and Customers have successfully deployed this device with as many as 10 sensors for full coverage and visibility into their network.
Having a fully capable, easily purposed, Windows device for about $200 for full Office 365, SaaS, WiFi, LAN visibility is a great and economical solution. That you can switch between LAN or WiFi is even better.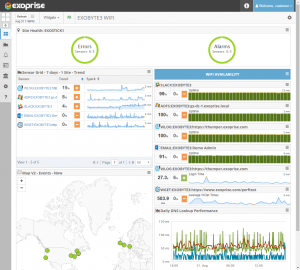 User Machine Hosted CloudReady is a Viable Option Too
We should also mention that customers have had success collocating CloudReady agents and sensors alongside existing users machines in branch offices. CloudReady sensors are low impact relative to end-user workloads. We have customers co-locating CloudReady on administrative or assistant laptops and desktop computers with no impact. And you can deploy the full suite of CloudReady sensors.
Microsoft Ignite 2018 – Win a Free Mini PC & Exoprise Subscription

Attending Microsoft Ignite in Orlando this year? Be sure to stop by Exoprise Booth 2006 where we will be raffling off two Azulle Byte 3 Mini PCs a day. Plus they will come with a Free CloudReady Subscription. Use the Mini PC for whatever you want – install the CloudReady subscription on any device or VM.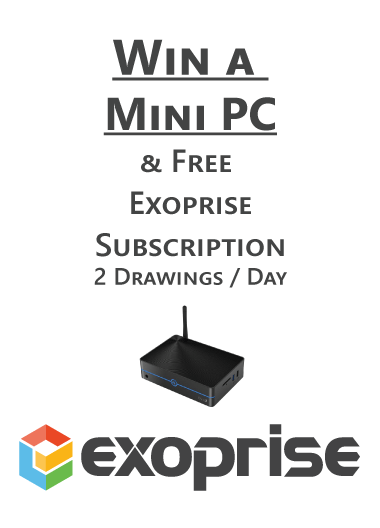 Not attending but would like a chance at winning? Contact us (from a corporate address) and we'll enter your name for a chance to win.