Our SharePoint sensors help admins find and fix performance issues "on-prem" or in the cloud

We've heard from a lot of customers that getting real-time visibility into the performance of their SharePoint Online service is just as important as it is for Exchange Online. Now with CloudReady you not only get the same types of transaction and network path performance data we provide for Exchange Online, but we've also gone a step further with detailed network transaction breakdowns so you can see how specific sub-transactions, like DNS lookups or ADFS single sign-on requests are performing.
Whether you own the servers or not, your network infrastructure and component services (like DNS, SSO, ADFS, etc.) affect how SharePoint 2013 and SharePoint Online services are delivered to your end-users and branch offices. Pinpointing slow DNS servers, proxies, gateways and Network Path traversals are a click-way. CloudReady Monitor continuously monitors your end-to-end SharePoint delivery experience; from logon to file upload and download, and gives you the insight to pin-point problems quickly and eliminate the blame game fast.
For example, clicking on a point on the trend graph will give you summary timing information for that transaction: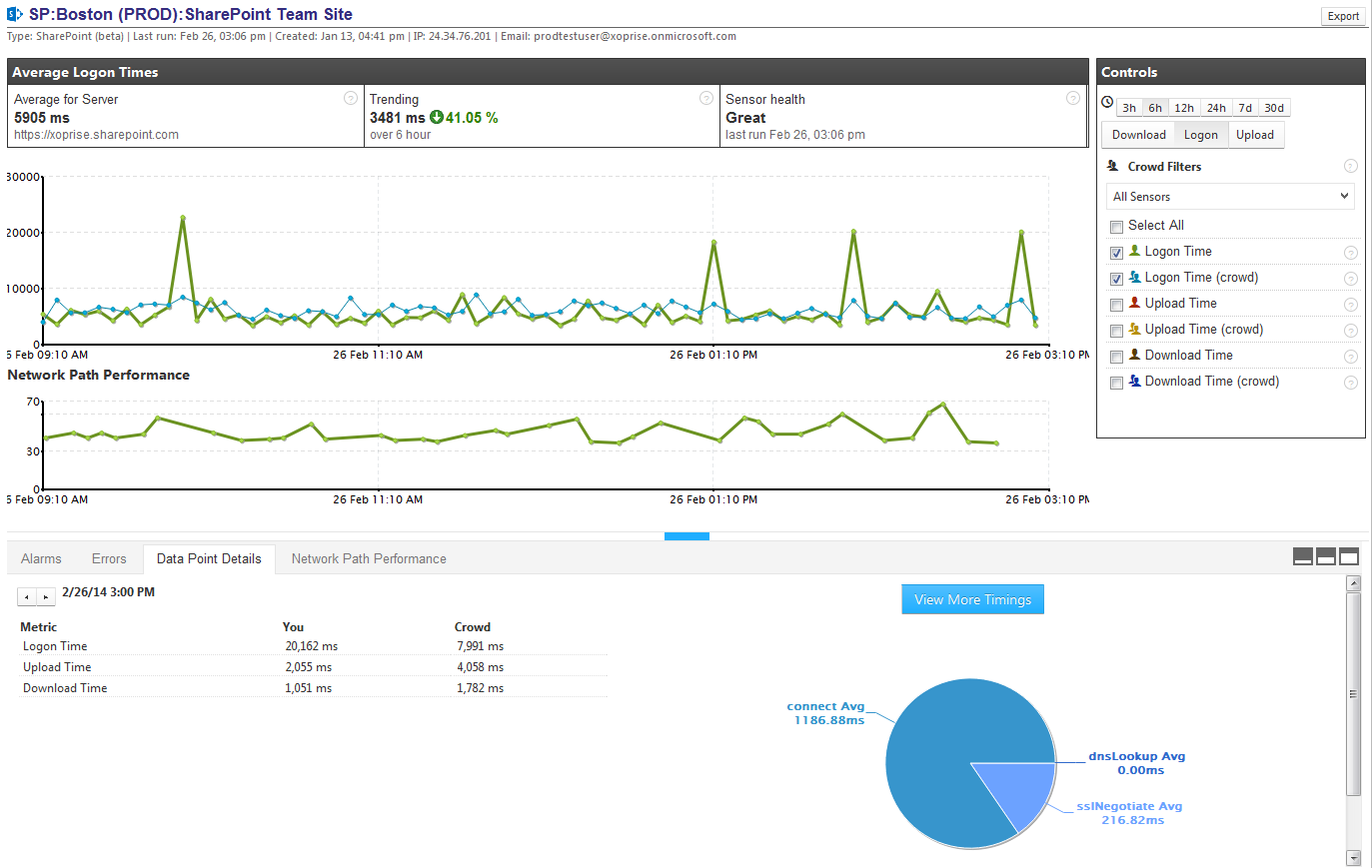 In addition to the detailed logon, upload, and download times on the left, the pie chart on the right provides a general sense of the average amount of time being spent on performing DNS look-ups, SSL negotiations, and TCP connections.
Going a Click Down
By clicking the "View More Timings" button, you can go a click down and see more detail on each of these transaction components and even compare their performance over time, helping you differentiate between specific SSL or DNS issues v. overall network bandwidth and connectivity issues. Is your ADFS or SSO proxy server causing SharePoint slow downs, in your HQ or branch office? Is your DNS working correctly and providing the right response times for connecting to the cloud? With CloudReady you know.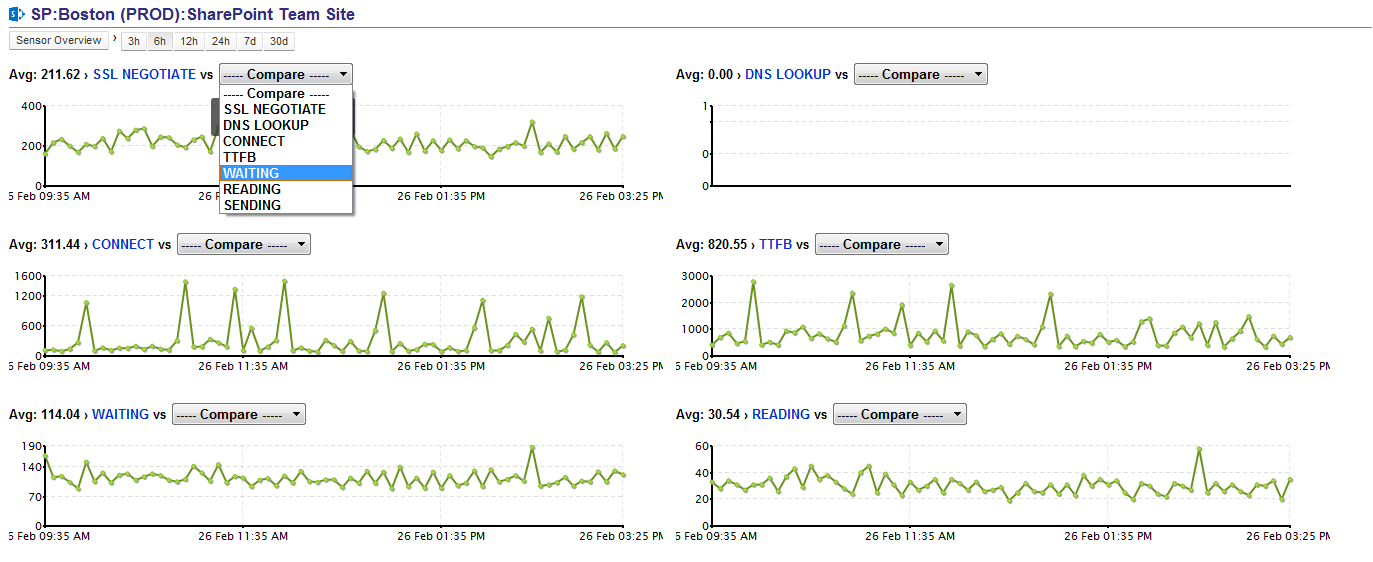 You can even compare performance of these network transactions across multiple endpoints so you can determine whether performance issues are isolated to a particular service access point. This gives you additional insight into the bottleneck between your end-users and your cloud-delivery providers, so you can pinpoint the cause of performance issues, know who to contact and why, and get resolution as quickly as possible.

Keeping Monitoring as Fast and Simple as the Cloud
As part of this update we've also added similar detailed network transaction monitoring to our existing email sensors, so you can get a better view into where those services may be running into network problems. The best part, though, is that even with this additional level of monitoring, CloudReady is just as fast and easy to deploy as ever. It only takes a few minutes to begin monitoring cloud apps from a single location, and replicating those sensors across multiple sites takes even less time.
For example, we're happy to be working with a global electronics manufacturer with offices in over 30 countries, as they roll-out SharePoint Online. Cloud adoption can be particularly challenging for organization of this size and geographic distribution. With CloudReady Monitor for SharePoint they are able to quickly identify which locations are ready for SharePoint Online roll-out, and which ones may have infrastructure or network bandwidth issues that need to be addressed so users have fast access to company content. In about a day the customer's IT team was able to deploy CloudReady to over 20 locations and in less than a week they had deployed over 50 sensors across their organization, our hybrid cloud architecture allowing them to bulk deploy sensors across multiple sites easily and in the matter of minutes.
Diagnosing performance issues with cloud services like SharePoint can be difficult but with the deep transaction visibility provided by our new SharePoint sensor, you now have information you need to keep your SharePoint users connected and happy.
If you already have an active trial or production account you can try the new SharePoint sensor today by going to the Add Sensor page. If you don't have active account you can start a trial in just 5 minutes. Just click the button below.