Integration between Microsoft Office and Dropbox is great
but you need to ensure your users have consistent access to their documents
This past week Microsoft and Dropbox announced that that had reached an agreement that would result in a number of new integrations that will benefit users of both Microsoft Office and Dropbox. Users will be able to configure their Office apps for mobile, web, and eventually desktop, to directly access their folders and documents stored on Dropbox, making document access seamless across local folders, OneDrive, OneDrive for business and now Dropbox.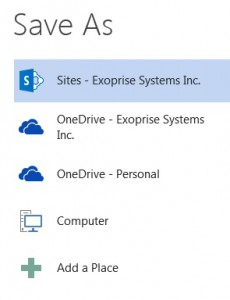 If you've never used the Places capability in Office, this is probably a good place to take a moment to explain how this feature works. With Places, Microsoft has enabled its Office apps to plug directly into cloud-based document storage locations, without requiring full directory synchronization to local storage. For example, if I have documents stored on a SharePoint site, I can configure Office to access that site directly, so I can open, edit, and save documents to it, and not need to deal with folder synchronization or manual document download/upload.
On the desktop this has some advantages over folder synchronization – which has improved but is still prone to the occasional corruption, requiring a local wipe and refresh. It also a little better integrated with SharePoint's check-out/check-in concurrent file editing feature. On mobile devices, though, where storage is much more limited, this direct cloud access is an absolute necessity.
Places is a great feature – one I use every day – but until now it has been limited to the Microsoft storage services: SharePoint, OneDrive and OneDrive for Business. With this partnership, Dropbox will also be available as Place for Office doc storage. This is welcome news to the millions of Dropbox individual and business users.
However, as an IT team, leveraging this capability means you also need to be thinking about monitoring the quality of Dropbox access available to your users. If they aren't going to maintain local copies of Dropbox directories it means they will be more dependent on their connection to the Dropbox cloud. When something disrupts that access, you need to be able to detect and resolve the problem quickly.
The good news for you is that Exoprise CloudReady helps you do just that. Our Cloud Doc Storage sensors allow you to keep an eye on your connections to Dropbox, as well as SharePoint and OneDrive for Business, and other solutions.

Like all CloudReady sensors, our Dropbox sensors are easy to deploy, inside your network or on Exoprise public monitoring points in the cloud. Once deployed, they continuously test the availability and responsiveness of your Dropbox service. This includes the critical "last mile" of the network connection to your locations, where the majority of issues are likely to occur. Plus, you can compare results from your locations with the "crowd" of other Dropbox subscribers, in your region, or around the globe. If you run other services like SharePoint Online or OneDrive for Business, you can also compare data across services so you can see which ones work best for your locations.
You can start monitoring these cloud document storage services today by starting a CloudReady trial. It takes just a few minutes to get started and you can monitor three services for two weeks for free.