Are Your Users Getting the Expected Bandwidth?
Bandwidth monitoring provides IT administrators with the assurance that the network has sufficient capacity to run business-critical applications. In addition, network ops team have end-to-end visibility to identify network hogs that cause the congestion.
Typically, when a single component overloads in any network, it can bring the entire operation to its knees and impact the employee digital experience. For example, even if you may have a dedicated service plan from your ISP, employees will end up complaining about issues like large file transfer time and slower applications. Furthermore, there may be unexpected traffic or multiple network requests during peak load periods that consume more bandwidth than you had anticipated.
If you run a WAN with multiple sites, access a third-party cloud service like Microsoft 365, or have employees working remotely, you need a bandwidth monitoring tool that covers the Internet performance and network utilization.
Challenges with Bandwidth Monitoring
In a perfect world, you will need access to the testing line for maximum capacity if you want to test a network for maximum throughput. But to accomplish this feat, you would need to isolate other users who are trying to use it for shared assets. So, in other words, you are paralyzing your network.
Therefore, the best thing you can do is to test the connection speed in a TCP/IP or UDP network by generating short payload bursts. To do so, a deployed monitoring agent or sensor sends small files to the receiver socket every few minutes and measures the download/upload speed in Mbps. In addition, the sensor captures several other important connection parameters to reveal more about the network's health.
How to Monitor the Bandwidth Usage for Your Apps
The Exoprise CloudReady synthetic monitoring tool offers several options to monitor the bandwidth capacity in any IT environment effectively. While other network performance monitoring tools monitor router traffic, CloudReady monitors your entire traffic in real-time across any network (LAN/WAN) out on the Internet to remote locations and cloud services.
Let's look at some available CloudReady sensors for monitoring bandwidth usage.
#1 Azure Bandwidth Sensor (Peer to Azure, TCP/IP based)
Once the IT operations team deploys the Azure bandwidth sensor to multiple user locations (or private sites), the sensor synthetically sends and receives small payloads (~4MB) between the site and a specific service running on the Azure cloud.
The bandwidth sensor simulates a TCP/IP workload connection between a peer (transmitter) and an Azure region (receptor). What follows is continuous monitoring of throughput and end-to-end network performance, as shown in the chart below.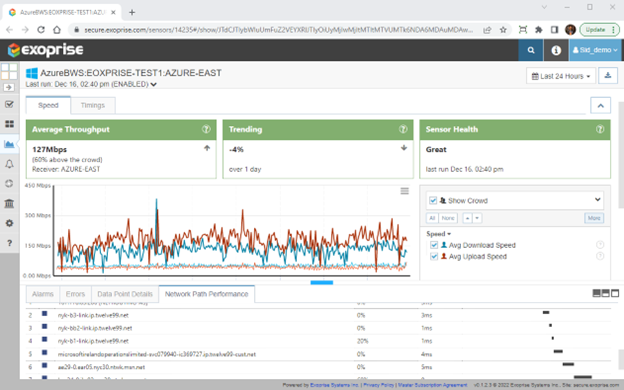 The Azure bandwidth sensor collects data every five seconds for the following metrics
Average Download Speed
Average Upload Speed
Connect Time
Upload Time-to-First-Byte (TTFB)
Download TTFB
After deploying the sensor, you can easily visualize the trends over time for the location. You can also generate reports showing the bandwidth consumption of the last 3 hours until the previous month.
Another interesting feature within this chart is crowd-sourced analytics. Network teams can instantly compare the throughput performance at their site at any time with other Exoprise customers. We also show you the average throughput speed % above or below the crowd stats.
But wait, there's more.
Any of these metrics can have expectation thresholds set with the corresponding alarms. When thresholds are exceeded (say, for example, if there is a payload upload or download error), your team receives early notifications for investigation. Send these alerts downstream to ServiceNow or any other ITSM.
Furthermore, the Network Path Performance tab provides information on packet loss and response time at every hop (or IP address), so you can determine where the network bottlenecks are.
#2 AWS VoIP Sensor (Peer to AWS, UDP based)
Need to detect throughput problems with audio and video communication apps like Zoom?
Our second bandwidth monitoring sensor is the AWS VoIP sensor, which synthetically sends and receives UDP packets between a private site and a specific area of Amazon Web Services. The Exoprise CloudReady VoIP sensor proactively measures jitter, packet loss, and response time against any AWS location by emulating streaming audio/video conversations.
VoIP sensors generate lightweight traffic, which does not affect service delivery. This type of sensor is beneficial for unified communications administrators interested in monitoring the network performance of their new UCaaS infrastructure to ensure employees remain efficient and productive in remote meetings.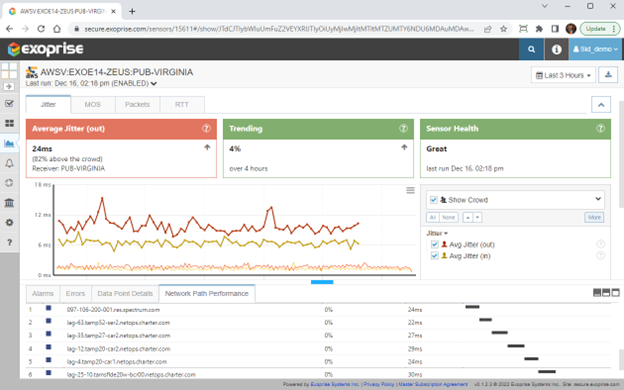 The AWS VoIP sensor collects data every five seconds on the following metrics
Average Jitter
Packet Loss
Round trip time (RTT)
Mean Opinion Score (MOS)
Like the Azure Bandwidth sensor, admins can set up alarms to report potential errors. They can also click on the Network Path Performance tab to view hop-by-hop traffic data and fix call quality issues with VoIP applications in any network.
#3 Bandwidth Sensor and Receiver (Peer to Peer, TCP/IP based)
To model a basic peer-to-peer TCP/IP bandwidth test between two nodes on a network, you should deploy both the Exoprise CloudReady bandwidth sensor and a receiver. Both sensors enable proactive monitoring of network throughput and uptime without overloading the network.
However, you should deploy a bandwidth receiver before installing the CloudReady bandwidth sensor. Once the connection between the two nodes is established, the sensor will send and receive small payloads to measure overall bandwidth and network path performance metrics.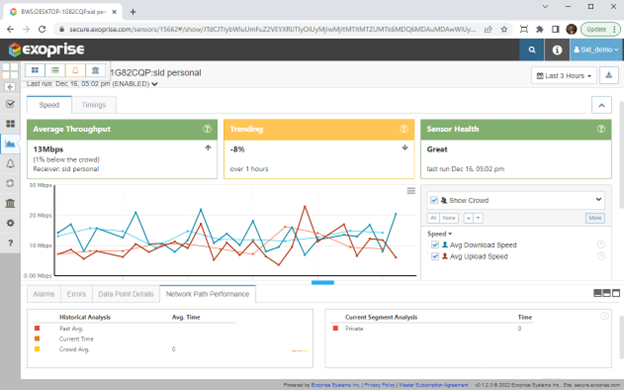 The Bandwidth sensor gathers data every five seconds on the following parameters
Average Download Speed
Average Upload Speed
Connect Time
Average Download TTFB
Average Download TTFB
Choosing the Right Bandwidth Monitoring Tool
With a work-from-anywhere culture and a distributed workforce that relies heavily on critical SaaS, communication, or VoIP services, bandwidth monitoring should be at the top of the IT priority list.
Exoprise offers a variety of sensors to meet your organizational needs and monitor network bandwidth from any location for different protocols. No matter what enterprise application (Microsoft 365, Salesforce, Teams) you use, Exoprise insights help you with
Capacity planning
Traffic identification
Historical trends
Network utilization
Hop-by-hop analysis
Reporting abnormal usage
Best QoS practices and optimization
You can deploy all these sensors in under 5 minutes through a step-by-step wizard.
Interested? Request a demo and see for yourself.