You get what you pay for is a common axiom, one that even applies to infrastructure management solutions. Cloud vendors bundle Digital Experience Management (DEM) solutions with their services, seemingly at no extra charge. But such products lack the capabilities needed to understand how enterprise computing resources function. As a result, corporations do not make needed adjustments and lose time, revenue and increase user frustration.
Vendors offer a range of tools to manage their cloud services. These solutions provide generic, high-level insights into service health and performance. For example, Microsoft offers the Microsoft Remote Connectivity Analyzer, the Call Quality Dashboard (CQD) for Microsoft Teams or the Microsoft 365 network connectivity test. These tools can be helpful if you have an idea of where the issue lies, they don't run continuously and don't allow any before and after comparison. The price is right, but they have glaring gaps and do not provide sufficient visibility in a timely enough manner to enable speedy and effective diagnosis of issues that negatively impair the user experience.
Poor End-user Experience Management's Many Costs
Such limitations ripple throughout the organization, creating numerous inefficiencies. Nowadays, corporate performance revolves around employees having timely access to important information that forms the foundation for their important daily decision-making. Does the infrastructure provide them with what is needed to do their jobs?
In many cases, no. Today's digital workplace is complicated and volatile. Employees come and go; software and hardware are constantly upgraded; new end devices emerge; and information flows across the enterprise network and is delivered in a scattershot fashion.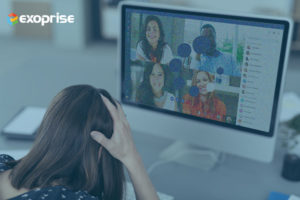 The time that employees sit waiting for a page to load is seconds (poor page load times), minutes, hours where the person does not do their job. Such delays usually result in the difference between making a change that helps the organization or missing an opportunity window.
The free tools offer little help in such cases. They typically provide high-level overviews of the health of their cloud services. They display service disruptions and incidents, along with their severity level and estimated time to resolution. The problem is they do not closely track how a problem is impacting users or provide detailed insights into the root cause of the issue.
Therefore, how does the support team find out about a problem? Usually, a steep spike in trouble tickets to the service desk precedes any notification from the free solution. So, what good is it if your support team gets blindsided by justifiably upset users?
Create a Better User Experience
What do you need? A product with more Digital Experience Monitoring (DEM) depth. Exoprise's CloudReady and Service Watch provide real-time notifications much sooner and more accurately than free solutions. In addition, they include automation features, so troubleshooting is operationalized: integrated into business processes, so your service team is ahead rather than behind potential problems whenever they occur.
Increasingly, problems arise at odd hours. The traditional workday has gone the way of the dodo. The accessibility of modern systems leads to instances where employees work late at night or early in the morning. If they encounter disruptions, the free systems typically notify the technician the following morning. With Exoprise, the support team knows about it before the user.
Exoprise's CloudReady and Service Watch products deliver comprehensive monitoring in real time. These tools use a combination of synthetic transaction monitoring to simulate user interactions and couple it with real-time, real-user monitoring and telemetry collection from the end-users' vantage point. Those capabilities fill in the free solution gaps and provide 10x to 100x more visibility into a vast array of performance metrics. That difference means your team avoids the tidal wave of calls coming to the support desk. Troubleshooting time is cut from hours to a few clicks. Employee satisfaction and, in turn, customer satisfaction stays high.
Additionally, Exoprise's Service Watch RUM enables deep, operationalized diagnostics for any application. It examines the application and the entire desktop environment, including network connectivity and application performance. These features create a complete picture of the end-user experience, so IT teams quickly identify and troubleshoot issues. When a network problem arises, techs receive an alert and isolate the problem source in a click or two.
Keep Microsoft Teams Running Smoothly
The pandemic forced many corporations to offer remote work to employees. Virtual meetings solutions, like Microsoft Teams, have become the way that work gets done. Poor user experiences hinder such interactions, reduce productivity, and lead to missed opportunities.
The free dashboards collect high-level information on call quality, including call duration, audio quality, and network connectivity. However, it only provides data for specific calls and does not offer insights into overall service health. It provides accurate call quality data, however, that data is for the duration of each call, typically about 1 hour. So. it tells you there was a problem with a call and whether it was the client device, or if there was a network problem. Unfortunately, that's not enough information to solve the most common device and network issues.
Exoprise's CloudReady Synthetic Teams AV Sensor goes beyond legacy call quality metrics and monitors the complete Teams user experience. It simulates user interactions, including voice and video calls, and screen sharing. During Teams calls, it monitors the network path every 30 seconds. Its measurements provide a more accurate and comprehensive view of service performance. CloudReady alerts the tech team immediately when a problem of any sort arises, and provides 5 minute granular details with end to end network path analysis. The free tool in a best-case scenario sends out an alert within an hour of when the problem first arose.
Easy to follow real-time metrics empower technicians to proactively manage the user experience for Microsoft Teams.
In summary, buyer beware. The reason why DEM tools are free is because the vendor did not make the investment necessary to deliver a quality product. Exoprise's CloudReady Synthetics and Service Watch RUM products offer more comprehensive monitoring capabilities. Only by investing in it do you get what you truly require: a DEX solution that will keep users working and therefore pays for itself many times over.