The pandemic sparked a dramatic uptick in corporate use of collaboration and cloud solutions. A related perpetual challenge is that enterprises do only a mediocre job of providing remote users, especially those working at home, with robust Digital Workplace experiences. As part of improving the enterprise Digital Workplace, Enterprises' must begin to conduct thorough digital inventories, focus on network observability, and enforce strong SLA's with cloud providers to address the shortcomings.
Technology is changing how work gets done. Increasingly, employees need access to rich and immersive collaboration applications to complete their tasks. At the same time, enterprise networks have become larger, more dispersed, and more complicated. Therefore, a variety of factors, such as network connectivity, resource utilization, and misconfigured settings cause slowdowns and decrease employee productivity. Currently, most businesses have limited insight into employees' digital experiences, so how can organizations resolve this pervasive problem?
Rogue Technology Buying Casts a Bigger Shadow
One reason for the lack of visibility is that many employees work at home rather than in the office, especially since the pandemic. In fact, remote workers rose 44%, according to Gartner Inc. A ripple effect is that workers rely on home networks and personal devices instead of company sanctioned equipment. In certain cases, the technology department knows what systems employees rely on, but often, they do not. Now instead of "Bring Your Own Device", we have "Bring Your Own Network" and that can be challenging to diagnose.
Shadow IT (Information Technology) refers to the practice of workers deploying unauthorized resources. Such arrangements arise for a few reasons. Sometimes, individuals do not know what the company technology policies are and buy devices or SaaS services that they like. In other cases, workers try to circumvent their IT department because they view existing technology policies as too restrictive and think they prevent them from doing their jobs effectively.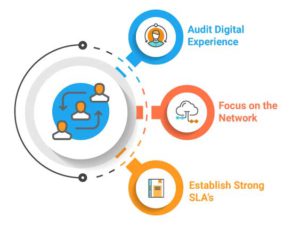 Regardless of the reasoning, such solutions are quite common and have become even more so. These systems represent a big slice of a firm's technology pie: between 30% and 50% of all IT spending goes toward funding shadow IT purchases.
Time for a Technology Audit
Because Shadow IT is so common, corporations need to put processes in place to manage equipment, network, and service purchases and their use. The first step is finding out what technology employees work with. Only then can they monitor system performance and application response times.
Conducting a thorough inventory represents a good place to start the process. The inventory of systems, applications, and services becomes the baseline for managing system performance. To take that step, organizations need a robust Digital Experience Management (DEM) product, like Exoprise's Service Watch Desktop. Service Watch can examine core business apps to understand the dependencies and connections these apps are making. The dependencies assist IT teams with knowing what to monitor. With Service Watch, Device Groups can be dynamically created to segment users by app usage, service usage, even ISP utilization. The tool creates a usage picture and then performance baselines to gauge, so the company understands how well the infrastructure supports employee needs.
Take a Close Look at the Network
Networks separate yesterday's ponderous workflow from today's instant, interactive exchanges. When a user hits the Enter key, information travels across the Internet and hits a number of different points in a haphazard fashion.
Collaboration solutions have become immersive and, post pandemic, people are more accustomed to video and audio collaboration – they're now more dependent on excellent experiences with collaboration solutions. When these technologies fail, it can be extremely frustrating for employees. Enterprises want to avoid such issues because they lower productivity and weaken the company. The time users spend troubleshooting and asking for help detracts from more important work.
However, understanding what is happening as the data flows moves is challenging. Most firms rely on monitoring products that provide them with only a piece of the puzzle. Exoprise tests network routes and examines user interactions, both passively and synthetically, for collaboration solutions, like RingCentral, Microsoft Teams, and Cisco Webex. The product performs deep dives into network connections and evaluates
The speed of the local corporate or home network
Wi-Fi connections
Bandwidth availability
Internet Service Provider (ISP) links
The performance of each router
Corporate network services such as VPNs and proxies
Microsoft Teams Health Custom Dashboard
Exoprise takes a multi-pronged approach to gauging network performance. The different pieces provide enterprises with a complete view of employees' collaboration experiences, so problems become simpler to identify and fix.
Create a Strong SLA
Corporations rely heavily on their networks to run the business. Therefore, they need to be certain that the infrastructure works as advertised. However, glitches arise occasionally and impact performance and the business. They want to limit disruptions and be compensated should their carriers fail to deliver sufficient bandwidth.
One way to gauge the impact and ensure solid network performance is to put performance guidelines into writing. A Service-Level Agreement (SLA) is a contract between a service provider and a customer that defines the level and quality of service expected. They establish baseline network performance measurements, no matter where an employee works from.
The customer must define its service requirements clearly, outline the services to be provided, and the specific requirements, expectations, and metrics associated with each service. The measurements include aspects, such as uptime, response times, resolution times, performance targets, and requirements. These Key Performance Indicators (KPIs) become the SLA evaluation foundation.
Once the agreement is in place, the organization wants to be sure that their infrastructure providers adhere to it. They need tools to determine how close the carrier comes to meeting the objectives. Exoprise solutions cover all types of user connections: corporate, hybrid, and home users. In addition, the product evaluates the performance of not only networks and devices but also collaboration applications. Enterprises then see how well the different elements are working. The system identifies and mitigates problems.
Collaboration solutions have become important cornerstones in business today. Many firms rely heavily on their computing infrastructure to function; however, they struggle to manage these connections, especially since the pandemic. Checking their user equipment, monitoring the network links, and creating strong SLAs enables them to ensure robust digital experiences for their users.
Want to see how easy it is to get started? Take a free Service Watch Trial.