New Microsoft offerings are a step in the right direction, but IT teams need more
UPDATE: June, 2015: We've released our new Office 365 Service Communications integration giving you everything you can get through SCOM plus a whole lot more. Read more about it here.

This week Microsoft officially released a new System Center Operations Manager (SCOM) Management Pack for Office 365 along with a supporting Office 365 Service Communications API. This is an important step for Office 365 customers as Microsoft acknowledges the management and visibility challenges IT teams face with Office 365 and starts to take steps to address them.
It also shows that Microsoft is willing to open the door, at least a crack, to give customers and management solution vendors API access into some of the service health information Microsoft tracks. The API in particular is something we're excited about and are already working to integrate directly into Exoprise CloudReady®, but more on that in a bit.
The obvious question this announcement raises is does this now give SCOM users everything they need to effectively monitor the health of their Office 365 environment?
Unfortunately, no. While the new API and Management Pack do give SCOM users access to service health data from Microsoft (which is definitely a good thing), it's important that IT teams understand what this data does and does not tell them about the overall health of their Office 365 deployment. To better understand this, let's take a look at the specifics of Microsoft's release.
Office 365 Service Communications API
To develop their Office 365 SCOM management pack, Microsoft has also developed a new public API for Office 365. According to the Microsoft blog on the release, the API provides three types of information:
Real-time service health. New and ongoing service incidents and ongoing maintenance events that impact you can be queried for status updates.
Message Center communications. Find Message Center communications that are applicable to your Office 365 environment.
Planned maintenance notification. Advanced notification of planned maintenance enables you to develop appropriate communications and operational strategies for your organization.
If you are an Office 365 admin, you'll recognize that this is essentially the same service health information available from the Office 365 Service Health Dashboard portal and RSS feed. A full description of the API is available here.
Office 365 Management Pack for Microsoft System Center 2012 R2
On top of this API, Microsoft has built a management pack for SCOM.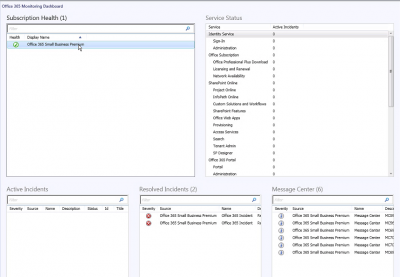 As you can see in the screenshot, the management pack UI exposes the same Office 365 service/tenant health information, including subscription health, service status, active/resolved incidents, and update messages. This information plugs into the overall SCOM monitoring framework and features. The management pack periodically polls the Office 365 API to collect new events enabling SCOM users to set-up email alerts based on them.
This addresses a significant gap in the Service Health Dashboard, which only pushed notifications out via a cryptic and often delayed RSS feed; not a viable mechanism for proactive alerting of IT team members.
What's Missing?
Exposing Office 365 Service Health information through SCOM, where it can be viewed alongside other System Center managed assets is certainly a benefit for IT teams who use System Center Operations Manager. Unfortunately, if your company doesn't use SCOM then you'll either have to wait for your management tool stack to build an integration using the Service Communications API or code your own.
However, as we've highlighted in previous blog posts, cloud-based applications and services like Office 365, are fundamentally different from traditional, on-premise applications. When you leverage apps in the cloud, you are not only dependent on the health of the cloud service provider. You are dependent on a lengthy service delivery chain that spans from the cloud service provider, through a chain of internet service providers, to your local server and network infrastructure.
Issues anywhere along this service delivery chain can disrupt the real service levels realized by the application users. In order to proactively monitor and manage those service levels, you need to be monitoring app availability and performance end-to-end.
The key gap in what is provided by the Office 365 API and management pack is that it only provides insight into Microsoft's link in that service delivery chain. Based on feedback we get from IT professionals, the bigger issue for them is visibility into the downstream ISPs as well as their own environments, which is why we have built detailed network path diagnostic capabilities into CloudReady.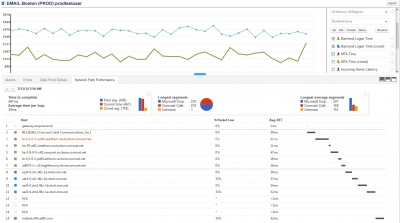 Only by monitoring cloud apps end-to-end at actual user access locations can IT teams avoid these problems, which is why customers turn to Exoprise CloudReady, even when they already use other tools like System Center.
It is extremely common for us to hear a customer say something like "all of our users were completely offline, but when we checked the Service Health Dashboard everything was green." Worse yet, we hear stories of admins who have spent hours or even days in an Office 365 support queue for a problem they assumed was Microsoft's, only to find out that Microsoft couldn't help them because the problem was based not at Microsoft but somewhere in the ISP or customer environment. Unfortunately, the Office 365 API does not do anything to address these scenarios.
The Upside
So are these new Office 365 monitoring capabilities from Microsoft good for IT? Absolutely. When cloud providers like Microsoft provide open and structured management interfaces like this we all benefit. However, IT teams need to be clear on what these interfaces do and don't provide for them so they don't get a false sense of security based on the availability of one piece of the larger cloud monitoring puzzle they must solve.
For Exoprise CloudReady in particular, which already provides end-to-end monitoring for Office 365 and a wide range of other cloud-based apps, the new Office 365 Service Communication API provides us with another feed of service health information to complement our synthetic monitoring, network diagnostics, and crowd analytics data.
You'll be seeing this soon in CloudReady as well as our Crowd Powered™ cloud management pack for SCOM currently under development. Stay tuned!