Security and compliance are two legs of the stool
Availability and performance are the other two
In his Box.com blog post today, Moving Financial Services Securely to the Cloud, Aaron Levie unveiled a new set of capabilities designed to meet the security and compliance needs of the Financial Services industry. As an extension of Box for Industries which launched last year, this announcement is further evidence that Box is looking beyond the generic enterprise use cases of office document storage, and is aiming to be the optimal cloud document storage solution for a variety of vertical industries, including those with tough privacy and regulatory requirements.
As part of this announcement, Box has unveiled three new capabilities:
Retention Management helps organizations comply with regulatory record retention requirements including FINRA.
Watermarking provides improved document traceability and helps deter content leaking and misuse.
Enterprise Key Management gives organizations control over the security keys used to protect their documents in Box.
Box has been unique among the cloud document storage solutions in that from its beginnings it has focused on addressing the needs of enterprises. These great new features show their continued commitment on that focus, and make Box a viable storage solution for mission critical business documents.
Financial services organizations need documents to be available as well as secure
However, financial services organizations who choose to adopt Box based these security and compliance features will also need to consider the ability of their employees to access those documents reliably and quickly across not only their own networks and servers but also those of Box and the ISPs that connect them to Box.
As we've mentioned in previous blog posts, it's important for organizations using SaaS to monitor this end-to-end service delivery chain, from their internal networks to the cloud service provider and back. In financial services an app or document going "offline" has an immediate and costly effect, which is why most organizations have robust internal systems monitoring solutions. However most of these solutions aren't well suited to monitoring cloud-based services like Box.
The problem isn't primarily with the availability or performance of the Box service itself. The Box Status page shows how infrequently they themselves have problems. Likewise, performance trends collected from CloudReady customers locations and published in our weekly Cloud Health Report show that Box performance at user access locations fairs quite well relative to other solutions: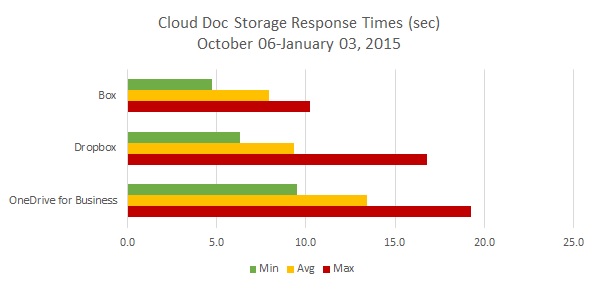 However access to those docs in Box can be cut off or delayed by problems at the ISP, with an organization's ADFS or SSO solution, or their internal network components like firewalls, proxies, and filters. CloudReady Box sensors make it drop dead simple to monitor Box document access from every user location. When deployed with our other sensors, like those for ADFS and SSO providers like Okta, organizations can know the instant there's a problem and get the end-to-end insight needed to resolve the problem quickly.
With this combination of Box's security and compliance features and CloudReady's crowd-powered availability and performance monitoring, financial services organizations can move to the cloud confident that they'll be able to stay there.
Are you a Box user? Try monitoring Box for free. Just click the link below to get started.