As part of your Office 365 service, Microsoft monitors your Office 365 tenant for you. But if that is all you rely on to assure your users don't have any problems, you are taking a huge risk. For example, even when Microsoft delivers on its 99.9% SLA, your users could still experience over 60 hours per year year of unplanned downtime! To understand what you can do to close these gaps, let's look at what Microsoft does, why this isn't enough, and what you need to do about it.
What Microsoft Monitors
Microsoft publishes updates on your tenant's status on the Service Health dashboard and through their service communications API. These will give you an overview of the status of each major service that is part of your subscription. For each of these services you'll get a breakdown of the different pieces. For example, for Exchange Online you can see the health of Sign-in, E-Mail and calendar access, E-mail timely delivery, Management & provisioning, and Voice mail. Microsoft's service messages include incident start times, status updates, end times, post incident reports, and informational messages. There's even an Office 365 Management pack to directly integrate this info with SCOM.
Why this is not enough
Many organizations have learned the hard way that much more than this is needed. Here's what they have told us:
Nothing Microsoft monitors is on your end, or in your ISP' network. This is where many (or most) service incidents affecting your users originate.
When Microsoft does have an incident, it can take them up to an hour to acknowledge and communicate it. So when your users complain, how do you know if it's really a Microsoft problem?
When Microsoft sends a service message that says "Some customers appear to be impacted" – how do you know if you are one of them?
When you get those calls from users in the middle of the night to sort out what's really happening – you are going to need much more.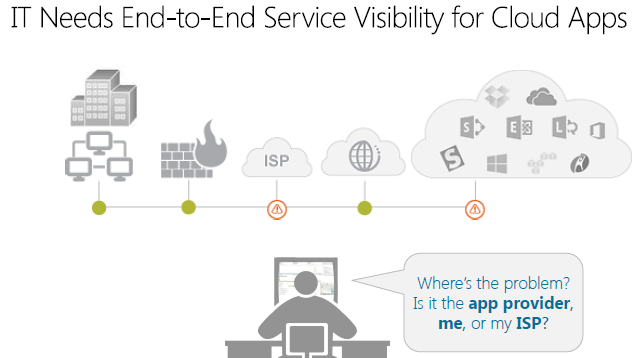 What You Can Do
You need to have synthetic monitoring for Office 365 (and your other SaaS services). Synthetic, or Active monitoring, will test the end to end health of each service every few minutes. When these tests take too long or fail – you'll get notified. These tests will detect issues whether they are Microsoft's or not. And when you see a service message from MSFT that affects some users – you'll know if you are one of them.
How Exoprise Can Help
Not all synthetic monitoring is created equal. Exoprise CloudReady Monitor is the only Crowd Powered synthetic monitoring solution for Office 365. The Exoprise Crowd instantly confirms whether issues are on Microsoft's or your end. CloudReady's Network Path Performance diagnostics will help isolate issues even when they are in your ISP's network. You can easily integrate CloudReady Alerts directly into your existing centralized alerting and ticketing systems like SCOM, ServiceNow, and Splunk ( So your NOC staff will escalate to Microsoft or your ISP instead of waking you up ). And CloudReady is very easy to deploy and use: you can be up and running in as few as 5 minutes.
For more insights read our Cloud Performance Management Best Practices white paper, or sign up for a free trial of CloudReady to see for your self.