The Skype for Business Call Quality Dashboard (CQD) is a new addition to Skype for Business Server and, more importantly, Skype for Business Online. The dashboard provides insight into historical call quality for your Skype clients. Some pieces are still within a "Tech Preview" state but let's have a look at what's available, now, and what it does and doesn't do for an organization.
Call Quality Dashboard for Office 365
To get started with the Call Quality Dashboard, you have to activate the feature for your tenancy from the Admin portal. Once activated and given time, you are provided with summary reports
Migration Required
That's one of the first shortcomings of the CQD. You have to migrate real end-users to Skype for Business Online before you can capture any information about how Skype performs in your network. With Exoprise CloudReady Skype sensors, you don't need to disrupt your existing installation(s), just create test accounts to run the sensors for testing. The sensors do all the work (all the time, 24×7) of creating Audio streams and sessions for monitoring Skype for Business Online.
More information about setting up the dashboard service can be found here:
https://support.office.com/en-us/article/Turning-on-and-using-Call-Quality-Dashboard-in-Skype-for-Business-Online-553fa13c-92d2-4d5c-a3d5-41a073cb047c
The current implementation is a subset of what is ultimately planned. What you get now is a high level summary of overall call quality information. Calls are characterized as Good, Unclassified, Poor. Here's a sample from our Exoprise tenancy, where you can see even by running a few CloudReady sensors can generate lots of call quality samples. The CQD can work in tandem with Exoprise CloudReady.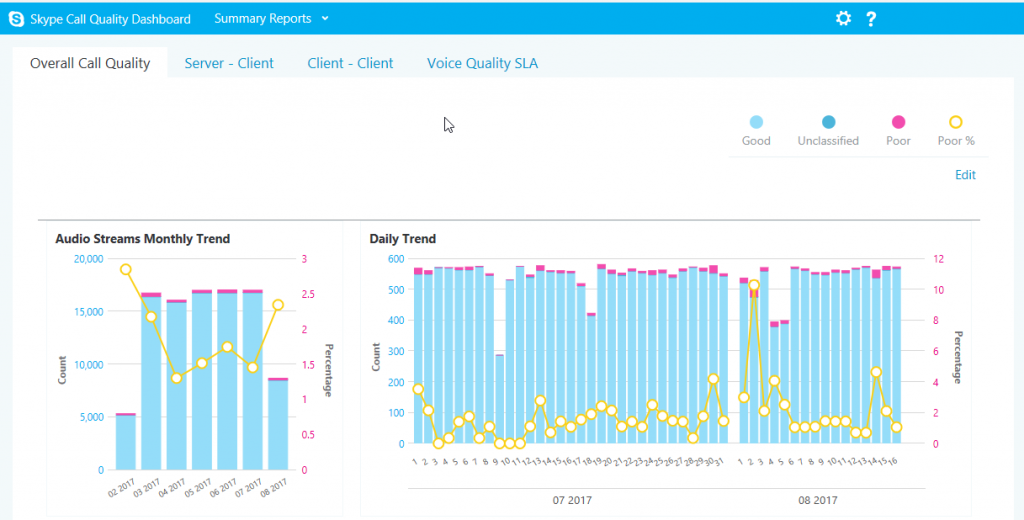 Poor Skype Calls via the Call Quality Dashboard
The current CQD focuses on Audio streams since they are the foundation of video and application sharing calls. The different metrics and the values that cause an audio call to be classified as Poor can be found here: https://technet.microsoft.com/en-us/library/mt126253.aspx and here: https://blogs.technet.microsoft.com/jenstr/2013/09/20/what-is-the-basis-for-classifying-a-call-as-poor-in-lync-2013-qoe/
There is little drill-down capability for the Call Quality Dashboard but it does enable you to upload building/subnet information for further aggregation of quality scores. While this is helpful, there isn't much in the way of diagnostic information to go along with the graphs or information that indicates what is causing an issue within the networks, i.e. if it is congestion, latency, bandwidth, jitter or QoS/DSCP tagging. Lastly, no information is provided about the network path between Edge/Media servers or peer-to-peer calls.
Using CloudReady (with or without the CQD)
With CloudReady, you don't have to migrate your end-users to Skype for Business Online before seeing these aggregate statistics for call quality. CloudReady Skype Monitoring synthetically tests Skype for Business call quality giving you real time and continuous baselines for the networks that you depend on. The CloudReady sensors can also be used for executing the Skype Operations Framework.
While the CQD gives you historical coverage for your actual end-user calls (a good thing), the statistics can vary depending on the characteristics of a call and their parameters. This makes it more difficult to troubleshoot call quality as you don't have consistent baselines and you must wait for a similar volume of calls from real-users to execute. CloudReady Skype sensors can be automated with Powershell for large scale deployment and load-testing.
To summarize what the Call Quality Dashboard gives you:
Historical insight into the call quality of end-user calls. For calls that executed in the past, after the data has been aggregated and made available via the CQD, you can see overall call quality
If you upload additional subnet and building information to the Call Quality Dashboard, you can segment your call quality reports by that information for assistance in determining whether certain subnets or buildings are affected.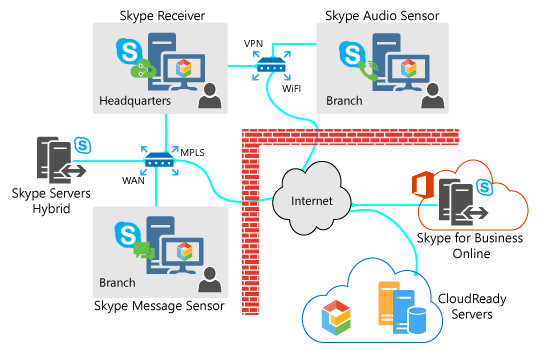 To summarize what CloudReady sensors give you:
Continuous synthetic tests between real Skype Clients – NOT some simulated testing or packet generation tool
Proactive notifications about network and Skype server problems – before they impact your end-users not afterwards
No impact to existing end-users, model your network and changes in real-time without having to wait for changes to be reflected in the CQD
Low-level statistics on jitter, bandwidth, MOS scores and MOS degrade in each location where you put CloudReady Skype sensors
Network Path Performance between the Skype sensors and the receiver or media edge servers at the time of the call
Real-time alarms into the different elements that affect call quality such as jitter, latency, MOS scores and network delays
Always-on, proactive monitoring of Skype and network infrastructure, giving you the actual network intelligence into Skype for Business call quality
Scriptable via Powershell, CloudReady deployments can be fully automated for load-testing, network testing and assessment
Crowd-sourced Skype metrics for comparing your network against others. No other tool enables such comparisons.
From the integrated CloudReady platform, the ability to monitor and model latency, bandwidth and other transactions using VoIP, Bandwidth and other Office 365 sensors
CloudReady Skype Monitoring Dashboards — Test Your Network, Monitor Your Skype Call Quality