Exoprise recently added support for monitoring OneDrive and SharePoint using OAuth credentials in addition to full experience monitoring via headless browsers. Now, with full support for OAuth and the Microsoft Graph API, you can choose whether you want to monitor the real browser-based experience and performance or if you don't want to share credentials and just want to monitor via the Graph API.
Both types of monitoring, API and browser-based, are valuable and provide advance warning of network and Office 365 tenancy problems even before Microsoft knows itself. Utilizing the Microsoft Graph API, sensors can run more quickly. Monitoring via a real browser experience can tell you, end-to-end, whether all of your infrastructure, Single Sign-On and proxies included, are operating well.
Exoprise CloudReady is the only solution that provides both types of monitoring and makes it seamless to set up within the same platform. Easily monitor from behind the firewall or from public clouds.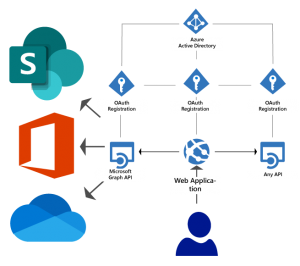 OneDrive, SharePoint API vs Browser Tests
Exoprise now supports API tests for most Office 365 applications as well as full end user experience monitoring via headless automated browsers. Both set of testing and monitoring is crucial to Digital Experience Monitoring in addition to the Real User Monitoring (RUM) that Exoprise Service Watch provides. The different testing and monitoring can be used in different situations depending on your tenant settings, deployment, installation and dependencies.
| | | |
| --- | --- | --- |
| | API Testing | Full Experience Browser Tests |
| End-to-end Synthetic Tests | | |
| Hop-by-Hop Network Telemetry | | |
| Monitors Office 365 Tenant Health | | |
| Tests Azure AD | | |
| Measures Upload/Download Performance | | |
| Emulates a Real User | | |
| Tests Proxy Access Like A User | | |
| Works with MFA Accounts | | |
| Tests Single Sign-on Capability | | |
| Can run as frequently as once a minute | | |
Wizard Driven, Easy Setup and Deploy
As with most everything Exoprise does, we focus on making it easy to deploy and manage. That's no difference with these newer sensors for OneDrive Monitoring and SharePoint Monitoring via the Microsoft Graph API sensors – they are easy to deploy, validate and manage.
API Monitoring for SaaS Services
The Exoprise CloudReady SharePoint and OneDrive API sensors run as frequently as once a minute to test both Microsoft's infrastructure as well as your own network dependencies. Monitoring these services via OAuth to ensure, for example, that OneDrive sync is operating well for your tenant and users is important.
Azure AD (AAD) is the cornerstone for Office 365, Single Sign-On (SSO), delegation and permissions throughout your organization. Regardless of whether you are using a different SSO solution like Okta, Ping or ADFS. Testing OAuth token and refresh access and Azure AD application performance is critical because there is a growing dependency on OAuth for access, integration, and workflow. In many cases, the same APIs that SharePoint environment are built with, utilize the same web services and APIs that are being monitored.
Start your SharePoint and OneDrive Monitoring today.