Twitter as a social media channel has obviously taken the world by storm. Everything that happens and is trending around the globe takes place or is reported on Twitter. Additionally, most tech and cloud providers offer outage and support feeds through Twitter as a way of communicating problems and notifying customers. Example technology companies include Microsoft for Microsoft 365 Status, Azure and their products. Also Internet Service Providers like Comcast, CenturyLink and more. You can even include a feed from Downdetector to have consumer facing statuses. Having Twitter feeds from your dependent tech stack properties alongside end-to-end network monitoring can benefit IT to speed troubleshooting, reduce MTTR, and ultimately provide a better end-user experience.
With this in mind, Exoprise recently introduced a new Twitter Feed Widget in CloudReady. The widget is a dynamic and interactive feature that compiles and displays tweets from a list of proposed or arbitrary Twitter handles. Surfacing and updating twitter feeds alongside real-time status updates from Exoprise CloudReady sensors provides the most complete solution for monitoring the Internet and its affects on your business and users. CloudReady can see status feeds from different providers like Microsoft, ISPs, Authentication providers alongside real-time, end-to-end synthetic testing from Exoprise. Here's an example of what we use, internally at Exoprise, for our systems and support: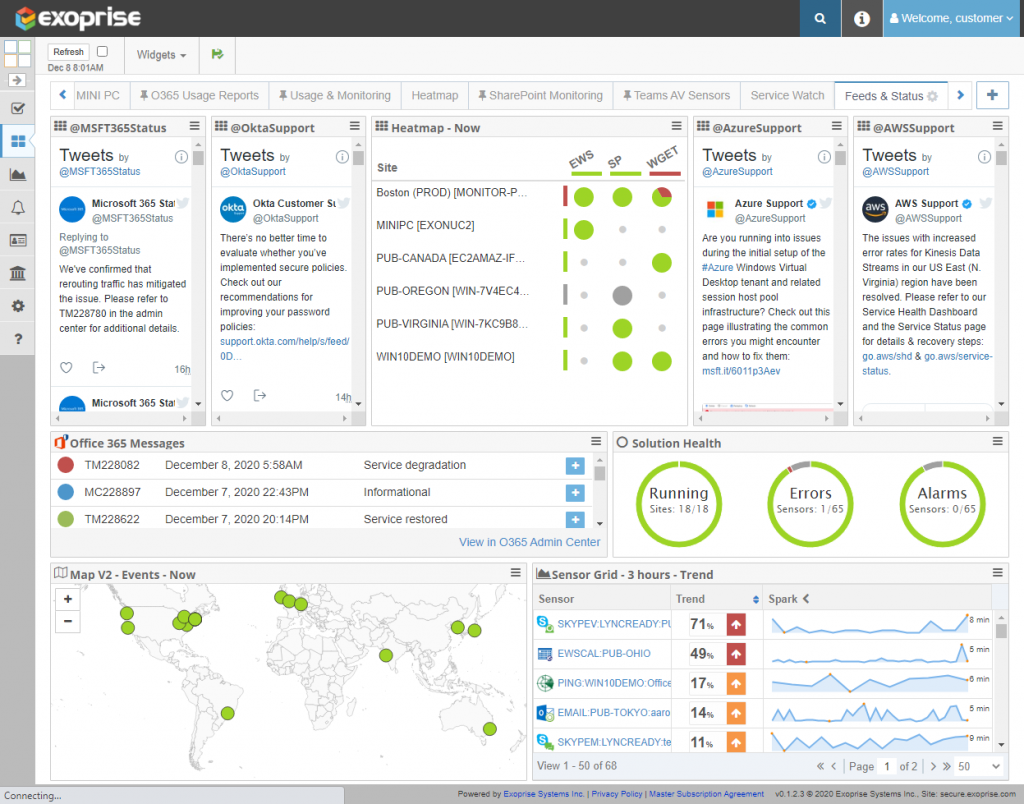 For IT administrators, the correlation of Exoprise alerts and incoming Twitter feeds can aid in decision making and accurately pinpoint prevailing issues in the network. Teams can rely on up-to-date Twitter feeds and engage in actionable content without having to leave the CloudReady dashboard.
Social media status integration with CloudReady is advantageous to your SaaS monitoring strategy. From connecting to the outside world for real-time updates to reducing response time, IT can generate significant value by embedding Twitter widget feeds into their CloudReady dashboard. Stay informed about the health status of critical business services and accelerate troubleshooting to a new level.
Learn more about Exoprise and get a FREE 15-day trial here.