Introduction
Microsoft Outlook is the premier enterprise productivity application that has become ubiquitous in managing every aspect of an employee's workday. According to Wikipedia, there are around 400 million users for Outlook. You can install Outlook as a standalone desktop app that connects to Exchange Server – Online or On-premises (still!) or the full-featured Outlook Web Access (OWA).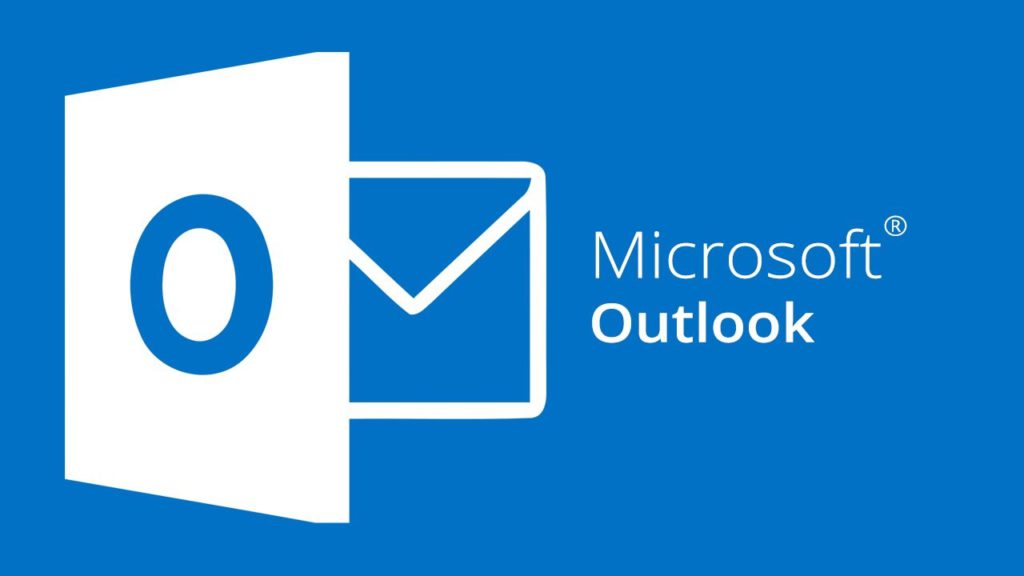 Each day businesses rely on the efficiency and comprehensiveness of Microsoft Outlook and Exchange Server for vital communication. However, issues such as an Exchange Online mail delivery outage or backend upgrades can impact the end-user experience. While Outlook has proven to be a remarkable instrument for business, it's not without faults, hangups, and bugs.
Having a Digital Experience Monitoring solution ensures that your remote workers interact with the Microsoft Outlook application at an optimal performance level.
Digital Experience Monitoring with Synthetics and Real User Monitoring
The below video shows why synthetic and real user monitoring is important to any IT and support team. ONLY exoprise offers proactive synthetic monitoring and complete real user monitoring coverage for end-users to #workfromanywhere – We call it Better Together!
You can also download our latest whitepaper and learn more about applying 'better together' use cases for your business.

But let's first try to understand common Microsoft Outlook issues that remote employees have to face.
Keep reading…
Common Issues Affecting the Microsoft Outlook Application Performance
Without any visibility into Outlook application performance, troubleshooting can be a challenge. End users connecting to Exchange Online or Exchange Server 2019 through a VPN may experience problems from time to time. Let's detail some of the most common issues associated with Microsoft Outlook.
When you use Outlook over an extended period, it may not run as smoothly as when it was first installed and eventually operate slowly. Perhaps you were earlier using a corporate laptop and now using your personal device at home. But your device already has too many applications installed. As a result, the CPU isn't processing Outlook data faster. Additionally, the disk may be close to full due to the large size of the offline storage table. There's a reason storage continues to expand endlessly – its often email, attachments, threads, SPAM and now HTML email. So as your mailboxes grow in size, their size can affect your Outlook performance.
As a product marketer, I can tell you that one of my favorite apps is Outlook in the Microsoft 365 suite. When my day begins or ends, I need to check my emails on important project status or respond to team members on content collaboration. So, if outlook stops responding, cannot start, hangs, crashes when unchecking the group calendar, or the app doesn't open for whatever reason – these experiences can ruin your day and lower productivity. Perhaps auto-updates or add-ins are causing these issues and require further investigation.
Speed becomes critical when you and your team are on a tight deadline to deliver projects. But working from home presents its challenges. For example, even if all employees have company-issued laptops, network connectivity in each household varies. In addition, underlying system resources such as low CPU power constrains ongoing work, poor Wi-Fi signal hampers network efficiency, and insufficient memory slows processing. Under these circumstances, the Outlook app bandwidth will be throttled and affect overall performance.
Outlook Migration Gone Wrong
Imagine migrating from an on-premise Exchange server to Office 365 are quite common and sometimes difficult to overcome without rebuilding a mailbox. And the next day, your employees cannot send emails because Outlook client connectivity has failed. End users see disconnect popup messages which only adds to more frustration and builds downtime for the business. A possible reason for the failed migration could be that the DNS records were not updated internally and externally. But worse, end-to-end testing was probably not done to reveal these bottlenecks in time that affect outlook sync issues.
You may encounter client-server connectivity, auto-discover,  and other Outlook email login issues with the app. So as an example, the error message "Outlook cannot connect to server" is very common. Another one is where Outlook cannot connect to the IMAP server. A possible reason could be due to wrong configuration settings or invalid credentials. Others could include a damaged OST or PST file, a deleted mailbox from the Exchange server, or the dreaded corrupt Outlook or mail profile.
Slow Exchange Mail Queues
This happens when extra layers of SMTP filters and SPAM protection are added to the corporate email infrastructure. As a result of multiple checkpoints, latencies are introduced for both inbound and outbound mail flow in the Exchange server. Also, when you try sending Microsoft outlook email messages, the email sits in the Outlook folder for a long time. Outlook email issues if not fixed in time impacts the bottom line.
Failed Mailbox Autodiscovery
The autodiscovery feature allows Microsoft Outlook to find a mailbox for an account. This feature can be set up for an on-premise Exchange server or Office 365. But when it's not set up correctly, it poses challenges for IT administrators. As an example, when Autodiscovery fails, the error messages are often cryptic and not easy to understand. Monitoring Outlook mailbox in real-time ensures there is a system ready to receive critical inbound and outbound messages.
Troubleshooting Network and Performance Issues for Microsoft Outlook and Exchange
Exoprise Digital Experience Monitoring solutions provide IT professionals with end-user performance visibility for their Microsoft 365 portfolio stack, including Outlook.
We offer our customers the best synthetics and real user monitoring (RUM) for proactive and complete coverage to accomplish this task.
Don't believe us?
Check out the case study of BCD Travel, one of our customers from the Netherlands.

Outlook Issues? Use Real User Monitoring for the Desktop App
Service Watch Desktop real user monitoring (RUM) for endpoint devices offers a variety of ways to diagnose Outlook issues. From monitoring network app connectivity to narrowing down the root cause for Outlook crashes, it's never been a better time to use this monitoring tool for hybrid employees. Once you have installed and configured the desktop agent for Office 365 Outlook, you can jump right into key availability and uptime metrics. Note: You will find these on the Service Watch Desktop Device details page.
Network Performance Monitoring
Service Watch Desktop collects, in real-time, the Round trip time (RTT) latency metric data for thick-client apps like Microsoft Outlook as shown under the App Network Performance TCP tab. Included in this metric are response time, packet loss, queueing delays, and latency information.
A latency range of 20 ms to 40ms is considered optimal. Anything over it would make Outlook app performance sluggish and present challenges to employee experience, especially when synchronizing large mailboxes. We also offer you a comparison of RTT with crowd benchmarks. That means if a user complains about Outlook slowness, you can easily compare the RTT data with the crowd to see if the issue lies with everyone or not. High network traffic or a number of network path hops could be the reason behind high RTT.

Resource Utilization Metrics
When your endpoint devices are powered with extra bandwidth, it will automatically boost performance. Service Watch Desktop provides a more profound and additional layer of diagnosis in the form of composite metrics for CPU, system, disk, memory, ethernet, Wi-Fi, and signal.
The tool collects and aggregates composite and low-level metrics for the Microsoft Outlook desktop client every 30 seconds from endpoint machines – when the device is actively utilized. You can also customize thresholds (Good, Fair, Poor) and quickly determine which resources need attention.
Endpoint Composite Metrics

Desktop, Non-Browser, and Network Application Impact
Besides the Outlook email client, chances are that you are also running other thick-client apps such as Microsoft Teams, Zoom, OneDrive, WebEx, and Slack. And why am I mentioning this? Because these apps also consume a fair amount of memory and CPU resources. And then there are other non-browser apps too running on your endpoint device and impacting the Outlook experience.
Under the "Top App Performance" tab in Service Watch Desktop, we show you the top 10 apps with the highest usage on CPU, memory, and IO – when the machine is not idle. IT can drill down on specific applications and check for trends (local vs. crowd).  The "Core App Performance" tab displays essential apps such as Office 365, browsers, etc., and real-time usage activity.


Device Reliability and Stability
Does outlook keep crashing? Is the outlook down? And don't know what's causing it? Then check out our "Reliability" tab. Service Watch Desktop aggregates event data for Microsoft Outlook from an end-user device. The result is a Windows Reliability Index or Stability score that looks at crashes, hangs, blue screens, product updates, etc. Support teams can look at this score and determine how healthy or stable an endpoint is.
Machine event Information such as evendID, severity, product, message, and time interval are shown in a table. View the last entries in the table and see if the update or installation was successful or not. Recent updates for Outlook may be causing the crash and may have to be rolled back. When a repeated number of these issues persist, it can drag the Windows reliability index lower. For workers with lower scores, IT should prioritize support for them.
machine reliability
Browser-Based Real User Monitoring for the Outlook Web Client
You can also check page diagnostics and performance for Outlook Web Access (OWA). Service Watch Browser makes it easier for network administrators to configure the Outlook web app URL in a browser extension. When a user accesses OWA, the browser plugin securely collects session data and uploads it to the Exoprise server for aggregation.
Diagnose slow Outlook web client for multiple users and different configurations in the Service Watch Browser details page. Various metrics allow troubleshooting web problems faster.
Web Experience Score
Navigation Total Time
Resource Total Time
Page Load time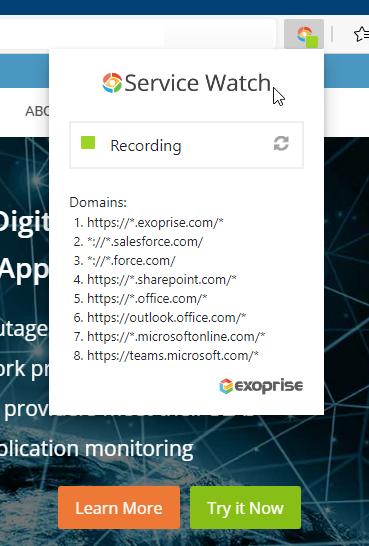 Outlook Synthetic Monitoring for Proactive Insights
Endpoint monitoring tracks performance data when real users are accessing a web-based or Desktop application like Microsoft Outlook. On the other hand, synthetic monitoring, an active monitoring approach, collects end-to-end Exchange and OWA session data using sensors that simulate real users accessing mailboxes, calendar stores, and sending and receiving email. To test Outlook or OWA synthetically, you need to leverage Exoprise CloudReady Synthetics for Exchange.
Exoprise CloudReady supports the full suite of Exchange protocols including ActiveSync, OWA, Exchange Web Services, MAPI, and the latest Graph APIs for Outlook and Exchange. We'll cover some of the details for the outlook monitoring tool synthetically testing Outlook Web Access:
Monitor the full end-user experience of OWA and Exchange Online using a headless browser test. Our sensors capture end-to-end performance metrics for Office 365 Exchange mailbox discovery, login time including SSO/ADFS/Azure AD, mail retrieval time, message queue, etc. What good is monitoring for an organization that only tests login or a specific functionality of Outlook?
Our clients love it when they can compare their on-premise Exchange server and Office 365 environment with the crowd benchmark. That way, they can easily see where the gaps are and where improvements are needed. You will be able to confidently answer questions like, "Does the Outlook migration to the new SMTP server look good?", "Do we need to plan additional capacity for more servers?" and more. You get the point now! How else will you know if your users complaining of slow Outlook is a local or widespread issue?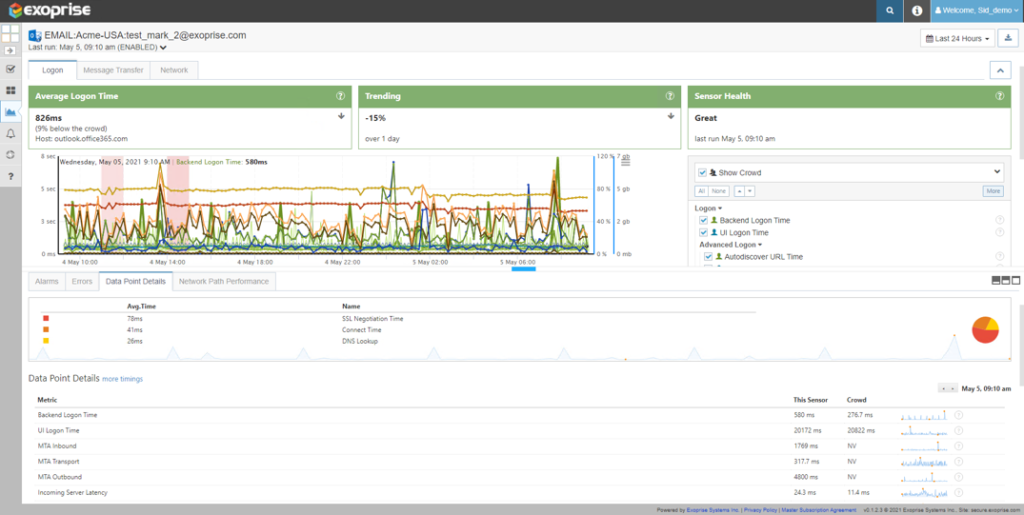 Your end-users using Outlook are relying on robust network performance to communicate with employees and customers. Providing a good service quality is your responsibility. When an Outlook service issue occurs, you need to find where the bottlenecks are in the network. It's not uncommon that you will be asking yourself these typical questions. Is the issue with the internal network? Is the ISP down? Did any equipment upgrade cause this issue? Could the problem be with the provider?
The Network Path Performance tab in CloudReady shows traceroute data from the client to the Outlook service. In the hop-by-hop waterfall-based network diagram, you can obtain information on host, % packet loss, and average RTT. Quickly identify hops with the highest RTT and who owns them when there are service connectivity issues. We also provide you with historical hop time and crowd data for root cause analysis and comparison.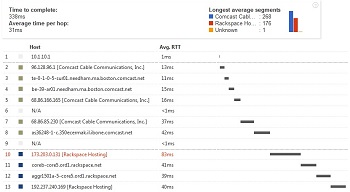 Early Outage Detection of the Outlook App
Yes, Microsoft Outlook can suffer from outages too. There are days when you ask yourself, is outlook having any issues today? When your email infrastructure is down, business is losing money. Exoprise OWA sensors can proactively detect outages across all of your environments – DNS, Single Sign-on, ADFS, proxies, LAN/WAN, etc., within minutes of the problem happening. We do all the heavy lifting not to wait for employees to call you and notify you of an Exchange or Outlook outage. Get a real-time report on Outlook application uptime and availability status to recover SLA credits from Microsoft.

Monitoring Outlook Performance with Synthetics and Real User Monitoring
Outlook performance monitoring is a must for any company. Gain dual benefits of testing end-to-end Exchange Online functionality and monitoring the Microsoft Outlook app experience – ALL in a single solution. Whether your remote workers are in the office, at home, or on the road, visibility into Outlook and Exchange performance is necessary.
Only Exoprise provides you with tools to gather detailed insights into your Microsoft 365 tenant with real user endpoint and synthetic monitoring. Correlate Outlook outages with real user behavior to get the complete employee digital experience picture and mitigate enterprise IT challenges.