Budgeting for user experience management solutions has been dynamic recently. When the pandemic hit, corporations freely opened the purse strings to ensure that employees had the tools to work outside the traditional office. The Return on Investment (ROI) for improving the overall Digital Employee Experience (DEX) didn't matter so much. With inflation now the main topic in executive meetings, the strings for DEM/DEX investments have been drawn tighter.
Gartner has published a report titled "Market Guide for Digital Experience Monitoring" which states that "enterprises that invest in DEM solutions can expect a 30% reduction in Mean Time to Resolution (MTTR) and a 20% reduction in downtime."
IDC has also conducted research on the ROI of DEM solutions, and has found that "organizations using DEM solutions report an average reduction in the number of incidents by 50%, a 30% reduction in incident resolution time, and a 25% reduction in downtime."
Companies gain other returns on their DEX investments. Help desks process trouble tickets more efficiently, users have more time to solve business issues, productivity rises, and turnover drops. Engineers and administrators can be more proactive vs reactive in optimizing the employee digital environment.
Let's take a closer look at the wide ranging impact that deploying a DEM has on a business.
Service Desk Improvements
The enterprise digital workplace is complex and ever-changing. Daily, new employees join the firm, workers upgrade their computers, mobile operating systems morph, and traffic runs over the enterprise network in a haphazard fashion. Inevitably, response time issues arise, and workforce productivity drops dramatically.
When a problem interferes with their workflow, a user sends a note or places a call to the service desk. Internal support teams try to respond ASAP, so employees bang on their keyboards rather than dial the support line. However, troubleshooting is complex and becoming more so every day. Computer systems gain more capabilities, applications become more complex, and end user devices become more varied. Difficulties arise almost anywhere from just about anything.
Typically, the IT support has a visibility gap into how information flows. Monitoring solutions tell them that the communications lines are up and running and not hitting maximum capacity, so performance seems fine. Or the Microsoft 365 and status feeds from other SaaS providers read "everything is in the clear" but at the user level, a poorly designed Web page slows response time to a crawl and impacts an employee's ability to work. The cost and impact of this negative return on experience is significant and usually not part of any report.
The High, Hidden Price of Poor User Experience Management
But these hidden costs quickly add up. One reason is time passes from when a problem becomes noticeable, and a user asks the tech team for assistance. So, how long the issue existed is not documented.
Also, these problems have a ripple effect and impact many people in the organization. For instance, in a 5,000 employee firm, 5% of employees submit slow response time trouble tickets every month. Immediately, the support team, which includes the desktop team, ops group, app team and network technicians, become involved. They need to triage, often siloed monitoring tools, to figure out what is wrong. The process is time-consuming because there are so many variables, and it is impossible to completely depict what was happening on the network at the time of the incident. Typically, it takes the tech team a handful of hours to resolve such issues. But you have to account not only for the time spent by the support staff, but also the wasted time of the user who called. That is not the full price, either. Other employees also experience slow DEX; however, they do not ask for help.
Employees are paid to work on company challenges, not to troubleshoot their computer connections. Nowadays, companies are trying to maximize their opportunities, so everyone works at a breakneck pace. Time spent waiting for a page to load is minutes that the person loses not doing their job. With more applications supporting real-time data and decision-making, such lags impact how the business responds to opportunities and challenges. A delay often means the difference between making a change that helps the organization and missing the window of opportunity, another invisible expenditure.
Reduce Turnover
In addition, right now, organizations are struggling to find workers. The unemployment rate has been low. In fact, the current 3.6% rate is the lowest rate since 1969. Even though wages increased, employees have not returned to the workplace.
The new generation of workers has high expectations. They are quite demanding of everything, including their DEX. If they do not receive immersive digital experiences, they walk out the door. As evidence, workers at companies using outdated technologies are 750% more likely to report high levels of frustration in getting their work done and 450% more are considering resigning from their job. It takes an average of nine months to replace an employee, which means less time focusing on core issues, more time spent on human resource challenges, and more missed business improvements.
So, Which Digital Workplace Monitoring Tool is Best?
Many solutions to address user experience management have emerged. The requirements are high, the problem is complex, and frankly, few tools create a holistic picture. Exoprise does, and it generates a high return on investment for its customers. Exoprise CloudReady Synthetics and Service Watch Real-user Monitoring (RUM) complement one another and construct a complete performance summary. Synthetics provide proactive alerting to conditions that may go unseen. Service Watch provides complete coverage for difficult environments and hybrid workers on the move. Together, their intuitive reports depict experience scores and resource scores, so support staff have the information needed to address response time challenges.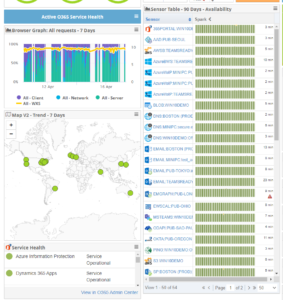 CloudReady synthetically emulates every network protocol and captures a wide range of baseline performance measurements. Alongside user and application emulation, a continuous picture of the network hop-by-hop infrastructure is recorded.
Exoprise's dashboards provide system administrators with an overview of everything happening on the enterprise network. Errors and alarms are highlighted, so technicians quickly dig in and see if it is the problem source or white noise.
Exoprise Service Watch real-user monitoring collects latency, packet-loss, and jitter data for every core and UC application while it also captures segmented breakdowns of network flows and routers.
Service Watch provides a complete view into the DEX with details about application performance that serves as the foundation to identify difficult spots. High-level experience scores reflect the overall conditions with desktops, apps, or networks. Low-level data is captured to assist with quick remediation and escalate incidents to L2 and L3 support. High-level scores and low-level metrics can be custom aggregated into groups of devices for comparing and contrasting.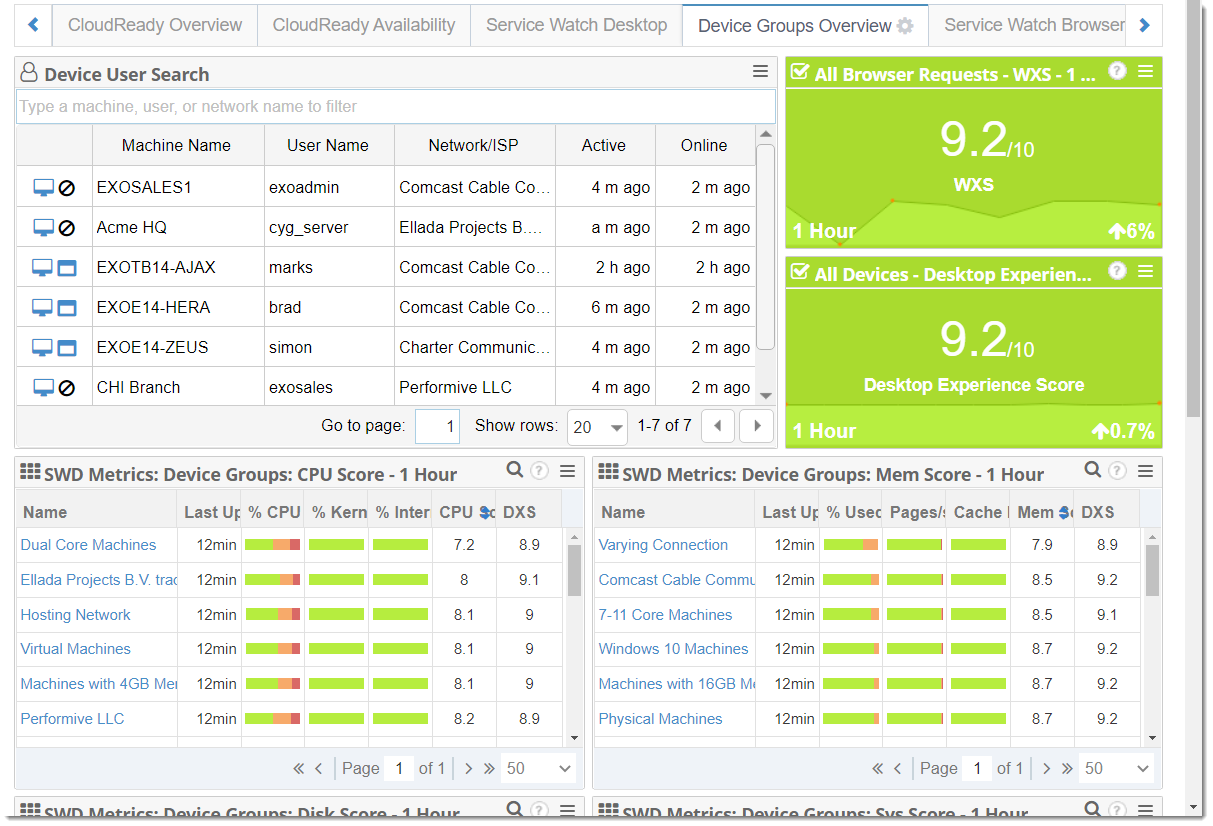 Finally, Exoprise takes the performance data and correlates it with other crowdsourced network performance metrics. Its analytics provide insights into network performance by comparing current data to historical performance and deliver a full picture of what is happening. The technicians see the complete picture, recognize where bottlenecks arise, and do whatever is needed to alleviate them.
Enterprise networks have become the corporate circulatory system, pumping information from place to place, so work gets done. Occasionally, a blockage emerges, so workflow slows. Exoprise solutions simplify troubleshooting. They correlate data from the user device, browser, enterprise network, and even from the public Internet to give you instant insight into the infrastructure health (or sickness). With it, technicians address problems in a few clicks and escalate with evidence to the team that quickly resolves the problem. The system proactively troubleshoots problems, keeps employees engaged, and reduces turnover, making it an easy sell to management during these difficult financial times.