Free weekly report card on leading mission-critical cloud services
leverages the power of the Exoprise crowd
WALTHAM, MA – June 9, 2014 – Exoprise, a provider of software-as-a-service (SaaS) based monitoring and enablement solutions for enterprise cloud applications and services, today announced the availability of a new weekly report on the health and performance of leading enterprise cloud services. Leveraging data aggregated from Exoprise's global network of performance monitors, deployed at user points of access by customers, the service provides a free weekly report card on the health and performance trends of mission critical, enterprise cloud services.
Initially, the reports will cover leading cloud services including Microsoft Office 365 and Azure, Amazon Web Services, and Google Apps. Additional enterprise services, such as Salesforce.com, Dropbox, and Workday are scheduled to be added over the next several weeks and months.
The report is available free of charge via subscription at www.exoprise.com/healthreport.
"Crowd data analysis is a key differentiating capability of Exoprise CloudReady Monitor," said Patrick Carey, vice president of product management and marketing for Exoprise.
"Our customers all contribute to our crowd data and can access and compare that data against performance measurements at their own locations to quickly find and fix performance and availability issues affecting their cloud-based applications. This new report provides subscribers with a weekly snapshot of the health of the leading cloud services based on this same data. It's a great way for IT teams to track the real performance and availability trends of these services, from the perspective of users, rather than relying on the generic status reports typically shown in cloud service provider dashboards."
Exoprise CloudReady Monitor is the only application performance monitoring solution that provides IT teams with real-time performance and availability insight into their cloud apps and services. It enables users to analyze measurements from their locations against global and regional crowd data, helping teams quickly identify and fix performance-impacting issues regardless of whether they happen in their network, at their ISP, or in the cloud. CloudReady Monitor's sophisticated synthetic transaction monitoring technology emulates real user actions across a variety of network protocols and cloud service API's, without the complex agent scripting required with other solutions.
The new Exoprise cloud service health report leverages this powerful crowd network and tracks a variety of cloud service performance metrics including:
• Best, worst and average response times
• Best and worst days for performance
• Best and worst 3-hour segments of the day
• Performance trends compared to prior week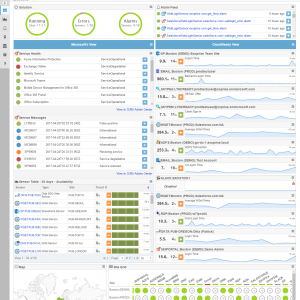 About Exoprise
Exoprise empowers IT teams with solutions that enable effective adoption and management of mission-critical, cloud based applications and services with its CloudReady monitoring and enablement solutions. CloudReady Monitor provides real-time performance visibility from behind the firewall to the cloud and back. This synthetic based monitoring also leverages crowd sourced data to pinpoint problems and ensure the best possible service performance. CloudReady Insight is a cloud-based assessment that helps customers build a business case to move to the cloud with a focus on cost, user readiness and migration planning. The Exoprise solutions help customers get to the cloud faster and keep them there longer. Visit Exoprise at www.exoprise.com on Twitter @exoprise; and on LinkedIn.