SaaS platform provides real-time visibility into SharePoint site performance
WALTHAM, MA – February 27, 2014 – Exoprise, a provider of cloud-based monitoring and enablement solutions for Software-as-a-Service (SaaS) applications, today announced the general availability of CloudReady Monitor for SharePoint. The offering extends Exoprise's existing CloudReady Monitor for Microsoft Office 365 solution to give SharePoint and SharePoint Online administrators real-time visibility into actual site performance experienced by users to anticipate potential service disruptions and ensure user access to critical content.
"SharePoint Online provides many financial and operational advantages to organizations looking for a powerful platform for collaboration and documentation management," said David Greve, director of Microsoft cloud, at information technology consulting firm, Perficient. "However, managing performance and user experience for cloud apps and services can be a challenge. CloudReady Monitor for SharePoint gives IT teams and managed service providers the real time performance data they need to ensure users in all locations have high quality access to their SharePoint Online sites."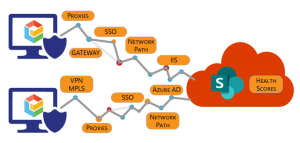 Exoprise's CloudReady Monitor is a SaaS-based offering that measures the end-to-end performance of mission-critical applications, such as Microsoft Office 365. The service monitors the availability and reliability of cloud applications, ensuring IT administrators can proactively manage application performance, and ensure quality end-user experience. In addition, CloudReady Monitor leverages the power of crowd-sourced data analytics to pool performance data from all users, providing IT teams with valuable baseline metrics to compare performance from their sites, quickly pinpoint problems and speed resolution.
The new offering for SharePoint provides detailed performance data for service login, as well as document upload and download transactions with real time and historical data measured against average performance across all other customer SharePoint sensors. In addition, administrators can access detailed real time and historical network performance information, including route analysis, plus ADFS single sign-on, SSL negotiation and DNS lookup performance.
"Organizations of all sizes are seeking to improve their ability to collaborate and share information using SharePoint and SharePoint online," said Jason Lieblich, founder of Exoprise. "Too often though, these initiatives are hampered by disruptions to user access. With CloudReady Monitor for SharePoint, IT administrators now have the ability to quickly detect, isolate and fix network and infrastructure problems that cause disruptions and ensure their users have fast and reliable access to the content they depend on."
CloudReady Monitor for SharePoint is available now for all existing customers and is included as part of the free CloudReady Monitor 15-day trial available at www.exoprise.com.
About Exoprise
Exoprise is driving the adoption and retention of mission-critical, cloud based applications with its CloudReady monitoring and enablement solutions. CloudReady Monitor provides real-time performance visibility from behind the firewall to the cloud and back. This synthetic based monitoring also leverages crowd sourced data to pinpoint problems and ensure the best possible service performance. CloudReady Insight is a cloud-based assessment that helps customers build a business case to move to the cloud with a focus on cost, user readiness and migration planning. The Exoprise solutions help customers get to the cloud faster and keep them there longer. Visit Exoprise at www.exoprise.com on Twitter @exoprise; and on LinkedIn.