Is IT ready to fully embrace cloud apps and services?
Waltham, MA – August 20, 2014 – Cloud apps and services continue to gain traction in North American enterprises with both business users and IT departments, but big obstacles still remain for U.S. businesses according to new research. These challenges include a lack of confidence about service performance and availability, changing roles for IT professionals in organizations that adopt cloud apps and services, and continuing concerns about data security.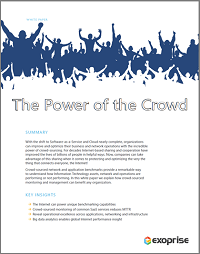 "There is tremendous hype about cloud computing – and rightly so," said Patrick Carey, vice president of product management and marketing for Exoprise, a cloud application monitoring solution provider and sponsor of the research. "Cloud apps and services can fundamentally change the way both individuals and organizations work and bring new levels of flexibility and efficiency to businesses. To date, though, these benefits have been limited primarily to isolated pockets within organizations because of some basic issues. There is a much larger opportunity there for enterprises to take advantage of all that the cloud has to offer."
Exoprise surveyed over 200 business executives and IT managers in North America to better understand their current and planned use of cloud-based applications and services, the drivers behind their adoption of these services, and the obstacles that stand in their way. Some of the key finding in the Exoprise survey include:
Both Businesses and IT Teams Plan to Use Cloud Apps
Both business users and IT departments surveyed by Exoprise indicated a major role for both Infrastructure as a Service and Software as a Service models in their future IT plans. To date, much of the usage of cloud apps has been driven by business users.
IaaS Dominates Today, But SaaS Adoption is Catching Up
While Infrastructure as a Service (IaaS) offerings like Amazon Web Services and Microsoft Azure represent a larger share of the cloud pie today, Software as a Service (SaaS) offerings are gaining ground. This includes expanding the use established SaaS applications like Salesforce.com as well as deploying newer SaaS offerings such as Microsoft Office 365, Google Apps and Dropbox as core applications for most employees.
Cloud Use is Being Driven by More Than Cost Savings
The CapEx and OpEx benefits of cloud services are clearly understood and well documented, but adoption today is being driven by the operational agility and flexibility advantages more so than the cost benefits. The ability to deploy new services quickly and reconfigure them easily as the needs of the business change is becoming critical.
As Cloud Adoption Gains, IT Roles and Responsibilities Shift
The requirements in a cloud-based environment shift from managing apps and supporting infrastructure to coordinating and ensuring the availability of the services business users need to do their jobs. The challenge is how to manage and assure app service levels and data security for users when they don't have the same control over cloud-based services that they have over on-premise applications.
Security Concerns and Lack of IT Visibility Hamper Adoption
The biggest obstacles to cloud adoption are security concerns and a lack of confidence in app/service performance and availability. Related to these concerns, over 40% of respondents indicate that their IT team has no tools to monitor and manage their cloud apps. Just 17% of respondents feel like their existing tools do a good job managing and monitoring their cloud-based apps.
For more detail and analysis of the survey findings, the Exoprise Cloud Trend Survey report is available at https://www.exoprise.com/cloud-trends-survey-2014/.

About Exoprise
Exoprise empowers IT teams with solutions that enable effective adoption and management of mission-critical, cloud based applications and services with its CloudReady® application performance management solution. CloudReady provides real-time performance visibility from behind the firewall to the cloud and back. This synthetic monitoring technology also leverages network path diagnostics and crowd sourced data analytics to pinpoint problems and ensure the best possible cloud service performance. Exoprise helps customers get to the cloud faster and ensure success once they are there. Visit Exoprise at www.exoprise.com; on Twitter @exoprise; and on LinkedIn.