This is a featured guest post by Jason Anderson with Intellinet. Intellinet is a trusted Exoprise Partner.
Real-Time Collaboration and the Cloud
The most common question we receive at Intellinet from our Skype for Business customers revolve around Skype for Business in the cloud.
Cloud platforms continue to gain momentum and with this shift comes a significant change in network traffic flow. Skype for Business, unlike email and other cloud products, leverages real time communication. Instant messaging, voice, video, screen sharing will be noticeably impacted by any delays or dropped packets hindering collaboration, productivity, and adoption.

Jason Anderson is a Principal Consultant focusing on unified communications at Intellinet. Intellinet is a purpose-driven management consulting & technology services firm. Intellinet delivers value-creating solutions and material impact for clients through industry-aligned strategy, digital, and technology services
Networking Shift
Traditionally premise-based platforms are homed within an organizations data centers. These data centers are most commonly connected to headquarter and branch offices using private networks such as MPLS, SDWAN, and other WAN networking technologies. Over these private networks, quality can be guaranteed end to end by utilizing Quality of Service (QoS), which prioritizes the real time traffic over other less critical workloads.
When shifting the premise-based workloads, you lose many of these network luxuries afforded over your WAN and are forced to trust most of your traffic to the internet. While still encrypted and secure, the quality cannot be guaranteed even with many of the codec improvements error correction that exist within Skype for Business.
Increased Internet Traffic
For organizations with multiple branch offices, specifically those with their own direct internet access (DIA), Skype for Business traffic will immediately shift from the WAN to the public internet using each sites internet connection. This will inherently put increased load on these internet circuits that was not there prior to migration to the cloud.
Sites without a DIA circuit will still traverse the MPLS where quality is guaranteed, but then traverse out the internet connection at the central site, adding additional hops, as we as centralizing and potentially oversaturating that centralized internet circuit.
Without proper evaluation, your end users may be unpleasantly surprised with the performance of Skype for Business after migrating the solution to the cloud.
A Strategic Approach
Network assessments, proper planning, and organizational change management (OCM) are among the key components that Intellinet recommends to ensure a smooth transition to Skype for Business Online.
As this blog's intended focus is on Networking, we'll discuss available networking tools.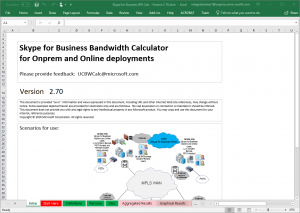 There are many tools available today to complete an assessment, each with their own positives and negatives. A mixture of multiple tools can often satisfy the requirements.
Microsoft's Bandwidth Calculator offers assumption-based calculations, taking available bandwidth, real-time communications (RTC) bandwidth, user counts, and user personas into consideration. This tool is entirely estimate driven and not an exact science.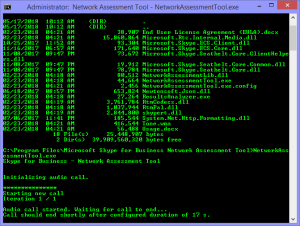 Microsoft's Skype for Business Network Assessment Tool can be run from any Windows machine and will run a series of synthetic transactions sending/receiving an audio file and aggregating quality data to a log file. While this tool is helpful, it is difficult to manage long term, does not provide real time data, and cannot be used as an ongoing monitoring tool.
Lastly, Exoprise's CloudReady solution, takes everything available in Microsoft's tools and adds many of the missing features and functionality.
A Step Above
Exoprise uses the full Skype for Business Windows client as well as fully enabled user accounts. This additional layer will validate the Autodiscover process as well as performing real Skype to Skype voice calls rather than a RTP only synthetic transaction.
Sensors and receivers can be placed strategically across your network to simulate network paths and traffic flows allowing you to control the path and endpoints assessed, while the free Microsoft network assessment is hard coded to one destination and is not flexible.
The Microsoft Network Assessment tool runs for a set number of iterations and you must retrieve the dataset to review the results. Exoprise sensors will run indefinitely, at a configurable frequency with streaming real time data to a central management portal providing immediate feedback as well as ongoing monitoring and alerting for proactive awareness of site issues.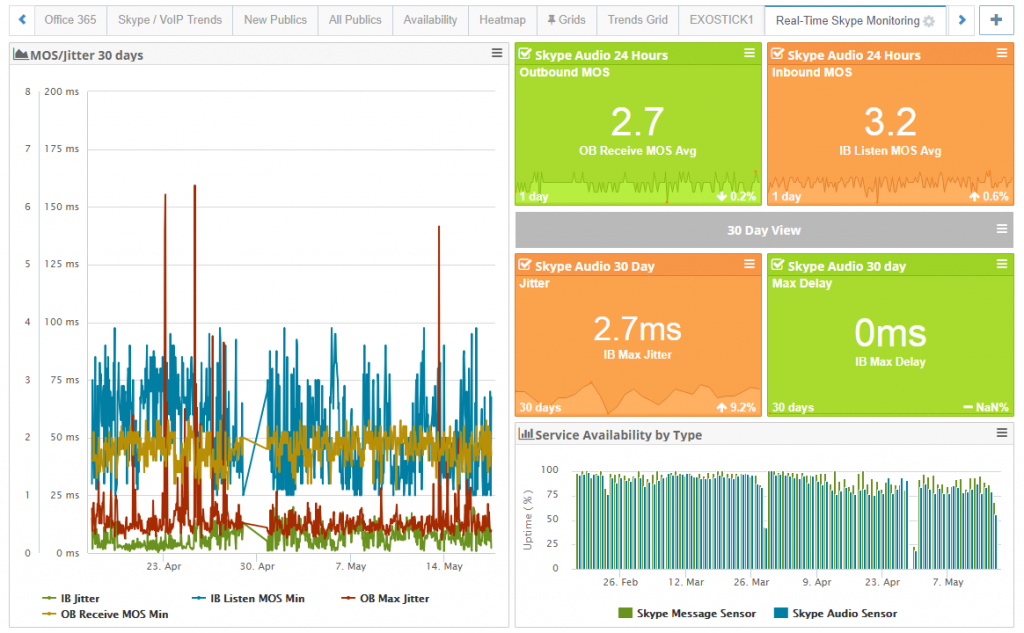 Moving Forward
Intellinet frequently leverages Bandwidth calculations and Exoprise's CloudReady platform as part of our comprehensive planning process to properly ensure an organization's network is fully prepared for Skype for Business Online.