What is a Virtual Private Network (VPN)?
A VPN, allows remote employees to create a secure traffic connection to the corporate network. These connections essentially tunnel from a computer or mobile device through a VPN server, often through the public Internet. VPN technology has been around since the mid-1990s, but its usage is now going mainstream due to Covid.
Research done by the team at security.org points out that 68% of US adults today claim to use either free or paid VPN for work or personal use, equating to around 142 million users.
As Covid accelerates, it means new monitoring challenges for IT amid a high VPN adoption. That's where VPN monitoring comes so your remote employees can connect and access corporate resources.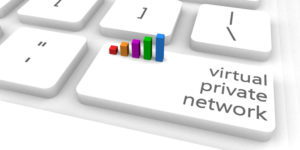 What is VPN Monitoring?
Not all businesses want to host their information in the public cloud. A VPN serves as a gateway to access critical enterprise resources and on-premise apps.
Monitoring the availability and health of VPN network traffic and connections ensures reliability.
By sending ICMP diagnostic requests, VPN monitoring reveals the reachability of peer devices at multiple sites. 
These provide baselines with which to measure VPN performance on a constant basis. IT teams gain visibility into performance issues and provide remediation efforts when needed.
6 Reasons Businesses Should Use a VPN Monitoring Tool
Investing in a VPN solution can keep employee data and company resources safer. From traffic encryption to network scalability, a VPN offers a secure connection.
Ultimately, network, ITOps, and business objectives need to align for successful outcomes.
Reduce Security Breach
Cyber-attacks, including phishing schemes, are up 600% due to Covid. A VPN increases network security by encrypting data through a tunnel. Also, hackers can't follow the trail to identify end-users and reach their IP addresses. Moreover, specific VPNs raise alerts when users download malicious files from the Internet.
Remote Network Access


Employees today need flexibility and a dynamic workplace.

A VPN fosters work from anywhere, so workers stay productive and efficient.

Bypass Geo-blocking
Certain sites and apps required for business may not be available in the country itself. VPN requests from a non-restricted country allow access and bypass restrictions.
Anonymity
Connecting to the Internet through a VPN provides online anonymity. After VPN shields the actual client IP address, attackers cannot infiltrate the original IP.
Network Efficiency
End-users expect improved bandwidth after implementing a VPN solution. That's because sometimes ISPs can control traffic and network speed for businesses. By anonymizing IP addresses, a VPN offers a chance to avoid intentional slowdown.
Cost-Effective


Another benefit to businesses is the affordability of a VPN solution. Typical market vendors sell the service for less than $10 per month.
Conditions Impacting the VPN Performance for End-User Experience
Several devices sit on a network path between a remote PC up to the corporate servers.
VPN Connectivity issues could lie with any endpoint. So, check every intermediary step matters and save time for the support team.
Individual Home Network
Incorrect LAN settings, Poor Wi-Fi, etc., may prevent users from connecting to a VPN.
Domain Name System (DNS) Server
DNS servers may be experiencing issues connecting web addresses into IP addresses.
Internet as a whole
Massive internet outages, cable repair, or web maintenance can take down servers. As a result, this impairs the ability for connecting and monitoring a VPN server.
VPN Server
Failure to connect to a VPN server is the most common issue among end-users. A server can crash due to overloaded requests from employees.
Corporate Network
This type of network could be protected by multiple layers of security. Thus, not allowing new access to machines.
Corporate Machines
The host which serves intranet web apps may be unreachable from the corporate LAN.
How to Monitor VPN Network Traffic and Connections
Monitoring a network's response time is crucial for optimizing the end-user experience.
Exoprise offers better coverage by

proactively

monitoring the VPN connectivity in real-time.
IT teams can detect and troubleshoot issues that impact the availability of services.
Common VPN connection issues include
Slow internet
Poor Call Quality
Inaccessible Websites
After deploying CloudReady, the synthetic sensors emulate VPN traffic to a corporate resource. This ensures that the data gets transferred without any delay. On the other hand, Service Watch provides real user monitoring by collecting real-time session data. 
Exoprise "Better Together" with Service Watch and CloudReady provide IT leaders with a single view into the entire VPN network performance.
Better Together Synthetics and Real User Monitoring

Synthetic Sensors for VPN Monitoring
Upon creating a test account with Exoprise, several lightweight sensors are available. Sensors install either on public or private sites to troubleshoot connectivity issues.
Let us look at each sensor to learn more.
Ping

Ping sensor available in Exoprise CloudReady Inventory

Measure latency and verify connectivity to another TCP/IP network device using Ping.

The sensor transmits ICMP echo-request packet messages and waits for a return message. A Ping request returns information on packets and approximate round-trip time in milliseconds.

Use the ping sensor to

monitor

 up to 5 different network endpoints.

For example, if there is trouble trying to access an application hosted on a VPN server, use a ping sensor. Diagnose the VPN server health in the ping sensor dashboard. If the ping response comes back faster, the problem most likely is with the server or application.

Measuring VPN performance through Exoprise CloudReady Ping sensor

Traceroute
Traceroute sensor shows the path a packet takes from one device to another over a network. The packet discovers all the routers till it reaches its destination or discards. Additionally, admins can view how long each hop takes from router to router.
When a site is unreachable, a traceroute can determine where the timeouts occurred. The issues could be with the internet gateway, ISP, or the host machine itself. Use both traceroute and ping in conjunction before contacting ISP to complain.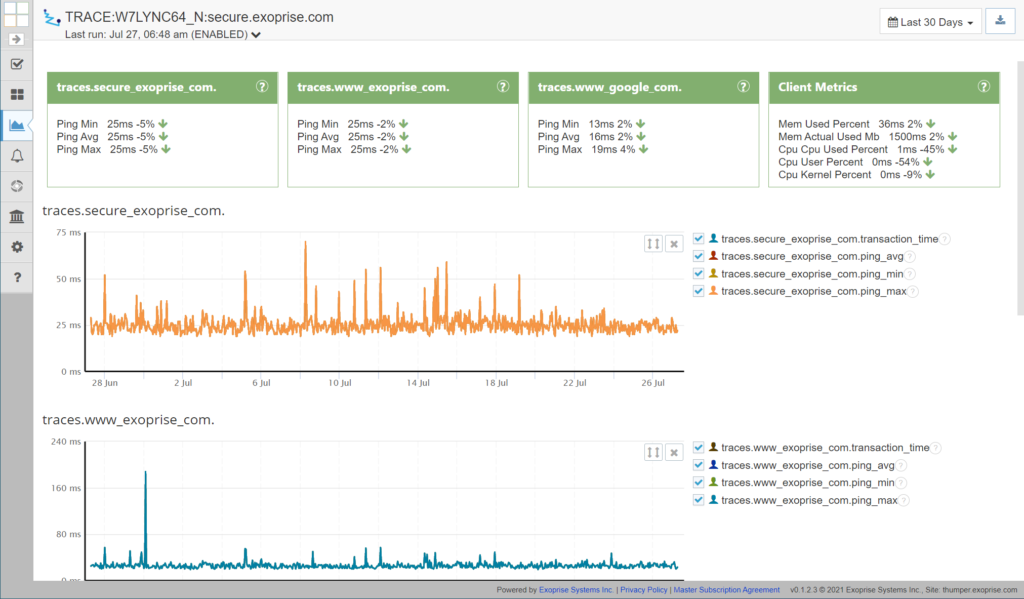 VoIP (Voice over IP)

VoIP sensors available in Exoprise CloudReady Inventory

Test the end-to-end network performance between two points (receiver and sensor) using UDP.

Additionally, the sensor reports on QoS to ensure quality collaboration.

Employees are working from home these days.

Most VoIP communication happens through VPN, which also carries traffic data.

Depending upon how a VPN is set up, IT needs to

monitor

VoIP due to its sensitivity to network performance.

For example, a jitter can make a voice call unintelligible. This happens when packets arrive with varying latency or get dropped.

VoIP Jitter monitoring over VPN connection

WGet

WGet sensor available in Exoprise CloudReady Inventory

Track Web Performance in a VPN setting

The WGet sensor tests and monitors HTTP web response time and availability. For example, when workers can't download a page, admins can check the sensor page dashboard. An HTTP response of 200 OK indicates that the page download success. On the other hand, the HTTP 500 status code signals a web server issue. Any unexpected activity error message display under the Errors tab.
Optimize VPN Network Traffic with Browser RUM and Endpoint Monitoring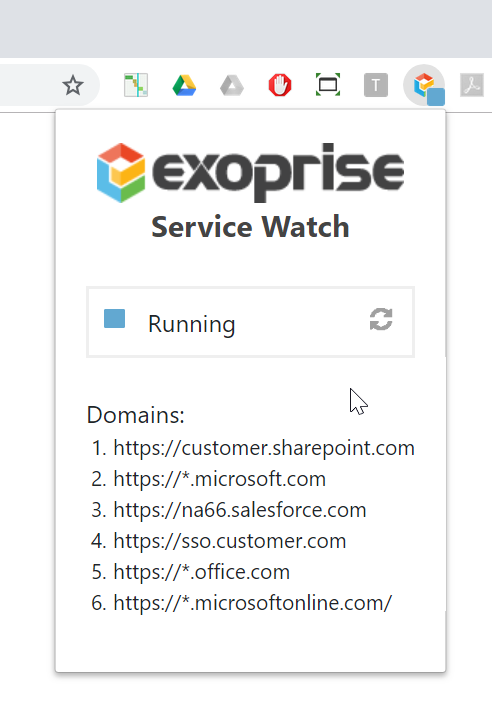 Exoprise synthetics provide
proactive
low-level network statistics in the background. While Service Watch measures application experience from an end-user perspective.
And why is that important to IT teams?
Exoprise Digital Experience Monitoring looks at two sides of the experience spectrum – browser real user monitoring and endpoint monitoring.
Due to the pandemic, most of the workforce operating from home or office has different network setups. Under these circumstances, application experiences can significantly vary.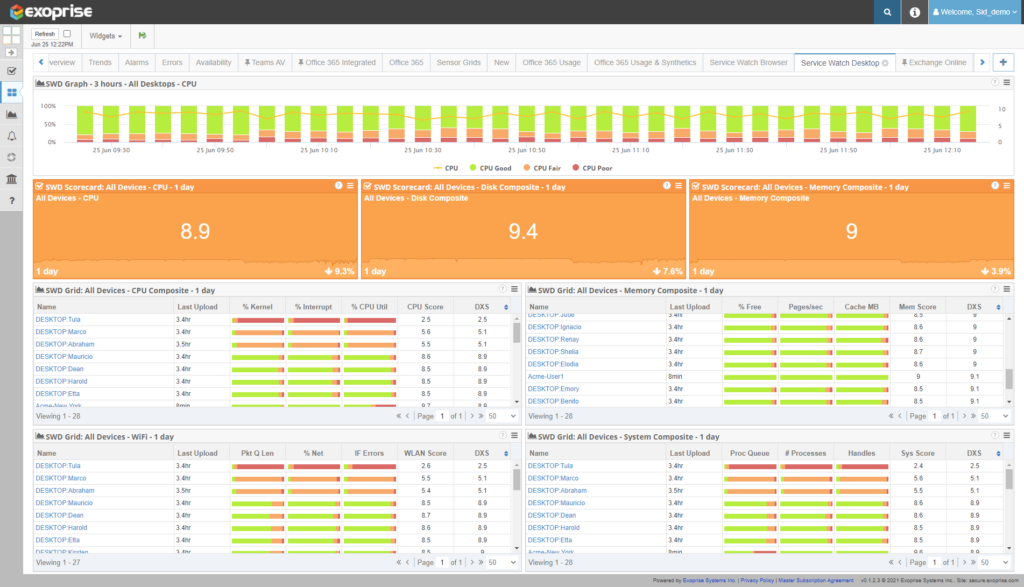 When using a VPN,
Service Watch Desktop
collects endpoint data to diagnose issues.
Deploying Service Watch Browser or Service Watch Desktop for end-users is customizable.
Configure critical domains in the Service Watch Browser chrome extension.
Create a Service Watch Desktop configuration. Associate it with a particular Service Watch Browser extension.
Invite users and install for bulk deployment.

After the deployment, IT gains visibility into the VPN experience score benchmark.
Built-in Alarms for VPN Monitoring
Additional
features in Exoprise CloudReady and Service Watch support teams during VPN troubleshooting.
For example, pre-configured sensors
automatically
generate alerts upon detecting poor service performance.
Enable, disable, and tune alarms
accordingly
. Admins can also receive warnings in the form of email or text alerts.
When investigating alarms, a unique differentiator within Exoprise is its crowd-sourced analytics capability. IT can compare their own application performance with the crowd and reduce MTTR.
Finally, the network path performance tab maps the entire network route with timings.
Optimize VPN Monitoring – Get Uptime, not Downtime
The global pandemic continues to make VPN Uptime a critical priority for enterprises.
As people adopt hybrid work, IT wants to provide secure access to internal resources.
Monitoring VPN gateway connectivity proactively
Troubleshooting network performance and end-user experience issues
Identifying root cause, bottleneck, and ensure smooth network operations
While each home varies, equipping IT with the right toolset is about preparing for the future.
Try Our Free VPN Network Traffic Monitoring Tool
Companies can take advantage of the Exoprise Free trial offer.
Deploy CloudReady VPN monitoring software licenses for monitoring site-to-site network traffic and keeping end-users productive.
Combine synthetics and RUM for monitoring VPN tunnel traffic and ongoing performance.
25 Service Watch Desktop
50 Service Watch Browser