Say Hello to the Office Again
Whether you accept it or not, the return to the office is happening. Companies like Microsoft, Google, Apple, Goldman Sachs, and Citigroup have asked their employees to resume operations on-site. Overall, the number of Covid cases in the US has steadily declined. And many states are now lifting their mask mandates. So sooner or later, more businesses will follow a similar suit, including yours.
This article describes some of the best practices IT can integrate to facilitate a return to the workplace.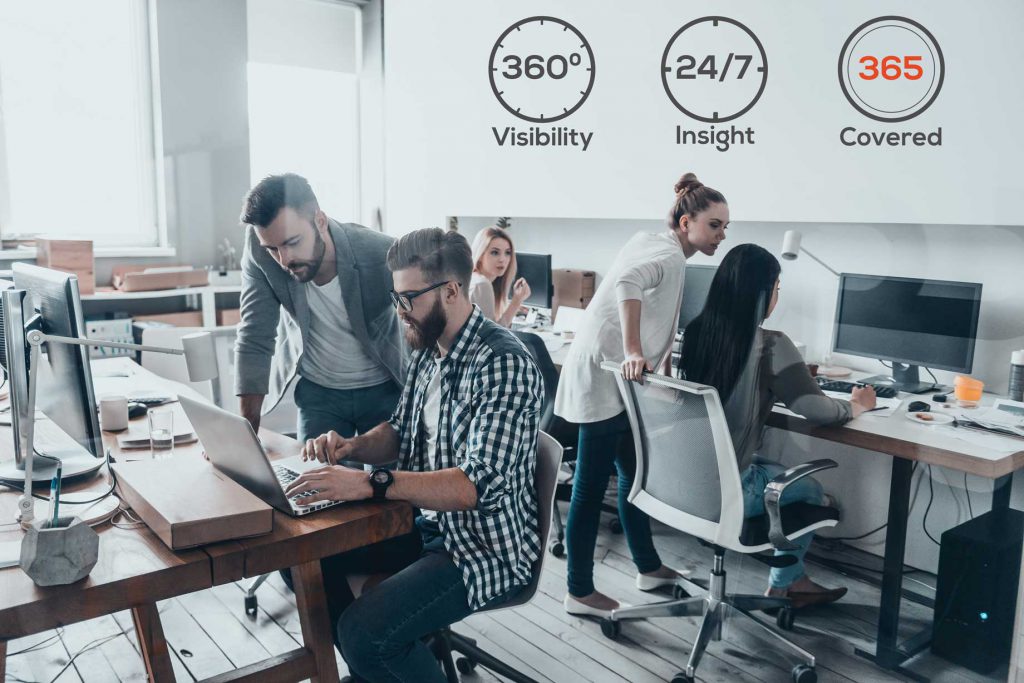 Migrate Everyone to the Corporate LAN
When employees return to their desks, network administrators must first prepare to migrate everyone back to the company's local network. Check, validate, and test your current network infrastructure and see where you need hardware and software upgrades. If you're a small to medium business, you may have canceled or throttled your Internet connection. Restore the network with your Internet Service Provider and test connectivity, performance, latency, and uptime.
Expect more pressure on networks with a massive increase in the number of workers returning. Employees also want to go online via Ethernet or Wi-Fi, so perform a walk-through of all access points to identify performance issues. Finally, manage changes in network traffic and prioritize them with an SD-WAN solution.
Assess Collaboration App Usage Needs
With Covid, the adoption of mission-critical unified communication (UC) tools such as Microsoft Teams, Zoom, and WebEx exploded. These application types, their usage, and the number of users today are very different today from a few years ago. Older networks in your business environment may not be able to handle the new load.
As an administrator, investigate how your network will support these usage shifts and understand how to integrate these new digital tools into your network ecosystem. Constantly test and monitor the performance of the UC app, bandwidth, latency, jitter, packet loss, etc., for Zoom, Teams, etc. Ensure the network can handle the extra bandwidth requirements and add more capacity where needed.
Workstation, File Sharing, and Microsoft 365 Access Requirements
Office 365 is a cornerstone application for most businesses. Ensure returning employees can easily connect to SharePoint and OneDrive to collaborate from headquarters. Proxies and VPN configurations, in turn, might need updating and reconfiguration.
The last thing you want to happen is for the network to severely affect employee productivity and efficiency. Test and monitor upload/download speed for file sharing and compare against existing benchmarks.
Also, employees may need to download third-party printer or antivirus software and update tools like Outlook. Support teams should be on the lookout for crashes, freezes, etc., on endpoint devices and make sure these apps work successfully. If there is a connection to the Exchange on-premise server, emails must be sent and received within acceptable time limits.
Support for Multiple Digital Workplace Models, Personal Devices, and BYOD
The likelihood of employees returning to the office this year is high. However, despite this trend, you would still have a significant number of employees working from home. Whether hybrid, fully remote or working from anywhere – IT needs to consider all of the various work scenarios and apply best practices so that employees can connect to enterprise resources and remain productive no matter where they work from.
End-users expect all their applications, tools, and services to be accessible and perform identically from anywhere, on any device type. For example, if a remote worker uses a VPN, he should have a similar experience to working physically from any office location.
Plan for Controlled Return to Office
Implementing some of the practices listed above will take time. There is no doubt about it, especially if you have hundreds or thousands of employees. Sometimes planning these activities with IT and business can take weeks or months in advance. The last thing you want to do is rush everyone into the office and increase network congestion.
Bringing employees back in small cohorts will allow IT to move everyone at a controlled pace without too much time pressure. Still, application owners take responsibility for a great digital experience with all the productivity and collaboration apps that run from home.
How Exoprise Digital Experience Monitoring (DEM) Helps
With script-free synthetics, Exoprise can emulate users accessing digital services proactively and test access performance without having to wait for a user to experience the problem. This synthetic monitoring enables network engineers to evaluate application performance metrics from multiple vantage points (Office/Home) and isolate the root cause of any network problem.
Regardless of which application your employees use (custom URLs or enterprise apps like Microsoft 365, Salesforce), you can track and monitor service availability metrics 24*7 in real-time. Example metrics include
Login Time
Authentication Time
Packet Loss and Jitter
Server Latency
DNS Lookup Time
Time to First Byte
Proxy Overhead
Network Path Performance
ISP Latency
In addition, crowdsourced intelligence helps to mitigate application performance issues in different geographic regions. IT can reduce its troubleshooting time by half by identifying service problems at the local or regional level. This information can be critical when IT needs more time to take workers on board. To ensure a seamless communication experience, deploying our UDP VoIP sensors and TCP/IP bandwidth sensors are essential for monitoring all networked apps.
Both Browser Real User Monitoring (RUM) and endpoint monitoring by Service Watch Browser and Service Watch Desktop complement proactive synthetic transaction monitoring. From the user's perspective, Service Watch can reveal endpoint problems with SaaS, networked and thick-client services, OS stability, application crashes, system resources, etc. In addition, Exoprise RUM techniques generate employee digital experience scores for support teams to monitor and optimize improved well-being with technologies.
Get a single pane of glass for any monitoring your team is trying to accomplish.
IT Must Prepare for Return to Office
Return to work certainly has implications for IT. Therefore, carefully assess your employee technology and network connectivity to promote better engagement and collaboration.
The Exoprise DEM solution helps you plan strategically, unify your IT infrastructure, and generate higher employee productivity for any work from anywhere scenario.
Don't believe us? Request a demo with our sales team and learn more.