Introduction
The digital workplace is a phenomenon that has grown in leaps and bounds in the wake of the COVID-19 pandemic. The adoption of technologies has increased and changed all aspects of our lives today, including how we work. However, today's workplace is very different from the traditional workplace.
For one thing, its definition is no longer limited to the physical sense. It's not just the space employees occupy during working hours; the digital workplace is accessible from anywhere globally, provided there is an Internet connection.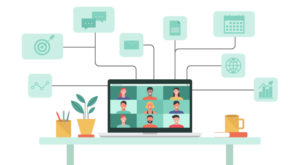 Leading organizations in virtually all industries are now part of this global industrial transformation. A digital workplace could be what businesses need to empower employee experience, promote efficiency, and sustain innovation.
But do you understand what it takes to implement this concept in its entirety?
Understanding the Digital Workplace
A digital workplace is a cloud-based platform that allows businesses to move their operations into a virtual space. It has all the tools, data sets, and cloud services to provide users with an ever-connected environment. In this environment, you can foster collaboration and remove communication barriers between team members using enterprise applications such as Microsoft Teams, Zoom, WebEx, etc.
Unlike a traditional physical workplace, emerging digital workplaces are location agnostic – hybrid work, remote work, work from home, or on the road. Nevertheless, the digital workplace helps build productive working relationships that foster enterprise-wide information sharing and shape the new Enterprise 2.0.

What Are Some Digital Workplace Challenges?
The digitization of the workplace has come with its fair share of challenges, especially since the changes are unprecedented. Gaps in technological knowledge, limitations of some of the software tools, and employee experience problems are significant obstacles to the digitization of the workplace.
Let's discuss them.
Complexity in Operation

A major digital workplace challenge that seems to be facing many organizations is complexity. More often than not, employees have to contend with numerous software packages that are incompatible or work together. As employees learn how to use these packages, they must also keep track of numerous secure passwords, making navigating their workflow a little complicated. To increase end-user productivity, IT must develop ways to reduce complexity by embracing the digital workplace.

Disconnected Remote Workers

According to the latest Gallup report, many employees (51%) report feeling disengaged from their workplace.

Most of them are new to the concept of a digital workplace, so the lack of employee engagement can be somewhat disorienting. Blurring between an employee's personal and professional life can cause mental strain. For this reason, it's essential to keep your employees connected in the workplace through effective communication.

Uncertainty in Problem-solving

The digital workplace is still relatively new, so most of the technical problems a business encounters will be unique and challenging. Organizations will need to work hard and solve these issues through trial and error because there's no guidebook yet. For instance, you could purchase a piece of software only to realize it lacks certain critical features that could scale your business. Ideally, you should find a digital solution that works for all your employees.

Reluctance to Change

All your employees must buy into the vision for digital transformation to succeed. But people tend to be risk-averse. Therefore, adopting a model that drastically changes the way they work can take some time to get used to it. It's up to the IT leaders to lead the charge and show the other employees how to embrace the new environment and navigate risks. Even with these challenges, most organizations are rising to the challenge by developing innovative solutions to these obstacles. The success of the digital workplace relies heavily on agility and resilience, not just on the part of upper management but all company employees in general.

Why Is It Important To Have a Digital Workplace?
The digital workplace has become an integral part of day-to-day operations for many organizations, and it's not hard to see why.
The following are some of the top reasons a digital workplace is a must-have for any organization.
Better Efficiency and Productivity
A digital workplace allows employees to work on projects together efficiently. The digital applications and tools streamline communication and enable a team to get through a lot of work in less time.
Reduced Operational Costs
Interactive communication platforms and virtual meetings eliminate the need for in-person meetings, which saves on overhead costs such as furniture and office space. In addition, there's no need for a large IT team to manage on-premise servers and maintain regular upkeep with SaaS applications.

Better Employee Recruitment and Retention
Today, you have to provide an advanced, progressive work environment to attract and keep top talent. Offering a dynamic digital workplace makes it easier to attract skilled and diverse employees. Additionally, companies with digital workplaces generally have a lower employee turnover rate, so providing digital opportunities means your workers are more likely to stay at the company longer.
Effective digital workspaces give employees greater flexibility in their work environment and schedules. Furthermore, digital tools allow your employees to connect from anywhere, often without focusing on a strict schedule. As a result, your team achieves a work-life balance that's more cohesive with their personal lives.
What Are the IT Implications of a Digital Workplace?
With many employees working from home, IT administrators have a more challenging time monitoring their digital assets because there's reduced visibility.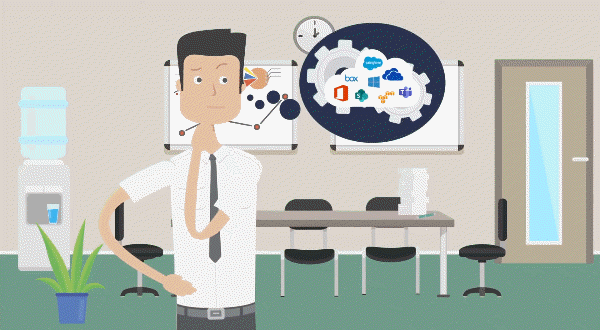 For example, employees can now connect directly to the internet without using the corporate data center, making it significantly harder to troubleshoot and effectively diagnose when there's a problem.
When SaaS applications are slow to access, the problem is not shared. The difference in home networks, connections, device configurations, proxies, browsers, and internet service providers make the situation even more complex.
As multiple teams use different applications to meet their business needs, network admins have to find a way to support the overall infrastructure.
Is There a Solution?
The Digital Experience Monitoring (DEM) solution from Exoprise combines synthetics and real user monitoring to offer technology teams unprecedented network visibility and a complete employee experience picture.
With real-time insights, IT can optimize application performance and foster a digital workplace for end-users who want to work from anywhere.
With Exoprise, you can
Proactively monitor Microsoft 365 and SaaS performance
Troubleshoot application slowness and network problems faster
Resolve poor employee experience with apps and endpoint devices
Don't believe us?
Then sign up for a Free 15-day trial and implement a digital workplace.