Microsoft's unified communication and collaboration tool Teams suffered an hours-long outage on July 20, 2022 — affecting thousands of users globally.
Exoprise sensors successfully detected Teams outage at least 2 hours before Microsoft diagnosed the root cause and officially confirmed the outage in the service health dashboard.
Below is what users saw when trying to access the Teams app or leverage any of its features.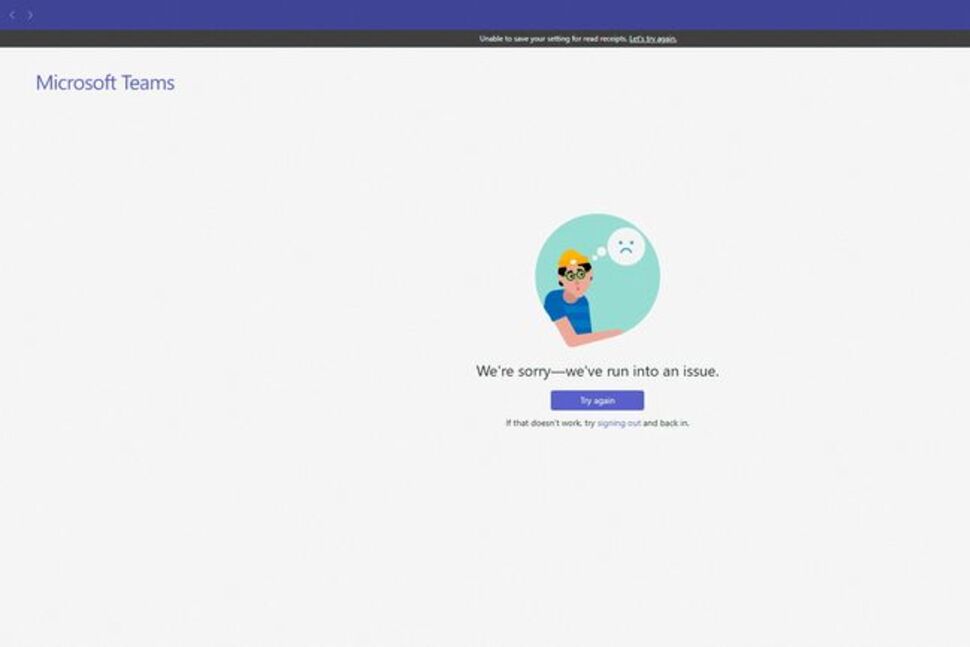 Proactive and Early Detection of Microsoft Teams Outage
And here's an email screenshot of what early detection looks like for the Teams service outage.
Exoprise sensors are proactively testing Teams application 24*7, and customers configure their alarms in various ways.
We are showing an example of the first time the Teams sensor detected the outage on 2022-07-21 at 01:18:24 UTC in our test environment. The errors could have been detected earlier at our customer sites depending on how the alarms were configured in production. Anyways, we showcase and confirm alarms related to failed login into the collaboration service. After 2 consecutive alarm errors within five minutes, this type of email notification went out to us. Most likely, our support team and customers received similar early notifications about the Teams health.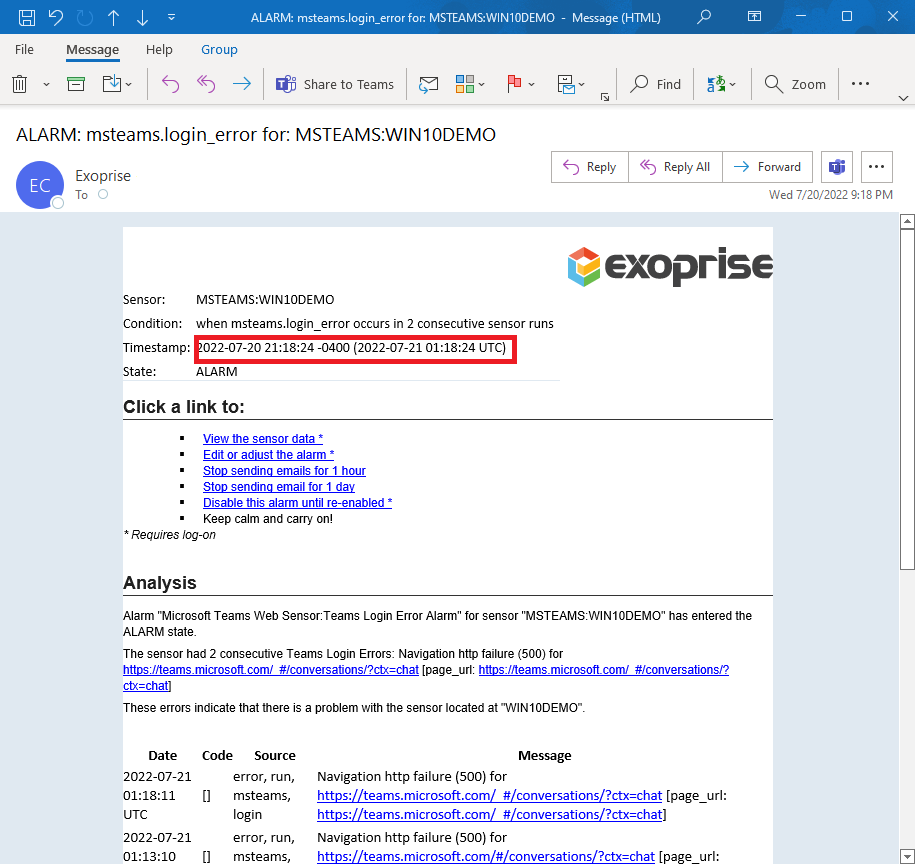 Teams Monitoring Dashboard to View the Outage
Below is what we saw in our sensor monitoring dashboard and how the app fared over time. You can see that the outage was detected early by Exoprise in real-time around 9 pm on July 20 and lasted for 3 hours before resuming service.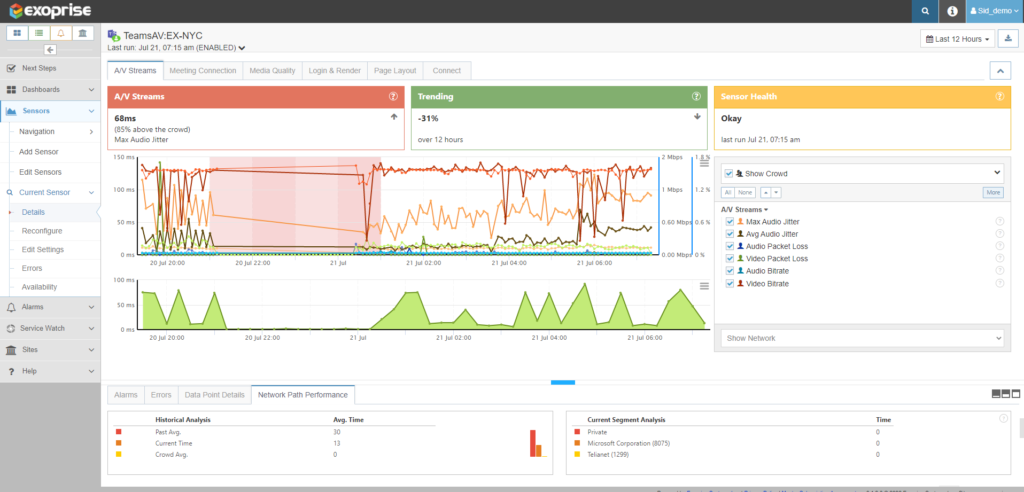 We have a built-in custom dashboard that tracks and monitors all Office 365 services. In this dashboard, you will find integrated Twitter feeds from Microsoft with status on issues TM402718. IT administrators and network engineers don't have to leave Exoprise to monitor their favorite Microsoft 365 applications.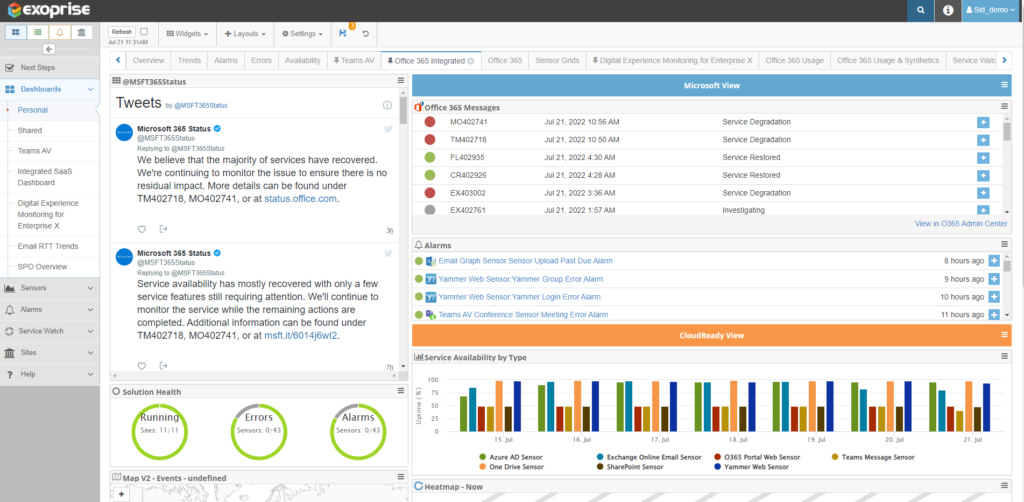 Microsoft Status Update on Teams Outage
In the Microsoft 365 admin center, you can check the notice on TM402718 and the first one arrives at 9:31 pm.
Even at 9:31 (that's 13 mins later), Microsoft has acknowledged the issue but has not confirmed it yet. 
Same thing here. When the next update comes at 10:05 (that's 47 mins since our first confirmed email went out), Microsoft says that the issue may affect any user. If you didn't have Exoprise, you still would not be sure looking at the message above if Teams has impacted all your sites or not.
Finally, at 11:11 pm (thats 113 mins later since our confirmed mail), Microsoft diagnoses the root cause of the problem.
Microsoft Twitter Notification
And Microsoft put this status update on Twitter at 9:47 PM informing that there is an issue with Teams. Our first email notification went out at least 30 mins earlier.

Preliminary Root Cause for TM402718
We've determined that a recent deployment contained a broken connection to an internal storage service, which has resulted in impact. We're working to direct traffic to a healthy service to mitigate impact. Additional information can be found in the admin center under TM402718.

— Microsoft 365 Status (@MSFT365Status) July 21, 2022
According to Microsoft, here is the full list of affected services:
Microsoft Teams (Access, chat, and meetings)
Exchange Online (Delays sending mail)
Microsoft 365 Admin center (Inability to access)
Microsoft Word within multiple services (Inability to load)
Microsoft Forms (Inability to use via Teams)
Microsoft Graph API (Any service relying on this API may be affected)
Office Online (Microsoft Word access issues)
SharePoint Online (Microsoft Word access issues)
Project Online (Inability to access)
PowerPlatform and PowerAutomate (Inability to create an environment with a database)
Auto patches within Microsoft Managed Desktop
Yammer (Impact to Yammer experiments)
Windows 365 (Unable to provision Cloud PCs)
Wrapping Up
Exoprise proactively detects ALL of Microsoft 365 outages.
You can learn more at our Office 365 Outage Detection Page. 
Don't stay reactive. Get instant service degradation notifications so your team can relay first-hand information to customers.
Request a demo today and see how Exoprise can add additional value to your IT ecosystem.