Before the pandemic, capturing your users' experience was simple because just about everyone was in the office, and you had traditional on-premises systems in place. Nowadays, remote work and hybrid access and usage patterns are much more varied. Work hours, 24×7 availability, collaboration, networking, hybrid, etc. all lead to difficulties in understanding employee Digital Experience. To avoid employees staring at their computer rather than collaborating and accomplishing business-critical tasks, you need to invest in Exoprise's robust Digital Experience Monitoring (DEM) solutions.
Let's face it: Traditionally, office connections were straightforward. Typically, employees worked from set end points and followed a straight line to the servers sitting in the corporate data center. No more.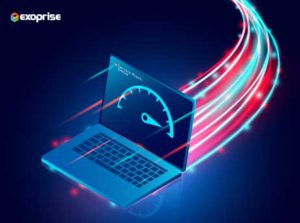 After the pandemic, #WorkEverywhere became the New Normal. Today, employees, in particular knowledge workers, access corporate systems via a wide – and growing — variety of places, devices, and networks, many of which frankly were not designed for corporate use. Or they operate through VPN's and cloud proxies that can slow down access and often experience problems that are difficult to diagnose and isolate.
In addition, employee use of remote work collaboration tools and Software-as-a-Service solutions has become vital to their workday. Therefore, whenever connectivity or device problems arise, productivity drops, and your boss calls you into his office, a meeting Exoprise solutions help you avoid.
How? Exoprise is a born-in-the-cloud DEM solution. The endpoint monitoring system evaluates employee system experiences and provides you with the information needed to recognize – and usually prevent – performance bottlenecks. The product ensures user satisfaction with networks, applications, services, and desktop performance. Let's take a closer look at how it functions.
Simple Deployment and Maintenance
Your day is quite full, so you need an easy-to-install solution. With Exoprise, there are no servers to install, no databases to stand up, and it scales easily. Why? It's SaaS-based. No need to maintain the infrastructure. Just deploy a lightweight user agent. Getting started is wizard-driven and simple.
The DEM solution offers you the ability to examine every application and every network – no need to preconfigure transactions or ports to examine. The solution pinpoints problems and provides you with the flexibility to work from anywhere.
As technology use increases, the large volumes of performance data monitored can feel overwhelming. Exoprise Service Watch provides a clear view of performance via an intuitive portal illustrating every device's health.
With it, you lower the number of remote work problems encountered. No longer having to sift through large reams of obtuse information looking for correlations that illustrate the root cause of an infrastructure hiccup. Rather than wait for your email box to overflow or the help line to ring off the hook, intuitive reports illustrate where problems are brewing. The solution provides easy to understand illustrations that outline your users' experiences.
You get not only a clear picture of the user experience on every machine, but also actionable insights that simplify troubleshooting. With Exoprise DEM solutions, you recognize problems before users and take the steps necessary to avert downtime.
Endpoint Monitoring Plus Synthetics in One Platform
One strength is our product design. Enterprise networks are complex, and performance can be viewed in many ways. Most monitoring tools offer basic functionality: send a ping or check a site URL, Their purview is limited. They tell you whether a web server is working. More is needed to understand the user experience, so we provide it.
CloudReady, the Exoprise synthetic (transaction) monitoring tool, provides the best way to proactively test web and SaaS app experience from the employee's perspective with script-free, artificially intelligent driven automation. Exoprise's synthetic monitoring (also known as active monitoring) is an application performance monitoring discipline that simulates real user interactions. It executes test transactions at frequent intervals. Consequently, you will see the same performance that a user will see. Importantly, synthetic monitoring provides visibility into performance degradation before user's notice and productivity is impaired. Your employees avoid remote work problems.
Service Watch examines browser and desktop performance. The solution monitors performance measurements, like latency, jitter, and packet loss, no matter where the employee is stationed: at home, on the road, or the corporate LAN/WAN.
The solution captures end-to-end network metrics during real-time collaboration sessions, ensuring there is sufficient throughput for audio, video, screen, and application sharing. If problems arise, a complete hop-by-hop network path, including ASN and ISP data, is recorded for troubleshooting and analysis.
How Does the Solution Work?
You see everything. The first step is capturing a huge volume of system resource metrics in real-time. Then, they are uploaded, so the solution correlates them, crunches the scores, and produces a series of value reports. The reports illustrate individual and group productivity and the impact that any network slowdowns or shutdowns have.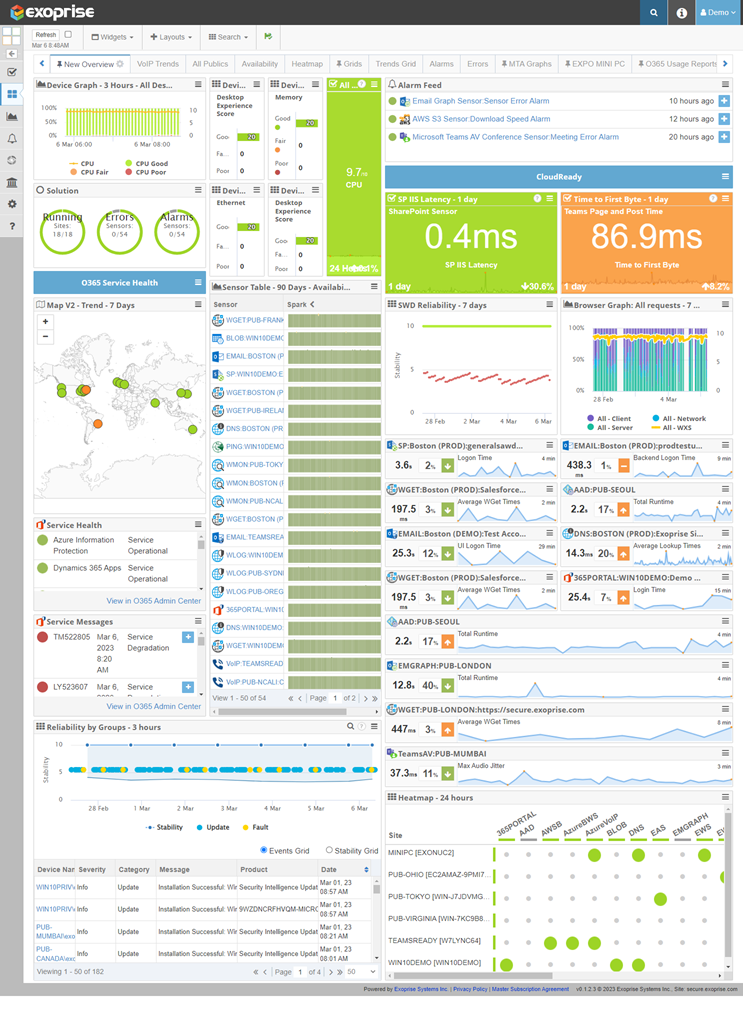 We take a holistic approach to monitoring, so a wide range of metrics are available to help you understand what is happening. System and experience metrics are rolled up, aggregated, and crowd-sourced to help you make sense of the large volume of performance data. The system provides a raft of monitoring, performance, availability, and productivity metrics. Here are a few of its many benefits.
Support All End Devices
Gain Flexibility
The system provides you with a wide range of configuration options that you
set for your organization, for instance thresholds for; Good, Fair, and Poor performance.
Easily group information, and refine scoring by asset, CMDB values, Organizational Units, user
Roll everything up from Wi-Fi signal strength to process queues and OS paging.
Examine faults crashes, hangs, updates and blue-screens
Slice and dice the information to gain a big picture understanding or deep dive into a trouble spot
Improve Troubleshooting
Collect and aggregate reliability data across endpoint devices to understand trends and prioritize your To-Do list
Streamline problem resolution
Correlate updates
Automate anomaly detection across large sets of machines
Recognize which applications and devices cause problems
Get to the root cause quickly, easily, and effectively.
Prioritize fixes
Boost Productivity
Ultimately, improve the user desktop experience
Enhance collaboration
Work from anywhere increased dependency on collaboration and productivity applications. Network response time, latency, and connectivity issues are common complaints. Exoprise captures response time and packet loss metrics from thick client apps, like Outlook, OneDrive, Zoom, WebEx, and light ones, like Slack.
Your company delivers positive work-from-anywhere experiences that employees demand today. Improvements come in many areas.
Real-time data enables you to respond proactively and minimize problems
IT teams become smarter and make faster, better decisions
Drive employee engagement.
Understand how important system resources support every device
Examine composite resource scores for base lining and discovery
Evaluate OS machine reliability and stability
Gain network visibility from app to LAN/WAN to the Internet to the provider
Since the pandemic, businesses have been struggling with new remote work problems and had trouble ensuring that workers have robust response time. Support teams find it difficult to monitor various endpoints.
With a proper DEM solution that combines the proactive notifications of synthetics with the complete coverage of real-user monitoring, you gain the insight needed to understand how remote worker systems function – and, more importantly, quickly solve problems as they arise. Exoprise endpoint monitoring software improves digital experiences, so systems are available, remote work problems are solved, and productivity flourishes.