CloudReady Monitor provides visibility and control for enterprises moving office apps into the cloud
Waltham, MA – July 8, 2013 – Exoprise, a provider of cloud based monitoring and enablement solutions for Software-as-a-Service (SaaS) applications, today announced the launch of a new, comprehensive monitoring solution for Microsoft Office 365. The new offering combines the power of crowd sourcing with active point of access monitoring to provide real-time insight into the performance of mission-critical Office 365 applications. CloudReady Monitor for Office 365 offers IT groups, value-added resellers and managed service providers unmatched visibility and control over their entire Office 365 service delivery chain, including the online services themselves, Active Directory Federation Services (ADFS) and network health and bandwidth. The solution is available immediately through Exoprise certified channel partners and a free trial can be downloaded from the Exoprise website.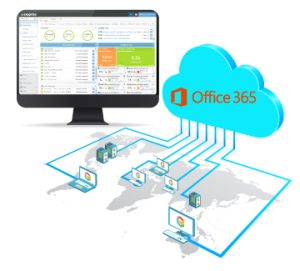 The announcement coincides with the launch of Exoprise's new Microsoft Partner Program at Microsoft's Worldwide Partner Conference (WPC) this week. The program provides Microsoft Office channel partners with profitable new revenue opportunities from both CloudReady Monitor and complementary value-added services.
Office 365 is a subscription-based suite offering online access to the software and services built around the Microsoft Office platform. Unlike on-premise deployments, where IT teams can monitor performance via direct access to the servers running their Office applications, visibility to Office 365 performance is limited to the Microsoft Office 365 Service Status Dashboard. While this dashboard provides current status of Office 365 itself, it cannot provide real-time end-to-end performance data nor can it provide information on the health and availability of the various networks – the customer's, the ISP's, the regional backbone, etc. connecting the users to the service.
Exoprise CloudReady Monitor for Office 365 provides IT groups and service providers with end-to-end visibility into the availability and performance of their mission critical Office 365 applications, with real-time statistics, alerts and trend reports for the entire service delivery chain, from the behind the customer firewall to the Microsoft datacenter and back. In addition, it leverages the power of crowd sourcing to pool performance data from all users, providing valuable baseline metrics to compare performance, quickly pinpoint problems and speed resolution.
"Visibility and control of service levels is essential for enterprises looking to move more of their mission-critical applications to the Cloud," said Alex Boccio, project manager at Pro4ia, a Microsoft Cloud Accelerate partner. "With Exoprise CloudReady we now have end-to-end visibility into the availability and performance of the Office 365 services. CloudReady enables us to proactively monitor and quickly detect service degradations, which leads to higher service levels and greater customer satisfaction for our managed services clients."
"Exoprise is opening up the cloud to enterprises by providing an optimal service management experience that takes full advantage of all the benefits of SaaS," said George Nichols, president and CEO of Exoprise. "By combining local performance data, aggregated crowd data, and other important context information, we provide a robust 360 view into service availability and performance of Office 365 apps."
Exoprise CloudReady Monitor for Office 365 leverages four core capabilities to deliver end-to-end visibility and control for IT groups and service providers:
Active Point of Access Monitoring – Using sensors placed at user access points, CloudReady Monitor actively tracks application availability and performance. By monitoring from the point of user access, rather than from an arbitrary location, Exoprise provides critical visibility into the actual service delivery chain for the user location and enables problems to be detected proactively, before user transactions fail.
Crowd Sourced Data Analytics – By aggregating data across all customers' sensors, CloudReady Monitor provides each customer with a global view of availability and performance metrics. This enables users to quickly determine the location (local, ISP, or SaaS provider) of any service impacting issues, while providing a rich dataset from which to determine whether their service delivery chain is optimally configured.
Simple Management as a Service Deployment – CloudReady Monitor is a pure, cloud-based application, with all the cost, simplicity, availability, and scale benefits of SaaS. This is unlike complex and expensive traditional ITSM and network monitoring solutions that are optimized for traditional on-premise software management, or current APM solutions that are optimized for application developers and hosters and often overkill for most SaaS customers.
Deep Environment Analytics – Exoprise supports CloudReady Monitor with a comprehensive assessment tool that provides thorough analysis of the customer's Exchange environment. This can identify important usage patterns that enable solution partners and service providers to guide a customer in selecting the right mix of SaaS email, communication, and collaboration tools, along with data from which to structure a cloud migration plan. No other solution on the market today provides this level of insight.
Exoprise CloudReady Monitor is available exclusively through Exoprise certified partners.