Exoprise recently added new SharePoint monitoring metrics to the CloudReady SharePoint sensors with continuous telemetry into different Single Sign-On Providers as well as SharePoint file search performance and statistics. Here's an overview of the additional insight provided by these metrics.
Managed vs Federated Logins
CloudReady has long supported navigating and automating logins to Office 365 for either Federated accounts or, as Microsoft now calls them, Managed (cloud) accounts. We recommend customers setup SharePoint, Office 365 Portal, OWA and others CloudReady sensors against these different types of accounts so that they can rule out login, cross-server and most importantly SAML issues across their entire environment.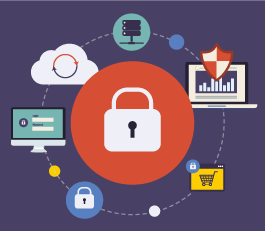 While CloudReady did a great job of navigating these different login scenarios it wasn't great at exposing the different actions, re-directions and metrics that were happening behind the scenes. With the recent update, we've fixed this and now provide great insight into the different timings between Microsoft's servers and your Single Sign-On environment whether its ADFS, Azure AD, Okta, managed or others.
Deeper Insight
Most of the new metrics are subsets of the overall Login Time. Our Login Time measurement was always a series of complex steps, navigation's and redirect handling to fully test and monitor all of the servers that make up the end-user experience of a cloud app. The new metrics are crowd-sourced to give customers a better understanding of whether their values are good, better or worse then in other corporate environments. Some details on the new metrics:
Initial Page Time – Loading time of the initial page including all SSO redirects. This metric provides insight into the performance and availability of Microsoft's initial login pages and login infrastructure.
Managed Login Time – Time spent explicitly logging in using Office 365 cloud identity.
Federated Login Time – Time spent explicitly logging in using an on-premise identity (typically ADFS). This metric provides insight into the performance and availability of the redirects and connections between on-premise SSO solutions like Active Directory Federated Services and its interactions with Office 365.
Upload Search Time – Time spent finding the uploaded sensor document in the SharePoint file library. This metric provides insight into the performance and availability of file search within SharePoint Online.
Our customers didn't need to change anything to receive these new metrics – the changes were safely rolled out in stages. Additionally, the CloudReady crowd-based comparisons enable our customers to compare their Federated access times and performance to other customers that are federating with Office 365. This can be valuable to understand and compare operational excellence of your organization and its infrastructure. We recommend adding additional alarms for these new elements depending on your sensor, site and alarm integration.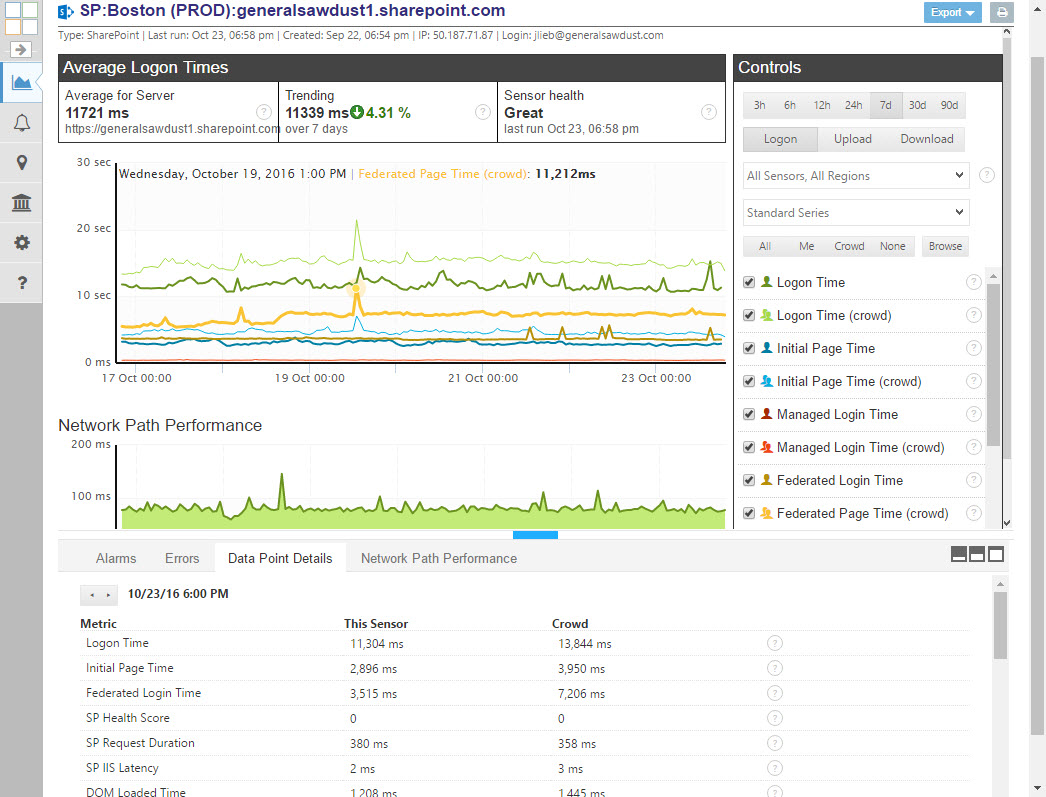 The SharePoint sensor has always been testing collection upload and download performance. The addition of Upload Search Time is new. During the past few quarters, as Microsoft has changed its List and Collection layouts for SharePoint Online we've had to make some subtle changes to the way we interact with the pages. The addition of testing the file search capabilities of SharePoint Online was an added benefit. After a successful upload, the sensor makes an attempt to find the newly uploaded (and indexed) file by name. The time it takes for the search to complete is reported in this metric. This can be helpful in determining how your SharePoint Online tenancy is performing.
RUM vs Synthetic
The new metrics highlight one of the advantages of Synthetic Monitoring vs Real-User Monitoring (RUM). With RUM it can be difficult, if not impossible, to instrument all of the different pages that are delivered from different servers. Often, when interacting with different web-services, user transactions will "cross" different pieces of infrastructure, servers, pages and parts as part of the interaction. There may be API calls made or XHR transactions that aren't capable of being instrumented for monitoring. CloudReady Sensors have distinct advantages:
Emulates a user crossing multiple server boundaries for end-to-end monitoring
Continuous end-to-end Network Path Performance from the source
Operates 24×7 without requiring a user to be affected by an outage – know ahead of time as opposed to a real-user being affected first
WebLogin, Other Sensors, More Metrics Coming Soon!
The CloudReady engineering team will be adding these new metrics to our other sensors such as the Office 365 Portal, Box, Dropbox and Salesforce sensors over the next few months. Look for the additional Federated, Cloud metrics in any of your dashboards shortly!