Waltham, MA – October 22nd, 2020 – Exoprise, the leading provider of Digital Experience Monitoring (DEM) for Microsoft 365, Salesforce, and SaaS applications, received a nomination today from Mass Technology Leadership Council (MassTLC). This nomination is for MassTLC's Tech Top 50 program in the COVID response category where the objective is to recognize people, products, and companies in the New England tech ecosystem that have made an impact in 2020. As the largest and most powerful technology association in the region, MassTLC connects thousands of tech leaders, entrepreneurs, and investors to help accelerate innovation, foster collaboration, and advance learning.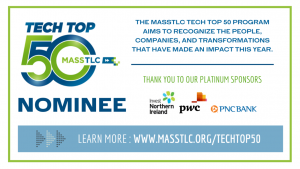 With pandemic forcing millions of Americans to work from home, IT teams globally have found it challenging to monitor the end-user experience of its remote workforce. This past month, Exoprise launched its latest flagship product Service Watch Desktop that allows for real user monitoring of cloud applications and machine performance data. Armed with these valuable insights, IT can now perform root cause analysis faster and improve employee productivity. Service Watch Desktop empowers IT to accelerate the adoption of Microsoft 365 cloud deployments, enforce enterprise-grade security controls, and monitor the end-user digital experience of its remote workforce.
"The entire Exoprise team is excited and humbled to be part of this nomination. Our latest innovation product will drive visibility for IT leaders and help them navigate successfully in this unprecedented era," said Exoprise CEO Jason Lieblich.
Learn more about Exoprise here.