A Prerequisite for Digital Transformation
The leap to remote work happened nearly overnight with the pandemic, and it's clear that hybrid work and digital dexterity is the way of the future.
As a result of this shift in the way we work, companies have invested in new technologies to adapt to the growing remote world, with 69% of companies planning to increase their investment in digital tools even more in 2022. Additionally, over 90% of businesses strive to implement hybrid work environments.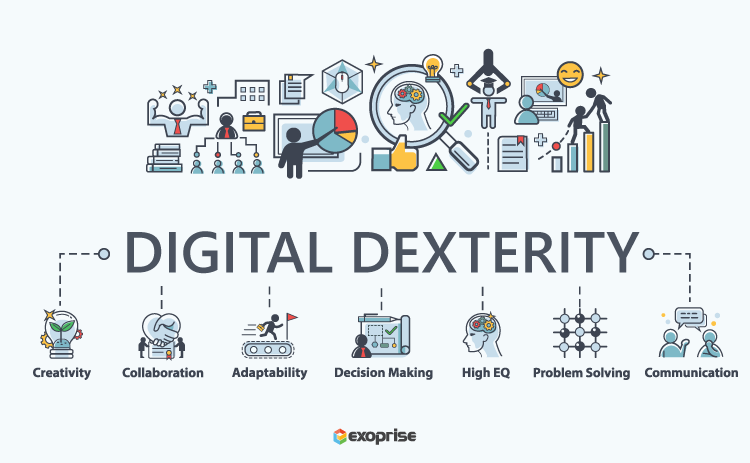 With companies making more investments in digital technology than ever, it's necessary to have the right strategies in place to make sure these investments pay off. In addition, employees require exemplary leadership and support to transition to new systems; otherwise, these efforts to increase productivity fall short.
As work technology advances faster than some employees are built for, IT and company leaders must implement strategies for promoting digital dexterity and advancing digital transformation success. It's not the sole accountability of a single team to do so.
Employee satisfaction with new technology is essential to a business of any size and can now be measured with a Digital Experience Score.
To avoid getting left behind in the rapidly evolving remote world, companies need to learn how to implement their own sustainable digital dexterity methods.
Keep reading to understand the importance of digital dexterity, how to implement it in your workplace, and how to measure your success.
What is Digital Dexterity?
Digital dexterity means the ability and ambition to adapt to new technology.
Companies implement new technology to drive higher productivity, and employees' and leaders' digital dexterities define their abilities to use these technologies to be more efficient and successful.
Although digital dexterity is often thought to only apply to employees' skills, high levels of digital dexterity also result from effective leadership and training.
Employees need adequate support systems when transitioning to new technology that changes their daily work life. Outstanding leadership also leads to higher confidence, morale, and motivation to learn new things.
Examples of Digital Dexterity
One of the most relevant examples can be seen in the sudden transition to remote work that thousands of businesses endured during the pandemic. The success or lack of ability to transition to working with new collaboration technology like Microsoft Teams, Zoom, WebEx, and more, on both an individual and company-wide basis, defines one's level of digital dexterity.
While many companies successfully made this transition and found increased productivity and efficiency, others could not make this shift, as evident in the closure of nearly 200,000 businesses due to the pandemic. This event revealed the importance of this new initiative in the workplace.
Other examples of digital dexterity include:
Quickly adapting to a new project management tool like Asana, resulting in easier management and communication and higher productivity
Adopting new unified communication and VoIP solutions like Microsoft Teams fosters better teamwork and company culture
Innovating new technology to compete with competitors

Why is Digital Dexterity Important?
High levels of digital dexterity in the workplace come with many benefits. Being able to adapt to new technologies, as an individual and a company, allows for:
Higher productivity – Adapting to new tech allows employees to accomplish more work. As a result, employees are at least 18% more productive when given the right digital tools.
Greater efficiency – New technologies are made more efficient, and learning them allows employees to be extra efficient in their work.
Quality work – The ability to quickly grasp new technology means employees don't have to sacrifice quality to get work done. Higher efficiency and productivity allow employees more time to complete better work.
Fruitful investments – Maximizing digital agility increases revenue and business growth.
Higher morale – Accomplishing the transition to new systems increases confidence, energy, and enthusiasm, improving company culture and employee retention.
Easier Said Than Done. Is it?
Although employee skills are often the scapegoat for low digital dexterity, poor leadership leads to failure to adapt to new technology in the workplace. It's estimated that only 16% of leaders have digital dexterity. Instead, company leaders must appoint digital team coordinators, provide moral support, set manageable goals, and be open-minded.
There need to be team members, such as IT operations and network administrators, who promote digital dexterity among employees. Leaders need to create a detailed plan for desired achievements, steps to take, and how they will measure success. Employees and leaders must also let go of outdated thinking that keeps them from moving forward.
Leaders' lack of planning, empowerment, and training makes it difficult to achieve digital dexterity. However, it's never too late to make a change and implement successful frameworks for combating this.
Take cues from how other customers are embracing this latest change!
Building and Sustaining Digital Dexterity in the Workplace
High levels of digital dexterity don't come without some effort. Leaders must have a clear plan to cultivate success when adopting new technologies. Below is a framework for promoting it in the workplace:
1. Educate
The first step is educating your employees on the importance of this skill. Having educational seminars and training sessions on why digital dexterity benefits everyone will help your employees get on board and feel motivated to work toward a unified goal.
2. Repeat
To continue promoting digital dexterity, you must keep this topic at the forefront of employees' minds. This is done by repeating its importance in daily work life. As digital dexterity is relevant to almost every work initiative, emphasize its relevance daily.
3. Train
Continuous training must be done throughout the adoption of new technologies to increase technical adaptability. Have regular training sessions where employees can practice their skills, ask questions, grow their confidence in their abilities, and feel supported. Also, plan for mistakes and imperfections along the way, and remember that practice makes perfect.

4. Empathize
To increase digital dexterity among employees, you'll need to understand their mindsets and how they're feeling during technological transitions. Consider creating a regular employee survey to gauge how employees are doing. Ask how they think about their leadership, new technology, training, and support. Understanding where employees stand will help you know what needs to change and where to go next.
5. Lead the way
To successfully promote digital dexterity, leaders must also be fully on board. This includes having future-focused mindsets, being patient, and being supportive. In addition, leaders are responsible for setting the tone of new initiatives and bringing employees together. Thus, they should lead the way by having clear missions and plans of action in place.
6. Measure success
Lastly, companies must measure the success or lack of success. Obtain these measurements through SaaS monitoring and endpoint monitoring. With quantifiable results, leaders can learn from their mistakes and plan the next steps.
Aha, a New Way to Measure and Increase Digital Dexterity!
To measure digital skill set, you can measure the employee response to new technology through digital experience monitoring. Monitoring the overall digital experience is made possible with a Digital Experience Score. This holistic score provides a quantifiable measurement from every endpoint device to gauge employee satisfaction with SaaS, thick-client applications, and underlying system resources.
By understanding employee attitudes toward adopting new tech, you can gauge their levels of digital dexterity.
Furthermore, measuring the digital experience allows leaders to see pitfalls and change to optimize the end-user digital experience.
Stay Digital-Ready and Thrive with Exoprise
As the world continues to go remote, digital dexterity becomes more and more essential to the workplace. A clear framework can ensure that you can handle whatever changes are ahead.
Exoprise technology provides complete visibility for your entire IT infrastructure, Microsoft 365, SaaS apps, home networks, and everything in between, so you can easily monitor your company's digital experience.
Contact us to get started and take your company into the future of digital work.