Salesforce.com is an essential mission-critical application for many enterprises. Because it is only delivered through the cloud, its performance is highly dependent upon where it is being served from, accessed from, end-to-end network characteristics and type of usage within in an enterprise.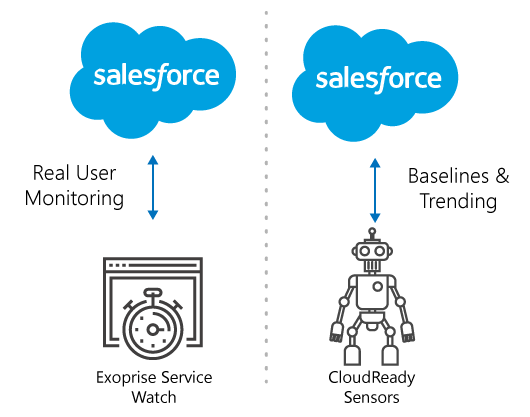 As the premier CRM solution on the market, Salesforce.com is an essential tool for sales professionals, marketers, strategists, and even manufacturing, shipping, and inventory specialists. Minutes of downtime can disrupt hundreds of thousands of dollars worth of business and delivery.
New Lighting Experience
The most recent Salesforce.com release, called Lightning, is a major upgrade supporting a richer user experience, progressive rendering, more customization and control. More content is rendered on the client when using Salesforce Lightning and there are more dependencies on the overall end-to-end network quality to ensure a robust end-user experience.
With the new release, you can no longer just perform a WGET or PING against a Salesforce data-center and measure a simple response time. To fully measure the health and performance of the Salesforce experience you must exercise and measure the application as a user would. With progressive web apps, measuring the end user experience means taking into account when the application reaches a "usable state" – a time when the user can begin to meaningfully interact wit the application.
Baselining and Monitoring Salesforce
Monitoring Salesforce.com is something every enterprise subscriber should be doing. Fortunately, Exoprise CloudReady makes that easy. Its Salesforce.com sensor lets you proactively montior and measure Salesforce.com response time and behavior in a number of different ways.
The CloudReady Salesforce sensor is compatible with the new Salesforce Lighting experience and generates metrics based on the end-to-end performance, Login and Render, Page Layout, and Connect Times. Login and Render provide the average time it takes to successfully login and retrieve the progressive web pages. The Salesforce sensors are smart enough to measure when the application has been delivered and the page is ready to be interacted with. It displays the milliseconds, how it compares to the crowd averages, and how it is trending over time.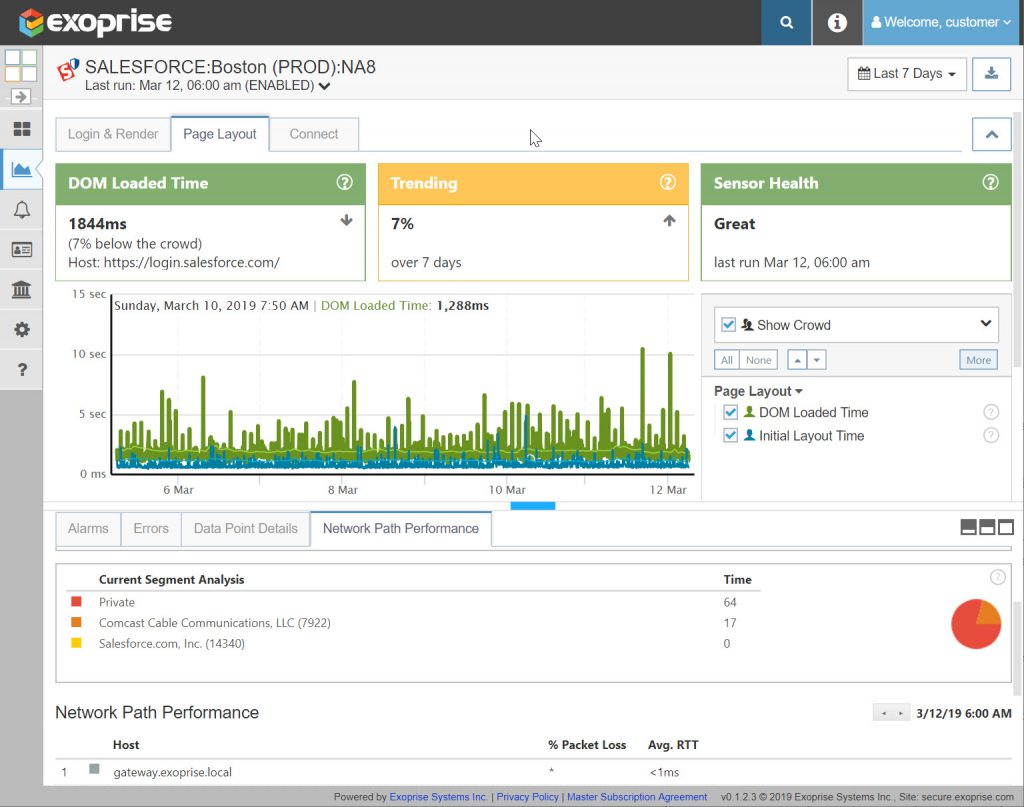 This is a good place to start. If your enterprise is a single location, deploying a single synthetic Salesforce sensor will enable you to baseline your network and access to Salesforce.com and assist in eliminating guessing about whether the network or providers are the problem when you have slow response time.
If you have multiple geographically separated locations, you will be better served by deploying more sensors wherever you have end-users that are dependent on Salesforce. Since progressive web apps are more dependent on client side rendering than regular web server pages, Exoprise recommends that you setup CloudReady sensors on devices that are representative of the typical client workstations to properly gauge the real user experience of the page load times.
For more information on coverage, read this: Are You Covered? Factors in CloudReady Monitoring Coverage
Real User Monitoring for Salesforce
From the standpoint of the user, we might also want to use Exoprise Service Watch so that we can look at what the actual end user is experiencing. Service Watch monitors the end user performance by watching the browser, for configured URLs and domains, and is especially useful when those users are remote or complaining of poor performance.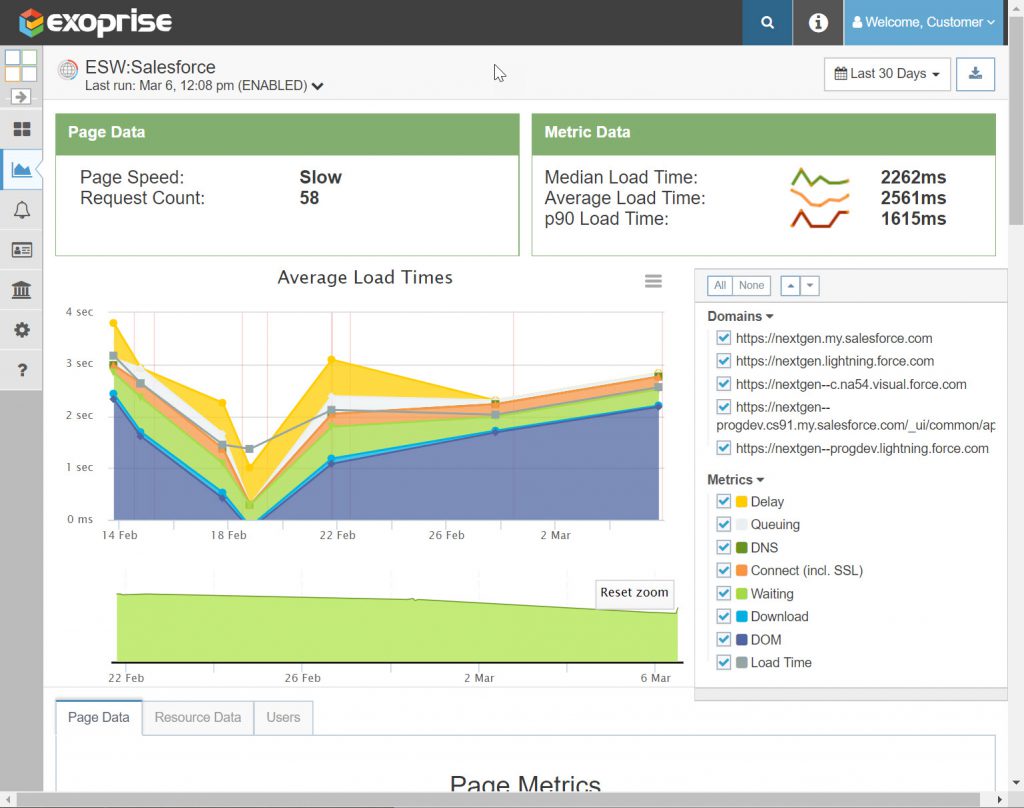 Better Together – Synthetic and Passive Monitoring
The combination of CloudReady synthetic sensors for Salesforce and Service Watch enable administrators and network operators to be completely covered; synthetic sensors ensure that the app is performing regardless of whether a user is using it and real-user monitoring gives you coverage wherever users might be operating from.
And, as always compare your performance to that of the crowd. In addition to enabling you to benchmark your performance against others, it helps you determine if any issues that arise are due to the application or the network. Other network-oriented sensors, such as DNS or bandwidth sensors, can be helpful in identifying and diagnosing Salesforce.com issues.
Summary
Ensuring good Salesforce performance is critical to the health of your business. When Salesforce response time suffers so does the effectiveness of your users. The following are important considerations for monitoring Salesforce:
Measure performance in network conditions similar to how a real-user would experience them, especially it comes to latency between the user and the Salesforce instance
Try and emulate a real users device and browser constraints when synthetically testing Salesforce
Use both synthetic CloudReady sensors and Exoprise Service Watch for Salesforce real-user monitoring