Comprehensive Office 365 Monitoring
Office 365 monitoring is a challenge. Traditional monitoring tools can't see past your firewall, and the Microsoft Office 365 Service Health Dashboard has no visibility outside Microsoft's network.
If these are the only tools you have, you'll find yourself in the dark the next time you're trying to figure out if there's an outage or where the problem is. You need an Application Performance Monitoring (APM) solution with end-to-end visibility into the digital experience from your network to Microsoft's cloud.
Exoprise CloudReady is the leading solution for Office 365 Digital Experience Monitoring (DEM), including Exchange, SharePoint, Microsoft Teams, Azure AD, and MORE to quickly detect, diagnose and fix network performance issues.
Due to Covid, our IT model has shifted from primarily supporting call center operations, to supporting a significantly larger virtual environment. Synthetic sensors in our central data centers collect performance data on Microsoft 365 but, we wanted an even more complete picture. Together with a real user monitoring on-demand solution from Exoprise, we can better understand the issues of our users at any geographic location.
Kevin Santos, Senior Director of IT, NOC, BCD Travel
Enterprise Use Cases for Office 365 Monitoring
How to Monitor Microsoft 365 Performance
This video covers the core set of Office 365 synthetic transaction sensors for proactively monitoring the Microsoft application digital experience and service health from any geographical location.
Identify Office 365 services (Teams, Outlook, OneDrive, SharePoint, Yammer, Exchange Online, etc.) that are down or have issues and quickly troubleshoot performance degradation.
Monitor Every Application and Service Health Status in the Office 365 Suite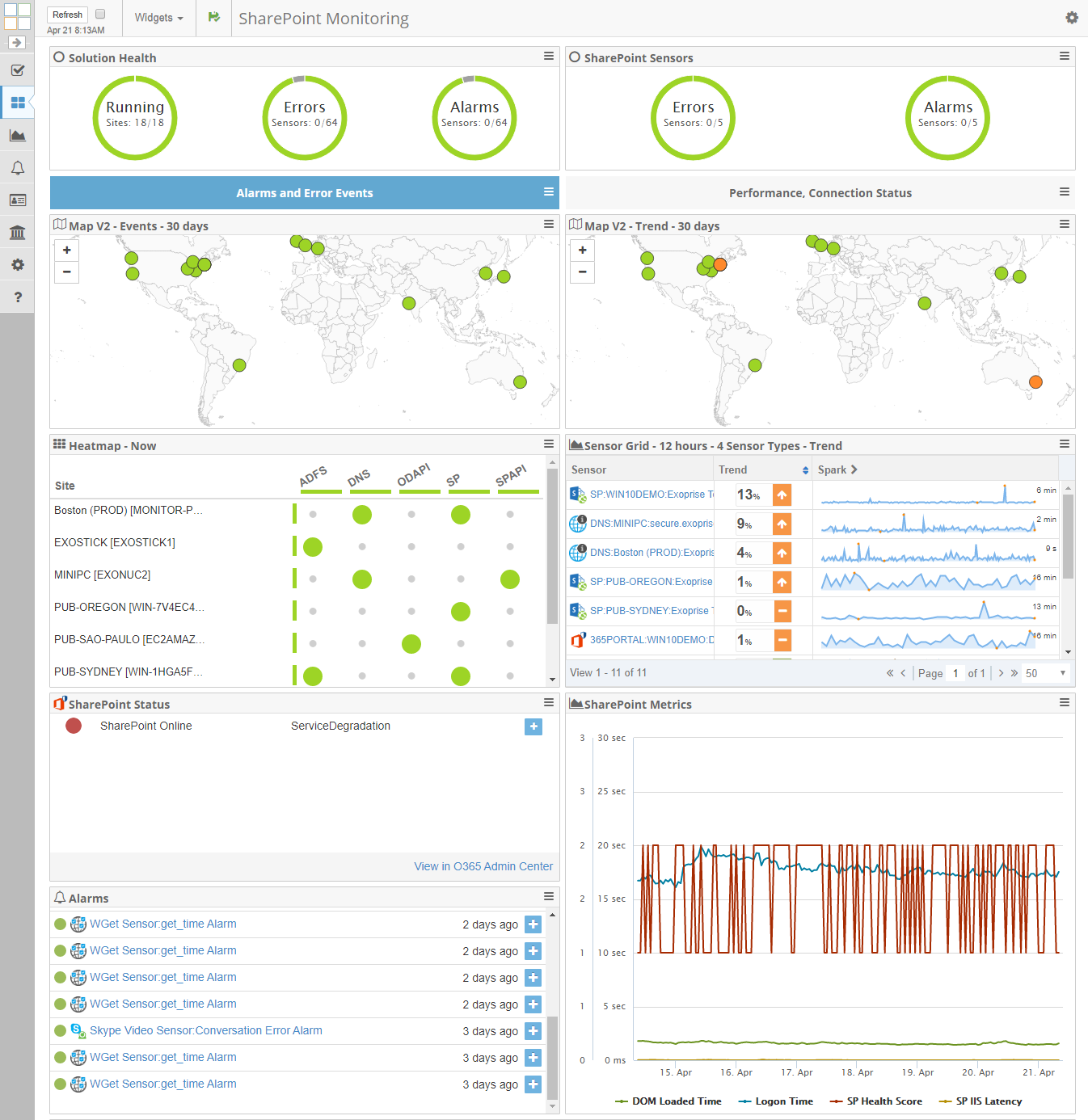 SharePoint is mission-critical. Ensure SharePoint Online performance, availability, and adoption from every office location-
Business relies on SharePoint services for collaboration and knowledge sharing between teams. Increase productivity by ensuring SharePoint deployments are fast and available from every location. Obtain critical metrics on SharePoint Online health issues and score in real-time.
Diagnose slow uploads, downloads, and page response times
Compare and benchmark SharePoint Online vs. the crowd
Synthetically test and monitor SharePoint library searches
Pinpoint slow network access from any branch or remote office location
Active and Passive Microsoft SharePoint performance monitoring insights in one platform and for ALL of Office 365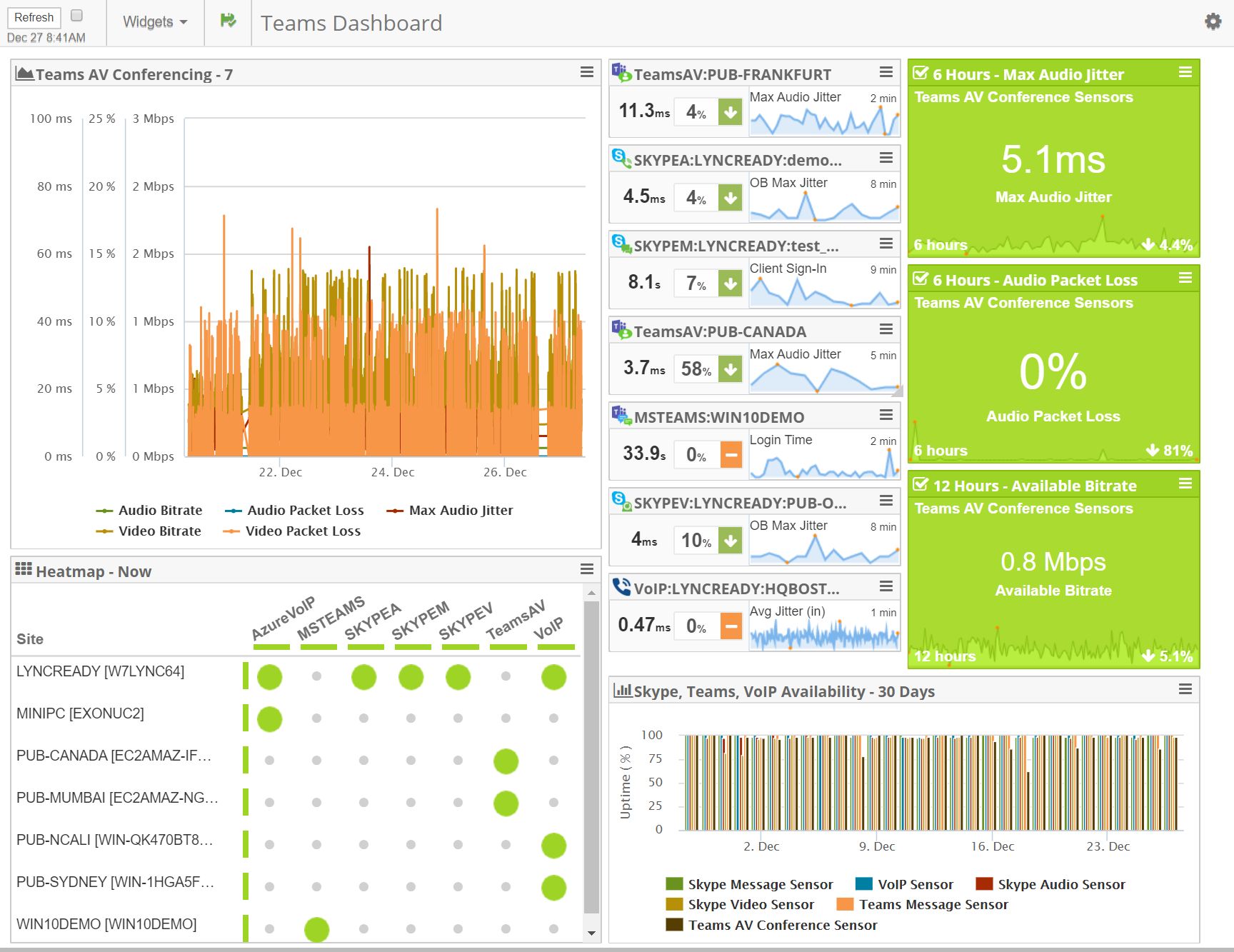 Microsoft Teams is the new foundation for enterprise communications. Monitor Teams messaging, audio, video, conferencing call quality analytics from every angle.
Unified Communications as a Service (UCaaS) platforms like Microsoft Teams are only as good as they are fast and reliable. Unfortunately, dropped calls and poor audio/video quality make for a frustrating employee experience and reduced productivity. Predict and minimize user complaints with comprehensive Microsoft Teams monitoring.
Proactively detect issues such as excessive jitter, latency, packet loss, round trip times (RTT), and AV correction rates
Determine the root cause for poor service performance degradation, network issues, and outages; pinpoint network, ISP, server, or client problems
Assess capacity planning for every network type; LAN, WAN, SDWAN, MPLS, and WiFi
Monitor Microsoft Teams adoption, usage, and end-to-end performance from one console
Track end-user experience, latency test, and user activities with Teams from any global location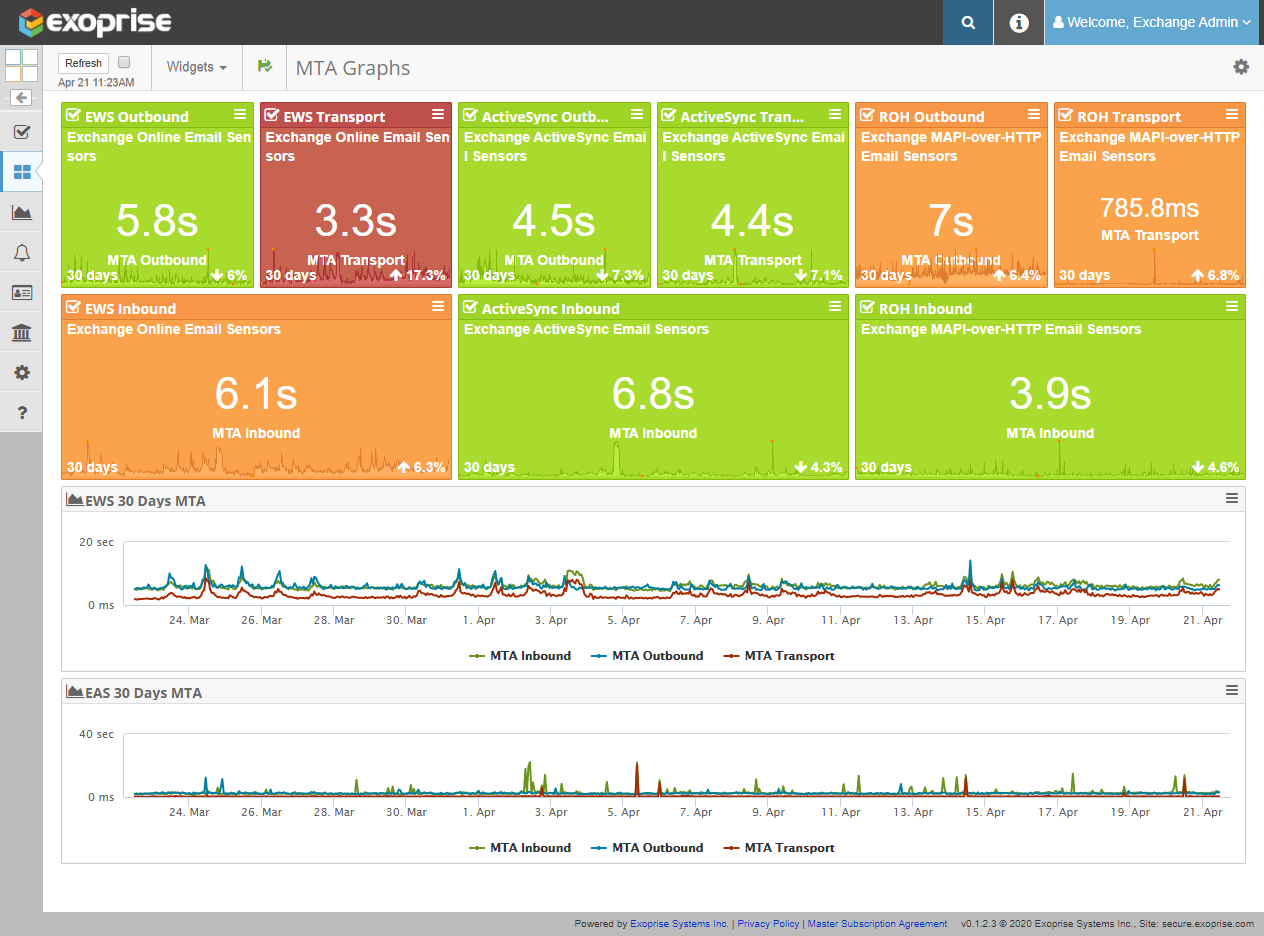 Monitor Exchange, email message queues, mailbox, and end-to-end Exchange Online performance
Email is how the business communicates. Slow or stuck mail queues, poorly performing SPAM or SMTP providers, and bad Exchange networking can lead to lost business, poor user experience, and dissatisfaction with IT teams. Regain visibility into Exchange health and performance with synthetic monitoring for Outlook, MAPI, OWA, and Microsoft Graph API.
Monitor, load, and stress test Exchange and Exchange Online with the Exoprise Office 365 monitoring tool
Send test emails every minute, receive replies and time and track message queues down to the millisecond
Detect and track slow Office 365 mailbox performance, usage, delivery, and access methods with Exchange and email monitoring
Proactively detect mailbox, CAS, router, and IIS slowdowns Exchange Online from your place or ours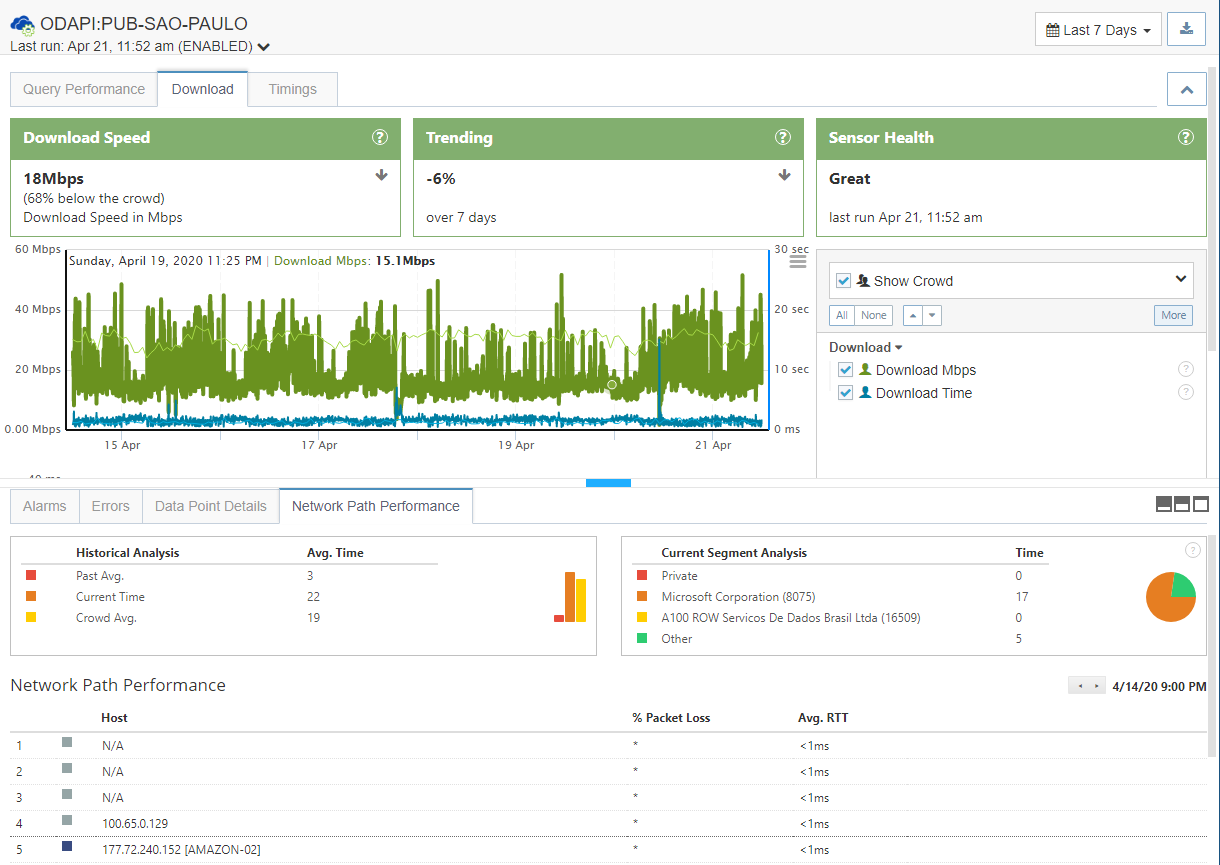 Monitor OneDrive, file utilization, upload/download bandwidth, performance, and availability
Microsoft OneDrive has become the most popular file synchronization service available. OneDrive, integrated with the Office 365 application suite, has become the way employees get their work done. Track and monitor OneDrive performance and utilization in a single dashboard. Ensure the performance, uptime, availability of OneDrive for Business for any location where employees access their files.
Monitor OneDrive operations, usage, and growth over time by the user, resource, and location
Test OneDrive bandwidth, Time to First Byte (TTFB), and page response times
Diagnose network or OneDrive site slowdowns and outages – reduce Mean Time to Recovery (MTTR)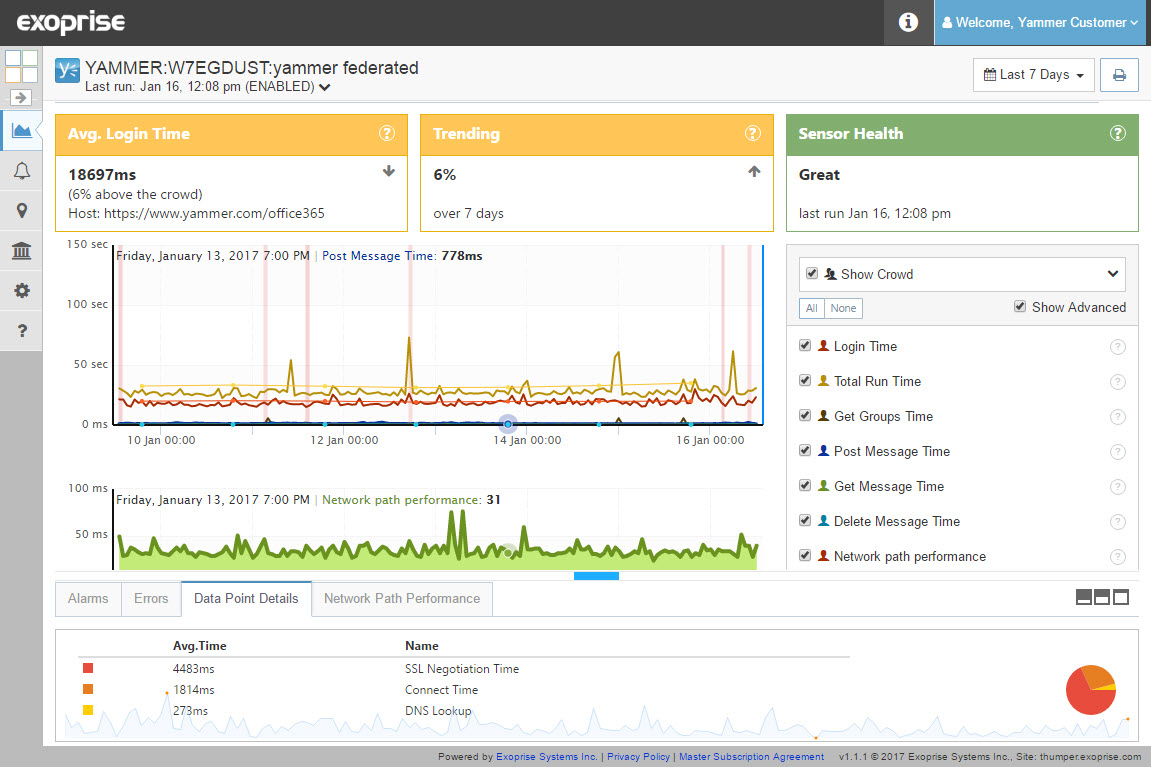 Yammer is integral to enterprise collaboration and content sharing — Monitor Yammer to ensure that users are all on the same page.
Monitoring Yammer to detect outages and performance problems is essential when you have a large team sharing information and collaborating through Yammer. Mainly if that team is spread across the globe and access the Yammer sites from and through different network and Internet conditions.
Yammer connectivity, page loading, and response times will differ in each region. The asynchronous nature of Yammer makes it better suited to larger teams, so monitoring Yammer from different points of access behind the firewall and out in the cloud (on Exoprise – owned POPs) is vital if its use has been widely adopted across an organization.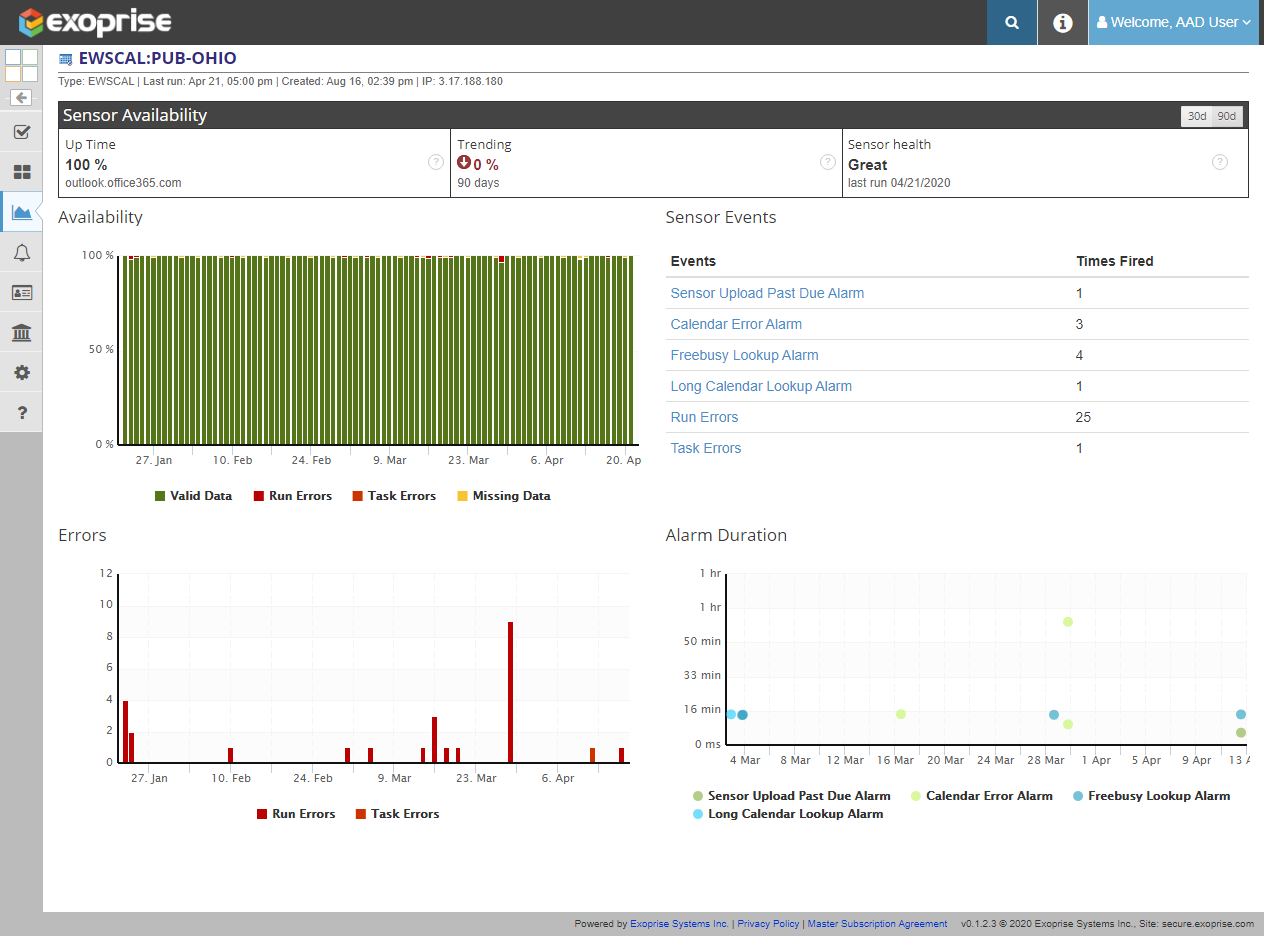 Azure AD is the central identity system of Office 365. Monitor Azure AD to ensure fast operations for all of Microsoft 365
Identity Management (IM) is the cornerstone of cloud-based ecosystems and Office 365 depends heavily on Azure AD for permissions and access control within Office 365. Exoprise CloudReady solution can monitor any Single Sign-on or Identity Management platform, including:
Azure AD
Active Directory Federation Services (ADFS)
Okta
Ping Identity
Active Directory
IM platforms are mission-critical to cloud operations and access:
Monitor Azure AD, ADFS, and SSO providers once a minute from any location to ensure network performance and uptime so business users can log in
Pinpoint the problem in the client, server, or network to reduce Mean Time To Resolution (MTTR)
Eliminate guesswork and finger-pointing with low-level contextual data and crowd-powered bench-marking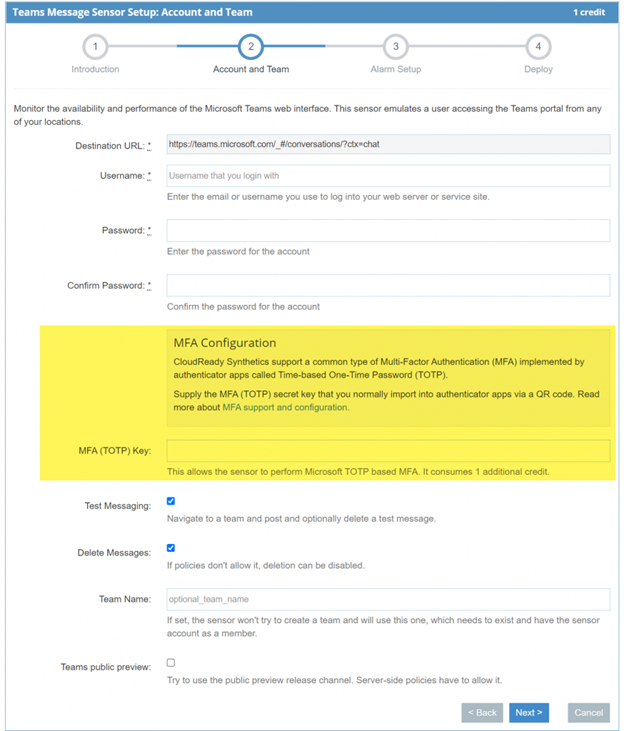 Multi-Factor Authentication (MFA) synthetic testing provides secure access to Microsoft 365 services. Ensure the uptime, availability, and responsiveness of your MFA infrastructure.
Azure Multi-Factor Authentication safeguards your enterprise Office 365 apps and services by adding multiple layers of security. In addition to using traditional username and password credentials, Exoprise synthetics test Office 365 environment using Time-based One-Time Password (TOTP) from Google or Microsoft authenticator app.
Test and monitor ALL of Microsoft 365 services (Teams, Outlook, Exchange, SharePoint, OneDrive) and user accounts
Monitor any application that utilizes MFA with Azure Active Directory (AAD)
Simulate and test sign in for federated apps that integrate with Azure AD
Detect early outages with multi-factor authentication and security workflow testing
Comply and fulfill enterprise-wide MFA monitoring mandates and best practices for securing Office 365 security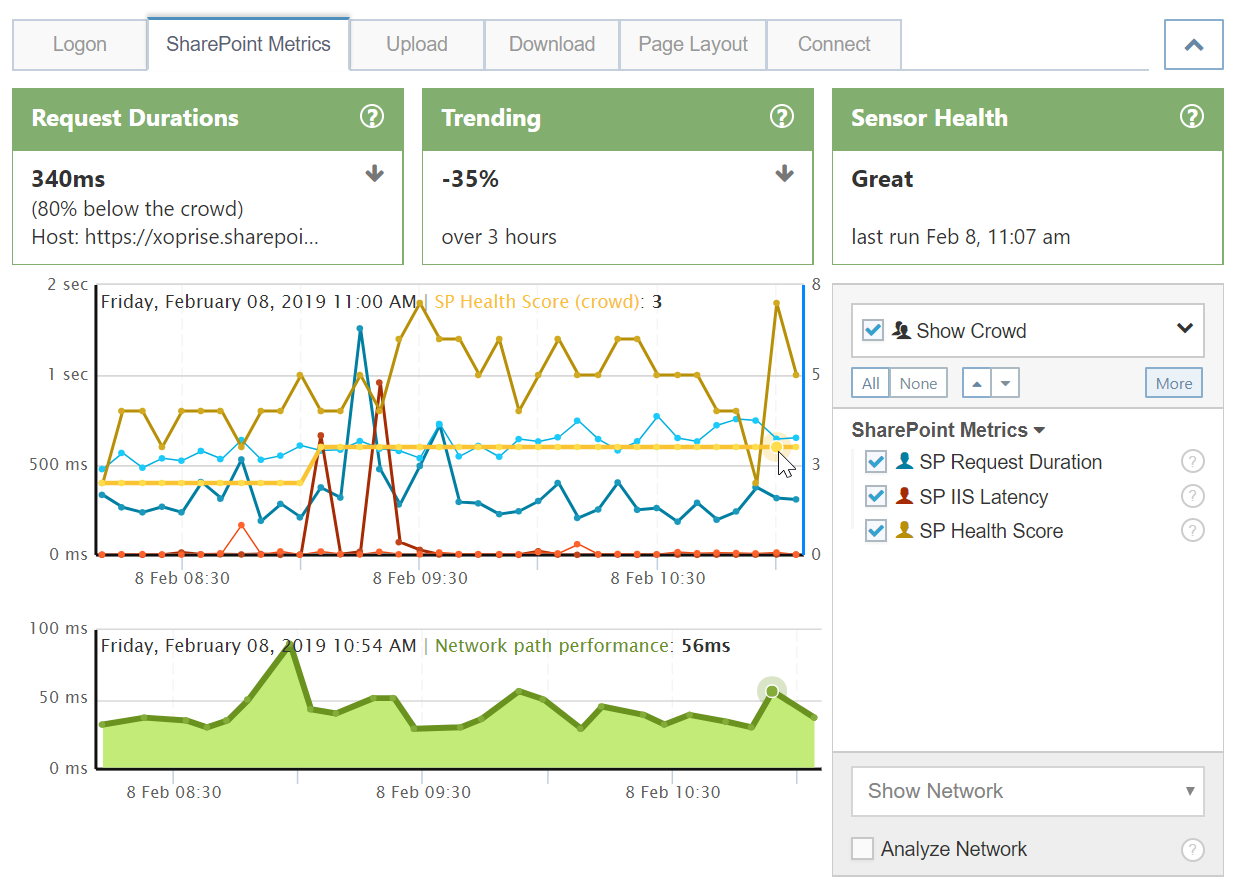 Measure and optimize the performance of the Microsoft 365 network connection. Test Office 365 health, availability, and latency – all within five minutes
An optimal Office 365 network connection ensures that your end users can easily access their business-critical applications such as Teams, Outlook, SharePoint, OneDrive, etc. However, due to changes made internally in network configuration, routing path, DNS lookup, proxy settings, etc., the experience of accessing the same services can vary. Therefore, continuous monitoring, testing, measuring, and tuning network metrics align with increased productivity and employee satisfaction.
Test Office 365 connectivity and service issues from multiple user locations
Monitor DNS routing and performance for faster lookups and accessibility
Track network latency for Office 365 applications and compare it with crowd benchmarks
Diagnose slow cloud or on-premise proxy infrastructure and connection to the Office 365 server
Gain hop-by-hop segment insight into Office 365 network path performance for ISP, backbone, and service provider
Free Office 365 Performance and Diagnosis Tests
Test and compare your network performance for Office 365, VoIP, and UC solutions from any location with a quick and free trial or demo in your tenant.
Compare Latency
Discover Office 365 latency issues for Microsoft Teams, Exchange, SharePoint, OneDrive and compare round trip time (RTT) to other enterprises. Compare SLAs and monitor end-to-end service delivery.
Compare Tenant Health
Compare Office 365 health scores, metrics, and page response times between your SharePoint environment and other tenants. Monitor Office 365 service health and gain real-time insights from any location.
Compare ISP, Cloud & More
End-to-end comparisons for ISP, Backbone, and Cloud Provider performance. Compare network bandwidth, packet loss, MOS scores, and more.
Deploys Instantly — Your Place or Ours

Download & Deploy
Starting is simple, fast, and wizard-driven. So sign in, deploy Private Sites wherever you care about Office 365 performance problems.
For Real User Monitoring, invite users to deploy a browser extension.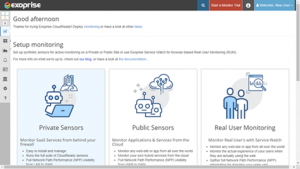 Choose an App to Monitor
Choose which Office 365 application and service to monitor; SharePoint, Teams, Exchange Online, or the Office 365 portal. Then, validate the configuration and deploy.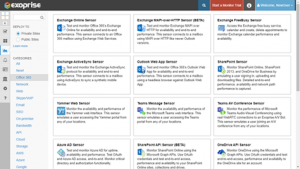 Automatic Screens & Alarms
Beautiful Office 365 dashboard reporting solution, automatically added and configured for role-based customization. Alarms and thresholds are configured and calibrated as deployment grows.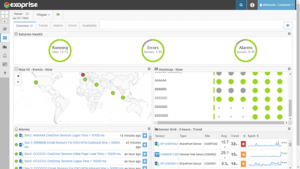 Monitor From Your Locations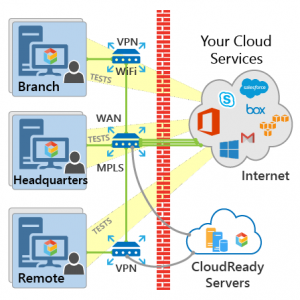 Monitor from all your branch offices and network types

Monitor From Our Cloud Servers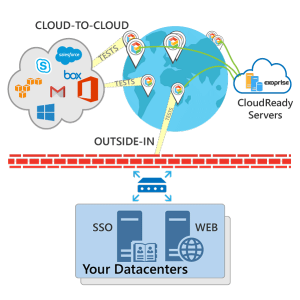 Monitor applications from outside your networks

Answers to Questions about Office 365 Monitoring
Getting Started, Trial and Pricing Questions
Doesn't Microsoft monitor Office 365 performance and availability?
Yes, they do and they publish a terrific Service Communications feed that we integrate into our dashboards (we call it a 360° view). But Microsoft only monitors their side of your tenancy and cloud services. They don't monitor all the way to your enterprise, your ISPs, your network, or the Internet. They don't monitor proxies (they recommend against proxies altogether). That's what we do – we monitor the end-user experience end-to-end and provide real-time alerts about Office 365 service status.
Also, Microsoft Office 365 is constantly changing and improving and those changes and upgrades can sometimes cause performance problems or outages that you want to know about.
What are the requirements for running CloudReady?
The requirements are minimal and we have complete documentation here: https://help.exoprise.com. Generally, our solutions run on any Windows® computer or virtual machine, can be colocated alongside any workload and even run on Mini PCs.
We have customers that run CloudReady on:
Less than 2GB of memory for OS and our solutions
Shared admin workstations in branch offices
Old laptops or desktops converted for WiFi monitoring and synthetics
Minimal Virtual Machines in datacenters or network closets
SCCM distribution nodes
How does the free trial work?
Sign up at https://secure.exoprise.com/signup to get started. You get 3 sensors with unlimited site setups, one of the sensors can be hosted on Exoprise owned public cloud locations. For Real User Monitoring, Exoprise Service Watch, you can try it for up to 25 users. The trial lasts 15 days but doesn't start until you successfully deploy a sensor, so go check it out right now.

What happens after the trial is over?
Depending on capacity of our system we may leave the trial running for a few days but most of the time everything will uninstall itself and you won't get access to the data. Its best to export your comparison data before the trial has expired or convert to a paid subscription.
How much does CloudReady cost?
It depends on how many applications you want to monitor from how many locations and how deeply. Most sensors, which monitor an app, the service, and the network, cost $100 / month. You get deep monitoring with hop-by-hop analysis, crowd-sourced bench-marking, integrated alarms, unlimited users and more.
Some network sensors are less expensive and we have many sensors that let you monitor 5 different servers,URLs, hosts, DNS addresses, etc.
Are discounts available? Can I be invoiced?
Yes, we offer volume discount programs and annual invoiced purchase plans. Most customers can get started with a flexible pay as you go, cancel anytime credit card plan. Additionally, you contact us about educational discounts or special programs that may be available.
Networking, Firewalls, & Proxy Questions
Does the solution firewall require modifications?
No firewall changes are required for using Exoprise CloudReady. Installations communicate with the cloud-based servers via HTTPs / 443 and don't require any ports to be opened or firewall changes.
Does CloudReady support proxies and proxy authentication?
Absolutely, what good is a digital experience solution that doesn't support proxies when your employees and end-users are required to utilize proxies? Often proxies and firewalls are the cause of bottlenecks and slow downs.
Exoprise CloudReady fully supports proxies including Kerberos, NTLM and cloud-based proxy solutions from security vendors like Symantec, Palo Alto and Zscaler.
Integration Questions
Can I integrate with ADFS, Okta, Azure AD, or similar? For Single Sign-On?
Our solutions fully support SAML-based logins and we have instructions on how to set this up on this web site and in our KB site:
Can this be integrated with Splunk, Microsoft SCOM, or other systems management tools?
Yes, there are many integration features and how to articles for integrating into existing systems management products. Here are some examples:
Dashboards can be integrated into web page or site that supports IFrames. You can anonymously embed dashboards into any page.
I don't see my application listed. Can you make changes for us?
We do customize our solutions for different cloud applications vendors. First, we have a Web Login sensor that can support any third-party web application. If that monitor doesn't work we can usually turn around a custom solution in days. Just start a trial and contact support@exoprise.com.
Real User Monitoring (RUM) for Office 365 and Other SaaS products
Do you support RUM for Microsoft 365 experience?
Exoprise Service Watch can monitor all of the critical Office 365 services from any users browser. You can enter URLs for Office 365 like https://login.microsoft.com, https://<domain>.sharepoint.com, https://teams.microsoft.com and you will collect real-time performance information from end-users browsers.
Can RUM and CloudReady be used for other SaaS / Cloud services?
We have generic synthetics that can monitor any internal or third-party SaaS app and the data can be integrated into a single dashboard. For Service Watch, our RUM product, you can enter any set of URLs for monitoring.
Can I monitor Salesforce and Zoom alongside Office 365?
We have both synthetic and RUM support for Salesforce and Zoom that can be run alongside Office 365. We know many customers utilize both solutions. We support lots of other solutions:
>