End-to-End Office 365 Monitoring
Exoprise CloudReady is the leading solution for Office 365 monitoring including Exchange, SharePoint, Skype for Business, Microsoft Teams, ADFS and MORE to detect, diagnose and fix performance issues fast. With CloudReady you know about outages immediately — even before Microsoft knows itself.
Online communication and collaboration is mission critical. If Exchange Online, SharePoint Online, Skype for Business Online is slow or down, so are your users. When that happens, it's your job to find and fix the problem whether it's in your network, at your ISP, or at Microsoft.
Office 365 monitoring is a challenge. Traditional monitoring tools can't see past your firewall, and the Microsoft Office 365 Service Health Dashboard has no visibility outside Microsoft's network. If these are the only tools you have, you'll find yourself in the dark the next time you're trying to figure out if there's an outage or where the problem is. You need an application performance monitoring solution with end-to-end visibility into the end-user experience from your network to Microsoft's cloud.
Operate Office 365 with Confidence
CloudReady® is an application performance monitoring (APM) solution specifically designed to address the needs of organizations using mission critical SaaS applications like Microsoft Office 365.
CloudReady gives you end-user experience coverage for all of your Office 365 services 24×7, detecting outages and performance issues before they impact your users. CloudReady is the only Office 365 monitoring solution with complete end-to-end coverage for:
Our Web and Network Sensors enable you to monitor other any SaaS application from the same console. CloudReady supports ALL of the leading cloud services like Salesforce, Dropbox, Box, Workday and more. Monitor your own internally developed web applications from behind the firewall or out in the cloud from our public Points of Presence (POPS).
Complete Office 365 Monitoring by Exoprise CloudReady
Most Office 365 outage and performance problems are caused by downstream service and network failures or configuration problems. CloudReady has many unique features that give you the insight you need to optimize your environment, before, during, and after migration. Prevent problems and quickly pinpoint the root cause when outages do occur. Measure and report on SLA trends over time.
Monitor Office 365 from

your

user locations, your branch offices and your LAN/WAN locations
Monitor and benchmark the end-user experience of all of your Office 365 applications
Get alerts for outages, errors & performance degradations via email or SMS. For an example, read more about a recent Office 365 email outage in June of 2016
Continuously test and monitor your Single Sign-On (SSO) solutions like Okta, OneLogin, Ping, ADFS and others
Compare your user experience v. regional and global Office 365 subscriber trends (crowd-powered)
Pinpoint problems quickly and avoid wasted calls to Microsoft or ISP help desks
Document outages and SLA compliance with long term trending reports
Monitor mailflow, your end-to-end SPAM and SMTP providers, for slow or stuck mail queues
Identify problem network nodes, hop-by-hop, anywhere between your users and Microsoft
Integrate alerts and performance data into your existing help and analytics tools like Splunk, Microsoft SCOM, ServiceNow and more
With crowd powered Office 365 monitoring by Exoprise, you can move to the cloud without living in the dark.
Assess, Test, Diagnose, and Report on Your Network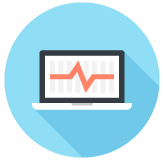 With full coverage for the entire Office 365 Suite including mission-critical Skype for Business, CloudReady is the perfect solution for assessing and testing your network BEFORE you migrate and make the switch to Office 365. Along with pre-migration network assessment, CloudReady enables:
Rapid identification, isolation and remediation of issues across the different Office 365 applications including SharePoint Online, Exchange Online, Skype for Business and more
Real-time visibility into the entire network path for all of your Office 365 services
Integrated diagnosis of Office 365 access through gateways, proxies, and Single Sign-On services such as Azure AD, Active Directory Federation Services (ADFS) and cloud-based SSO
No other Office 365 management tool enables end-to-end diagnosis of the entire Office 365 suite
Your Place or Ours - Monitor Office 365 Connectivity From Every Vantage Point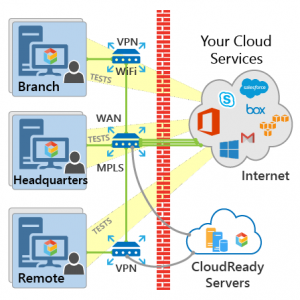 Monitor Exchange, SharePoint, and Skype4B from where your users access them. Branch office, HQ, WiFi, VPN, laptop and more.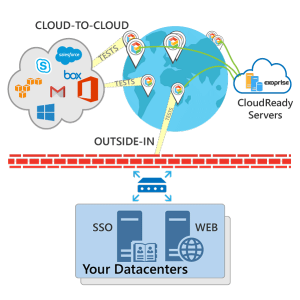 Monitor your Single Sign-On (SSO), MDM, and internal applications from our points-of-presence.