New Support for Monitoring Skype for Business Version 16
This past week we launched experimental support for monitoring Skype for Business 16 with our CloudReady Sensors. We had a number of customers come to us wanting to test the differences between the older Skype/Lync client (version 15) and the latest release. With the advent of Office 365 Pro Plus, many customers are already running the latest and greatest version and get it streamed to them quite quickly. That is one of the advantages of Software-as-a-Service!
You can read about some of the updates for Skype for Business 16 here. A decent incremental upgrade after the re-labeling from Lync to Skype for Business.
Under the Hood

Exoprise uses the Lync SDK to automate multiple Skype Client(s) between two points and have the clients "collaborate" and emulate real users having a chat, an audio or video conversation. The Lync SDK hasn't been updated in a long time (since 3/17/2014) so hence our experimental label. Everything works — we are just continuing to examine enhancements in reporting, diagnostics, and control of the emulation.
Now Supports Alternative SIP Adddressing
While we were at it, we added support for specifying a different SIP address then the user/account name. This was important for supporting Hybrid environments and we had requests for this support as well as supporting plain old on-premise Lync Servers as well the upgraded and new Skype for Business 15 Servers.
New Metrics
Also, for the latest update to our Skype Sensors we added new Mean Opinion Score (MOS) scores that are recorded as part of the Skype QoE metrics. MOS scores are indicative of the quality of the audio conversation, inbound or outbound, as recorded by the Skype client during our regular synthetic tests. Some of the new metrics include:
Inbound Network MOS
Overall network MOS score for the inbound audio conversation
Inbound Listen MOS
MOS Score for the inbound listening of the conversation
Outbound Receive MOS
MOS Score for the outbound audio conversation between the CloudReady Skype sensor and the Receiver
These new metrics give more insight into the call quality experienced at the time of the test between the CloudReady Skype sensors. These metrics aren't dependent on an end-user experiencing a bad call. These CloudReady tests run regularly, continuously testing the network path between two deployed points on a customers network. And, of course, like the rest of the CloudReady metrics, they are crowd-sourced so you can compare your installation and performance to other Exoprise customers.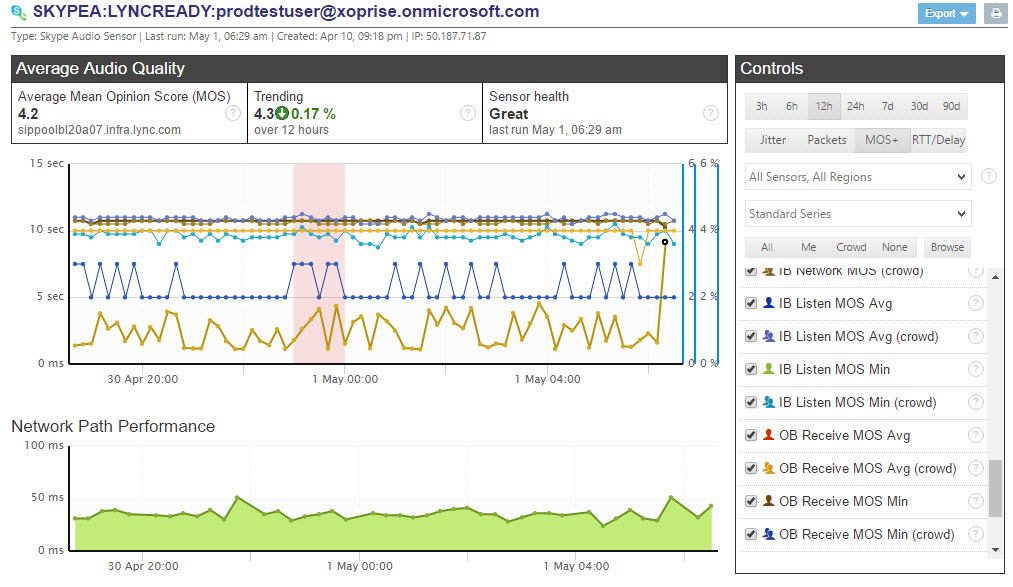 Full Support for Skype for Business Server 15 AND Skype for Business Online
CloudReady is the only solution available for monitoring all versions of Skype for Business. Whether you are in a hybrid scenario and trying to make it to Skype for Business Online or transitioning from Microsoft Lync Server 2013 to the latest Skype for Business Server 15, CloudReady sensors can be deployed to monitor any of these situations in real time for proactive testing and notifications.
Why Automating Skype Clients is So Critical for Monitoring
For many years, customers with on-premise Skype/Lync installations have had Call Quality Metrics, Quality of Experience (QoE) metrics, and dashboards with MOS scores and jitter measurements. They are fine when you want to know what happened to a call yesterday or LAST WEEK but what about the executive call that's about to take place in a half-hour? How's that going to go? Synthetically executing Skype calls is absolutely critical for the following reasons:
You need regular baselines to measure performance.
Its that simple. Without regular baselines how do you have anything to compare to?
You need to be proactive.
A Call Quality Report from a week ago might be fascinating to somebody but it doesn't help anyone answer the question as to what's going to happen this week.
You need to have performance information for Skype for Business Online.
Exoprise CloudReady is the only solution on the planet that can automate and measure call quality for Skype for Business Online. We talk to many customers that attempt to migrate to Skype for Business Online who stumble and contemplate rolling back. This is because they have no visibility into the network quality and infrastructure required for Skype for Business Online.
CloudReady Skype Roadmap
We will continue to enhance our Skype for Business Monitoring Sensors. Video is in the works now that we've added Skype for Business 16 support. Additionally, conferencing sensors and more control over the network selection is planned too. Let us know what you would like to see (and how many you would want to buy $$): success@exoprise.com
Know About a Problem Before it Happens — Not a Week Later
With CloudReady Monitor, you get proactive notifications when Skype for Business Online, Skype for Business Server 15 or your network is suffering and not up to the task of your collaboration needs. You'll get a chance to know about the problem ahead of time, pinpoint and diagnose where the issue and a chance to fix it.